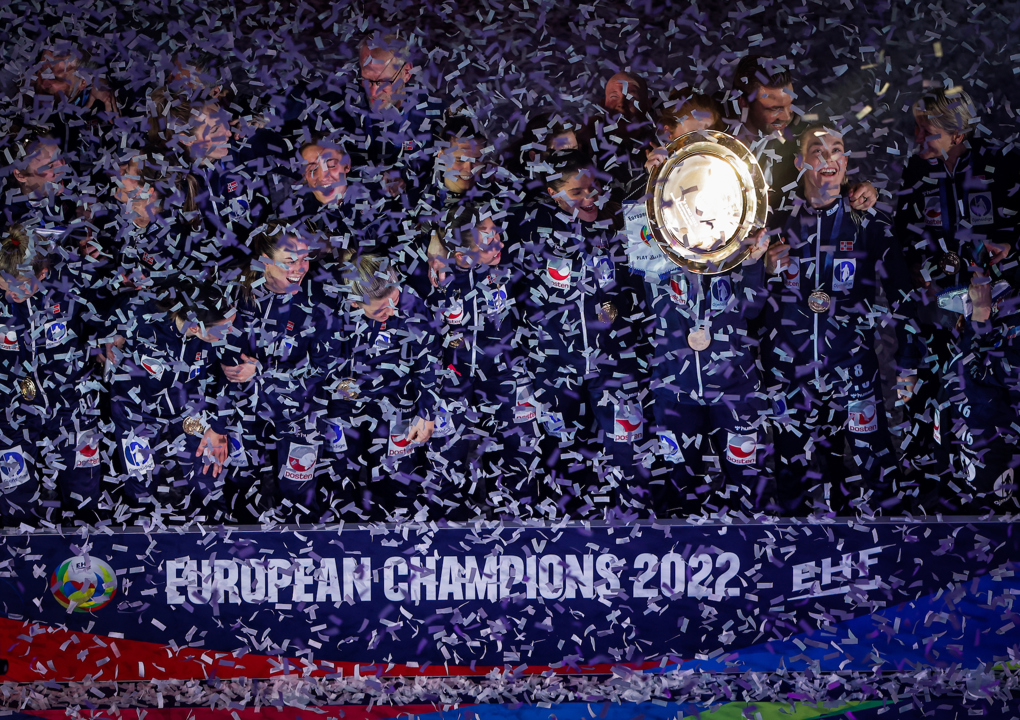 Norway take ninth EHF EURO trophy
Norway defended their 2020 title and won their ninth EHF EURO trophy as they beat Denmark 27:25 in the final on Sunday night in Ljubljana. It was a close game with Denmark in front most of the way but a level last 10 minutes, before two straight goals from EHF EURO 2022 MVP Henny Reistad secured the win for Norway in the final minutes.
Goalkeeper Katrine Lunde was a key factor for Norway, as she entered for the last 20 minutes and saved at 40 per cent, opening the door for her team's comeback.
With the victory, Norway added to the EHF EURO trophies won in 2020, 2016, 2014, 2010, 2008, 2006, 2004 and 1998.
FINAL
Denmark vs Norway 25:27 (15:12) 
Norway came from behind in the final minutes, with two consecutive goals from back Henny Reistad deciding the match as she pulled Norway in front by two with 70 seconds to go
Denmark opened a two-goal lead immediately and led the first half entirely, hitting an 8:4 advantage on the 15-minute mark. The main difference was the superior depth in Denmark's roster, as they could rely on goals from more positions and rotate more on the back court — but in the end, Norway overcame that challenge
Denmark's clearest advantage in the opening half was five goals, at 9:4 in the 19th minute and 10:5 in the 21st. Denmark relied on more players in the first half, with nine names on the score board at the break and back Louise Burgaard leading with five goals
as Denmark maintained a two-goal lead in the opening of the second half, Norway replaced keeper Silje Solberg (nine saves) with Katrine Lunde in goal around the 40-minute mark, with the score at 20:18
Lunde's entry was key — it took another 10 minutes, but after she made three saves at 50 per cent, Norway equalised, 22:22 on the 50-minute mark. They took the lead for the first time in the game thanks to Kristine Breistøl, 24:23, with six minutes to go
Mørk clinches third EHF EURO top scorer crown
With her seventh goal, the last before the half-time break, Norway right back Nora Mørk levelled with Montenegro's Djurdjina Jaukovic as the top scorer of the EHF EURO 2022. She took first position in the 46th minute, with Norway's 20th goal (22:20). 
Mørk thereby added to her collection of top scorer awards at major championships. She was top scorer at the last edition of the EURO as well, scoring 52 goals in 2020. Her first was in 2016, when she netted 53. In 2022, she scored 50.
Mørk has also been the top scorer at three other international events playing for Norway: the 2017 World Championship and the Olympic Games — Rio 2016 and Tokyo 2020.
She finished the EHF EURO 2022 as the all-time second top scorer at the Women's EHF EURO, having reached a career tally of 219.
It is really amazing. The match was really tough. (Personal records) don't mean too much, but I am really happy because we are winning, and that was really important today.
Henny Reistad, left back of Norway: "In several games we were starting not that well, but we got up and became more and more confident. I felt we remained focused and turned the match. This makes me proud of the whole team. We were really good with using many players and we changed the system, we kept on going. We know what we needed to do to get through the Danish defence. Went it counted, we put the ball in the goal, this is why we won in the end."
Rikke Iversen, line player of Denmark: "When we have a little break and look back on this tournament, we can be proud about silver. Right now it is hard to be happy. When I get some air, I am sure I will be happy of what we accomplished. In general, this tournament was a step in the right direction. We hope on our home advantages next year."
We were not as strict in our defence as we were in the first 55 minutes. Norway have the routine and I think we got a bit overwhelmed by that. I am really disappointed because we were really close and we made an incredible tournament.