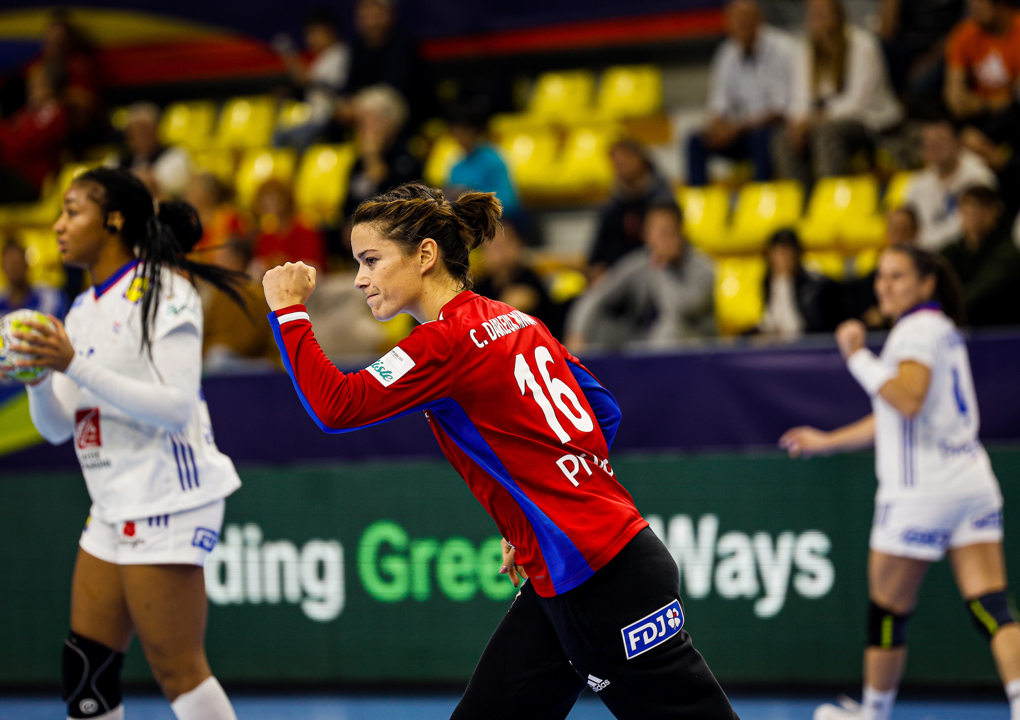 France seal first place with win over Germany
With their trademark sturdy defence, another excellent performance from goalkeeper Cleopatre Darleux and an astute attack, France sealed the first place in the group with one game left, after their 29:21 win against Germany.
GROUP II
France vs Germany 29:21 (13:9)
France continued their total domination against Germany, with their sixth win in a row and their fourth at the EHF EURO, with Germany's last win against the reigning Olympic champions coming in 2005
Olivier Krumbholz's side is the only team at the EHF EURO 2022 to concede fewer than 100 goals after five matches (99), with an average of 19.8 conceded goals per game
goalkeeper Cleopatre Darleux, who had the best saving efficiency in the tournament prior to the game, with 45%, had another strong game for France, stopping nine shots for a 34.6% saving efficiency
with a seven-goal performance against France, Germany's centre back, Alina Grijseels, clawed back to the top of the goal scorer standings, with 36 goals, two more than the second-placed player, Montenegro's right back, Jovanka Radicevic
with both France and Montenegro sealing wins, the top two places in the group are sealed, as the silver medallists from the EHF EURO 2020 secured the first place, while Montenegro finished second
Excellent defence lifts France once again

France have already sealed their best-ever start in the history of the EHF EURO when they won their fourth game two days ago, but they really look like title contenders, after they did not break a sweat in totally dominating and overpowering Germany with their excellent defence.

To concede only 19.8 goals on average in the first five matches at the EHF EURO, after meeting the Netherlands, North Macedonia, Romania, Montenegro and Germany is a shining achievement, one that might not matter so much if France do not get a medal.

But all credit goes to Olivier Krumbholz, who has really masterminded an outstanding team, really one of the best of all-time for France, which can shapeshift at all times, create something in attack from thin air and also regenerated their goalkeeping department, after Amandine Leynaud retired and Laura Glauser was injured.

Germany lost their third match at the EHF EURO, but they can still go to Ljubljana for the 5/6 Placement Match. However, in Markus Gaugisch's first major tournament, they would have definitely wanted a better finish, yet bad performances in the preliminary round sent them in a dire position.
We are so proud of us. For us, it was a really great performance. We are a little bit tired and exhausted, but it was really cool. We have this flow for the tournament. I hope this flow will stay until the semi-final, so I just cross my fingers.
France head coach Olivier Krumbholz: "It was a strong and beautiful game of us. I am so happy to be in the semi-final. The French defence worked very good. Before the game we knew that it would not be easy, at the end we have more power. Good news for the semi-final that we have so much power."
Germany centre back Xenia Smits: "It was a well deserved result as we made too many easy mistakes and did not take our chances. France punished us immediately, but still we take some good things from this game, we get better match by match."