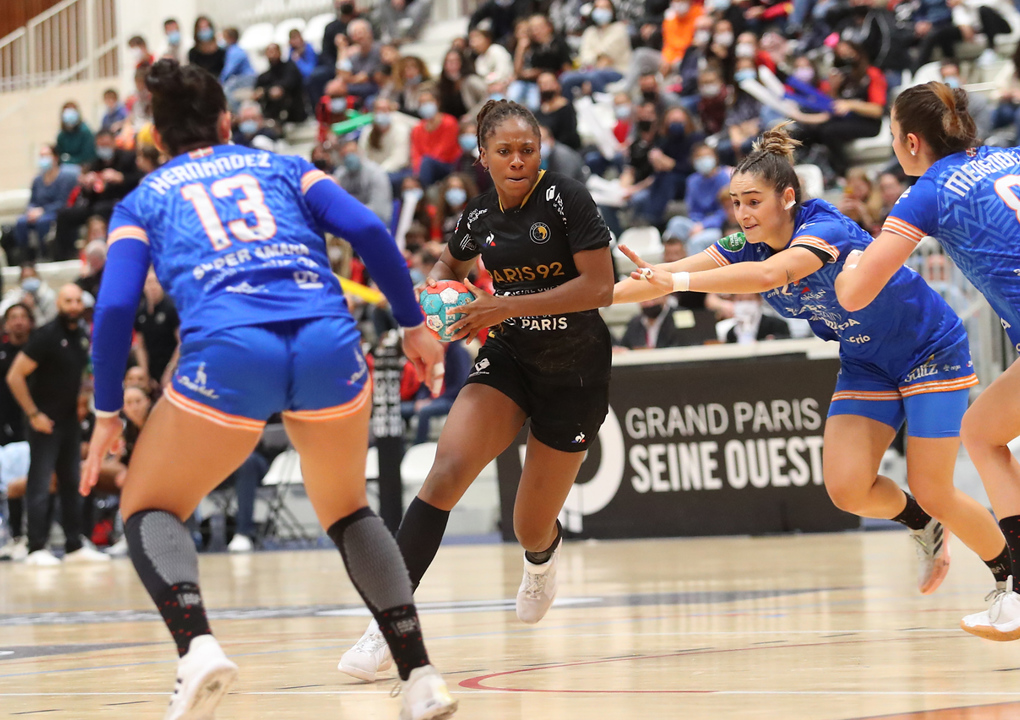 Déborah Lassource: "The European League is another step in my career"
The relationship between the European League and Paris 92's Déborah Lassource has been, so far, a pretty hectic one. The young centre-back made her debut in the competition two seasons ago, but an Achilles' heel injury while out with the national team meant she did not play one single game in the group phase.
Last year, Paris did not make it out of the qualification rounds. So, believe it or not, the game she played with Paris in Thüringer last week was her first group phase match ever. "Playing the European League means a lot to me, it is another step in my career. I have played a couple of games in the competition, but I never really had a role in it" says the 23 years-old. "I can not even say I missed it, as I've only barely got a taste of it. I want to become one of its actors now."
Her first taste of the group phase was not a happy one, though, as Paris were defeated in Thüringer for the first round last week (24:28). Even though the sister of Brest player Coralie netted three times, she clearly thinks that there is room for improvement for her team. "The start of the season was fairly quiet while now, we have to adapt to a new rhythm, playing twice a week. Maybe we did not get quite into it yet, as our start in Thüringer cost us the game" says Lassource.

Despite now playing the European League on a regular basis, the centre-back has already made huge progress in her career. One of the highlights, of course, was to play the EHF EURO 2022 with France. It was the first major competition in her career and, she says, "I am satisfied because I played a role in it. The fact that it was my first made it maybe also easier for me to accept the fact that we did not win any medal."
After winning all their matches, France lost their semi-final and the bronze medal, coming back empty-handed. "I was proud of what we did as a team, and also of what I did. I was disappointed by the whole result, but I also know that there will be time for more in my future. I just have to keep working so I can have new opportunities in the future."
Now as a national player, she has been given new responsibilities in her club, even more so as fellow centre-back Méline Nocandy suffered a knee injury in the first game of the season. "The coach expects a lot more from me now, since I came back from my injury, even. But I take it as a natural evolution, I am not putting any more pressure on my shoulders because of that."
The opportunity to take a role within a club playing in the European League should be a booster for a player that has never played for any other club than Paris 92 in her professional career. She even hopes that playing against some of the best players in the world might help progress even faster. "The national team felt like another world to me, on so many levels. Everything goes faster, higher and stronger" she smiles, before looking forward to this weekend's game against Valcea: "There are players used to doing well in the Champions League in their ranks, so it will be very interesting to see what we can do. On a collective level, I really want to win it as our aim is to get out of the group. On a personal level, I should use it to keep progressing, and try to be better than the day before, which has always been my mantra."