SUMMARY: France and Montenegro secure semi-final spots with match to spare
Day 12 of the Women's EHF EURO 2022 have brought the key decisions in main round group II in Skopje: France win the group following a 29:21 victory over Germany. That result also sends second-ranked Montenegro through, after they have beaten Romania 35:34 earlier.
23:45
We say goodnight now, with a look forward to tomorrow, the bumper day of the Women's EHF EURO 2022 with the last three matches in both groups, so six matches in total in Ljubljana and Skopje.
There is still one semi-final spot open for a team from group I, and we need to find out for both groups who finishes third and will contest the 5/6 placement match.
Long story short, here is exactly what each team needs in their final main round match on Wednesday:
22:58
We have still some interesting content coming up for you, but now it is time to present you with the best pictures of the night:












22:52
They know how to win, they know how to celebrate. Meet your Women's EHF EURO 2022 semi-finalists: France!
22:34
France keep their flawless record in this tournament. They beat Germany to wrap up the group win with a match to spare. And here in the match review of EHF journalist Adrian Costeiu is how they have done it:
22:24
Here are the standings in main round group II before all teams return to the court one more time on Wednesday.
It is Romania vs Germany, Netherlands vs Montenegro, and France vs Spain, but there is no possible way to push France or Montenegro out of the top two.
So, the semi-final spots are occupied. However, the third-ranked team will also make it to Ljubljana for the 5/6 placement match.


22:08
France looking as strong as ever. They look like cruising through this tournament so far. Let's hear from France line player Béatrice Edwige after the match:
We are so proud of us. For us, it was a really great performance. We are a little bit tired and exhausted, but it was really cool. We have this flow for the tournament. I hope this flow will stay until the semi-final, so I just cross my fingers.
One result, two semi-finalists confirmed: France beat Germany and qualify for the semi-finals – and they are taking Montenegro with them.
And France win the group, so they play the second-ranked team from main round group I in Friday's semi-finals.
21:44
Team timeout Germany. Head coach Markus Gaugisch sees his team losing touch with France, who have now gone six goals up (22:16) with just under eight minutes left.
Looks like we can confirm France ánd Montenegro as semi-finalists of the Women's EHF EURO 2022 soon.
21:40
A strong defence, and Cléopatre Darleux behind it. That is the French recipe for success this tournament, also today against Germany. It is 20:16 with 10 minutes left.
21:35
France 17, Germany 14 after the first quarter of the second half. The gap doesn't grow, but doesn't get smaller, either. As it stands, France and Montenegro would both be officially through to the semi-finals.
21:31
These efficiency stats speak a clear language, or: Why France are up by three or four goals.

21:23
Some smart moved from Grace Zaadi that even made her coach Olivier Krumbholz smile:

Germany have been keeping up well with France for the opening 20 minutes, but have lost touch a bit since and dropped up to five goals behind. What are the half-time thoughts of EHF journalist Adrian Costeiu at the match in Skopje?
"If France win the EHF EURO 2022, it will be likely due to their excellent defence and to Cléopatre Darleux, who is having a monster tournament so far. Darleux had 41 saves and a 45% saving efficiency before the start of the game and she just delivered another excellent performance in the first half against Germany, finishing the first 30 minutes with six saves for a 42% saving efficiency.
Sure, France's defence stood tall, their attack delivered when it mattered the most, finishing the half with a 7:3 run, where they totally outplayed their opponents and are cruising to the semi-finals, a berth sealed with at least a draw this evening.
Germany are on the brink of elimination and their goals dried up as time passed, with the top scorer of the tournament, centre back Alina Grijseels scoring five of their nine goals in the half. They need more impetus in attack, but mounting a comeback against France is bound to be very, very difficult, with the reigning Olympic champions taking a 13:9 lead at the break."
20:57
France opening a four-goal gap: 11:7. This could be a decisive phase in the match if Germany do not find a solution soon.
20:48
France and Germany in the balance after 16 minutes: 6:6. Captain Alina Grijseels once more the leading scorer for Germany so far, with four goals.
20:42
She will be bitterly disappointed after Romania's defeat in the tense thriller against Montenegro, but Cristina Neagu does have something to celebrate. With her match-leading nine goals, the star left back has officially become the all-time EHF EURO top scorer for both women and men!
And how close she is to becoming the only player to hit the 300-goal mark...

20:25
The next match is like a final for Germany: they must beat France to stay in the race for the semi-finals. Any other results ends all German medal hopes, and would send both France and Montenegro through to the semi-finals.
As for the stats: the last time France did not beat Germany in an official match was at the EHF EURO 2014, when they played to a 24:24 draw. The next five official games all went to France, as did two friendly games a few weeks before this EHF EURO.
The last German win? That came 17 years ago, at the 2005 IHF World Championship...

20:16
After Montenegro's win over Romania, we know that Romania, Spain, and Netherlands cannot reach the medal matches anymore – though all three can still make it to the 5th place match.
Here is the match review from EHF journalist Adrian Costieu in Skopje:
19:49
The amazing journey for one of the co-hosts likely continues: Montenegro, the 2012 champions, are very close to a return to the EURO semi-finals. They will at least play the 5th place match this weekend, but if France do not lose against Germany later tonight, Montenegro are in the semis.
This is what goalkeeper Marta Batinovic says right after the game:
It is really amazing. I am so proud of this team, we play like one. I am so, so happy we go to Slovenia. Everything is open. I am also proud of our fans, you can see they came here to support us. This is really amazing for us
Montenegro are almost back in an EHF EURO semi-final after eight years! After a tough, tough battle with Romania, Bojana Popovic's team comes out on top. If Germany do not beat France in the next match, Montenegro book their place in the medal matches.
This result not only ends Romania's hopes, but also sends out Spain and Netherlands in this group II. Only Germany can still cause an upset in this group.
19:27
Montenegro close to the semi-finals! They open a three-goal lead over Romania (33:30) with less than five minutes on the clock. Itana Grbic the outstanding scorer, with eight goals from 10 attempts.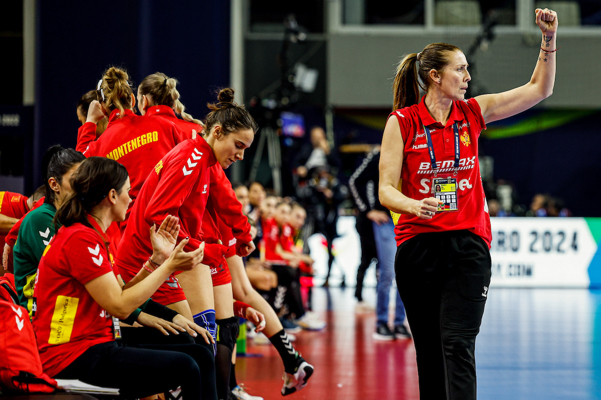 19:14
Absolutely nothing separating those teams. It is 26:26 in a wild game and we go on for 12 more minutes. Remember, Romania must win to stay in contention, Montenegro wants to win to book their semi-final spot already tonight.
19:09
She is not scoring in the same pace as in the first 10 minutes of the match. Cristina Neagu is now going for quality over quantity.

18:44
Itana Grbic with five goals is Montenegro's best shooter in the first. If the keep scoring at the same pace after the break, several players might end up on 10+ goals.
What an intense first half. Fair to say defence has not been key for either team... Let's hear from EHF journalist Adrian Costeiu in Skopje:
"Taking a timeout after only six minutes, when your team is down by three goals, 3:6, is a bold move. Sure, it is not the envisioned start, but there is plenty of time to regain your confidence. But Romania's coach, Florentin Pera, felt that his team is not up to the task against Montenegro and tweaked some things in that minute.
And the side re-emerged brand new, with a superb confidence and a strong attack, lifted by left back Cristina Neagu, who scored six of Romania's first nine goals in the first 14 minutes, to become the player with the largest number of goals in history – men's or women's – EHF EURO, 293.
This is why Romania even took the lead multiple times, but failed to protect it in the dying minutes, as Neagu started to falter a bit. The two sides finished the first half in a deadlock, 18:18, but the last 30 minutes will be the deciding factor. And for Romania it is easy: win or go home."
18:31
Even for her standards, this is a pretty stunning start into the match for Cristina Neagu:
18:22
Bojana Popovic calling her first time-out. Montenegro have been 6:3 and 11:9 up, but Romania have now edged one ahead (12:11) with a stunning six from six from Cristina Neagu. 

18:13
Both teams not messing around in the opening stages. Only 10 minutes om the clock and it is already 8:8 – and Cristina Neagu had already scored five!
17:50
History won't tell us much about what to expect: both Romania and Montenegro won three of their previous seven duels, and both one of their two EHF EURO encounters. And from their two most recent matches – at the 2016 Olympics and the 2019 World Championship – they both won one.
Quick look back at what happened in Romania's last match (in the unlikely case you forgot):
17:00
We are an hour away from the start of the first of tonight's games. Romania chasing a win to keep their semi-final hopes alive; Montenegro hoping to bounce back from their heavy defeat against France and to book their place in the semis tonight.

13:30
Time for another Stat of the Day, with an interesting figure about France ahead of their match against Germany tonight:
13:03
Today, a special episode of our women in sport series, the cooperation between EHF and kolektiff: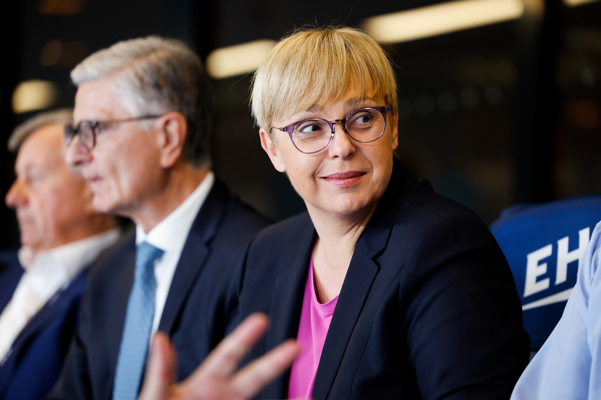 Nataša Pirc Musar, Phd, is the newly elected President of Slovenia, but she is also the ambassador of the Women's EHF EURO 2022 ❤. A former handball player, today a successful bowler, as well as a lawyer, Pirc Musar will soon step into a new role, her first presidency. In the ambassador interview ahead of the event, she explained what a greater role of women in society means for her: "We women do not need an advantage, let alone dominance – only equality."
Find more here: https://www.playwithheart.eu/en/ambasadorke-ehf/dr-natasa-pirc-musar/
12:36
France can do tonight what Norway have already done: reach the semi-finals with a main round match to spare. However, centre back Grace Zaadi is reluctant to start calculating what teams need to advance and whom they might meet next.
Read the interview she gave to EHF journalist Björn Pazen:
11:14
Spain are having a hard time, with three key players out injured and results not quite going their way so far. However, a place in the semi-finals is at least mathematically still possible. And the other good news for 'Les Guerreras' is Nicole Wiggins, a late call-up to replace the injured goalkeepers Silvia Navarro and Mercedes Castellanos.
Making her international debut at 21, Wiggins is doing a fine job between the posts at the EHF EURO. EHF journalist Adrian Costeiu spoke with Wiggins for this feature:
10:42
By the end of the day we might know three of the four semi-finalists. One has already been confirmed on Monday evening, when Norway extended their winning streak. Despite being pushed hard by Slovenia, the defending champions won 26:23 and secured their place in the semis.
And Norway had to face the eighth player in Ljubljana, as the match in Stožice Arena was attended by a Slovenian record crowd for game of the women's national team:
10:15
Good morning and welcome to your daily guide for the biggest continental women's national team tournament, a.k.a. the live blog for the Women's EHF EURO 2022.
Our attention turns back to Skopje today for what could turn out to be a pivotal day in the build-up to the final weekend. Both France and Montenegro could be confirmed as semi-finalists today – could indeed, as they face fierce opposition from two teams that are battling for their own chances: Germany and Romania.
Here is today's schedule: