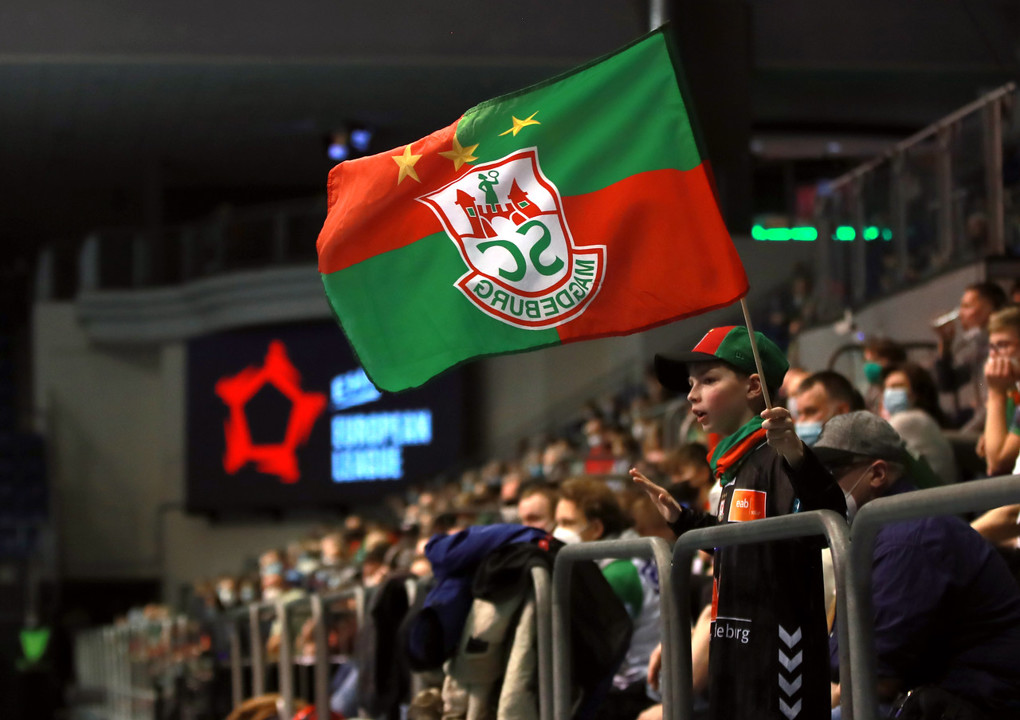 Summary: 10 teams stamp tickets for Last 16
The winter break in international men's club handball came to a close as the group phase of the EHF European League Men 2021/22 resumed with round 7 on Tuesday night.
the European League returned with a full schedule tonight: 12 matches in round 7
among the most interesting ties are Toulouse beat Füchse in group A, Benfica outdid Lemgo in group B, Sävehof took full points in Spain in group C, and Nimes beat Pelister in group D
10 teams have now booked their Last 16 tickets: SC Magdeburg, GOG, Nimes, Nexe, Plock, Füchse Berlin, Benfica, Lemgo, Sävehof, and Nantes
check the group standings here 
23:24 
We now just await 6 teams before boarding for the Last 16 is complete! Exciting times ahead, join us next Tuesday when we will be inviting more teams to the knock-out rounds and as teams jostle for a better finishing ranking! 

Congrats to SC Magdeburg, GOG, Nimes, Nexe, Plock, Füchse Berlin, Benfica, Lemgo, Sävehof, and Nantes on making the Last 16.
























22:54 
Two must-read match reports are from teams who kept their hopes alive tonight. Tatybanya with their one-goal win over Athens. While Irun can also dream on of a Last 16 spot with them now sitting on six points in group A. 
22:46 
Below you will find some of the match reviews from tonight's matches, the rest can be found under news! 
22:33
LAST 16 UPDATE
So, after our evening's second round of matches we have more Last 16 berths to announce. 

Joining SC Magdeburg, GOG, Nimes, Nexe, Plock and Füchse Berlin we now have Benfica, Lemgo, Sävehof, Nantes with the other sides awaiting more points/results to get their place. Cocks are now out of contention due to their loss today.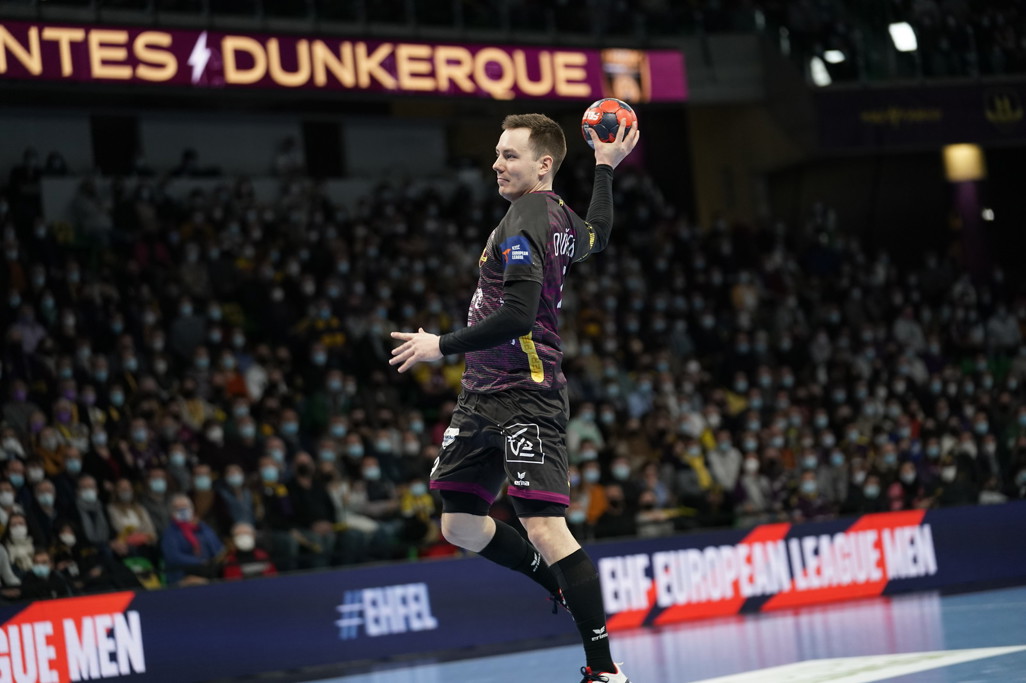 22:16 
RESULTS
SL Benfica 35:30 TBV Lemgo 
Kadetten Schaffhausen 26:24 Sporting CP 
HBC Nantes 36:25 Cocks 
La Rioja 29:30 Sävehof 
Bidasoa Irun 33:24 TATRAN Presov 
20:11
RESULT: SL BENFICA 35:30 TBV LEMGO LIPPE 
Too big, too strong and too fast. The boys from SL Benfica were better in almost every area tonight. With 11 players making it onto the scoresheet it was a true team performance with highlight performances from Kukic in centre back with his seven goals, Barcelo with his six from six and Moraes on the line with four and Djordjic from the backcourt also with four. Too many to name really, very impressive win. 

With that win the Benfica boys have stamped their name on a Last 16 spot, congrats! 
22:05
This is Benfica's game, they have too much for that Lemgo defense. Lazar Kukic is playing the Lemgo defence like an orchestra. The Serbian international is 7 goals from 8 shots so far. Plus five for Benfica. 
22:00
While Carlsborgard and Suton are looking sharp, Lemgo's right back position and general right side of the court is very quiet. Andreas Cederholm looks a little bit like a spear part out there tonight he is 2 goals out of 7 chances and it finding it tough against this big Benfica defence. 
21:46
We are back level between Benfica and Lemgo! 24:24 it stands and it is a delight to behold. Tim Suton(5 goals) and Jon Carlsbogard (5 goals) are looking great and form a great duo from left back and centre back. The switching and powerful one vs one actions are causing the Benfica defence headaches.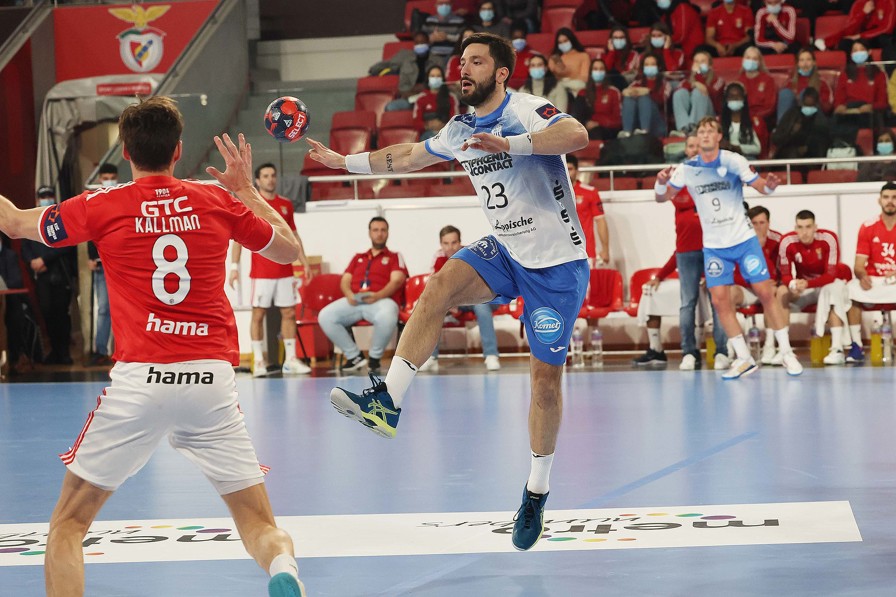 21:24
HALF-TIME
SL Benfica 15:15 TBV Lemgo 
Kadetten Schaffhausen 10:11 Sporting CP 
HBC Nantes 17:12 Cocks 
La Rioja 12:16 Sävehof 
Bidasoa Irun 16:11 TATRAN Presov 
21:20
You couldn't pick two more evenly matched sides! This could go all the way. Both sides' backcourts are looking sharp as seen by the last two attacks each. It was a time out for Lemgo and head coach Florian Kehrmann wanted his side to play a concept through fully but space had opened up for Tim Suton on the bakc of a great switch and with loads of space the German blasted in. Just as it looked like the half was over Spanish Arnau Barcelo popped up to pull it level once again 15:15! What a half...
21:06
If you aren't watching Benfica vs Lemgo you are missing out! What a start. 10:10 and both sides aren't holding back. It is German Frederik Simak who has been hitting the net most, the 24-year-old has 100% with his 4/4 so far for Lemgo. While it is Peter Djordjic who is again netting most for Benfica, he is 4/5. 
20:49
The action doesn't stop with our next round of action! Join us now on EHFTV



20:35 
LAST 16 STATUS
With those games coming to a close we have a lot of new to report on teams making it to the Last 16! 

Congrats to SC Magdeburg, GOG, Nimes, Nexe, Plock on joining Füchse Berlin in the Last 16! Their results this evening mean they stamp their names on a spot. Toulouse will now need just one point from their next matches against Pfadi Winterthur to make it and the Swiss side's result tonight also keeps their hopes alive. Likewise Tatabanya's win keeps them in the race for the knock-out stages.
Due to their loss Chekovskie can no longer make it to the Last 16. 
20:21
RESULTS
Grundfos Tatabanya KC 25:24 AEK Athens HC
SC Magdeburg 34:24 RK Gorenje Velenje 
GOG 27:26 Chekhovskie medvedi 
USAM Nimes Gard 25:23 HC Eurofarm Pelister 
RK Nexe 33:29 PAUC Handball 
Fenix Toulouse Handball 28:27 Füchse Berlin 
Orlen Wisla Plock 35:27 Pfadi Winterthur
20:15
RESULT: Fenix Toulouse Handball 28:27 Füchse Berlin
Wow! Massive scenes here in France with Fenix Toulouse handball handing Füchse Berlin their first loss of their European League season. It was a massive effort by the hosts and they were pushed at the end when Berlin pulled it back to within one but they showed real nerves of steel at the end especially with winger Ayoub Abdi netting a great goal from the wing. Huge step towards the Last 16 for Toulouse!
20:06
Elsewhere, Plock only needed a point from their match tonight to stamp their name on a Last 16 spot but the Polish side have fully control of their tie. They lead 33:24. Lovro Mihic has been on flying form with his 6 goals. 
20:02
Two Hans Lindberg penalties brings Füchse back to within two goals. Jacob Holm is once again in his standing-shot-unleashing fine form. The Dane is 6/8. 
19:49
We are back in France and Toulouse on fire! They have picked up right where they left off and have Berlin under serious pressure. They 21:17!
19:27
So as things stand it looks like SC Magdeburg, GOG, Nexe, Plock all have one foot in the Last 16. 
19:24
HALF-TIME SCORES: 
Grundfos Tatabanya KC 12:12 AEK Athens HC
SC Magdeburg 20:12 RK Gorenje Velenje 
GOG 15:14 Chekhovskie medvedi 
USAM Nimes Gard 13:12 HC Eurofarm Pelister 
RK Nexe 17:12 PAUC Handball 
Fenix Toulouse Handball 16:13 Füchse Berlin 
Orlen Wisla Plock 16:9 Pfadi Winterthur
19:22
HALF-TIME: Fenix Toulouse Handball 16:13 Füchse Berlin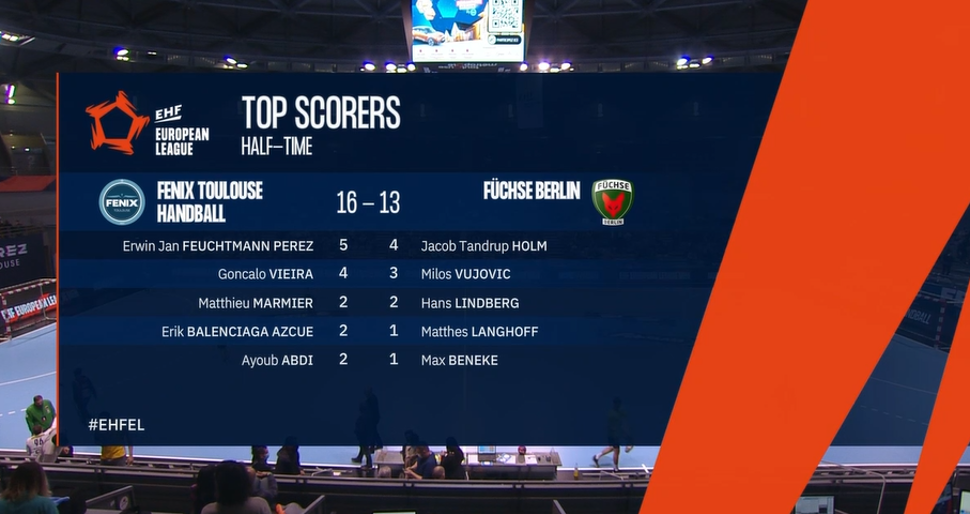 19:20
The home crowd love this! Their chants ring around the hall and a huge save from Lettens in the Toulouse goal has the bench on their feet! Their backcourt is really working well against this Füchse defence that looks a bit flat after the first 30. What a first half by the French side! 16:13. 
19:05
Vieira and Feuchtmann net to give Toulouse the 9:7 lead and it is a time-out for Berlin, game on!
19:01
A great start here in France for Toulouse vs Füchse Berlin. It was the Foxes who started strongest opening up a 5:2 lead thanks for Vujovic goal. But from there the French side sealed the holes in their defence and really shaped up better. And a 4:0 run but them briefly in front and since then they have been neck and neck. 
18:13
With so many good games and important ties when thinking about the Last 16, we keep our eyes peels on Tatabanya and Chekhovskie as they need a win to stay alive in the group. Plock just need a point to make it to the Last 16 but our main focus will be on the Toulouse vs Füchse tie with both sides giving fans a great game in the reverse fixture (32:30 to Berlin). 
18:07
We are not far not from the first ties of tonight's EHF European League Men action. Coming up at 18:45 we have: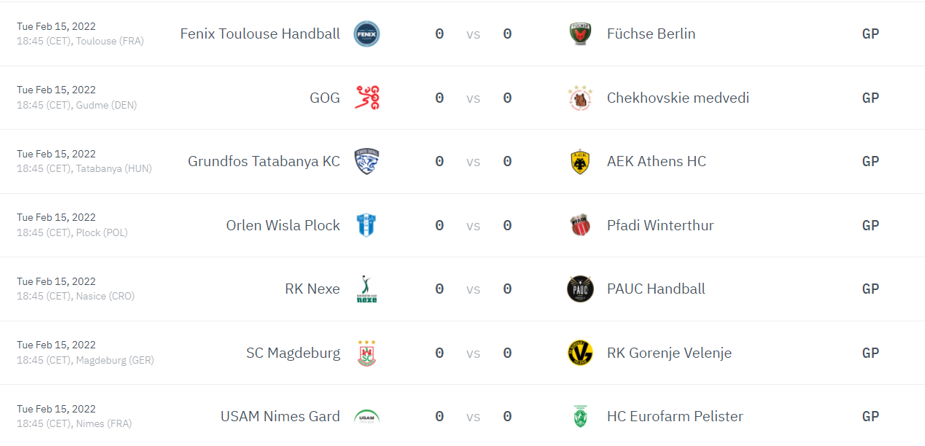 17:02
With the Men's EHF EURO 2022 still fresh in our memories, the EHF European League is now returning to the spotlight. A player at the forefront of both competitions is Bjarki Mar Elisson: with Iceland, he became something of a peoples' champion; and with TBV Lemgo Lippe, he is top scorer for his club in the European League.
Read his interview ahead of Lemgo's clash with SL Benfica in Portugal at 20:45 tonight.
16:53
This is the menu for tonight. We are sure it includes some tasty appetisers, spicy main courses, and sweet deserts for everyone: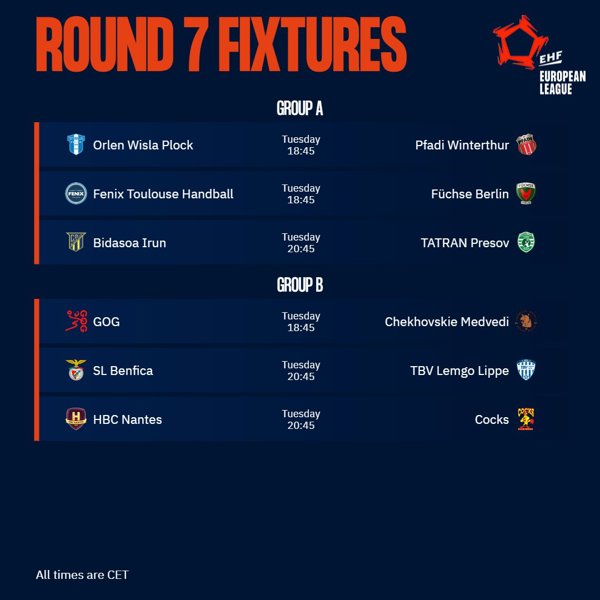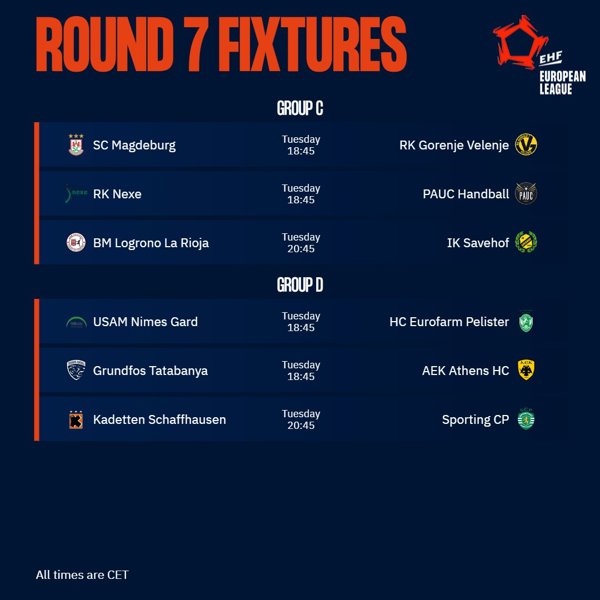 16:45
Good afternoon, welcome to the live blog for round 7 of the EHF European League Men 2021/22!
We had one rescheduled match last week - group A leaders Füchse beat Pfadi 30:27 - but today marks the full return of the competition from its two-month winter break.
We got 12 matches in total coming up, with the first seven starting in two hours' time. Read the round preview to learn what is coming your way tonight: