EHF European League
Summary: Baia Mare and Viborg reach semis
We now know who will complete the EHF European League Finals Women 2022 after Virborg and Baia Mare secure the last two spots on Sunday. 
18.30
Thanks for joining us for a great weekend of European League handball.
Here's the Finals Women lineup. Keep an eye out for the draw for the semifinals. 
Join us next time for some more great handball action.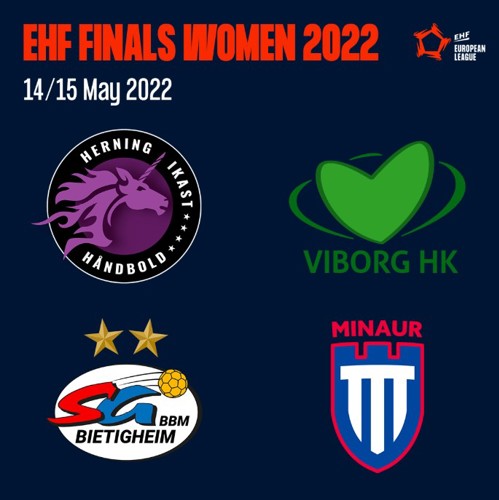 18.13
Sola had a storming first half and built up a six-goal lead at half-time as they tried to haul in their eight-goal deficit. 
It wasn't to be. Here's what their coach thought...
Today we showed that Sola are a team that deserve to play in Europe. In the first half, we played great defense and got to play our game. Unfortunately the beginning of second half we made a lot of technical faults, and gave Baia Mare a chance to get into the game again. Now our Europe adventure is over for this season, and I would like to wish CS Minaur Baia good luck in the final four.



17.28
Not to be for Sola who have thrown everything at Baia Mare in their pursuit of clawing back their eight-goal deficit, but it is the Romanians who progress after a 29:29 draw. 
17.17
Less than 10 minutes and Bare Maia are in control and not looking as though they will lose by eight or more. That said Sola aren't going to go out wondering and are throwing everything at the Romanian club's defence.
Any time they're near the Baia Mare goal, their fans are nearing fever pitch. 
17.09
This match has swung back in Baia Mare's favour. They've pegged back their hosts and are looking confident of winning.
16.55
A quick timeout from Sola. They still lead, but Baia Mare have pegged them back with a couple of goals. 



16.41
Of course, Sola need a solid defence if they are going to close the gap and so far they have been inspired. 
16.36
Sola began the day needing to score eight goals to draw level on aggregate. Well they're up to six at halftime. Will they complete the job in the second?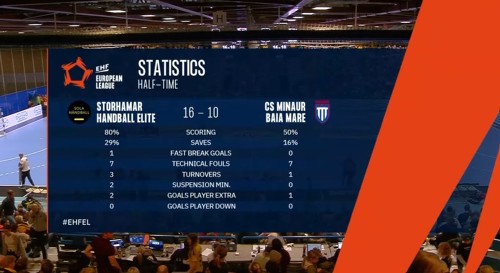 16.27
16.22
This was a corker of a match and Viborg made it to the Final Four. Read all about it...
16.16
Nearing the midway point of the first half and Sola are starting to bite into the eight-goal deficit they must overcome to progress. 
16.09
Viborg fans. We think you'll like these photos after today's performance







15.49
We switch our attention to today's second European League quarterfinal and it features CS Minaur Baia Mare trying to extend an eight-goal lead against Sola HK.




VIBOCOLD Arena was amazing today. I am of course so happy that we are now playing Final 4 – it is a huge goal for us and very important to everyone around the team. Today both teams played really well and therefore I actually right now have the feeling that it was 50 /50 - and of course, I am so happy that we are made it.
15.45
Viborg fans, you'll like this moment. 
15.43
Phew, we've caught out breath after that magnificent match. Both teams were epic and played some great handball, but ultimately it was Viborg who took the plaudits.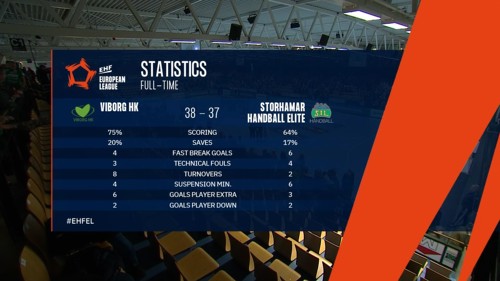 15.28
That is it. Viborg are off to the big dance. EHF European League Final Four here they come after their 38:37 victory gives them a 71:68 lead on aggregate. 
15.27
Huge save from Emma Friburg in the Viborg net. The crowd like it, they like it a lot. 
15.25
Last 90 seconds. Viborg have the ball and draw level. Storhamar need at least two in the last minute. 
15.23
It is over four minutes since Storhamar have scored and Viborg's defence is flinging everything in their way. Every block and deflection is being cheered by the home crowd like they've been given a winning lotto ticket. 
Meanwhile, the visitors are desperately trying to build some momentum and have called for a time-out. 
We're watching through our fingers. 
15.20
Right now Viborg are hanging on to their Final Four place by their fingernails. They have closed from trailing by two, to one (which is good enough) to being level. Five minutes to go and they are the ones in possession. 
15.16
Good grief this match. It has swung one, then the other and is now finely balanced with just under 10 minutes to go. Two points separated the teams before throw-down and as yet it is not clear how this is going to finish up. 
Which is exactly why we love this sport. 
15.11
15.07
We're at the midway point of the second half and the match has completely swung back the other way and Viborg now lead. 
14.52
Back underway between Viborg and Storhamar, and the visitors are still in the lead as they chase a place in the Final Four. 





14.18
We're at the halfway stage of the first half and it is the visitors who are in the ascendancy. They are continuing to build their lead and have started to pull ahead as they seek to overcome a two-point deficit from the first leg. 
14.11
It is swinging back and forth between the teams, but Storhamar have a slight lead. They are moving the defence around to open up gaps that they then exploit, Viborg have found their range from distance and it is already proving to be a fruitful source of points. 
14.03
We are underway between Viborg and Storhamar and the hosts aren't hanging around, they're quickly opened a two-goal lead. 
13.52
Both teams have been out for their warm-up and there are some cracking tunes pumping out to help raise the energy levels. 
Only two points in this one - how important will a strong start be? 




13.32
In the first leg between Viborg and Storhamar, the victors left it late to grab a two-goal win. 
Viborg's left-wing Laerke Nolsoe and Storhamar's centre back Anniken Obaidli were joint top scorers with nine goals, and while Moa Hogdahl scored eight goals for Viborg,but is out of today's match with a toe injury.
For Sola, their defeat to Baia Mare was their first of the season, and also Baia Mare's first time in which they scored 40 goals in a European match. 
If Sola want to continue in the competition, they will need to make it four home wins from four in Europe and better their winning average of 6.33 goals per game.  
13.22
Time for a recap of Saturday's action...
First off Bietigheim were again too strong for Besancon and progressed with a 30:20 win.
Then Herning-Ikast Handbold joined the German side in the quarterfinals with a 33:28 victory over SCM Ramnicu Valcea.
13.13
Welcome to day two of the EHF European League quarterfinals.
First up at 14.00 CET, it is Viborg HK against Storhamar Handball Elite and only two points separate the teams after a 33:31 victory for Viborg in the first leg. 
Then at 16.00 CET Sola HK face CS Minaur Baia Mare needing to score eight goals just to draw level in the tie. 
As ever EHFTV.com is the place to watch all the action live. 







SATURDAY 2 APRIL
20:25
Today's coverage ends here with the two match reviews. Tomorrow, be back from 13:00 CEST for the build-up to the last two quarter-finals - the first looks especially exciting with only two goals separating Viborg from Storhamar. So there's lots to look forward to!
19:52
A quick poll - we have two teams through to the EHF Finals now, but which of them are you most excited to see reach this stage?
19:33 FULL-TIME | HERNING-IKAST Håndbold 33:28 SCM RAMNICU VALCEA
Despite a huge effort from Asma Elghaoui, who scored nine times from 11 shots for Valcea, it's Herning-Ikast who will play in the EHF Finals after winning 33:28 today. That makes it a 72:61 aggregate victory for the Danish side. 
Valcea bow out, but they did play well today with their 10-woman side and showed impressive tenacity.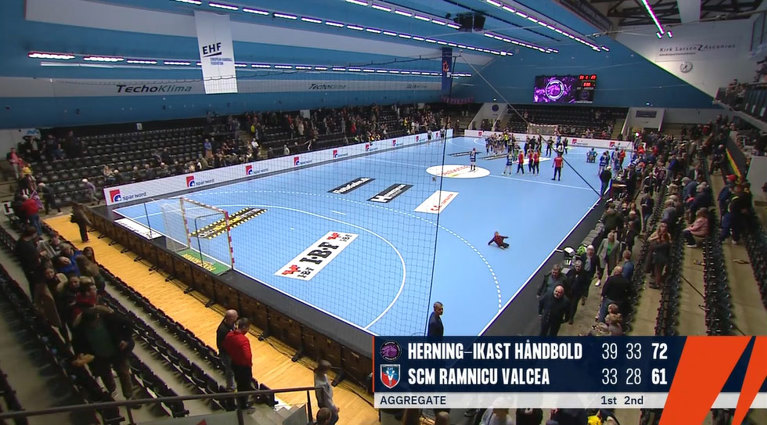 19:25
Herning-Ikast know they've won this now, but Valcea are still going for every ball and quite clearly want to go out of the competition with their heads held high. However, a steal goes unanswered as Jessica Ryde makes her seventh save of the day.
19:15
Valcea are putting up a good challenge but Herning-Ikast are defending well. Kristina Liscevic grimaces as she's fouled, and soon after Herning-Ikast have the ball and Julie Mathiesen Scaglione, who's having a great period, nets for a 28:24 lead.

19:08
A timeout for Valcea; they looked like they were threatening Herning-Ikast's lead, but the hosts held firm and have now got a 24:19 advantage. Valcea coach Bent Dahl tells his team they need to step up again. They have 16 minutes to pull this back.
18:57
Valcea have come back a bit stronger and have narrowed the gap to two girls in the first five minutes of the second half. It has to said it's a good team effort from their smaller roster, but will the fatigue start to show as the match goes on?
18:40 HALF-TIME | HERNING-IKAST Håndbold 16:12 SCM RAMNICU VALCEA
A fruitless last five minutes of the half for Valcea, who had been so strong up until that point, helped Herning-Ikast stretch out to a 16:12 lead. Cecilie Brandt has been superb, scoring six times. It's looking hopeful for the Danish side, who now have a 10-goal aggregate lead.


18:30
Neither side can gain the advantage for more than a short time here - they're just exchanging goals. Isabell Roch is doing a great job between the Valcea posts, keeping her side in it although Herning-Ikast are trying more shots. But she couldn't get this great lob from Cecilie Brandt.

18:23
Herning-Ikast regain the lead in a 3:1 run, with the same period also featuring some poor discipline from both teams - the hosts conceding one two-minute suspension, and Valcea two. Anders Friis calls a timeout for his team, who now lead 8:7 - it's still extremely tight.

18:17
A pause to treat Simone Petersen, who is fouled hard and goes down, before play resumes. Valcea lead 7:6 now.
18:13
Valcea have brought a small team to Denmark, with just 10 field players at their disposal. However, they are currently dominating the match - Herning-Ikast have not scored for over five minutes, and Valcea lead 6:4. 
18:03
In contrast to the previous match, this one has begun more quickly with a goal apiece inside two minutes. 
17:48
Herning-Ikast and Valcea are finishing ther warm-up ahead of their second leg match. Herning-Ikast are the highest-scoring team left in the tournament, and like Bietigheim before them hold a six-goal advantage ahead of this match. Valcea, meanwhile, have a poor record against Danish teams, winning just one of their last seven games against Danish opponents in European competitions. 









17:40
Before we move on to the day's second match, here's how Bietigheim ended things - with a superb Veronika Mala in-flight goal. 
Bietigheim cruise to a big second leg win, giving them a 16-goal victory on aggregate - and booking their spot in the EHF Finals Women. 
It's their tenth consecutive win in the competition, and also continues their perfect home record. 
Antje Lauenroth, Luisa Schulz and Julia Maidhof for the hosts, and Aleksandra Rosiak for Besancon, all scored five times; Melinda Szikora ended the match with a huge 15 saves (44 per cent).
Besancon end their season, but it's their best result in a European competition for over a decade. They are clearly disappointed now, but hopefully can look back with pride.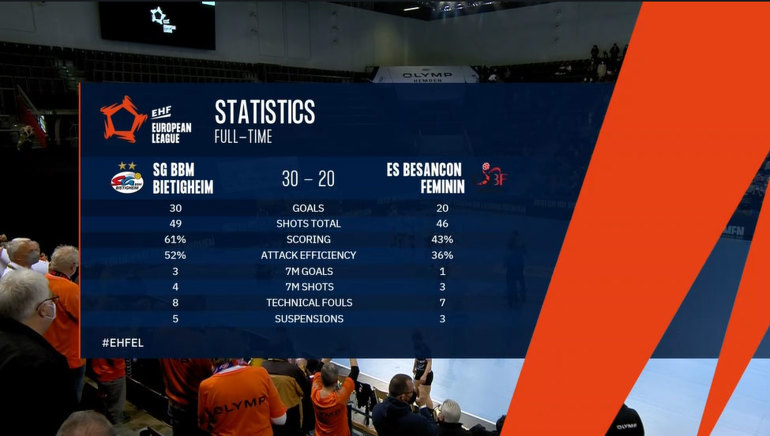 17:14
Despite a timeout from Besancon, Bietigheim extended their lead to six goals. A little bit of a rally from the French club - with a missed penalty from Julia Maidhof - helped bring them back to a four-goal deficit. However, it looks rather as though their time is running out to close the gap and take that EHF Finals Women spot.
17:05
Antje Lauenroth continues to lead the scoring, with two goals in the second half so far including this shot. Xenia Smits' assist is lovely!

17:00
Some seven minutes into the second half Bietigheim still lead by two goals. Roxanne Frank is now in goal for Besancon.
16:47
Undoubtedly, Melinda Szikora is one of the keys to Bietigheim's lead. She's saved seven of 16 shots for a save efficiency of 44 per cent in the first half, eclipsing Sakura Hauge who's saved six from 18 (33 per cent). 

16:42 HALF-TIME | SG BBM BIETIGHEIM 12:10 ESBF BESANCON FEMININ
Bietigheim go to the dressing rooms two goals up. Besancon had a direct free throw before the break was formally called, but Aleksandra Rosiak sent the ball hammering into the Bietigheim wall. There's a bit of complaining about the shot before the court clears.
The hosts now have an eight-goal aggregate lead, and Besancon have a real challenge on their hands if they want to stay in the race.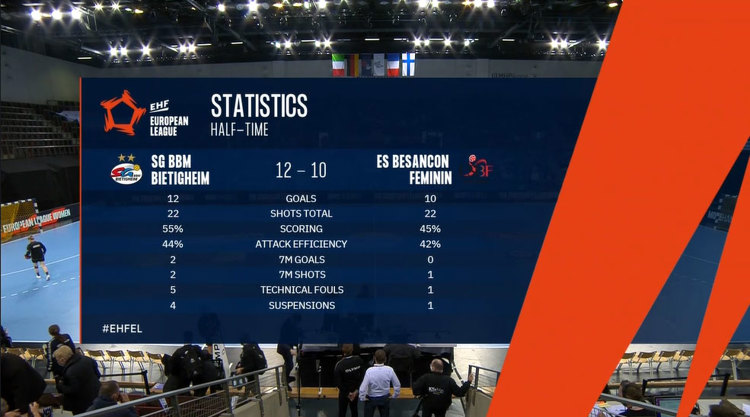 16:35
After their timeout Bietigheim rallied strongly, and have regained their two-goal advantage. Melinda Szikora in particular is making a real difference today.

16:25
For the first time Besancon lead after another Aleksandra Rosiak goal, so Markus Gaugisch calls a timeout for Bietigheim. There's just one goal in it, though, and the hosts still have a comfortable five-goal aggregate lead.
16:23
From a short while ago, this was an excellent equaliser from Aleksandra Rosiak - powerful from long-range with a great angle.

16:20
There was a period featuring several errors by both teams, and three missed goals from Bietigheim, but they've now taken a 7:5 lead. Antje Lauenroth is the stand-out field player in this first quarter, while both Melinda Szikora and Sakura Hauge are having a good day in goal.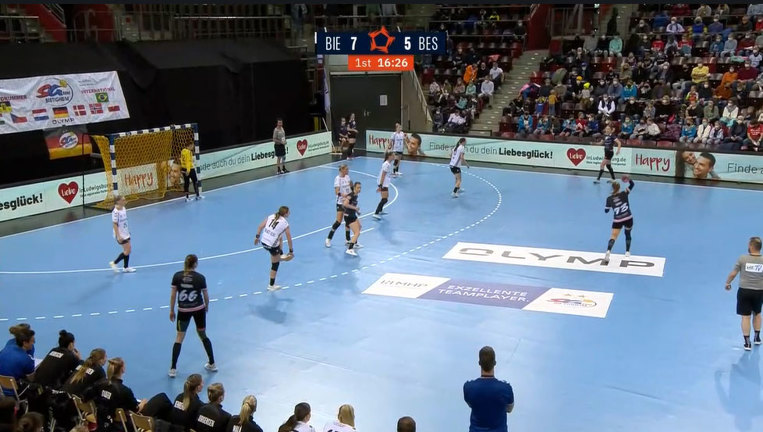 16:10
For a short while Bietigheim definitely had the upper hand, moving to a 3:1 lead and looking to extend it - but a couple of fast breaks by Lucie Granier have brought Besancon back on terms. 
16:02
And we're off, to a bit of a slow start. Antje Lauenroth misses her first shot, and Bietigheim defend hard as Besancon have possession to deny them a shot too. No goals in the first two minutes.
15:45
Coverage has begun on EHFTV ahead of the first match - not long now until throw-off at 16:00 CEST.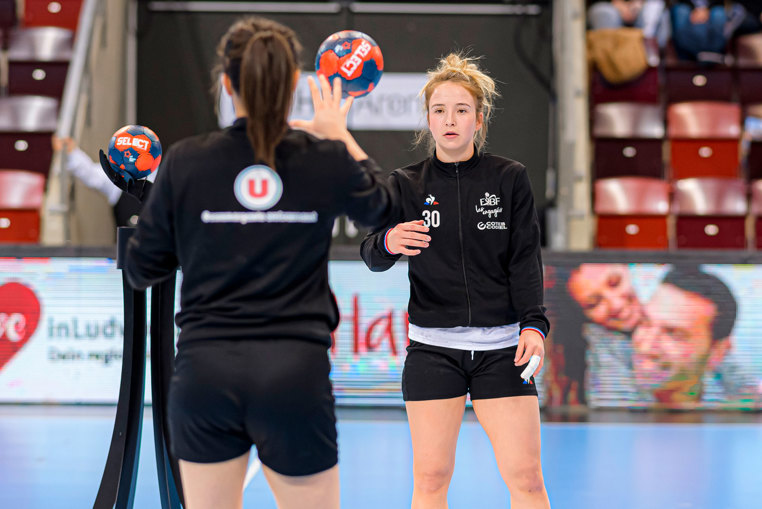 15:30
If you missed last week's first leg, here's a reminder of what happened in Besancon and Valcea.
Bietigheim's right back Julia Maidhof was critical for her team in their away match in France, scoring 10 times. While Besancon pulled back a few goals in the last quarter, the German club proved too strong and their win was never really in doubt after they had pulled ahead by five goals in the first half.
Herning-Ikast got out to an earlier lead against Valcea, and became the first European side to put 20 goals past the Romanian side in the first half on their home court. If the Danish club win again today, it will be their second EHF Finals appearance in a row.
15:15
It's time to find out which four teams will be progressing to the EHF Finals Women! 
The four matches this weekend follow last week's first leg, which saw SG BBM Bietigheim, Herning-Ikast Håndbold and CS Minaur Baia Mare all take comfortable wins. It was a bit closer between Storhamar Handball Elite and Viborg HK last week, with just two goals separating them - but Storhamar have the harder task this week, as they have the disadvantage and are playing away.
Today's action throws off at 16:00 CEST as Bietigheim host ES Besancon Feminin.