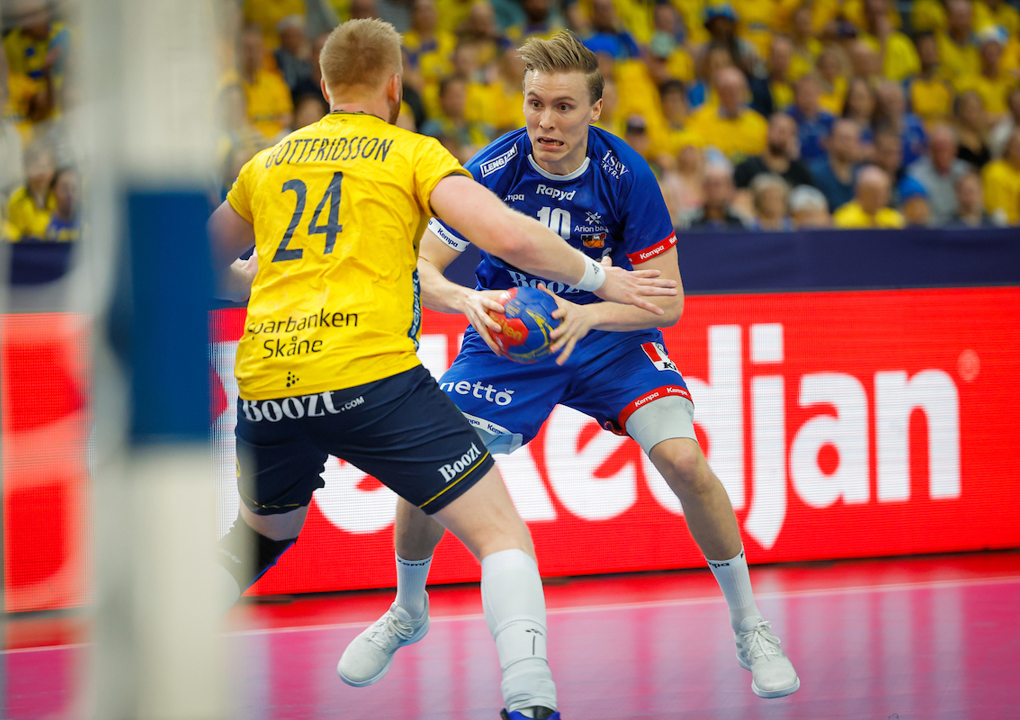 Champions League players shine at the World Championship
Some of the best handball players on the planet, including a galaxy of Machineseeker EHF Champions League stars, are gathered at the 2023 IHF Men's World Championship this month. Eight teams are still in the running to step on the podium and lift the trophy in Stockholm next Sunday.
Many Champions League players have made an impression in the first two weeks of competition, and here are some of the most notable.
Best all-round player: Gisli Kristjansson (SC Magdeburg / Iceland)
Iceland were knocked out of the competition at the end of the main round with their group phase loss to Hungary proving pivotal, despite a strong fight against Sweden in Gothenburg last week. Gisli Kristjansson was especially impressive, as the SC Magdeburg left back contributed 18 goals and 39 assists during the six games he played in Sweden. He is the third most efficient player of the tournament, behind Jim Gottfridsson and Juri Knorr.
The Sharpshooter: Yehia Elderaa (Telekom Veszprém HC / Egypt)
One might have thought that Egypt would lack an offensive leader after Yahia Omar suffered a knee injury in December. Think again. His partner in crime in Veszprém, Yehia Elderaa, picked things up exactly where his teammate left off. With 27 goals and 15 assists, Elderaa has truly been carrying his national team on his shoulders since the beginning of the tournament.
The Evergreen: Mikkel Hansen (Aalborg Håndbold / Denmark)
He might have played several world championships and won twice, but Mikkel Hansen is still hungry for more. At 34, he has proved, once again, to be Denmark's offensive leader. The man with the headband netted 32 times and delivered 26 assists to carry Denmark to the quarter-finals. Another trophy for Hansen and his teammates is very much on the cards.
The Revelation: Zoltan Szita (OTP Bank-Pick Szeged / Hungary)
Zoltan Szita's performances in the Champions League might have gone unnoticed, as he only scored six goals in the first 10 rounds of the competition, but the 24-year-old has been shining since the World Championship started. With 24 goals scored in the first six games of the tournament, Szita has been one of the players who delivered and we did quite not see it coming.
The Wall: Andreas Wolff (Industria Kielce / Germany)
If Germany are in the quarter-finals, they owe it in part to Andreas Wolff. Having stopped 36.6 per cent of shots so far, the Kielce goalkeeper has played a big part in his team's rebirth. Being one of the most experienced players in the German squad might have put some pressure on his shoulders, but Wolff has proven that he is not scared of it.
Best action: Andreas Palicka (Paris Saint-Germain Handball / Sweden)
You can always count on Andreas Palicka to deliver a highlight. And against Iceland, the Paris Saint-Germain goalkeeper showed us a crazy save, yet something he has done over and over in the past years. Throwing his leg to the top corner of his goal, he prevented Sigvaldi Gudjsonsson from scoring. Impressive.

Kevin Domas's starting seven
Gonzalo Perez de Vargas (Barça / Spain): The best goalkeeper of the tournament, especially on seven-metre throws.
Bjarki Mar Elisson (Veszprém / Iceland): The Icelandic goal-machine fears no keeper, as he showed again during the competition.
Sander Sagosen (THW Kiel / Norway): This may not be Sagosen's most impressive competition to date, but he has been there whenever Norway needed him.
Luc Steins (PSG / Netherlands): Steins might have been using the same tricks for years now, but they are as impressive as ever.
Nédim Rémili (Kielce / France): Took a lot of responsibilities on his shoulders when Dika Mem injured himself, but he did not disappoint.
Kauldi Odriozola (HBC Nantes / Spain): In his only second major competition, the left-hander from Nantes has proved to be as cold-blooded as a snake.
Lukas Jørgensen (GOG / Denmark): Playing his first international competition, the young Danish line player has already netted 19 times in six games. Another revelation of the tournament.
Photos: © Victor Salgado/Barça / Jozo Cabreja/Kolektiff