EHF Champions League
Summary: Barça and Kielce stay on top after nail-biting round
Round 6 of the EHF Champions League Men provided an opportunity for eight teams to head into the three-week competition break on a high. After a Match of the Week draw between Kiel and Veszprém and a narrow win for Motor in Celje on Wednesday, Barça dominated Aalborg while Porto and Kielce drew on Thursday.
FRIDAY 30 OCTOBER
14:00
We are closing our round 6 coverage, how else?, with the only team that hasn't dropped a single point so far. No wonder Barça are happy to provide their 278.8K followers on Twitter with a review of yesterday's high-scoring game against Aalborg Håndbold.
The EHF Champions League Men resumes om 18 November (match schedule) - and so does the live blog. Until then, take care!
12:45
Their results in round 6 meant Kielce and Barça stayed on top of their respective groups, but both have only the narrowest of leads over their opponents. Kielce are on nine points and Flensburg are just one behind on eight, and Barça also have a one-point edge over Veszprém, with 10 and nine points, respectively. 
In group A, Porto's draw with Kielce saw them pull level on six points with Meshkov Brest, although the Portuguese side occupy third position ahead of Brest due to goal difference. 
With the other three matches played this round in group B, there have been more points added in comparison with group A, but little movement in the rankings. 
Despite a second consecutive clear defeat, Aalborg remain in third position thanks to their stellar start to the season, with eight points. Meanwhile, Kiel's MOTW draw with Veszprém kept them in touch with the frontrunners, as they stay in fourth but move to seven points. 
Motor's first win of the season meant they leapfrogged Celje and now sit in sixth position with two points alongside Nantes and the Slovenian side. Motor's victory also means that now only two teams remain with no points yet in the season: Zagreb in group B and MOL-Pick Szeged in group A. 
See all the group standings here. 
12:30

Welcome to the day after a thrilling round, where we will take one last look at the exciting two days of action before the three-week break in the EHF Champions League Men.
THURSDAY 29 OCTOBER
23:15
Winding up tonight's coverage with a look at some of the best photographs of yet another night of action and drama in the EHF Champions League Men. It's been a brilliant round; I hope you've enjoyed it as much as we did.
22:50
The last match of the round was a cracker. Here's our review: Quintana saves a point for Porto against Kielce.
22:37
And this was another critical moment for Porto as Alfredo Quintana knocked away a penalty throw by Sigvaldi Bjørn Gudjonsson. Yet another spectacular save from a Porto goalkeeper. It's becoming a habit.
22:30
Miguel Martins was definitely crucial to Porto's draw tonight, scoring the equalising goal for his team after Kielce had drawn ahead in the closing minutes.
That's the end of the round 6 matches. We've had one big win, one incredibly tight win, and two thrilling draws. Which match did you enjoy most?

22:15
FULL-TIME: A slightly scrappy last few minutes of the match, and a couple of crucial saves by Alfredo Quintana, means this exciting, close clash ends in a 32:32 draw.
22:04
Kielce's turn for a timeout after they levelled the match. It's 29:29 and the momentum might just be with the visitors right now.
21:59
A few little mistakes let Kielce close up to 28:27. Porto are playing seven-on-six in an attempt to hold on to the lead, and Magnus Andersson calls a timeout. Less than nine minutes on the clock ...
21:53
Porto have beaten Kielce only once in five previous EHF Champions League Men meetings - when they met in September last year, with Porto taking a 33:30 victory. With 12 minutes to go, the home side are still in a narrow two-goal lead at 26:24.
21:43
Miguel Martins is having a good game tonight. Porto continue to lead some nine minutes into the second half, but the margin is still just two goals at 22:20.
21:34
This whole sequence by Kielce is masterful, showing great awareness of where their teammates and the opposition are on court.
21:25
HALF-TIME: What a turnaround! From trailing by four goals, Porto are now two up and it's 19:17 at the break. You can never underestimate this Portuguese side - but equally, Kielce have shown consistent form this season and could well come back in the second half.
21:11
A timeout and a change of goalkeeper and Porto are right back in this!
21:02
Nikola Mitrevski has been the standout player for Porto in the last couple of matches, producing some amazing saves, but he's not been performing tonight and Magnus Andersson has just switched Alfredo Quintana into goal instead. Porto need something to happen fast as Kielce are now 9:5 ahead.
20:50
Up and running in Porto and Kielce have had a better start, led by Alex Dujshebaev and Arkadiusz Moryto. It's 4:2 to the visitors after six minutes. 
20:46
Before Porto and Kielce get properly underway, read our match review of tonight's group B goal-fest - packed with stats and facts about the game.
20:30
We move now to Portugal and group A, with group leaders Kielce set to face FC Porto. It's Porto's fourth home game of the season, and after losing to Elverum in round 1 they beat both Brest and Szeged on home court. Kielce also lost in round 1, to Flensburg, but since then have been unbeatable. Tune into EHFTV.com ahead of throw off at 20:45 CEST!
20:20
Getting 33 goals past an in-form Perez de Vargas and Møller is no mean feat - indeed it's the highest number of goals Barça have conceded this season.
20:15
FULL-TIME: With a final score of 42:33 Barça take the win. It's the highest combined score of the season so far, although not as high as last season's meeting between these two sides in Barcelona, when the hosts won 44:35. 
Barça remain the only team to have won all their matches so far, and regain their position at the top of group B.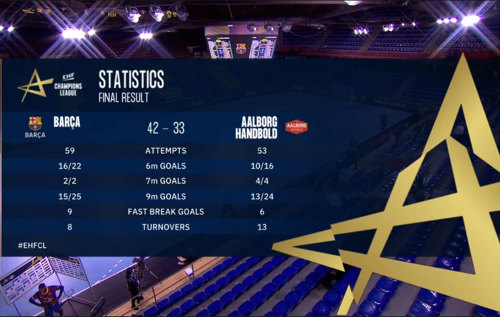 20:06
Blaz Janc casually scores into an empty goal and it's 40:28. Barça have now scored at least 40 goals in all their EHF Champions League Men home matches this season, which is a remarkable achievement.
19:58
And now it's a 10-goal gap with just over 10 minutes still to play - 36:26. Aalborg's hopes of an upset at the Palau Blaugrana seem to be dying. 
19:51
In 13 minutes Barça have added a further 11 goals to their tally, while Aalborg have scored seven to bring the current score to 31:25.
19:41
Speaking of Gonzalo Perez de Vargas ...
19:39
Barça have taken the first two goals in the second half, with Gonzalo Perez de Vargas scoring the second into an empty Aalborg net. Looks like the hosts are determined to hang on to their impressive unbeaten streak.
19:28
That half-time score of 20:18 equals the score at the break in yesterday's MOTW, which was the highest-scoring first half of the season so far. Thanks to Björn Pazen for that nugget!
19:25
HALF-TIME: An intense first half during which Barça had control until the last three minutes or so, when two goals from Andreas Jensen, two from Jonas Samuelsson and one from their top scorer Sebastian Barthold brought Aalborg back into touching distance. It's 20:18 and an exciting second half awaits.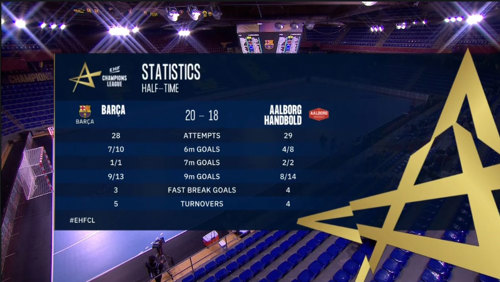 19:19
Barça's Dika Mem and Luka Cindric making things look rather easy here - from this point the home side stretched away, but Aalborg are just now finding their form again and closing back in.
19:11
Aalborg might be finding the going a little tough right now but there have been some wonderful goals right from the start of the match!
19:03
Despite having a Danish goalkeeper on the squad, it's Gonzalo Perez de Vargas who's spent most time between the Barça posts so far and he's making some superb saves, stopping over 40 per cent of Aalborg's shots so far. 
18:56
Barça are making a few mistakes but the sheer volume of their shots is paying off as Luka Cindric puts them up 8:5 after 10 minutes. Could this be another high-scoring match by the Spanish side after their 45:27 victory over Zagreb in round 4?
18:49
Throw-off! Blaz Janc and Dika Mem get Barça off to a strong start with two goals inside the first two minutes,  but Felix Claar and Jonas Samuelsson quickly make it all square. It will be interesting to see what difference Kevin Møller's knowledge of his Danish compatriots makes in this game.
18:36
The winner of this game will top group B, after last night's insanely exciting MOTW between Kiel and Veszprém ended in a draw. 
18:17
Welcome back for live coverage of round 6 of the EHF Champions League Men, which throws off in just under 30 minutes at 18:45 CEST when Barça host Aalborg.
16:50
"It will be a very tough and exciting game," says Porto's Victor Iturriza ahead of their match with Kielce to conclude the round tonight. 
Iturriza is Porto's top scorer, with 20 goals ahead of this match. Kielce are led by Igor Karacic, who is currently joint third in the overall standings with 27 goals, while Alex Dujshebaev has netted 21 times so far this season. 
16:20
As we enter the final hours before the last matches of the round throw off, let's take a look at some key facts for the upcoming clashes. 
First up, Barça are hosting Aalborg in just over two hours. 
Barça have the chance to take their 22nd home Champions League victory in a row
after their best Champions League start ever, with four wins in a row, Aalborg suffered a home defeat against Kiel in the previous round
Barça have won all six previous encounters against Aalborg, including their largest victory of all time, 31:11 in the Last 16 in 2015
Barça have two Danes in their squad: goalkeeper Kevin Møller and left wing Casper Mortensen
Check out some highlights of their last match on Barça's court below. 
12:34
Also in this week's final round 6 game, a team are eager to keep their winning streak going as Lomza Vive Kielce are traveling to FC Porto (throw-off at 20:45 CET).
Kielce were edged by a single goal in their season-opener at Flensburg, but have meanwhile gone top of group A with four straight wins - against Szeged, Elverum, Brest and PSG.
Porto seem well on track for one of the play-off spots from group A, having started the season with five points from five matches. Their two wins so far both came in home games.
12:09
Veszprém's draw in Match of the Week has left Barça the only team in the EHF Champions League with a perfect winning record this season.
If Barça extend their run tonight and add two points to their tally again (throw-off at 18:45 CET), they will become the sole leaders of group B.
With Aalborg Håndbold, however, the third-place team are visiting Palau Blaugrana...
11:13
One more look back over our shoulder, as yesterday's results also included an exciting one-goal win for Motor visiting Celje.
This morning, the Ukrainian team reflect on "an emotional victory":
10:52
Billed as an instant classic, the MOTW between Kiel and Veszprém fully lived up to expectations.
The match has received broad coverage in media across Europe. We have made a selection for you:
Good morning to another day of EHF Champions League action!
Two more matches in round 6 coming your way but before we dive into tonight's schedule, let's take a closer look at what happened yesterday.
We were treated to a brilliant Match of the Week between THW Kiel and Telekom Veszprém HC, resulting in the powerhouses' first ever draw in their 21st meeting.
Here is how both teams reacted to Wednesday's clash:
21:20
I leave you tonight with the best pictures from two absolutely amazing games. This EHF Champions League Men season definitely keeps on giving us the best possible handball drama. Don't miss tomorrow night's matches, as Barça host Aalborg and Porto play Kielce!
21:18
Artem Kozakevych was key to HC Motor's first win of the season, scoring the critical final goal for the visitors as they beat Celje. Check out the match review: Kozakevych secures first points for Motor
20:55
Catch your breath and remind yourself of the highlights of the MOTW in our review: Cupara shines as Veszprém grab a point.
20:51
If you haven't checked it out yet, head over to Instagram for our MOTW coverage featuring reaction from Hannah Jackson!
20:45
Mind you, Hendrik Pekeler also had a solid match - here he is combining with an assist from Miha Zarabec in the second half.
20:39
Poll time! Vladimir Cupara won the Player of the Match, but Petar Nenadic scored five times for Veszprém, and Sander Sagosen and Niklas Ekberg netted a combined total of 16 goals for Kiel. So who impressed you most?

20:29
In an outstanding match, Vladimir Cupara was, well, outstanding.
20:16
FULL-TIME: Wow. For the first time in 21 meetings, Kiel and Veszprém have drawn! Final score: 31:31. Vladimir Cupara wins the Player of the Match award after a particularly excellent second half.
In Celje Motor are ecstatic with their first win of the season, taking a narrow 32:31 victory after successfully blocking a penalty after the buzzer.
20:14
Timeouts in both matches! Sander Sagosen goes high in an attempt to take the lead in Kiel, while Motor lead Celje 32:31. Inside the last minute in both games. 
"We can do this!" say Veszprém.
20:10
Another save from Vladimir Cupara, and now Vuko Borozan slams in the equaliser. 31:31 with only a minute or so to play.
20:07
Veszprém have closed a four-goal gap to one after a flurry of shots. It's definitely not over!
20:02
Celje are fighting hard against Motor and Filip Ivic is putting in a fine performance between the posts, with a 37.5 per cent save efficiency right now.
20:00
After scoring eight times in the first half, Sander Sagosen hasn't netted a single goal in the second half. Instead, Niklas Ekberg is racking up the shots and Kiel now lead 29:27 as Veszprém take a timeout.
19:53
It's a different match now in Kiel. Both teams are making a few mistakes, but Patrick Wiencek has put Kiel up at 26:25 with about 14 minutes left on the clock.
19:47
In Celje, Barys Pukhouski is the stand-out player for Motor, flying solo to beat the Celje defence in this fine goal.
19:45
Things have slowed down a bit, but Veszprém still lead 23:22 after about nine minutes of the second half. Hendrik Pekeler has had a great start to lead Kiel's attack, but Vladimir Cupara continues to excel in the visitors' goal.
19:36
A classic in-flight goal to admire here from Veszprém's Yahia Omar.
19:33
Journalist Björn Pazen reports that the 38 goals scored by Kiel and Veszprém together is the highest combined first-half score in this season. The previous high was in round 4, when Barça led Zagreb 24:13 at the break.
19:21
HALF-TIME: That was a "bonkers" first half, says commentator Chris O'Reilly, and he's not wrong! Veszprém go into the dressing rooms 20:18 up against Kiel. The highest-scoring game between these two was in 2007, when Veszprém beat Kiel 39:36 - could we be on for a repeat of that sort of score tonight?
Meanwhile Motor are 17:14 ahead of Celje, a good sign for a team looking for their first EHF Champions League Men win of the season.
19:19
Kiel are taking their first time out with 17 seconds left in the first half as they trail by two goals.
19:14
This Vuko Borozan goal from early on in the match has characterised the fast and furious play so far. Let's hope it continues!
19:11
In the head-to-head between Sander Sagosen and Petar Nenadic, so far Sagosen is two goals ahead. He's scored five to Nenadic's three, but Nenadic's latest put Veszprém one goal up.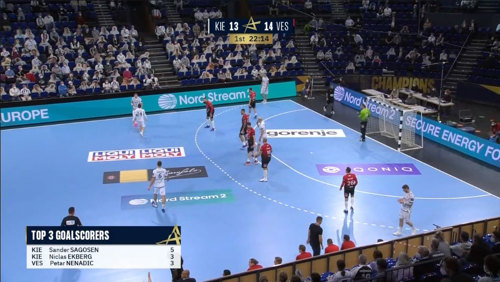 19:02
Another save by Vladimir Cupara means it's 10:10 with 15 minutes played in what is turning out to be a fascinating duel between two top-quality sides.
18:54
All square in Kiel at 7:7 with goals coming thick and fast. Niklas Landin and Vladimir Cupara are starting to find their form and beginning to block more shots, however.
18:49
A contrasting start tonight in Kiel and Celje - six goals scored in MOTW, but none at all in Celje with four minutes played.
18:45
Both matches have thrown off and it's Egyptian right back Yahia Omar who gets the scoring underway for Veszprém, continuing a great debut season so far - that was his 15th goal in the EHF Champions League Men.
18:30
Just 15 minutes from throw-off for tonight's matches, so settle in and turn on EHFTV.com for live coverage. MOTW tonight will be commentated by Chris O'Reilly!
17:00
MOTW is not only a duel between two great teams - Kiel and Veszprém - but also between many great players.
Here is a closer look at Sander Sagosen vs Petar Nenadic:
16:33
Never change a winning team: For tonight's home game against HC Motor, Celje rely on the same 16-player roster that earned the club's first win of the season last week, 30:22 at Zagreb.
15:54
Did you know that Veszprém have won 11 of their last 12 games in the EHF Champions League since 9 November 2019?
And did you also know who were the only team to beat Veszprém in this period?
Kiel! The German champions won 29:28 on 12 February 2020 - and have not lost to Veszprém in three years.
No wonder that Veszprém head coach David Davis finally wants to win again tonight:
"In my mind, I am just waiting for that moment to play against them and beat them."
14:45
Just four hours now until the throw-off of Match of the Week! Kiel are looking forward to their "Spitzenspiel" against Veszprém - and rightly so!
12:39
In our other game this evening, RK Celje Pivovarna Laško and HC Motor are set to face-off in what feels like an early decider in the race for sixth place. Celje have bagged one win so far, a big one over Zagreb, while Motor are in search of their first points - though they have looked promising in their three games to date.
11:49
If you haven't tested yourself with our MOTW quiz, scroll down and give it a go before looking through these interesting facts, the answers lie within...
• After four matches each in the EHF Champions League Men, THW Kiel are on six points and Telekom Veszprém HC on eight.
• Veszprém have scored at least 37 goals in each of their last three CL matches, and they are one of only two teams - alongside Barça - who are still undefeated in the CL this season.
• Both Kiel and Veszprém have already won two matches with a double-digit margin this CL season.
• The head-to-head stats after 20 duels are fully balanced: Both teams won 10 times and no match ended in a draw.
• Kiel lost at home only once to Veszprém, in 2016/17 (27:25).
• Veszprém are in their 26th CL season, Kiel in their 23rd.
• Veszprém are second in the all-time CL standings (202 wins, 14 draws, 80 defeats), just ahead of Kiel (196, 20, 78).
• Kiel vs Veszprém was a semi-final at the EHF FINAL4 for three years in a row: In 2014, Kiel won before losing the final to Flensburg; in 2015 and 2016, Veszprém won but both times lost the final - against Barça and Kielce, respectively.
• Both teams are part of the VELUX EHF FINAL4 2020 on 28/29 December in LANXESS arena in Cologne.• Though Kiel played in seven CL finals and Veszprém in four, they have never met in a CL final.• Kiel are three-time CL winners (2007, 2010 and 2012), Veszprém still wait for their first title.
• Both coaches have met in three CL finals: in 2008 and 2009, David Davis (Veszprém) was the winner with Ciudad Real; in 2012, Filip Jicha (Kiel) won with Kiel against Atletico Madrid.
• Two former Kiel players now wear the Veszprém jersey: Line player Rogerio Moraes and left back Rasmus Lauge.
• Five more Veszprém players have played for German clubs in the past: Dejan Manaskov, Andreas Nilsson, Kent Tönnesen, Petar Nenadic and Kentin Mahe.
• MOTW features the goalkeepers of world and Olympic champions Denmark (Niklas Landin, Kiel) and EHF EURO champions Spain (Rodrigo Corrales, Veszprém).
• Kiel's Sander Sagosen and Veszprém's Rodrigo Corrales were teammates at Paris Saint-Germain HB last season.
• No player of the current Kiel squad has won the CL with the club: Domagoj Duvnjak won with Hamburg (2013) and Steffen Weinhold with Flensburg (2014).
• However, coach Filip Jicha, his assistant Christian Sprenger (both in 2010 and 2012) and sports director Viktor Szilagyi (2007) all won the CL with Kiel.
• The Veszprém squad contains three players who won the CL with another club: Rodrigo Corrales (Barça), Rogerio Moraes (Vardar) and Andreas Nilsson (Hamburg).
• Also, Veszprém stand-by players Arpad Sterbik (Ciudad Real and Vardar) and Laszlo Nagy (Barça) are multiple CL winners.
11:04
How well do you know the rivalry between Kiel and Veszprém? Test you knowledge before tonight's game. Some tricky ones in there, so anything over 5 correct is good going.
10:25
The focal point of today's action will be Match of the Week, featuring two serious contenders for this season's title as well as last season's, which will conclude in December.

Veszprém look set to miss some players, who are in quarantine, but they are certainly a team that has the strength in depth to deal with it. We will get into more details about the teams when the two matchday squads are confirmed later on.
10:02
In case you've been living under a rock over the past week and missed everything that happened in round 5, you have plenty of time to catch up with the highlights from each match, plus the rounds top goals and saves on EHFTV.
09:45
Good morning handball fans and welcome to the live blog. We were treated to a brilliant start of the international handball week on Tuesday with the European League Men and now we can look forward to more of the same in the top flight.
Two matches coming your way this evening, both at 18:45 CET with RK Celje Pivovarna Laško vs HC Motor and Match of the Week between THW Kiel and Telekom Veszprém HC.