EHF Champions League
Summary: Brest dominate all-French encounter
The last obstacle on the path to the final weekend in Budapest is here: The DELO EHF Champions League quarter-finals began on Saturday with two first-leg clashes, including the Match of the Week, and concluded on Sunday with Brest hosting Metz in a French derby. Here's how it unfolded.
17:59
Here's a round-up of this weekend's results. Big old wins for Brest and Györ mean they should be heading to Budapest, barring a second leg disaster, while it's not over yet for CSKA as they hunt a five-goal deficit in Moscow next weekend.
Also in Russia next week, we have a double-header between Rostov-Don and Vipers, giving us five matches in Europe's top-flight to look forward to over two days. Until then, take care and goodbye!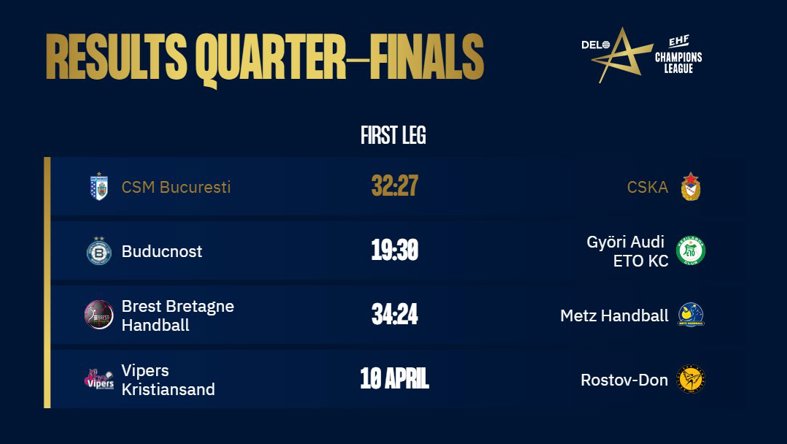 17:38
In the post-match interviews, Brest's Ana Gros explains that the defence made all the difference today, making life easy for their goalkeepers, while laughing off the claim that she had no mercy against her former club, saying "that's the way it is."
Metz's Jurswailly Luciano said her side lacked character today but claims there is still a chance of a comeback in the second leg.
17:33
RESULT: Brest Bretagne 34:24 Metz
A buzzer-beating lob by Alicia Toublanc is the perfect end to an exceptional day on court for Brest today as they took a huge leap towards booking their ticket to the DELO EHF FINAL4 as 'Celebration' by Kool & the gang plays in the arena.
The early ankle injury to Kalidiatou Niakate is the only downer in what was a brilliant performance for Laurent Bezeau's side as both keepers were over 40 per cent in saves made and Ana Gros bossed the attack with 10 goals from 11 shots.
17:25
Metz are individually marking Ana Gros now but the damage is well and truly done with 10 goals scored, putting her back on top of the competition's scorer ranking.
It is impressive just how relentless Brest have been in their approach, not letting up for one second as they try to ensure there will be no amazing comeback in the second leg - 31:21 with five minutes remaining.
17:16
As well as scoring four goals of her own, Bella Gullden has run the Brest attack well today, as she always does, as they continue to pile on the goals - it's now 28:19 thanks to her fourth goal with 12 minutes remaining.
She even had a chance to drop in one of her trademark no-look passes to the line!
17:08
Metz really ramping up the pace here as we approach the final quarter. Ana Gros is finding plenty of joy in the back court with eight goals and Djurdjina Jaukovic is supporting her nicely with four goals of her own.
With the score at 25:16, this tie could be over before we head to Metz next week.
16:58
Despite a brilliant first half, Sandra Toft has been replaced by Cleopatre Darleux at half-time. It hasn't slowed Brest down, however, as they lead 21:14 after 36 minutes.
16:39
HALF-TIME: Brest Bretagne 16:11 Metz
Brest didn't allow Metz's sudden revival to get to them and they eventually regained control of the situation to take a five-goal lead into the break.
All in all, the home side have been far superior, in attacking fluidity, defensive structure and the goalkeeper battle, where Sandra Toft has eight saves, compared to one from the two Metz keepers combined. However, that short spell of magic from Metz keeps them within a reasonable distance at the halfway mark.
16:30
The time out did help! All of a sudden, Metz remember how to score and they fire in four goals in two minutes, capitalising on some poor Brest attacking play - 11:8 now and at last, we have a match!
16:27
21 minutes played and Metz coach Emmanuel Mayonnade has already taken his second time out, trailing 11:4. Camila Micijevic made a positive impact with two goals but overall, there is very little working for them so far today. Let's see if this time out helps.
16:18
It has been a dream opening quarter for Brest, which has seen them race into a 7:2 lead. Seven different players have scored one goal each, while Manon Houette is the only Metz player to score so far...
16:10
Only eight minutes played and Sandra Toft has recorded five saves. With her in this form, Brest look like the early favourites as they take a 4:2 lead.
16:03
Kalidiatou Niakate opens the game with a screamer of a goal for Brest but a shove in midair left her with a heavy, heavy fall and she needed help to leave the court. Brest have a top replacement at left back, however, as Djurdjina Jaukovic enters the fray.
15:53
If Brest are to claim a strong first leg advantage today, you feel it will be down to Toft in goal and Ana Gros scoring the goals. Their right back was the competition's top scorer with 104 goals coming into this weekend and played for Metz for four seasons (2014-18), making this an extra-special affair for her.
15:42
Something that is well-worth a read and will pass the time nicely before throw-off is the article below with Sandra Toft as she details moments and matches that have made her the person and player she is today.
15:36
As well as their regular battles in domestic competitions, Metz and Brest have met before in the EHF Champions League.
In the 2018/19 main round, Metz clearly won both matches, 32:21 and 39:26, en route to the previously mentioned appearance in Budapest.
The sides are neck and neck at the top of the French league at the moment but they did play each other just last Sunday, which Brest won 27:22 away from home.
15:24
Today's home side Brest are on the hunt for their first appearance at the DELO EHF FINAL4 in Budapest. They looked serious contenders last season before the competition was cut short, so this is a second bite at that juicy apple for them.
Metz were there the last time it was played, in 2019, but finished fourth, leaving them with some unfinished business to deal with!
Sunday 4 April - 15:15
Good afternoon and welcome back to this weekend's DELO EHF Champions League live blog and we have a brilliant game in store.
At 16:00, we have an all-French affair with Brest Bretagne Handball vs Metz Handball and of course, it's live on EHFTV.

20:29
That brings us to the end of the first day of DELO EHF Champions League quarter-finals. Join us tomorrow for the third first-leg clash: Brest vs Metz at 16:00 CEST. 
20:17
As we near the end of our live blog coverage for the opening day of the DELO EHF Champions League 2020/21 quarter-finals, let's take a look at the big picture so far. 
It is clear experience is a key factor at this crunch stage of the competition, as CSM Bucuresti and Györ earned decisive wins against Champions League debutants CSKA and the young Buducnost side, respectively. 
While Györ were present — and won — at the last DELO EHF FINAL4, in 2019, CSM are aiming to return to the final weekend after a two-season wait, having contested the event most recently in 2018 when they ranked third.
The two victors on Saturday night represent the last two winners of the Champions League, with Györ having taken the three most recent titles and CSM clinching the trophy in 2016. 
Both teams took big steps towards the DELO EHF FINAL4 today — but we have seen miraculous turnarounds plenty of times in the top-flight competition. 
20:13
Györ seem to have one foot already in the door to the DELO EHF FINAL4 in Budapest, where they aim to defend their title for the fourth season running — not counting the interruption due to Covid-19 that saw the 2019/20 season end prematurely. 
Read all about how they took their important and decisive first-leg win against Buducnost tonight in the match review below. 



























Györ deserved to win. They were much better than us. We knew who we were playing against — we made a good plan, but we didn't stick to tactics. That is the reason for such a difference in the end. We could have provided more even though we played against the best team in Europe.
19:31
RESULT: BUDUCNOST VS GYÖR 19:30
A powerful showing from Györ leaves Buducnost with a huge task in the second leg away in Hungary.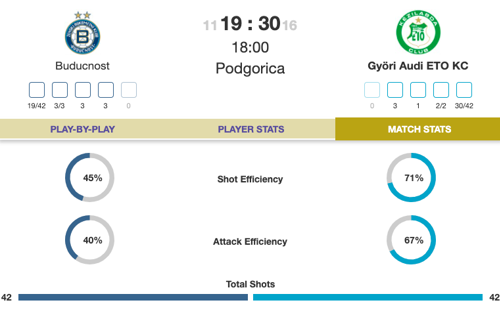 19:26
The clock is ticking and Györ are unrelenting as they stay clear in front with the buzzer looming. The Hungarian side have put on a huge performance at both ends of the court today. 
19:15
At the 49-minute mark, Györ have passed a 10-goal advantage, leading 26:14. Buducnost cannot let the distance increase or they risk leaving themselves with a very difficult task in the second leg. 
The Montenegrin side are not only struggling to contain Györ's attack, but are having significant trouble against the Hungarian team's defence, with just one more player — Valeriia Maslova — making her way onto the score sheet this half and the brunt of the offensive responsibility lying with Pineau and Radicevic. 
Meanwhile, Györ centre back Stine Oftedal has reached a total of eight goals to be the top scorer of the game. 
19:08
13 minutes into the second half Buducnost coach Bojana Popovic calls a timeout as her team fall behind at 14:23. Like CSKA in the earlier match, it seems it's now all about trying to reduce the deficit as much as possible before the return leg, as a win for the home team will be a tough task at this point. 
18:50
We are all set for the second half of today's second and last quarter-final! Can Buducnost pull off a comeback? 
The Montenegrin team are facing a tough challenge in their effort to return to the EHF FINAL4 for the first time since 2017. 
18:45
Buducnost are relying heavily on their most experienced players so far, with Jovanka Radicevic leading in attack with five goals, while Allison Pineau has contributed three strikes from the back court. 
Only two other players have found the goal for the home team so far, highlighting the difficulty Buducnost are facing in beating Györ's defence. 
18:40
HALF-TIME: BUDUCNOST VS GYÖR 11:16
A tough first half for home side Buducnost ends with a five-goal score line in favour of Györ. There are no signs of the Hungarian powerhouse faltering as they aim to reach their fifth straight EHF FINAL4. A big win in the first leg will serve as a great base ahead of the home fixture. 
It seems a tough task ahead for Buducnost to turn the match around. Let's see what coach Bojana Popovic can come up with during the break!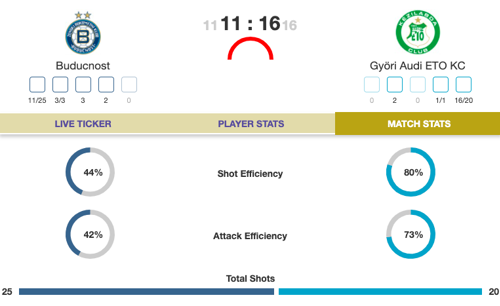 18:35
Just a few minutes remain until half-time and Györ have fought off any chance of Buducnost coming back to level before the break, as the defending title holders lead 14:10. 
Györ goalkeeper Amandine Leynaud is delivering an outstanding game, saving at 42 per cent so far, with a total of eight stops. 
18:28
Györ coach Gabor Danyi calls a timeout as Buducnost edge closer, with the score at 10:12 in the 24th minute. 
While the top scorer so far for the Hungarian team is wing Viktoria Lukacs, the back court has played the most critical role. Veronica Kristiansen, Stine Oftedal and Estelle Nze Minko have combined for seven goals. 
18:16
Györ grabbed the upper hand immediately and pulled away as clear as four goals in the opening quarter, but as we reach 16 minutes on the clock, Buducnost have pulled the deficit back a touch, at 6:9. 
A clear difference between the sides so far has been shooting efficiency, with Györ missing just two of their shots so far while Buducnost have missed eight. 
18:05
Before we turn our focus completely to Buducnost and Györ, take one last look back at the MOTW between CSM and CSKA in our match review. Find it below. 
18:02
THROW-OFF IN MONTENEGRO
Today's second quarter-final is now live! Györ's Veronica Kristiansen is the first on the score board as the Hungarian team take on Buducnost in Montenegro. 
Tune in now on EHFTV.com or follow the live score and statistics on the ticker here. 
17:50
10 minutes remain until the second quarter-final of the day, Buducnost vs Györ. The teams have already met twice in the group phase this season, with Györ winning both matches. 
The title holders enter the match on the back of an unbeaten streak of 53 games. Most recently, the Hungarian side added to their hot streak by winning both legs of the play-off against Bietigheim. 
Buducnost eliminated another Hungarian team on the way to the quarter-finals: Györ's biggest domestic rivals FTC. Critical to the Montenegrin side's progression was their win in the home leg against FTC, 22:19, as Buducnost lost the return fixture but reached the quarter-final nevertheless thanks to the first-leg result leading the aggregate to be in their favour. 
17:45
The Player of the Match for the Match of the Week is CSM's Siraba Dembele Pavlovic! The French left wing had a great performance with five goals.
Dembele aims to reach the EHF FINAL4 with CSM in what is her first season in Romania. She is no stranger to the pinnacle weekend in Budapest however, having played the EHF FINAL4 with both Rostov and Vardar. 


I think CSKA has a very good team and they had a very good performance so far in the Champions League. We had a 'perfect' first half but in the second half they managed to have more saves and reduce the gap. It will be a big fight in Moscow next week and I am confident that we can qualify.



















17:31
Cristina Neagu added six goals to her season tally in today's clash, temporarily taking her to first position on the 2020/21 top scorer list with a total of 106 now. Brest's Ana Gros sits on 104 goals and will take the court tomorrow in her team's first-leg quarter-final against Metz at 16:00 CEST. 
17:27
RESULT: CSM VS CSKA 32:27
CSKA left it late but managed to reduce the distance to five goals for the end of the match — and the midway point in the quarter-final tie against CSKA.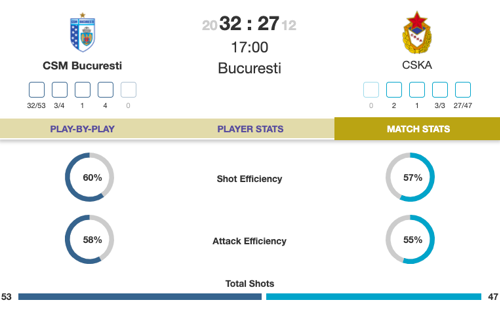 17:16
Six minutes remain on the clock and CSKA have decreased the gap a little for a score of 29:24. 
They came as close as four goals at 28:24 thanks to a partial of 3:7 spurred on by this great save from Polina Kaplina. 
17:08
As the final 15 minutes of the match begin, CSKA have not been able to put much of a dent in the score line and still trail by seven goals — this despite the fact that the Russian team have outperformed CSM in terms of attacking efficiency so far this half, converting at 58 per cent versus 41 per cent. 
It is looking very much as though the Champions League debutants will be heading into the second leg with a mountain to climb.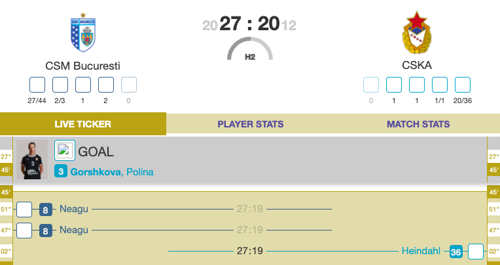 16:56
Six minutes into the second half of the MOTW, Elizabeth Omoregie made it a nine-goal advantage for CSM, at 24:15. CSKA are still left with plenty of work to do as they attempt a comeback. 
Earlier in the game, it was Omoregie who struck for CSM's 20th goal — inside the first 30 minutes. 
16:48
We are set for the second half of the MOTW CSM vs CSKA to begin! CSKA improved their shooting rate from 33 per cent in the opening 12 minutes to 52 per cent by the end of the first half. 
CSM goalkeeper Jelena Grubisic played a key role in the Russian side's problems early on. Enjoy one of her best saves below!
16:35
HALF-TIME: CSM VS CSKA 20:12
One half of the first quarter-final down, and one quarter of the way into the two-leg clash that will decide the semi-finalists from this tie, it is not looking great for CSKA.
CSM powered through the last 10 minutes of the half to create a distance of eight before the break — a distance that will be very tough for CSKA to fight back from and take a win. CSKA will need to at least reduce the deficit and give themselves the smallest possible margin to fight back from for the second leg. 
16:24
As we pass the 20-minute mark in the opening quarter-final, CSKA have come more into the game but CSM are maintaining the score line.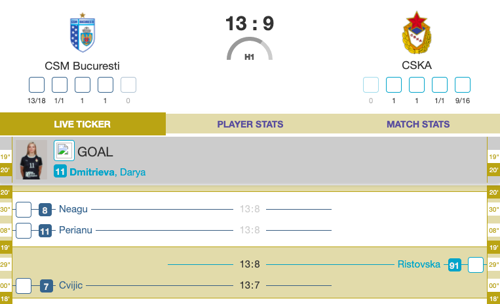 The Russian side's improved attack has been driven by centre back Darya Dmitrieva, who scored three of the last five goals for CSKA. 
16:12
The first timeout of the match is called as we reach the 12-minute mark with CSM well in control at 8:3. 
On the hunt for the debut DELO EHF FINAL4 berth, CSKA are having big problems finding the goal, shooting at just 33 per cent while CSM keeper Jelena Grubisic has made five saves at a rate of 56 per cent. 
16:01
THROW-OFF IN ROMANIA
The DELO EHF Champions League 2020/21 quarter-finals are now open! The MOTW CSM vs CSKA has thrown off in Bucharest. 
Head to EHFTV.com now to watch or follow all the live stats on the ticker. 














15:51
With the MOTW set to begin in less than 10 minutes, let's take a look at some of the key facts surrounding this encounter. 
Neither side enters the quarter-finals on the back of a particularly strong record, with CSKA having won once in their last three games while CSM were victorious in two of their most recent seven. But they took the wins that counted to reach this stage. 
CSM overcame domestic rivals SCM Ramnicu Valcea in the play-offs, winning 54:51 on aggregate. CSKA were defeated in their first-leg play-off, but secured a win in the second leg that gave them a one-goal edge on aggregate against Krim, 47:46. 
In this clash, we have the second top scorer of the season: CSM left back Cristina Neagu. Across 11 matches so far, Neagu has reached a tally of 100 goals. She is four behind the competition leader Ana Gros from Brest. 
15:37
Warm-up is in full swing in Bucharest! Our exclusive coverage of the day began with the MOTW series Breakfast for Champions on Instagram. 
Listen to Face of the Champions League Anja Althaus' chat with CSM's Siraba Dembele and CSKA's Sabina Jacobsen here.
15:20
Welcome to our live blog coverage of the first leg of the DELO EHF Champions League quarter-finals! Courtney Gahan here to guide you through Saturday's clashes:
MOTW CSM vs CSKA at 16:00 CEST
Buducnost vs Györ at 18:00 CEST
One more match is coming your way on Sunday: Brest vs Metz. Next weekend, these three ties will see their second legs played, while Vipers and Rostov meet in a double header. 
While we wait for throw-off, we have plenty of reading material to entertain you. Below, find the preview of all first-leg quarter-finals taking place this weekend, a MOTW feature interview with EHF FINAL4 2016 MVP Jelena Grubisic ahead of CSM's encounter with CSKA, and our facts and figures rundown.