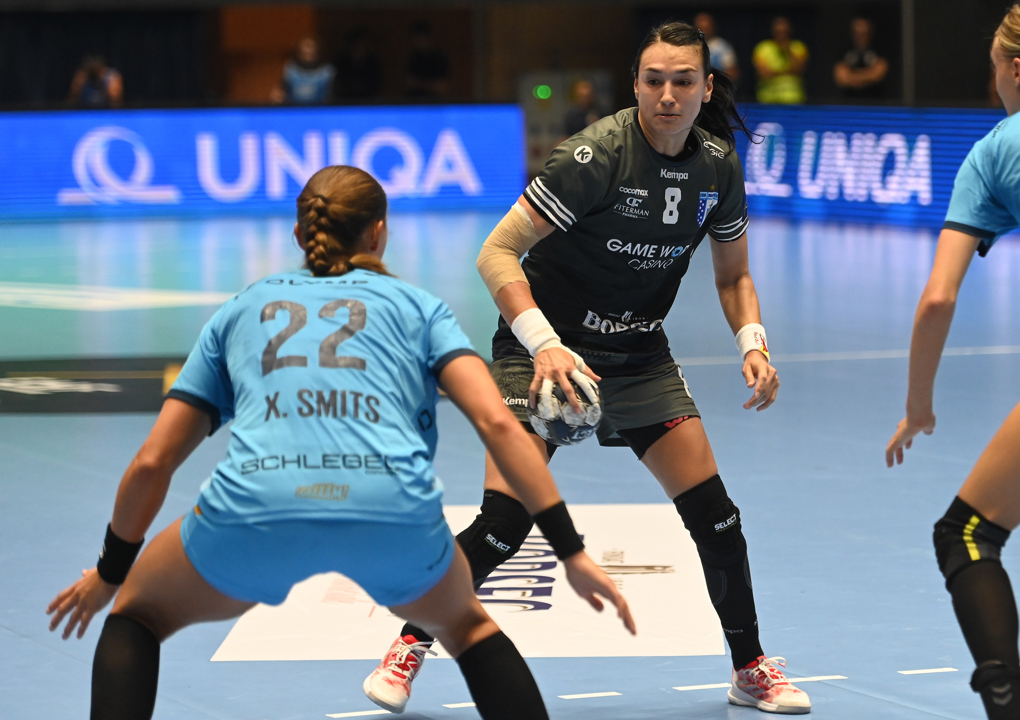 Summary: Esbjerg and Rapid pick up wins; CSM & SG draw
Round 3 of the EHF Champions League Women 2022/23 featured six teams who aimed to remain unbeaten in this season's group phase. The live blog covered the action throughout the weekend from all eight matches.
Sunday, 25 September 
18:20
You can find the reviews of today's matches including highlight packages from each game just below. We hope you enjoyed another round of Handmade History and you are ready for round 4 which throws off 8/9 of October. 

We now have five teams that are still unbeaten: Vipers, Bietigheim and CSM from group A and Metz and Rapid Bucuresti from group B, will these sides keep this run going in the next round? Join us next week to find out!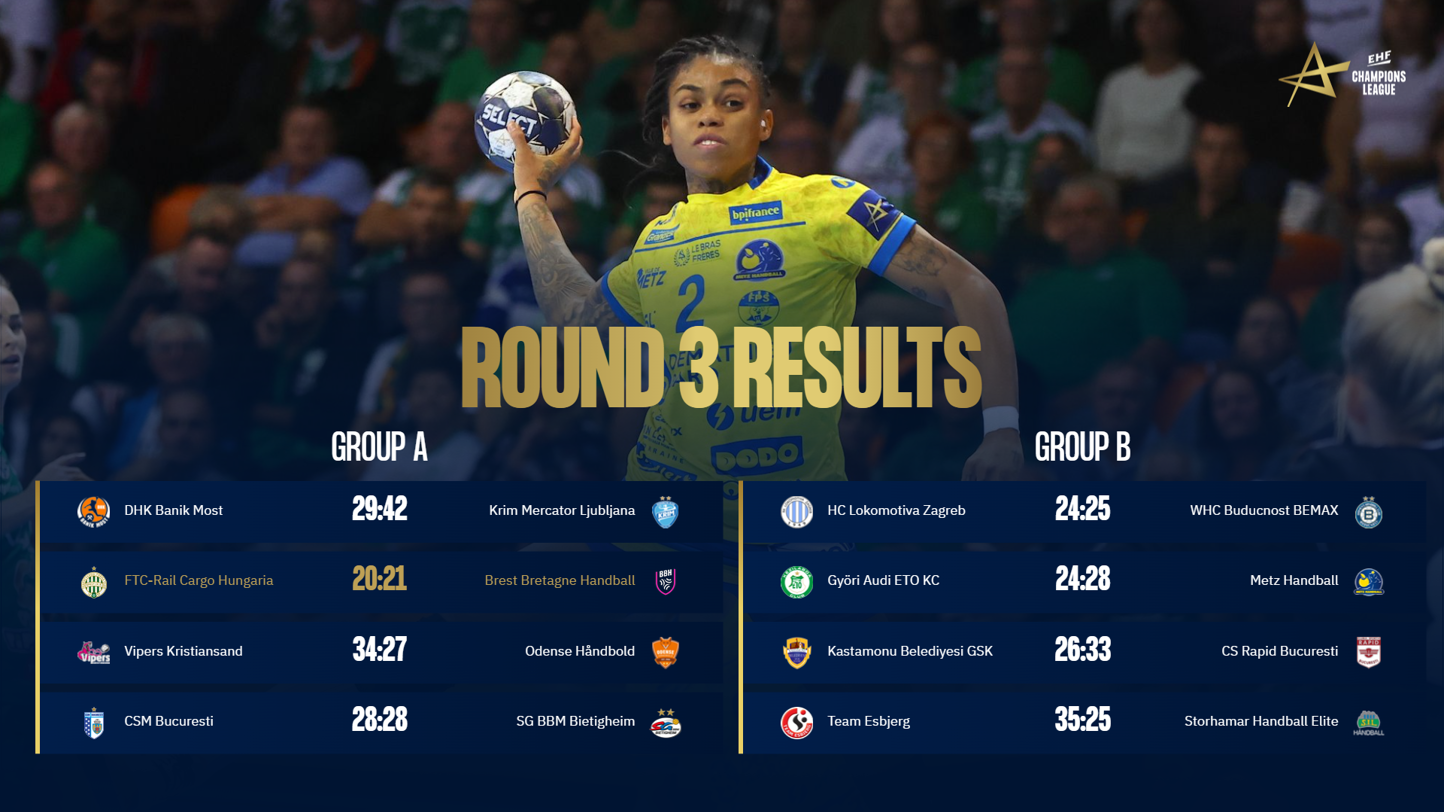 17:38
In the end it wasn't much a derby with Team Esbjerg putting their foot down in the first half and only letting it off the gas when the tie was done and dusted. Eight goals for Henny Reistad made her top scorer for the Danish outfit while Maja Jacobsen scored one more with her nine goals for Storhamar. Esbjerg will now overtake Storhamar in group B and move level on points with Györ and Buducnost (4 points). 













17:34
A rollercoaster of an ending in Romania! With just 20 seconds left CSM get the ball after a fluffed attack by SG, Grace Zaadi kept her cool and worked the ball across the backcourt and when she got it back she drew the attackers in the drop the ball to Malin Aune who let one rip and netted to give CSM a point. You can never count CSM out, that is for sure!
17:30
She's on goal number eight: Cristina Neagu
17:26
Oh no, Pintea steals the ball from SG and hands it to Omoregie who spots an open goal and sends the ball drifting wide. They could have pulled it level with that and the crowd are in pure agony... that's a tough one.
17:20 
A save for the highlight reel...
17:17
Just as we were singing her praise, Crine Pintea gets a very silly two-minute suspension for rushing the block and trying to obstruct an SG free. Not the best time to go a player down with SG plus one goal again. 24:23 to SG.
17:13
She is six goals from eight attempts so that's five goals in the second half alone. 
17:05
You are watching Neagu TV: 
17:01
Malin Aune, who looked shaky in the first, is nailing everything in the second; she has just given CSM the lead with a rocket from the wing. 19:18 CSM.
16:59
How many times have we seen this before? CSM coming out for a poor 30 minutes and then looking like a totally different side in the second half. 

Well, they are doing it again, they just have racked up a 5:0 run to pull it back to 18:18. Neagu topping off that run with a goal from the penalty spot. Momentum: CSM.
16:38
HALF-TIME: Team Esbjerg 21:10 Storhamar 
Henny Reistad having a field day with her five goals already and Nora Mork is having a perfect game coming off the bench for each attack, she is four from four. The Norway stars punishing their fellow-country club - looks like it could be a long evening for Storhamar.
HALF-TIME: CSM Bucuresti 13:16 SG BBM Bietigheim 
A very strong half by SG with Veronika Mala coming on top of their scoresheet with 3/2. But it has been an excellent team effort and both left and right back positions looking especially dangerous via Xenia Smits and Karolina Kudlacz-Gloc (both 2/2). 

There is an element of frustration from CSM who are finding it difficult and this was made clear by the frustration seen in Neagu (5/8) at the whistle; she was having a word with Ema Ramusovic (1/1) as they walked in possibly frustrated with some of the movement on the line by the Montenegrin.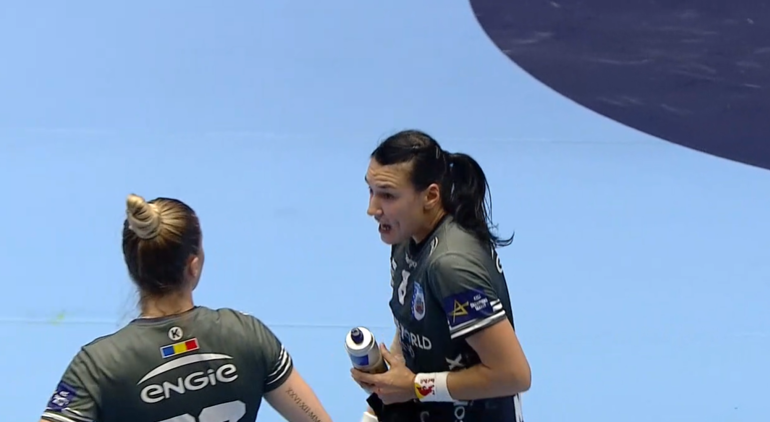 16:30
Markus Gaugisch, heach coach of SG, sounds very happy with his side during the time out. He calls for some minor tactical adjustments in attack and asks for more active disruption in defence. 
16:29
The SG backcourt is looking slick so far! 
16:26
Inger Smits with a side step from hell! Leaving the CSM defence looking at each other, lovely stuff from the Dutch international! 12:9 for the German side.
16:22
Neagu chants ring around the arena but to no avail, CSM now trails 11:7 to SG. Malin Aune will want to put her three missed shots behind her after her shaky start. 
16:16
And who says handball is all power...
16:11
Wow, Esbjerg mean business today! They are 9:3 up and their middle block of Breistøl and Heindahl is looking menacing. And with Nora Mork bouncing off the bench, their attack is cutting through the Storhamar defence like butter.
16:07
And look at this: CSM are having a bumpy start at home to Bietigheim. Four missed shots in a row by the hosts sees SG take a 5:3 lead. Veronika Mala the Czech international on the wing is looking lively with her two goals so far.
16:04 
A flyyyyying start for Esbjerg as they rack up a 3:0 win with some speedy moves with just four minutes gone. Rikke Poulsen in goal has had two huge saves and it had the crowd buzzing!
16:00
And we are off! Join us now on EHFTV!
15:40
We have just 20 minutes until our next two matches:
Group A
CSM Bucuresti vs SG BBM Bietigheim (16:00 CEST)
Group B
Team Esbjerg vs Storhamar Handball Elite (16:00 CEST)
With the ties offering a lot, we will be keeping a close eye on both for the live blog. But I feel there is something in the air for our Scandinavian derby between Esbjerg & Storhamar!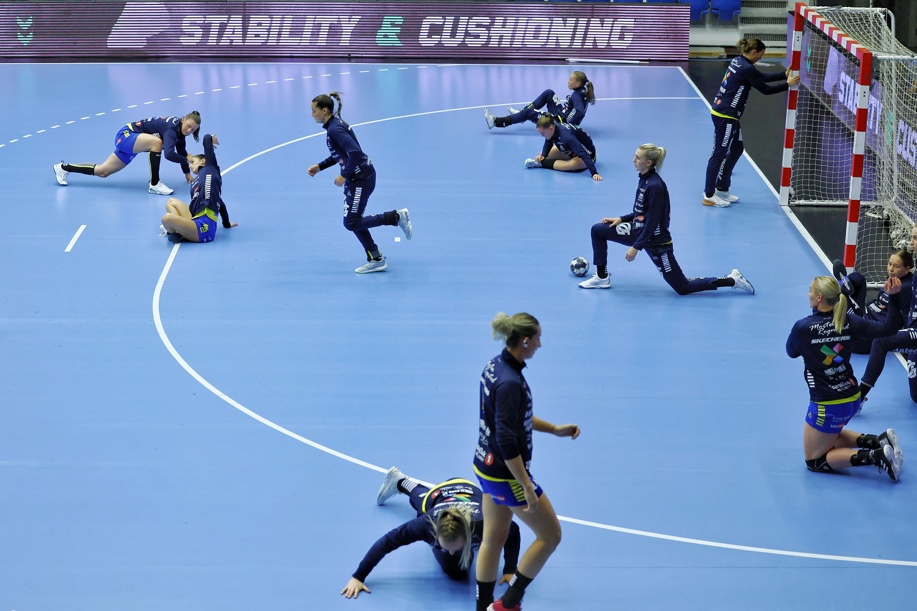 RESULT: Kastamonu Belediyesi GSK 26:33 CS Rapid Bucuresti 
The Romanian side, Rapid Bucuresti, had too much in the backcourt for Kastamonu to handle over 60 minutes. The hosts showed a real fighting spirit to stay in the tie but Buceschi (7/12), Korsos (4/4) and the hot but not-always-on-target handed, Grozav (5/10) were too much for the Turkish side. 

That means Kastamonu go winless in group B while Rapid have added another win to their record. 
15:24
It has been a big effort from Kastmonu but they look to have run out of gas here for the last two minutes. Yilmaz throws a soft shot at Kapitanovic and Korsos and Fernandez net at the opposite end.
15:19 
What a monster save!
15:16
Oh no, 7 vs 6 didn't workout for Kastamonu and Jennifer Gutiérrez Bermejo scores an easy open-net goal and we have a three-goal lead. That's the issue when you try to chase the game with 7 vs 6. High risk vs high reward.
15:12
This is wildly entertaining! The tempo has gone up a notch and just as it looks Kastamonu come back into it Rapid put their foot down and keep their gap. 
15:03
Kastamonu looked down but they don't want to say die as they scrap for each and every goal. Sarikaya and Carlos have just netted to pull it back within one again, 20:19 to Rapid. The Turkish side have inched their way back into this. Timeout --> Rapid!
HALF-TIME: Kastamonu Belediyesi GSK 12:15 CS Rapid Bucuresti 
Chebbah and Jezic score two quick goals to lessen the damage caused in the last five minutes, so the gap is now just three at the break. It was a very entertaining first 30 so make sure you don't miss the second on EHFTV.
Top scorers of the first 30 minutes are Jezic with four for the hosts and Buceschi and Grozav with three each for Rapid. 
14:37
What a turn around, suddenly the Rapid attack has found their mojo and the switches and work with the line are starting to pay dividends as they find gaps and open up a five-goal lead, 15:10.
14:27
For the first time since the score read 2:1, Rapid are back in the lead thanks to a goal from Jennifer Gutiérrez Bermejo; the Swiss-born Spanish international's first goal of the game makes it 11:10 to Rapid. 
14:22
Here is a nice example of the free-flowing attack from Kastamonu that saw them open up that early lead.. 
14:17
It is looking like VERY hard work for Rapid to break down the Kastamonu defence. A moment of pure physicality from Hernandez on the line and Buceschi from the backcourt give the travelling side hope. They are now within one at 9:8.
14:09
Time-out for the guests as Kastamonu enjoy a strong start leading 6:3. The Rapid backcourt looks to have no connection as they keep running right into the Turkish side's defence leading to attacking fouls and poorly placed passes going out of bounds. This will all need to improve...
14:01
And we are off! Join us on EHFTV for the action between Kastamonu Belediyesi GSK and CS Rapid Bucuresti!
13:23
We start today's coverage with a group B tie of Kastamonu Belediyesi GSK vs CS Rapid Bucuresti throwing off at 14:00 CEST.
The Turkish hosts will be hungry for their first win of the season and Rapid will be looking to keep their bright start to the season going after their win over Zagreb and impressive draw against Metz last week.

Saturday, 24 September 
21:45
To conclude the blog for Saturday evening, there are 10 of the best photos from our five matches today in a gallery below for you to enjoy. As you can see, teams wearing the colour pink had a good day in the EHF Champions League Women.
The live blog will return at 13:00 CEST on Sunday for the build-up to three more matches.
Group A
CSM Bucuresti vs SG BBM Bietigheim (16:00 CEST)
Group B
Kastamonu Belediyesi GSK vs CS Rapid Bucuresti (14:00 CEST)
Team Esbjerg vs Storhamar Handball Elite (16:00 CEST)











21:13
It is worth looking at the group A standings after Saturday's matches. With three wins from three matches, Vipers Kristiansand are currently in first place in the group. Odense, Krim, Brest Bretagne and FTC all have one win apiece, while Banik Most remain on zero points.
On Sunday, SG BBM Bietigheim or CSM Bucuresti can join Vipers on six points. Bietigheim will return to top spot with any win, as their goal difference from the first two rounds is already better than the Norwegian club's, but CSM Bucuresti would need to win by at least 11 goals. For Bietigheim and CSM, Sunday's match will be important if either side has genuine aspirations of finishing in the top two spots.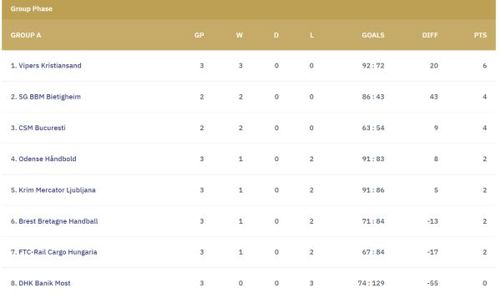 20:42
How did Metz feel about beating Györ in Hungary to close the evening in first place in group B? Delighted might be an understatement.
20:35
All five of the reviews from Saturday's matches are now online for you to read. Reaction from Metz's win in Hungary can also be found below.
I am so proud of my team; I know how hard is to defeat Győr. Last year we suffered a big defeat here, but I already succeeded once in winning in this arena during my career, and I am really happy to be able to repeat it. I think we made a good job in defence and we had a good performance in the goal as well, so I just can say that I am happy about the result of the match.
First of all, congratulations to Metz. I think we struggled during the whole game to find a good rhythm, and we made a lot of mistakes. Of course I am disappointed, we need to learn from this match, but it is better to lose now than in the latter period of the season.
19:44
Lokomotiva Zagreb came agonisingly close to picking up their first points of the season, but Buducnost have claimed a one-goal win in Croatia.
Defending champions Vipers Kristiansand have once again displayed their skill in attack, defeating Odense 34:27 in Norway.
19:39
Metz only scored one goal in the final 10 minutes against Györ, but it doesn't matter. The French side have sealed a four-goal win in arguably the toughest away arena in the EHF Champions League Women. 
For Györ, their errors in attack proved costly this evening, but credit must go to Metz for carrying out the game plan to earn two points in Hungary. Although Metz's scoring and save percentages were similar to Györ's, Metz's volume of shots was significantly higher (46 to 38).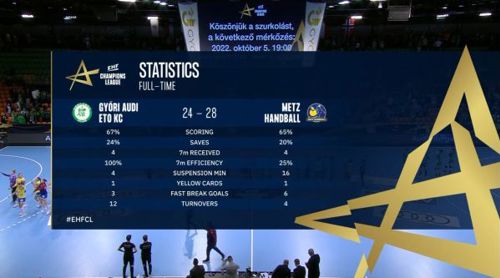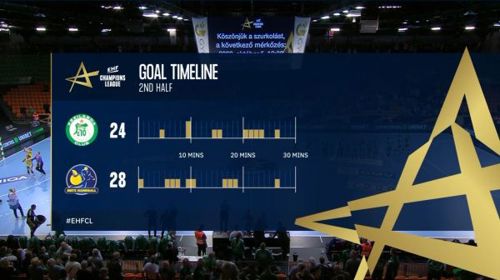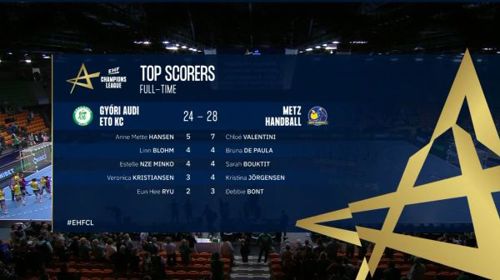 19:28
Györ reduced the deficit to four goals (23:27) – but a combination of Anne Mette Hansen losing the ball over the sideline and Louise Burgaard scoring her third goal has given Metz a five-goal lead, 28:23. 
19:18
The harder Györ push, the worse their evening gets. On this occasion, Ana Gros goes for a gap but barges into a stationary defender. The referees call an attacking foul, and Metz score on the resulting attack to take their advantage to eight goals, 27:19.
19:11
In an otherwise calm timeout, Ambros Martin concludes with "15 minutes, six goals" as he urges on his players to close the deficit. The deficit, however, remains seven goals.
19:08
With 13 minutes of the second half gone, Metz's confidence does not appear to be diminishing. Indeed, they appear to have firm control against Györ, who are making more mistakes as they chase the game. Metz lead 24:17.
Meanwhile, check out this goal from Louise Burgaard in the first half. 
18:54
At the start of the second half in Hungary, as Györ look to turn things around, Silje Solberg has replaced Sandra Toft in goal.
18:48
In our two other matches that started at 18:00 CEST, Vipers Kristiansand have a six-goal lead against Odense. Perhaps more interestingly, Lokomotiva Zagreb, who suffered a huge defeat last weekend, lead by one against Buducnost.
18:46
Here are the EHFTV statistics from the first half between Györ and Metz.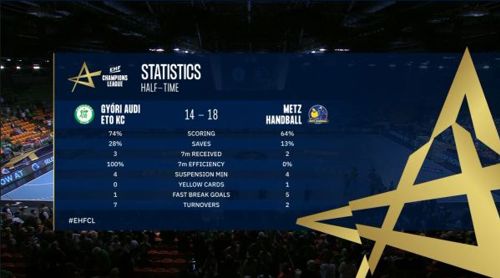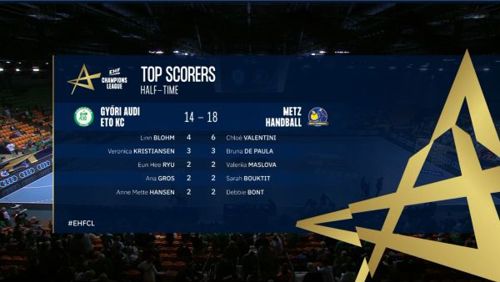 18:44
For the second time this Saturday, a French side has the advantage after 30 minutes of handball in Hungary.
While Metz's scoring efficiency is lower than Györ's, the French side have utilised fast breaks, particularly with Chloé Valentini on the left wing, to gain the upper hand. Anne Mette Hansen's strike shortly before half-time might have Györ a morale boost, but the hosts have work to do in the second half if they are to remain top of group B.
18:34
Metz remain four goals ahead, 14:10, after 26 minutes. Given how they first half has gone, their only real disappointment might be the two penalty misses.  
18:27
Here is some reaction from Djurdjina Jaukovic after Brest's Match of the Week win.
She said: "It is always a joy to play in front of these fans. I think this is the main reason that players start to play handball. Ferencvaros have a lot of great players and a great coach, and their goal is to reach the EHF FINAL4 this year. We expected this kind of physical game, and it was not easy, but I am really happy that we were able to win this match."
18:23
There was a look of concern on Sandra Toft's face after Debbie Bont beat her at the near post to extend Metz's lead to 12:7. But the Danish goalkeeper responds after a slow start with a penalty save from Julie Le Blevec.
18:16
Chloé Valentini confidently puts away a straightforward fast break chance to give Metz a 9:6 lead against Györ, prompting Ambros Martin to call an immediate timeout for the Hungarian side.
18:09
If you want to join the action live on EHFTV at any point, here are the individual links.
Watch: HC Lokomotiva Zagreb vs WHC Buducnost BEMAX
Watch: Györi Audi ETO KC vs Metz Handball
Watch: Vipers Kristiansand vs Odense Håndbold
18:05
In case you missed it for any reason, here is Djurdjina Jaukovic's match-winning goal for Brest.
18:03
There will be reaction to follow from Brest's win against FTC in the Match of the Week, but the second set of matches are now under way on EHFTV.
Our main focus will be on Györ vs Metz, as the top two teams in group B go head-to-head in Hungary. 
17:36
Krim open their account in this season's EHF Champions League with a commanding 13-goal victory over Banik Most. 
17:30
Djurdjina Jaukovic beats Kinga Janurik from nine metres with approximately 20 seconds left to give Brest Bretagne a dramatic one-goal win against FTC. Jaukovic, who finished with 12 goals for Brest, is named the Player of the Match.
17:28
Right back Katrin Klujber has scored eight goals for FTC in the Match of the Week. However, with the score at 20:20 and less than two minutes remaining, Darleux has saved Klujber's attempt from the seven-metre line.
17:18
Janurik and Darleux have undoubtedly been the stars of this Match of the Week!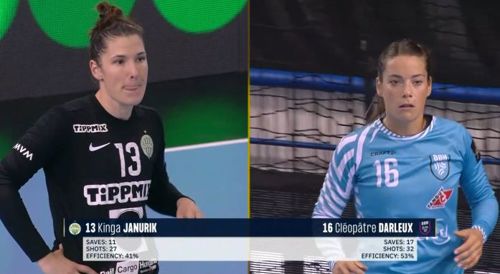 17:16
With just under 10 minutes to go, Brest have a 19:17 lead as Gabor Elek calls a timeout for FTC. It is hard to say that anyone could be confident about where the points are going here. If Brest's attack splutters in the closing stages, FTC might yet sneak a remarkable win.
17:07
The home crowd are frustrated that some 50/50 refereeing calls are not going their way. However, the jeers and whistles did not put off Brest's Constance Mauny, who stepped up to the seven-metre line to restore the French side's lead, 15:14.
16:57
We haven't mentioned it until now, and we should have done so, but Kinga Janurik was an important part of FTC's fightback at the end of the first half.
16:55
Rebound luck goes Beatrice Edwidge's way at the start of the second half as the ball falls to her after Emily Bölk's shot hits the bar. Edwidge converts for FTC to score her first of the game.
16:50
The goal timeline illustrates how the first half was one of two halves. Brest dominated the opening quarter of the match, but FTC responded to cut the deficit in the last 15 minutes before half-time.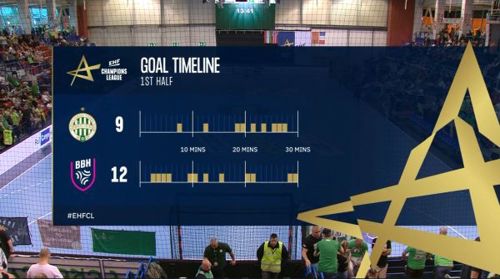 16:46
After scoring five goals for Krim in the first half, Jovanka Radicevic is only five goals away from reaching 1,000 in the EHF Champions League. Krim look firmly on course to record their first win of the season.
16:44
The EHFTV graphics show what an unusual first half we have just witnessed between FTC and Brest Bretagne. Although Brest powered to an 8:2 lead, they only lead by three goals at half-time. 
Interestingly, only three players have scored for the French side, and their scoring percentage is almost the same as their save percentage. The latter fact is also true for FTC, but Gabor Elek may just be relieved that they started to find the back of the net in the last 15 minutes of the half.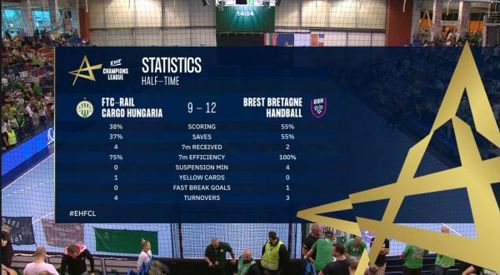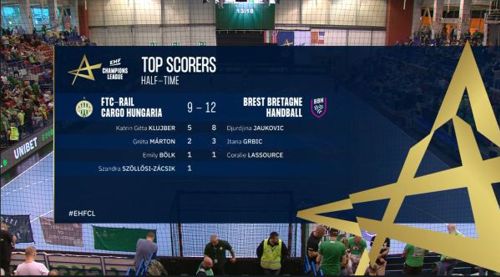 16:34
Well, this match is beginning to turn around... and in quite dramatic fashion.
Djurdjina Jaukovic has scored six goals from nine shots for Brest. Jaukovic's firepower from nine metres has largely succeeded for the French side, but her teammates have only scored four goals from 11 attempts.
Meanwhile, FTC have closed the deficit to one goal, 9:10, as half-time approaches.
16:25
Darleux's save percentage stands at 67 per cent after 20 minutes, but FTC have just scored goals from consecutive official shots for the first time this afternoon.
16:16
While Djurdjina Jaukovic and Itana Grbic continue to do the damage for Brest in attack from the back court, the Darleux-to-Lassource connection worked beautifully here.
16:08
So far, FTC have not had any more joy than they had at the end of their game against Bietigheim. Brest have largely restricted the Hungarian side to shots from nine metres, and Cléopatre Darleux has saved all three that she has faced. Brest lead 4:0 after six minutes.
15:55
Throw-off in Match of the Week is approximately five minutes away. Coverage of both of our 16:00 CEST games has begun on EHFTV - and you can find individual links below.
Watch: FTC-Rail Cargo Hungaria vs Brest Bretagne








15:44
At 16:00 CEST, Banik Most will face Krim in the Rocknet Arena. Krim right back Sara Kovarova will have the chance to face her former club in the Czech Republic.
"For me it will be the first time to play against Banik Most with a different team, so I am feeling a little bit strange. I am looking forward to playing there. I will play at home.
Czech handball is not as fast as Scandinavian handball; we play stronger handball that is more like the German type of handball. Both teams play fast handball, especially in transition, so I think we need to prepare good for them because they are young and motivated."
15:30
FTC line player Beatrice Edwige is facing a club from her home country this afternoon. Her interview with EHF journalist Adrian Costeiu is available online for you to read here.
Speaking on Thursday about this afternoon's match against Brest, Edwige said: "To be honest, I don't really care that Brest is a French team. I care just about winning this game. The most important thing is to win – for me, for our teammates, for the fans and for the club – even if we do not play good."
15:23
Since beating FTC at the end of January, Brest have only won two of their nine games played in the EHF Champions League Women.  
Of course, Brest played Györ twice in the quarter-finals last season, where they earned a draw in the first leg. Brest have faced a host of top sides during this period, but they will want to register another win in Europe's premier competition as soon as possible to get their 2022/23 campaign up and running.

15:05
Good afternoon and welcome to Saturday's live blog coverage from round 3 of the EHF Champions League Women group phase.
After last weekend's second round of the group phase, four teams have perfect records in this season's competition: SG BBM Bietigheim, Vipers Kristiansand, CSM Bucuresti and Györi Audi ETO KC.
Vipers and Györ will be in action at 18:00 CEST, but we start this afternoon with two matches at 16:00 CEST: DHK Banik Most vs Krim Mercator Ljubljana and FTC-Rail Cargo Hungaria vs Brest Bretagne. The latter game is our Match of the Week, and both teams are entering the match after sizeable losses in round 2.
Brest lost 33:26 against CSM Bucuresti in France, while FTC suffered a huge 40:20 defeat against group A leaders Bietigheim in Germany. This afternoon, FTC have the familiarity of their own surroundings and their supporters to help them bounce back – and they did beat Odense in round 1 two weeks ago, 27:23, in Hungary. 
For more on the eight matches ahead of us this weekend, check out the full round 3 preview below.