EHF Champions League
Metz end Rostov's unbeaten run with late win
The DELO EHF Champions League returned after the Christmas break and we're launching a jam-packed month of matches with eight matches this weekend.
Here is how the weekend unfolded.
the action began on Saturday with FTC beating CSM 31:27, CSKA edging past Brest 25:24 and Odense cruising by Podravka 35:20
Vipers and Esbjerg played out an exciting 28:28 draw, while Buducnost beat Dortmund 31:27
On Sunday, Metz ended Rostov's unbeaten season with a 27:26 win, Györ made light work of Valcea, while Bietigheim and Krim stumbled to a 22:22 draw
17:48
That's it for the live blog today. The DELO EHF Champions League was back with a bang this weekend and we'll be back with more fun on Wednesday as Vipers Kristiansand take on Rostov-Don. Enjoy the rest of your weekend!
17:39
While one unbeaten record came to an end today, another remained well and truly in-tact as Györ made light work of Valcea in Romania. All but one court player got on the scoresheet for Györ, Veronica Kristiansen led all scorers with nine, as they won 37:20 and go clear at the top of group B!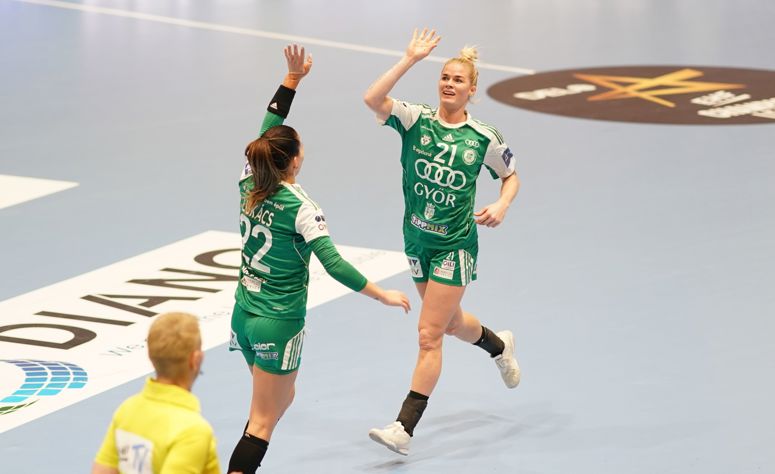 17:30 | RESULT - Metz Handball 27:26 Rostov-Don
With the scores tied heading into the final minute, Metz execute a well-worked play to give Astrid N'gouan a shot on goal. She makes no mistake and gives Metz the lead. Rostov cannot get a shot off before the buzzer and it's a victory for the home side!
Rostov-Don's unbeaten record in this season's competition finally comes to an end and the result really blows group A wide open.
17:22
Metz have been incredible in defence and all of a sudden they have their groove in attack again. A 5:1 run gives them a 24:23 lead and it's time for Per Johansson to call a timeout with four minutes remaining. 
17:17
Saves like the one below have been tough to come by in this game, despite the relatively low score - caused largely by strong defence and some wild shooting.
We're into the final eight minutes and Rostov still have their noses in front, 23:21.
17:09
Orlane Kanor Brings a dry spell lasting almost 10-minutes to an end for Metz and they add another immediately. In that time, however, they've fallen behind and Rostov hold a 21:19 lead with 15 minutes remaining.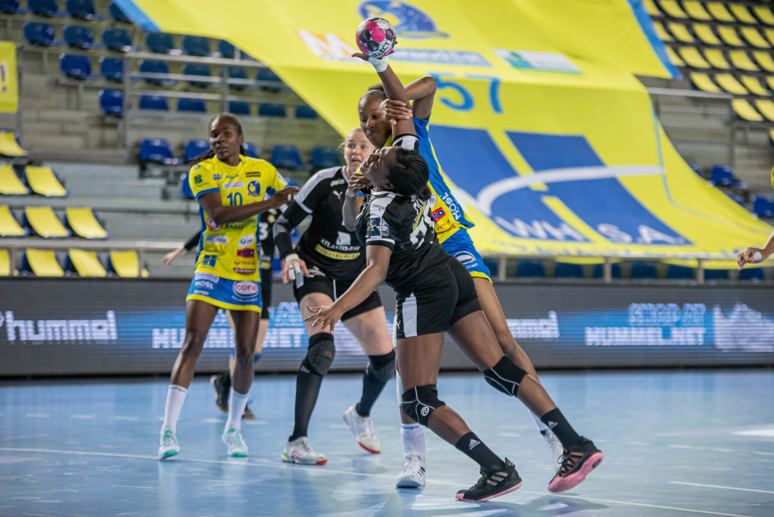 16:59
Unlike the first half, Rostov are switched on right from the start of the second and after seven minutes have turned the game around to lead 19:17.
Emmanuel Mayonnade takes a timeout to try set things straight is not a happy man.
16:42
In the other game on right now, Györ lead Valcea 19:12 at the break. Veronica Kristiansen's seven goals and 11 saves (48%) from Silje Solberg paving the way for the reigning champions' dominance.
16:37 | HALF-TIME - Metz Handball 14:13 Rostov-Don
A late push from Rostov gives them something to work with as they head into the dressing rooms. Overall, Metz have looked the stronger side but they will have to step up their game again in the second half if they're to inflict a first defeat of the season on their guests.
Meline Nocandy's four goals from as many shots is the standout performance so far in a game which is still waiting for a player or team to really grab it by the scruff of the neck.
16:27
Nocandy and Kanor making the difference so far as three goals each from the Metz duo have put them into an 11:9 lead after 22 minutes. Neither side looking in top form just yet.
Meanwhile, Györ are making light work of their afternoon so far, leading Valcea 14:7.
16:15
Rostov are a bit late to the party but beginning to play their part. A pair of Anna Vyakhireva goals helping them to draw level with Metz - 6:6 after 12 minutes.
16:07
Excellent start to the contest for Metz as they race into a 4:0 lead with Rostov finally getting on the scoreboard just before the five-minute mark.
Regardless of what happens today, many people will be tuning in to see if one woman in particular plays.
15:53
Metz Handball vs Rostov-Don will be the focus of the blog for the rest of the afternoon and it should be a cracking game. P.S. it's live on EHFTV.
Rostov, one of the three undefeated teams in the competition, lead the group standings, with six wins and one draw in seven games
Metz are unbeaten in their last 22 home games, winning 20 and drawing two. Their last loss on their court came in February 2017
French playmaker Grace Zaadi will make her comeback in Metz Arena, after leaving the French side for Rostov following 10 seasons
provided that Team Esbjerg and Bietigheim lose this round, Rostov-Don will progress to the next phase of the competition with a win
the Russian side are on a five-game winning streak – only four games shy of their best-ever run in the DELO EHF Champions League, set between October 2015 and February 2016
Metz won seven of 10 previous games between the two teams, including all five played on their home court
15:49
Here's the brilliant final save mentioned earlier which saved a point for Krim.
15:45
Two games coming up at 16:00, first we'll look at SCM Ramnicu Valcea taking on the unbeaten Györi Audi ETO KC 
Györ are the only unbeaten team in group B, while Valcea are the only side in the whole competition with zero points
the Hungarian side boast a 45-game unbeaten run in the competition
in the reverse fixture, Estelle Nze Minko's 10 goals helped the Hungarian side to a 38:31 victory
Nze Minko is the joint second top scorer of the current competition, with 43 goals; her teammate Stine Oftedal is ninth in the scorers' list, with 40
eight Györ players won medals at the EHF EURO 2020: Silje Solberg, Stine Oftedal, Veronica Kristiansen and Kari Brattset earned gold with Norway, while Amandine Leynaud, Laura Glauser, Estelle Nze Minko and Beatrice Edwige took silver with France

15:30
Just two goals each in the final 15 minutes, how bizarre!
The draw doesn't do either team many favours as Bietigheim stay bottom of group A with three points, while Krim go back into sixth place on five points.
15:27 | RESULT - SG BBM Bietigheim 22:22 RK Krim Mercator
After knocking on the door of Krim's defence for what seemed like an eternity, Bietigheim finally get a clear path to the goal but the shot by Julia Maidhof misses the goal completely, handing Krim the final attack.
Or so it seems, Krim throw it away, giving Bietigheim a counter-attack, it's Maidhof again and it's saved this time by Risovic, her 15th stop of the day and the spoils are shared. Bietigheim will be kicking themselves!
15:16
With just one goal in the past 13 minutes, Bietigheim are feeling the squeeze and now trail Krim 22:21, with Amelie Berger missing two sitters!
Who will handle the pressure best in these final six minutes?
15:07
Jovana Risovic is gaining confidence and making big saves for Krim as they hunt down Bietigheim. The home side have lost their lead and it's now 20:20 with 15 minutes left on the clock.
14:56
Krim have come out of the break strong, scoring six goals in seven minutes. A few unforced errors have allowed Bietigheim to maintain their lead - not by much though, it's 17:16!

14:39 | HALF-TIME - SG BBM Bietigheim 14:10 RK Krim Mercator
Bietigheim take a well-deserved lead into the dressing rooms after they moved through the gears in the second quarter. 
Nele Reimer fires in the last shot of the half, making it four goals for her so far and the smile on her face is a delight to see. Having scored a total of 5 this season before today, she is having a field day today!
14:26
Bietigheim beginning to click all over the court now as they open up an 11:7 lead after 23 minutes. Xenia Smits, Kim Naidzinavicius and Nele Reimer have fired in three goals each and it's up to Krim to figure things out before it gets out of hand before half-time.
14:16
It's been a cagey opening quarter with Bietigheim holding a 6:5 lead. Krim are giving the German side's defence some headaches, forcing three suspensions already but haven't fully capitalised on it yet.
14:04
We're underway in Germany and after a few quiet minutes, Kim Naidzinavicius opens the scoring for the home side, who moments later are reduced to six players for the next two minutes with a Luise Schulze suspension.
13:45
First up today is SG BBM Bietigheim vs RK Krim Mercator in a game where both teams need some points ASAP! Throw-off is at 14:00 CET and it's live on EHFTV.
with one win and two draws, Krim are in sixth place in the standings, with four points – two more than the last-placed Bietigheim, as the two sides meet for a pivotal game
Krim's one win this season came in the reverse fixture between the two sides, 28:26 – the only time the Slovenian champions and Bietigheim have met in European competitions
statistically, the two teams have the least efficient defence in the group, as Krim have conceded an average 27.5 goals per game, while Bietigheim leaked an average of 30.75
Bietigheim will once again rely on their right back Julia Maidhof, who has scored 42 goals in eight games in the DELO EHF Champions League, placing her joint-fourth in the top scorer standings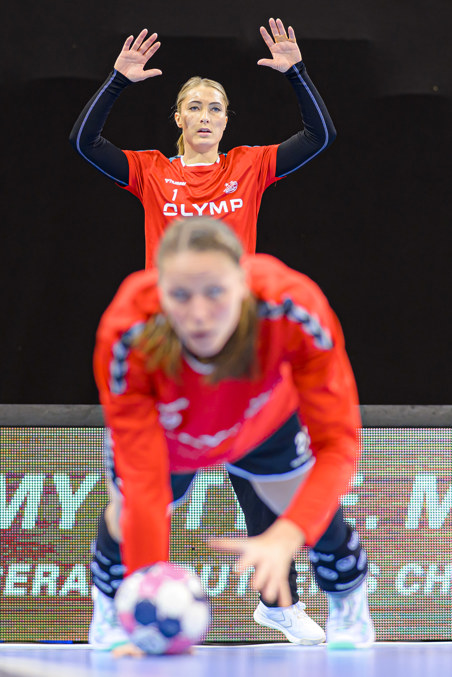 Sunday | 13:30
Good afternoon, handball fans and welcome back to the DELO EHF Champions League live blog!
If Saturday's action wasn't enough for you, we have three more games on the way today:
14:00 CET
SG BBM Bietigheim (GER) vs RK Krim Mercator (SLO)
16:00 CET
Metz Handball (FRA) vs Rostov-Don (RUS)
SCM Ramnicu Valcea (ROU) vs Györi Audi ETO KC (HUN)
And the big team news today is that Dutch line player Yvette Broch will play her first European game since suspending her career in 2018. Broch played for Metz between 2011 and 2015 and returned to the club late last year. Welcome back Yvette!

20:28
We'll wrap up the blog for the day with some of the best action shots from around Europe. More top-flight fun tomorrow and the blog will be back up and running at about 13:30. Goodnight!
20:02
So that brings an end to a packed day of DELO EHF Champions League action. We had a bit of everything across the games but which one did you enjoy most?
19:39
In the post-match interviews, Esbjerg's Marit Rosberg was quite happy with her side's comeback from five goals down in a game full of tempo. As for Vipers' Henny Reistad, she was far from satisfied with the result, given how strongly they started the second half and their comfortable lead.
The result means Vipers remain unbeaten, now with two draws, and Esbjerg grab a much-needed point, putting them sixth in group A.
19:34 | RESULT: Buducnost 31:27 Borussia Dortmund
Buducnost pick up the points in Podgorica after a much improved second half against Dortmund with Jovanka Radicevic particularly impressive in a 10-goal performance.
19:30 | RESULT: Vipers Kristiansand 28:28 Team Esbjerg
No sooner do I write that goals are hard to come by than Mork scores into an empty net after Esbjerg give the ball away playing 7vs6 in attack.
The game opens up from there with goals traded back and forth until a big Rikke Poulsen save and a suspension for Mork gives Esbjerg a numerical advantage in the final minute. But they cannot capitalise and the game ends in a draw.
19:21
We're into the final five minutes and Vipers with another penalty, this time scored by Nora Mork and they take a 26:25 lead before Ingstad immediately replies for Esbjerg. Both teams being made to work very hard for goals and the next to score could very well be the winner.
19:13
Looks like we're in for a tense final 10 minutes in Kristiansand. Nerea Pena and Rikke Poulsen proving to be a thorn in Vipers' side in this second half - Pena's goals and Poulsen's two penalty saves have seen Esbjerg draw level! 22:22 with 12 minutes remaining.
19:00
Esbjerg not out of this one just yet. A 3:0 run with some well-taken counter-attacks has brought them back within three. 21:18 after 39 minutes!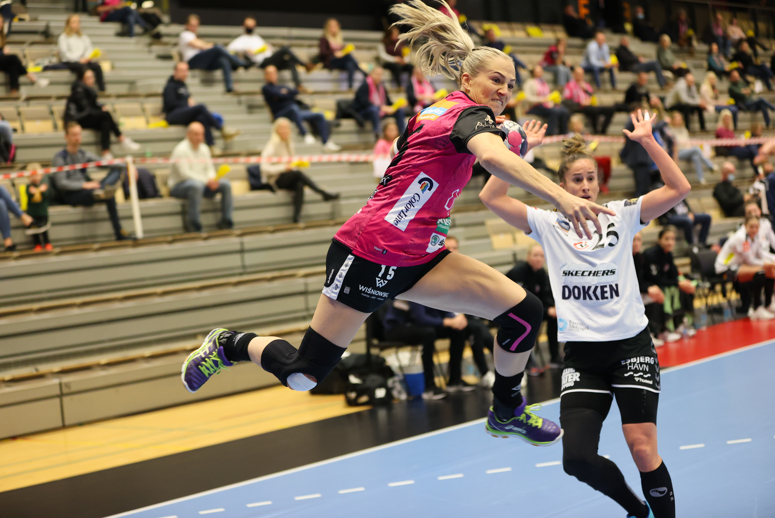 18:54
It's a bright start to the second half for Vipers with Hanna Maria Yttereng getting her third goal in quick succession, followed by two from Henny Reistad and one by Jana Knedlikova to give the home side a 20:15 lead just four minutes after the break.
18:39
Over in Podgorica, Buducnost and Dortmund are engaged in a gripping battle which stands at 15:15 heading into half-time.
Without Andrea Lekic, Buducnost are relying heavily on Allison Pineau in the back court, while Mehmedovic and Radicevic are their reliable selves on the wings. Alina Grijseels is running the show for Borussia with five goals so far.
18:34 | HALF-TIME: Vipers Kristiansand 16:14 Team Esbjerg
As they've done all season, Esbjerg are making life very difficult for their opponents, clawing their way back into contention by half-time. Can they turn it into a victory though? That is the big question.
Vipers showing signs of their almost three-month break from the EHF Champions League as they slowly but surely figure things out and appear as likely winners if they can get their flow in the second half.
18:28
Some solid saves by Rikke Poulsen against her international teammates and a perfect four goals from four shots by Nerea Pena keeping Esbjerg in the contest, but they still trail Vipers 13:10 at the 25-minute mark.
18:17
After a solid start, Vipers have slowed down a bit and have been reeled back by Esbjerg. After 16 minutes, they lead 7:6 with Nora Mork somewhat off-form with two goals from five shots.
18:00
Who will come out on top of the clash between the EHF EURO gold medallists, MOTW between Vipers and Esbjerg is live right now on EHFTV!
17:48
Two more matches coming your way in just over 10 minutes with Buducnost vs Borussia Dortmund and our feature game tonight, Match of the Week between Vipers Kristiansand and Team Esbjerg. Here's what you need to know before throw-off!
13 EHF EURO 2020 champions will be on the court in the Match of the Week, as Vipers feature eight Norwegian gold medalists, while Esbjerg have five in their roster
this will be Vipers' first game in the DELO EHF Champions League since 18 October, when they drew 27:27 against Esbjerg
Esbjerg are on a record seven-game winless streak, as their last victory came in round 1 – 33:26 against Bietigheim
Esbjerg will still be without back Estavana Polman, who suffered a knee injury in September
Vipers have never won against Esbjerg, drawing once and losing two games in 2020 against their Danish rivals

17:30 | RESULTS
CSKA snatch a vital win right at the death with Polina Gorshkova's last-minute goal, her sixth of the game. Brest have one last chance to equalise but can't get a shot on target, meaning CSKA win 25:24 and the points stay in Moscow tonight.
Despite Neagu taking control for CSM Bucuresti in the second half, FTC prove to have the stronger team overall and emerge 31:27 winners, giving them much-needed points in group A.
The clearest win of the day so far goes to Odense with a 35:20 victory over Podravka, consolidating their place in the top half of group B.
17:21
FTC hold their nerve and look like they'll grab the win over CSM with a three-goal lead and as many minutes remaining.
Much tighter over in Moscow as CSKA and Brest are level, 24:24, with just over two minutes remaining and Brest a woman short with a suspension.
17:15
It's all smiles for Odense as they cruise towards two points, currently leading Podravka 31:17. Mia Rej earned a move to Odense shortly after her impressive EHF EURO for Denmark and is enjoying her European debut with the club immensely with nine goals so far!
17:08
There is another twist in the tale over in Budapest as FTC grab the lead, 23:22, against CSM. Emily Bölk is  finding some form with five goals but there's plenty of time for a few more twists with 13 minutes remaining.
17:02
You can see Laurene Catani has been learning a thing or two from a certain teammate at Brest as she produces a Bella Gulldén classic no-look pass. 
This match is turning into a must-watch as the scores are tied at 17:17 with 20 minutes left to play.
16:50
FTC will need to shut down Neagu if they are to regain control of their match. The second half of all three games are about to begin!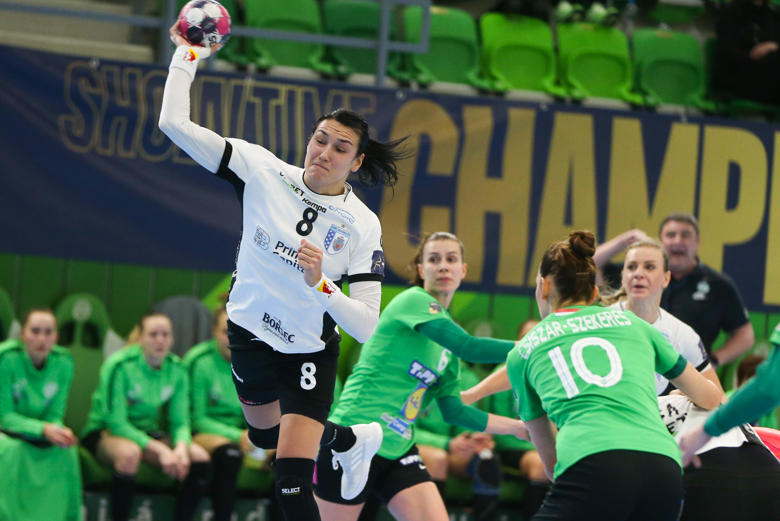 16:40 | HALF-TIME
Well, it was a slow and nervy start for Brest but once they found their feet at the right time to go on a 5:1 run, momentarily taking the lead before heading into the half-time break level at 12:12.
CSM Bucuresti also found some form late in the half against FTC and led by the trio Barbara Lazovic, Cristina Neagu and Crina Pintea, take a 16:14 lead into the dressing rooms. 
It's no surprise to see some more Croatian fighting spirit in Denmark but Podravka will need a bit more than that as they trail Odense 18:10
16:28
Despite making seven saves already, Brest keeper Sandra Toft cuts a frustrated figure in goal as she's often been left baffled or frustrated with her defence today. 
Nevertheless, Brest have begun to turn their attack on and have cut the deficit to 10:9 after 23 minutes.
16:18
A fair few mistakes and missed opportunities so far between CSKA and Brest, as you might expect in the first European game of the year, but the hosts have settled just a bit better and hold an 8:5 lead at the quarter-hour mark.
Meanwhile, Odense (vs Podravka) and FTC (vs CSM) have enjoyed strong starts and hold leads of four and three goals respectively.
16:08
Scrappy start to the clash in Moscow with the score locked at 2:2 after 6 minutes. After her performances in Denmark last month, you'd have to think  Daria Dmitrieva will play an important role today for CSKA.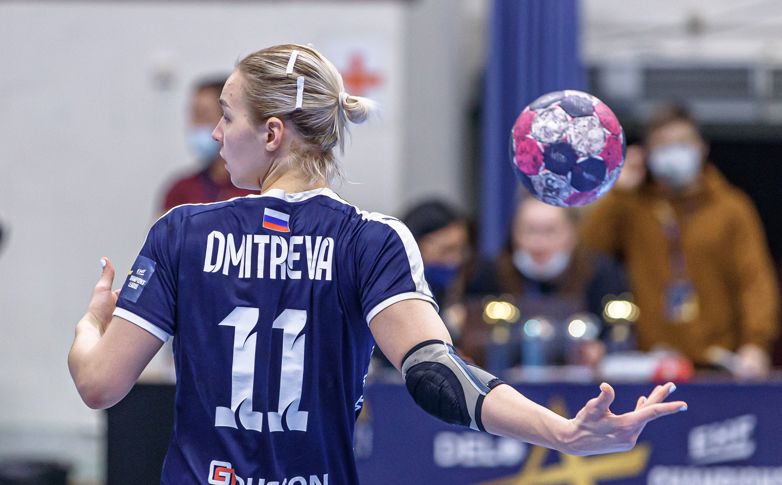 15:58
CSKA surprised Brest Bretagne Handball with a win in France earlier in the season, will there be a measure of revenge today? It is one of three matches beginning in a few moments on EHFTV and we'll see how the afternoon unfolds before deciding which one to focus on.
CSKA are third-placed with 11 points after seven games, while Brest occupy second position with 14 points after nine matches
in the reverse fixture in Brest, the Russian side snatched a two-goal victory, 30:28. It was the French team's only defeat in the current competition and was followed by an ongoing four-match winning run
CSKA also lost only once, 26:25 at Odense
Brest have scored the most goals in the current competition (272) and Ana Gros leads the individual scoring chart with 67 goals
five Brest players won the silver medal with the France team at the EHF EURO 2020
on Wednesday, CSKA lost against Astrakhanochka 24:22 in the Russian Cup quarter-final, while Brest claimed an impressive victory against fellow Metz Handball in the French league, 30:19
15:47
Odense Håndbold scored an easy 33:17 win over HC Podravka Vegeta in the reverse fixture, but that was before we saw a revolution in Croatian women's handball last month. Mind you, there wasn't much of a Podravka influence in that EHF EURO bronze. Perhaps they will be inspired by that and pull off another shock in Denmark.
Odense, who have lost three of their last four matches in the competition this season, are fourth-placed in the group with 10 points after nine games
seventh-placed Podravka have just two points and are on a five-game losing run
right back Dejana Milosavljevic was the only Podravka player in the Croatia squad that sensationally won bronze at the EHF EURO 2020
in late December, Odense signed Denmark's top scorer at the EHF EURO, Mia Rej, who joined from Kobenhavn Håndbold with immediate effect and is expected to replace the injured Helena Elver
15:40
FTC-Rail Cargo Hungaria vs CSM Bucuresti is going to be tasty little battle and it's only 20 minutes away. Here are some interesting tidbits about the clash.
CSM were winless in their last two games – a draw against Krim, 22:22, and a loss against Rostov-Don, 27:22, both on the home court
FTC won three of the last four games in the DELO EHF Champions League, climbing to fourth place in the group
the Romanian side will miss backs Alexandrina Cabral-Barbosa and Bianca Bazaliu as well as line player Dragana Cvijic due to injury
conceding an average of only 24.75 goals per game, CSM have the most effective defence in the group, and also the sixth-best attack, scoring 26.5 goals on average
CSM have won six of the mutual seven meetings between the two sides, with FTC's only victory coming at home in January 2020, 33:23
15:25
Match of the Week this evening is a fascinating Scandinavian derby between Vipers Kristiansand and Team Esbjerg, which will see a dozen EHF EURO winners feature. The last time they played was a 27:27 draw, so another thrilling clash is promised.
We spoke to Vipers rising star Henny Reistad earlier this week, which you can read below!
15:01
Good afternoon everyone and welcome to live coverage of the opening weekend of 2021 in the DELO EHF Champions League.
I'm sure most of you followed the Women's EHF EURO last month and so many of your heroes from that championship will be back in action for their clubs this weekend!
This is what we have coming your way today:
16:00 CET
FTC-Rail Cargo Hungaria (HUN) vs CSM Bucuresti (ROU)
CSKA (RUS) vs Brest Bretagne Handball (FRA)
Odense Håndbold (DEN) vs HC Podravka Vegeta (CRO)
18:00 CET
MOTW: Vipers Kristiansand (NOR) vs Team Esbjerg (DEN)
Buducnost (MNE) vs BV Borussia 09 Dortmund (GER)