Who shone in the first part of the season?
Füchse Berlin and Montpellier have already booked their ticket for the play-offs and the EHF European League Men is taking a break for the festive season. But the other 22 teams are still in the running for qualification, with four rounds left to play in 2023.
Before we put everything on hold to enjoy Christmas, now is the right time to take a look at which teams and which players made the biggest impression in the first six rounds of the group phase.
Top 3 players
Alfred Joel Jönsson (Skjern Handbold)
Skjern are one of the nice surprises in the European League season, and their Swedish centre back is one of the guys to blame. He scored less than seven goals only twice in the first six rounds. But not only did he put the ball into the net, but he also helped his teammates doing so, as he delivered more than two assists per game on average.
Milos Vujovic (Füchse Berlin)
It might now be official that the left wing from Montenegro will leave Berlin at the end of the season, but it seems like Vujovic has decided to leave the German capital city with a bang. He has already netted 57 times in the group phase and played a huge role in Füchse's qualification for the play-offs.
Pol Valera (Fraikin BM. Granollers)
The Spanish side from Catalonia are still in the running for first place in group C, and that is partly thanks to Pol Valera. The 24-year-old centre back has been delivering the goods every Tuesday for his team, netting a career-record 14 goals against Balatonfüredi in the opening round. No wonder the best sides in Europe are eyeing him up.
Top 3 goalkeepers
Niklas Kraft (Ystads IF HF)
With every week, you think that Niklas Kraft is going to stop but, thankfully, he does not. The 28-year-old goalkeeper, who is playing the European League for the second season straight with Ystad, is the leader of the saving ranking in the competition. And he played a key role for his team when they defeated European powerhouses such as Flensburg and PAUC.
Charles Bolzingzer (Montpellier HB)
He might be one of the youngest goalkeepers around, but Charles Bolzinger has already made a huge impression in the European League. The 22-year-old delivered stunning performances in both games against reigning champions Benfica, stopping more than 40 per cent of the shots aimed at him. No wonder that with such a goalkeeper, Montpellier are already qualified for the play-offs.
Salah Boutaf (Skanderborg-Aarhus)
Aarhus might be playing their first season in the European League, but their young players do not look too intimidated. Salah Boutaf, for instance, has been having a great season so far, ranking sixth in the best goalkeepers ranking with 12 saves against Pelister and 15 against Aguas Santas – not bad for a debut season.
Top 3 rookies
Benedek Éles (Fejer B.A.L.-Veszprem)
Veszprem might only have two points in the group phase so far, but Benedek Éles has been delivering day in, day out. He scored nine goals against Presov and eight against Göppingen and Benfica, and the Hungarian left back is making the most of his first European League experience. His team will need more performances like these in order to progress to the play-offs.
Christoffer Bonde (Skjern Handbold)
Young Danish goalkeepers shine in the European League this season. Rookie Christoffer Bonde has been one of the key assets for Skjern, often making the decision by himself. His best tally so far is 18 saves against Alpla Hard, but Bonde also shone in his team's three wins in the group phase.
Rui Pereira (Aguas Santas Milaneza)
Aguas Santas made it to the group phase from the first qualification round, and their centre back Rui Pereira has been making progress with every game he has played. If he was quiet at the start, he ended 2022 with two impressive performances, six and seven goals against Motor. The Portuguese side owe their point against Zaporozhye largely to their young star.
Top 3 veterans
Björgvin Pall Gustavsson (Valur)
There are few handball fans that have not heard of Björgvin Pall Gustavsson. At 37, the Icelandic goalkeeper has seen and done it all in handball, but he has not lowered his motivation. In a very young Valur team, he clearly looks like a leader. And he has given his team some precious points, making sure the Icelandic side is still in the run for qualification.
Fahrudin Melic (RK Nexe)
After coming back from France one year ago, Fahrudin Melic immediately put himself in the driving seat in Nexe. And, at 38, the Montenegrin right wing still has some fuel left in the tank. Since the beginning of the European League season, he has never scored fewer than four goals, while netting 11 times in the first game against Sporting.
Petar Djordjic (SL Benfica)
Petar Djordjic has been a stalwart for Benfica for a few seasons now, and this one is no different, as the left-back has been the most efficient asset for the Portuguese side. The 38-year-old has already scored 38 goals, and his experience has been precious for his team in tight games in the group phase. If his teammates follow his lead, maybe the titleholders could climb up a few spots in group A.
Top 3 fans
RK Nexe
Nexe only lost one home game in the last two European League seasons, and when you see the stands of the Kralja Tomislava, you easily understand why. Always full to the rafters and filled with handball specialists, the Nasice audience push their team to the maximum, as well as putting pressure on their opponents. A must-go for every handball fan across Europe.
Füchse Berlin
You might not find it surprising to see Füchsbau in there. The Max-Schmelling Halle has seen, over the years, some of the most exciting European competitions games, and this season is not different. And no matter who is the opponent, the Füchse fans will cheer with equal passion.
Montpellier HB
Montpellier only lost one game across all competitions since the beginning of the season, and none in the European League so far. Filled with the Blue Foxes, the fans squad, the FDI Stadium has, so far, become a nightmare for visitors. As a result, Montpellier are riding a wave of confidence on home ground that has already taken them to the play-offs.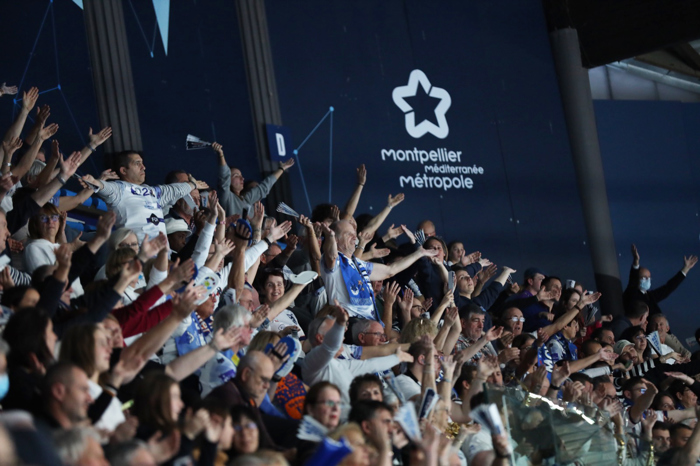 Top 3 attacks
Montpellier HB
Hugo Descat, Yanis Lenne, Lucas Pellas, Kylian Villeminot: it is actually hard to name all the fantastic offensive players that Montpellier have in their roster this season. And if, last year, all of them struggled to deliver, this time it feels like they are all on the same page. And, as a result, Montpellier are already in the play-offs, after having scored more than 200 goals already.
SG Flensburg-Handewitt
Flensburg might be playing their first-ever European League season, but the German side is taking things very seriously. The leaders of group B are the most efficient offence of the group phase, level with Füchse Berlin. But Flensburg are not only relying on only one player, as Emil Jakobsen, Johannes Golla and Lasse Møller have all been having fun since the beginning of the season.
RK Nexe
Nexe have scored less than 30 goals just once in the group phase so far, in Granollers in round 6 – the evening resulting in a loss for the Croatian side. But in previous rounds, the team from Nasice let all hell break loose, scoring up to 39 in the first game against the Spanish side, while netting 37 against Balatonfüredi. To win in handball, you need to score goals, and Nexe have definitely understood that.
Top 3 defences
Kadetten Schaffhausen
Schaffhausen are still in the running for first place in group A and this is partly thanks to their defence. The Swiss side has delivered some very good performances in the area, especially during wins against Benfica and Göppingen. Goalkeeper Martin Ziemer has played a major role in that, and overall, the defence has been a real team effort for Kadetten.
Füchse Berlin
Mihajlo Marsenic, Marko Kopljar... the list of defensive players for Füchse is impressive. Even more frightening for the opponents is that they protect one of the most efficient pair of goalkeepers, with Dejan Milosavljev and Victor Kireev. The German side has not lost a game in the European League yet and, quite honestly, it is just because their opponents could not get past their defence.
Bidasoa Irun
The Spanish side might have lost a couple of defensive assets last summer, but Irun remain a tough fortress to take for their opponents. Only twice did Irun concede more than 30 goals this season, away from home in Berlin and Aarhus. If they are about to qualify for the play-offs once again, Irun owe it to their defensive strength.