EHF Champions League
This is me: Kentin Mahe
Kentin Mahé. That's Kentin with a K. Following in the footsteps of a famous father can be a difficult for some. But not for Kentin. Not for Kentin with a K. So when your dad wins a World Championship, what do you do? You also win one. Like father, like son? Well, Kentin - with a K - has his own story. Of how he went onto "be like dad", how he rose to become one of Europe's most talented players and how that now, at the age of 30, there are some boxes still left to tick. This is Kentin's story in his own words.
This is me: Kentin Mahe
My name is spelled with a K.
Kentin.
Unusual, eh?
I can't think of any other guy with that name spelled with a K. So let me help you explain the story.
My grandma is Swedish, named Kerstin, and she had a daughter, Karine. That's my mum.
And together with my dad, Pascal, they had three children: me, Kentin, but also Viktor and Klara, my younger brother and sister.
Together, we are the five Ks.

I sometimes find amusing to give this as an example of how international my life is.
I was born in Paris, but spent most of my childhood in Germany, following the footsteps of my dad, before moving on to Hungary lately.
My dad, you probably have heard of him if you are a handball fan. A World Champion with France in 1995, a bronze medal at the Olympics, he paved the way for players like me to enjoy success with the national team.
When I was a kid, I wanted to be him. I started handball at six, and I can vividly remember myself saying that I wanted to be world champion, "just like dad", while putting the net full of balls at the back of the small white car we owned back then.
That idea never left me.
I even thought that he was the best player in the world back then. Turned out that he was probably not, but my dad, he was my role model when I was young.
But that's not to say that my mum was not important.
Far from that.
She was the light that could guide the boat in the darkness.
She helped me build myself as a teenager and a young man. She gave me love, confidence but also the will to persevere to achieve your goals.
Mum still sends me a message three or four hours before every game. That is one of the rituals that we have on match days. We might be thousands of kilometers apart, me in Hungary and her in France, but we're still on each other's minds.
And I realise how lucky I am, to have been born into a loving and supporting family. Without them, I would probably never been able to be where I am right now.
Because water has run under the bridge since the little kid was training with his dad in Monaco.

In 2015, I became World Champion with France for the first time, and this was one of the turning points of my career.
Before that, my dad had warned me about being serious, focusing on handball, having to question myself with every game, every competition, so I could prove I owed my place among the best.
I listened, but I did not quite understand what it was all about. It all seemed quite vague to me.
But then, in Qatar, things became real.
I made sure to make the effort, day in, day out, and to remain on top afterwards.
Of course, my father was proud when we won gold then. As a symbol, my first title came 20 years after his only world title with France in 1995.
When we landed in France, we took a picture together, with each of us holding our medal.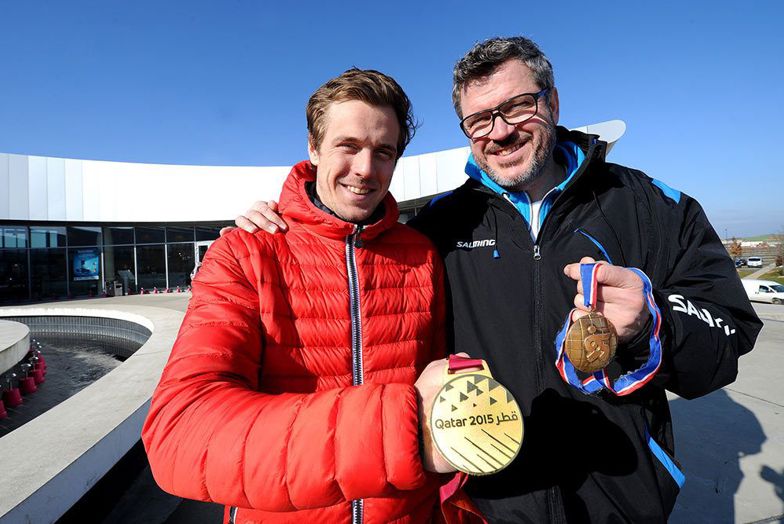 It felt like, suddenly, I was being watched differently.
And with that outside look, came the responsibilities. As a player, you are a role model for the younger generations, just like the older players were for me.
It still can't get my head around when a kid comes up to me and tells me he looks up to me. Because I don't have the impression to be a model, I sometimes don't show my best face on the court.
But I've realised how important it is, to actually be an example for the younger generations, as my elders were an inspiration for me.
And by younger generations, of course I also mean my children.

Having children was probably the biggest game-changer I ever went through.
To be there, when Vida, my little girl, was born…It is still hard for me to describe how I felt that day. It was a whirlwind of emotions, and it still changes my life every day.
Being a parent is the most gratifying, tough, fun job in the world. It feels like you discover yourself again, and you discover the world again through the eyes of your child.
And my wife and I want to raise our kids in the way we were raised.
Open to the world, being able to adapt in every situation, no matter the situation we are in.
Being French, from a Swedish background, having grown up in Germany and now living in Hungary, having been around so many different people from many nationalities on the court for so many years, that feels like a huge advantage to me.
My daughter can already count in Hungarian, but she also speaks French and German, and I'm sure that will be a strength when she grows up, just as this universality was for me as a young adult.
And if I paid tribute to my mum earlier, I must admit my world would not be complete without my wife, Franziska. One often says that behind every great man is a great woman, and I can completely see myself in that.
I know how much sacrifices she has to put up so I can focus on the court and all of my career would not have been possible without her.
Family-wise, I am lucky, and I know it.
She's one of these mothers, just like mine, who will do everything so that her children can live their dreams. In a handball world where you sometimes forget about the people behind the scenes, mothers and women might be the most important ones.
At 30, I am proud of what I achieved on the court, even though there are still some boxes to tick.
But most of all, my family is well and healthy. Just waiting to know what is the new adventure ahead of us.
Kentin Mahé
May 2022