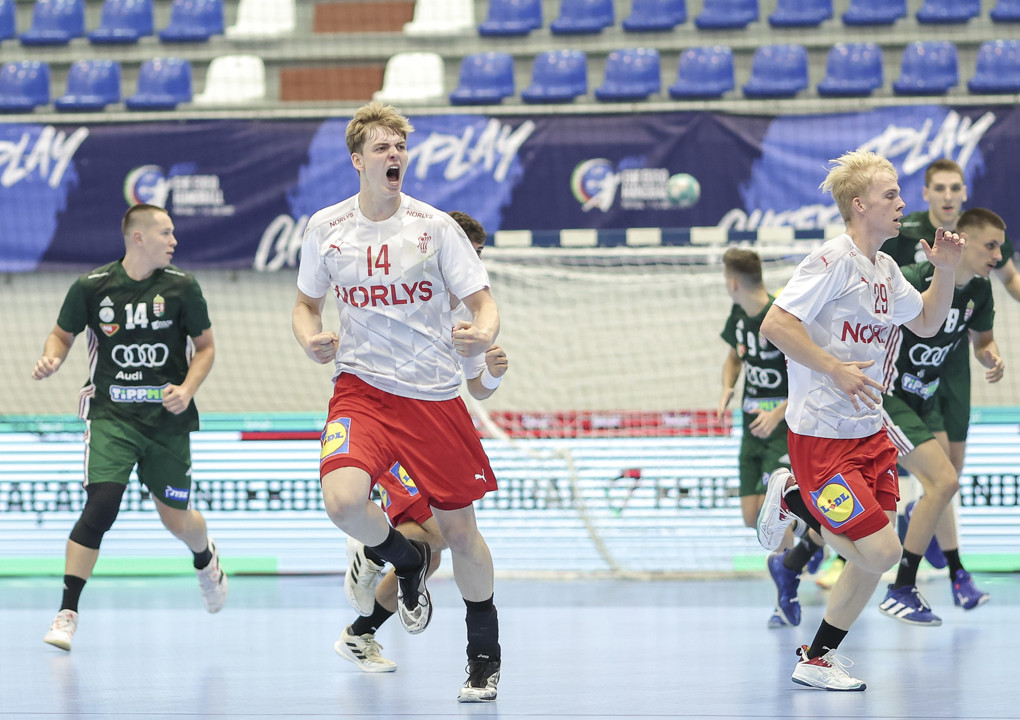 Summer blog: Tension builds on day 2 of M20 EHF EURO; final night of European Open
The Summer Blog on eurohandball.com guides you through all the action at the various Younger Age Category (YAC) and beach handball events taking place this summer.
17:50
While we close our Summer Blog for today, here is what you can still expect this evening.
At the M20 EHF EURO 2022 in Portugal, we have four more preliminary round matches:
18:00 CEST: Poland vs Spain in group A; Montenegro vs Croatia in group C
20:30 CEST: Norway vs Portugal in group A; France vs Sweden in group C
It is finals day at the W16 European Open in Sweden:
18:00 CEST, bronze medal match: France vs Montenegro
20:00 CEST, final: Romania vs Spain
Finally, too much to list it all here, play is in full swing at the EHF Beach Handball Championship (men and women) in Czech Republic.
And remember, it is all live on EHFTV for you. So, enjoy the games!
17:31
Quick switch to the beach events in Prague, where Türkiye are now the only unbeaten team left in the Men's Beach Handball Championship. Türkiye have just defeated Sweden in a weird game, winning the first set 23:20 before losing the second 22:5 (no typo!) but winning the shootout 6:4 again!
Much to the delight of certain fans in the stands, a.k.a. the Turkish women's national team ;-)

17:02
Groups B and D are wide open at the M20 EHF EURO! Denmark and Serbia have just claimed their first wins - against Hungary (28:25) and Germany (33:30), respectively, who had both won their first match on Thursday.
All teams in group B (Denmark, Hungary, Faroe Islands, and Slovenia) are now level with two points from two matches. It doesn't get closer than that!
In group D, Serbia now lead with three points, ahead of Germany and Italy with two, and Iceland with one. Still all to play for here, as well!

16:37
In case you missed them earlier: here are the top 5 plays from the opening day of the YAC 16 EHF EURO in Prague:
16:28
Two more matches running at the M20 EHF EURO that seem to be going right down to the wire as well: Serbia currently holding a slim lead over Germany in group D, and Denmark just being ahead of Hungary in B, with some 15 minutes still to go.
And you know: EHFTV is your place to go to watch the matches live (though geo-restrictions may apply).
16:14
So, let's hear from Slovenia goalkeeper, and Player of the Match, Luka Zupancic:
In the second half we started to be focused, with the heart in the right place, so we managed to take the win.
15:16
They started with a sensational win over Denmark. This afternoon followed a defeat against Slovenia. Faroe Islands have not given their remarkable start into the M20 EHF EURO an equally successful follow-up on Friday, losing to Slovenia by a single goal: 28:27.
Faroe Islands led 5:4 after the opening quarter but trailed for most of the rest of the match. Mitja Janc was Slovenia's best shooter - with eight goals.
In the other early match on Friday, Italy edged Iceland in group D also by a single goal: 27:26, led by nine goals from Nicola Fadanelli.
14:52
And, of course, with both YAC events finished for the day, the sandy courts in Prague are now occupied by the teams playing in the EHF Beach Handball Championship, both the men's competition and the women's competition.
In the men's event, Hungary in group A as well as Sweden and Turkey in group B started with two wins yesterday. Can they keep going on day2?
In the women's event, four teams have not dropped a point yet: Hungary and France in group A, Poland and Croatia in group B.
Remember, you can watch all the action live on EHFTV!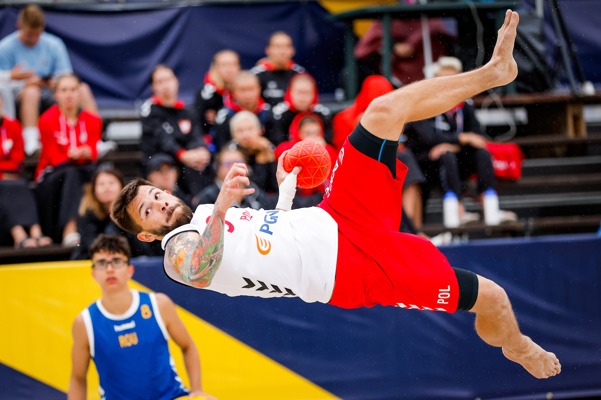 14:36
Play in the Women's 16 Beach Handball EURO has now also been completed for the day. With most teams having to play one more preliminary round game on Saturday morning, we have three teams with still a perfect record - and thus leading their respective group: Hungary in group A, Spain in group B, and Netherlands in group C.
The line-up for the quarter-finals will be decided on Saturday morning.

12:50
The day's schedule in the men's competition at the YAC 16 Beach Handball EURO is all wrapped up! 
It has been a very successful day for France and Germany in particular, who won both the matches they played. 
Three of the 10 matches required a shootout to determine the winners, and Ukraine were involved in two of them — but unlucky in both cases. Against Croatia, Ukraine were defeated 7:8 in the shootout. Versus France, they lost the shootout 12:13. 
The other shootout took place between Czech Republic and Romania, with Czech Republic coming out on top after an extremely close match — 13:12 for Romania in the first period, 13:12 for Czech Republic in the second, and 6:5 for Czech Republic in the shootout. 

12:36
While the action on the sand is well underway, throw-off in the first of today's games at the M20 EHF EURO is edging closer. 
At 13:00 CEST, the day in Portugal opens with two matches, with a total of eight games to be played today.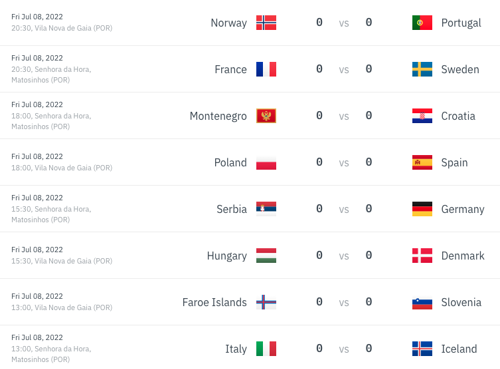 After wins on day one, Spain, Portugal, Hungary, Faroe Islands, Sweden, France, Germany and Iceland will look to add a second set of two points to their accounts. Poland, Norway, Denmark, Slovenia, Croatia, Montenegro, Serbia and Italy are all on the hunt for their first wins. 
Perhaps the biggest surprise of day one was Faroe Islands overthrowing Denmark 33:32. Despite the defeat, Denmark's squad features the top scorer of the competition so far: Thomas Arnoldsen, who scored 12 goals in the opening game. He is followed by Portugal's Martin da Costa on 10 and Hungary's Bence Krakovszki on nine. 
After today's round 2 matches, the teams will have a rest on Saturday before the conclusion of the preliminary games on Sunday. From the four preliminary groups, the two top teams in each will continue to the main round, while the remainder play the intermediate round and then the placement matches. 
The semi-finalists will be the teams that place first and second in the main round groups, with the penultimate stage to be played on Friday 15 July. The finals will take place on Sunday 17 July — but there is still a long road until then!

11:50
While the action at the YAC 16 Beach Handball EURO has been unfolding for some hours, the Men's and Women's EHF Beach Handball Championships are getting set for throw-off.
The women's competition will get us started at 14:00 CEST, with the following matches: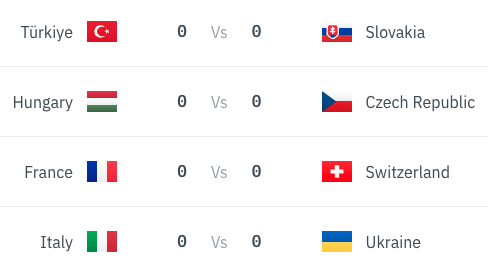 The first men's games will start at 14:45 CEST:

Catch them all live on EHFTV! 
Let's take a look at the standings after day one. 
In the women's competition, Hungary, France, Poland and Croatia all have perfect records so far, with two wins apiece. All hold four points in their accounts and lead their groups — Hungary first in group A ahead of France in second, and Poland leading group B ahead of Croatia. 
In group A, behind the leaders come Czech Republic in third and Ukraine in fourth, each with one victory, and then Italy and Switzerland with two defeats each.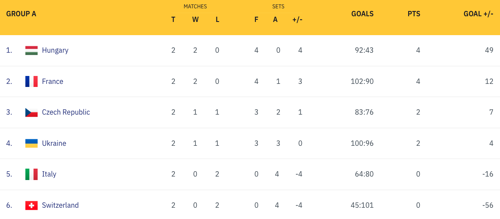 In group B, only Poland and Croatia have collected points so far. Their rivals — Slovakia, Romania and Türkiye — all lost their games on Thursday, with Slovakia and Romania playing once each while Türkiye had two matches. 

In the men's competition, group A looks very similar to the women's, with Hungary and France in first and second, although Hungary are the only team with two wins in two games. France are on two points, as are Ukraine in third, Italy in fourth and The Netherlands in fifth. Rounding out the group and the only team yet to take a win are Switzerland in sixth.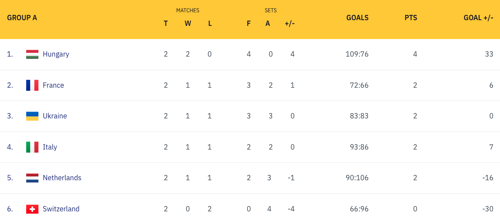 In group B, Sweden and Türkiye are the leaders so far, with two victories and the maximum four points. Germany are third ahead of Romania in fourth, with both on two points, while Poland and Czech Republic both await their first points after two defeats so far.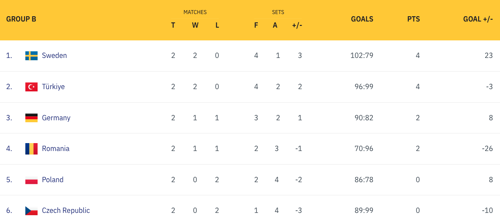 The preliminary rounds will conclude on Saturday, and the two top teams in each group will move on to the semi-finals. 
10:38
The day kicks into higher gear with the first games of the YAC 16 Beach Handball EURO women's competition now underway, while the men's tournament action continues. 
Below, check out the top five plays from day one on the sand in the YAC championship. 
9:20
Good morning and welcome to our live blog coverage of this action-packed summer! Six competitions are back on court today, while it is a rest day at the M20 EHF Championship in Bulgaria. 
All matches are streamed live on EHFTV. 
Here's what's coming your way today: 
And the day is already underway, with the first games of today's schedule at the Men's YAC 16 Beach Handball EURO having thrown off — France vs Bulgaria, Croatia vs Ukraine, Spain vs Portugal and Germany vs Czech Republic.