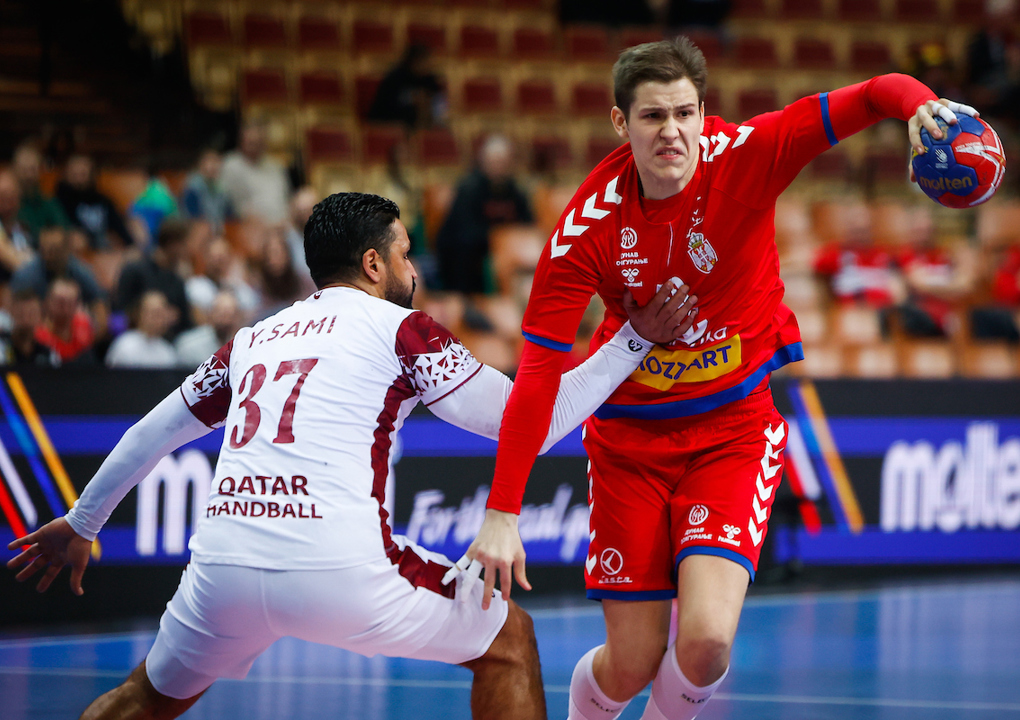 Serbia youngster Dodic shines at World Championship
Only seven months since properly announcing himself as a star-to-be, Dodic confirmed his potential in the preliminary round of the World Championship, playing an integral role in Serbia's qualification to the main round with wins over Algeria and Qatar and a narrow loss against Germany, 34:33.
Playing as the understudy of experienced centre back Lazar Kukic, Dodic still got meaningful minutes on the court and delivered excellent performances, ranking as the 10th best assist provider in the preliminary round with 14 decisive passes – six less than the three leaders: Montenegro's Bozo Andjelic, Germany's Juri Knorr, and Chile's Rodrigo Salinas.
All three of them have had, however, more minutes on court than Dodic, who has played for roughly 44 minutes in the tournament.
"It is a dream came true, really, because being here, with the Serbia men's senior team, is something amazing. We are all giving everything we got for our country and have been trying to deliver some good performances in the tournament," says Dodic.
Back in July 2022, Dodic was the driving force behind Serbia's campaign at the M20 EHF EURO, earning rave reviews thanks to his impressive handball IQ for a 19-year-old player.
Dodic was named the MVP of the tournament and earned the bronze medal, after a superb tournament that concluded with a 30:26 win over Sweden in the third-place match.
He is also the only player from that squad to make the trip with the senior team to Poland-Sweden 2023, a nod to his immense potential that will be nurtured by Serbia, with Dodic projecting as a future leader for the team in years to come.
His ascension has been impressive to watch, especially as he also made his debut in the Machineseeker EHF Champions League, featuring for Croatian side HC PPD Zagreb on loan from Industria Kielce.
With 20 goals and 24 assists, Dodic has been flourishing and he is ranked 15th in the assists category, tied with stalwarts like Aalborg's Mikkel Hansen or Kielce's Alex Dujshebaev in that category.
His performances have also helped Zagreb improve immensely, with the Croatian side in contention for a place in the play-offs this season. They are sixth in the standings with eight points, three points ahead of main rivals Orlen Wisla Plock, with only four games left in the group phase.
"Of course, playing in the Champions League has helped me a lot. I am a better player, I am improving and playing week after week with strong opponents makes me want even more to be even better," says Dodic.
Now, Dodic is carrying the hopes of an entire country, which yearns a good performance from their national team after a real roller-coaster in the past years, alternating excellent games with outings that have not been up to par with the level required.
The youngest member of Serbia's squad at the 2023 World Championship, who is on ball-carrying duties before and after games, Dodic embraces his role with the senior national team as he is making his debut at a major senior international tournament.
Always with a smile on his face, but a true professional on the court, the 19-year-old centre back is definitely one of the alumni of the Respect Your Talent programme that underlines how important it is to nurture talent and improve players through a holistic approach.
"We are thinking about making good performances, that is sure. We are currently in the World Championship, trying to play as good as we can and we managed two wins. We lost against Germany, but that only motivates us more to play better in the main round," says Dodic.
"However, games against Norway, the Netherlands and Argentina will not be easy, but we will try to do our best to bring honour to the country."
After head coach Toni Gerona took over the team in the early months of 2020, Serbia have been constantly improving. In spite of their 14th place at the EHF EURO 2022, when they won a single game and lost two, they had more consistent displays and improved tournament after tournament.
With Dodic earmarked as a star for the future, the success might not be so far away. Serbia have a real talent on their hands, they just need to create Dodic a good path to walk on.
photos © 2023 Anze Malovrh / kolektiff