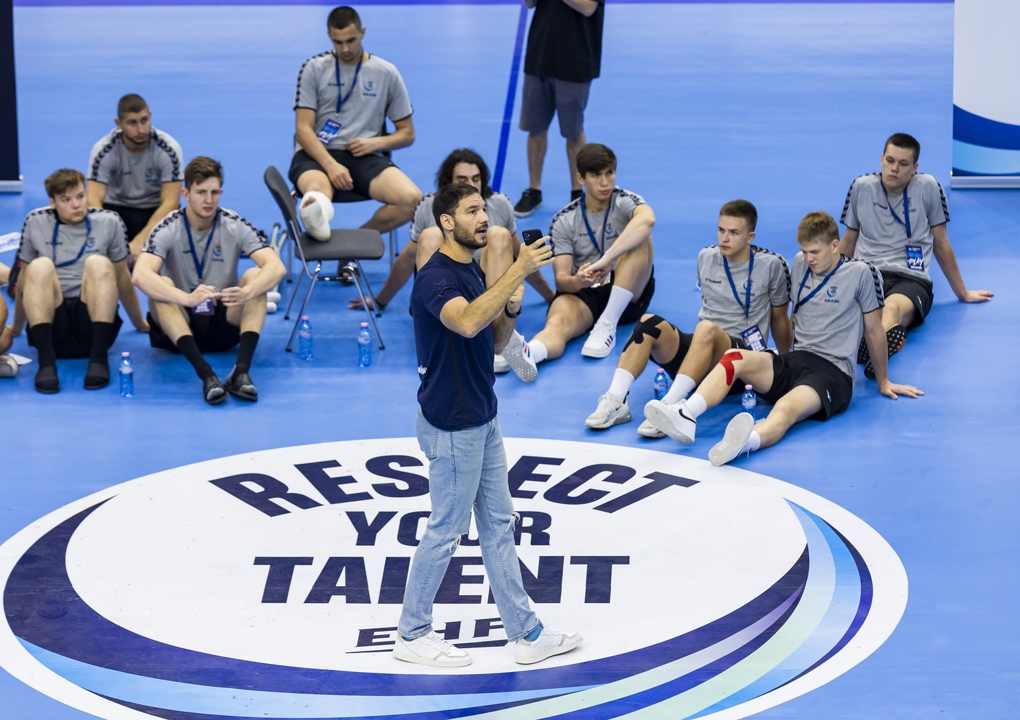 Respect Your Talent Camp 2023 around the corner
The fourth Respect Your Talent Camp will be held for boys (M18) from Friday to Sunday (27-29 January 2023) in Vienna. This year's edition features the high-calibre ambassadors Luka Stepančić, Carlos Prieto, Ólafur Stefánsson, and Vid Kavtičnik.
Respect Your Talent, part of the EHF Master Plan 2020-2027,  promotes the holistic development of talented players on and off the handball court. More than 1,000 participants from all over Europe have benefited from the programme since its launch in 2019.
EHF Secretary General Martin Hausleitner says Respect Your Talent is increasingly relevant.
"The journey to becoming a top-level handball player is one of growing challenges, as the talented athlete environment has experienced new dynamics. Continuously increasing demands of high-performance sport, an all-encompassing media landscape, and linked, a digitalised youth culture, are three examples for this development. For young players, keeping the balance, staying healthy, and performing well in such an environment, is not easy," Hausleitner says.
"Helping them deal with their current challenges, as well as preparing them for the future requirements waiting at professional handball level, is a strong concern of the EHF."
As one element of a wide range of physical and digital activities, the Respect Your Talent Camp provides exclusive training days to some of the most talented girls and boys in European handball. It gives 30 youngsters the unique opportunity to meet and intensively work with some of the world's best handball players.
In line with the programme's methodological approach, a recent study documents that most talented athletes choose role models who do other things alongside sport, and whose lives are not exclusively driven by the performance narratives of elite sport. The Respect Your Talent ambassadors are therefore more than just world-class athletes. Their individual pathways are in fact authentic evidence for the strong links between investment in personal development and athletic progress.
"This programme is immensely important for the sustainability of young players' careers, as well as for the European handball family as a whole," says Carlos Prieto, former Spanish handball legend, graduate teacher, and today CEO of Share & Play. "Acting as a Respect Your Talent ambassador is a matter of the heart to me."
In the three days of the camp, the youngsters will be assisted to develop off-court skills that will promote their on-court success. Collaborating with leading topical experts – such as David Obererlacher, Simona Margetic, Andreas Joklik, Hans Holdhaus, Bojana Jelicic, Alejandro Martinez Rodriguez and Wolfgang Stockinger – the Respect Your Talent ambassadors will lead a set of interactive training sessions, covering the topics of media, sports law, anti-doping, mental fitness, nutrition, and holding down a dual career.
In a bid to constantly introduce new content to the programme, this year will for the first time offer training on the prevention of match-fixing, on pre-training, competition and in-game nutrition, as well as on effective sleep and regeneration measures.
photos © 2022 SportPhotographers