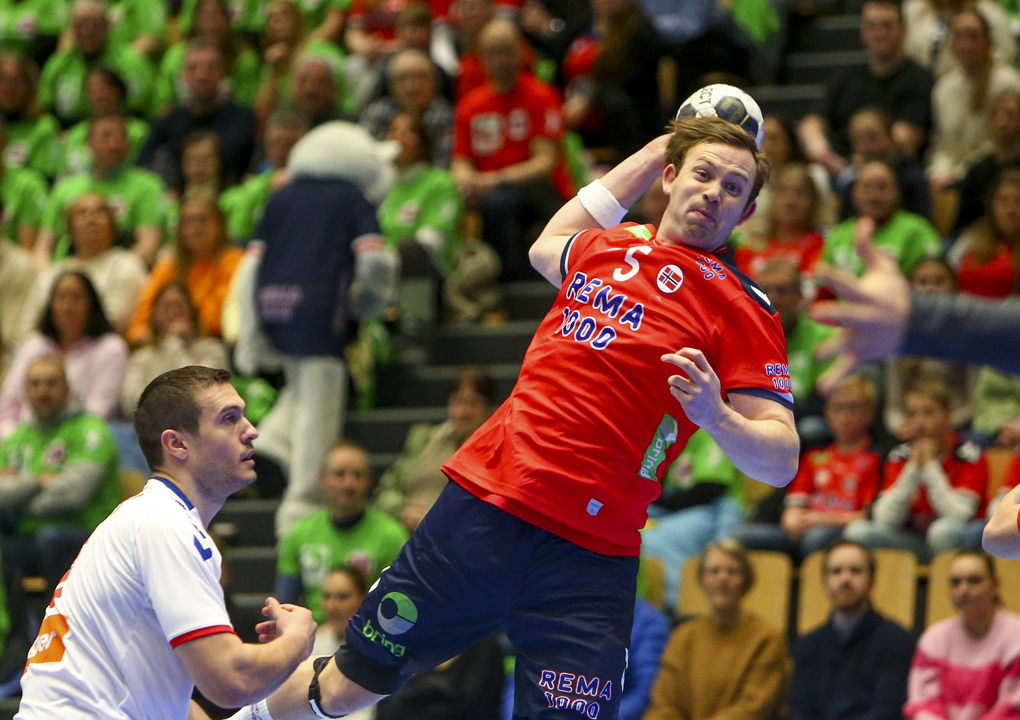 Norway and Iceland avenge losses, Greece close to historic place
Norway and Iceland enhanced their chances of securing an EHF EURO 2024 berth, being virtually through to the final tournament before the last two games in their groups, after clear wins against Serbia and Czech Republic respectively.
But the biggest surprise came from Greece, after they secured their third win in a row, 26:24, against Belgium, inching closer to their first-ever place at an EHF EURO.
GROUP 2
Norway vs Serbia 35:25 (17:12)
Thursday's loss against Serbia was a difficult pill to swallow for Norway, as it came in the last second of the match. By no means, Norway were not out of contention for a berth, but they needed to make a statement and definitely delivered one of the best performances since Jonas Wille took over the side, cruising to a 35:25 win. It was a win that virtually helped the Scandinavian side clinch a spot for EHF EURO 2024, only two losses against Finland and Slovakia in the last matches will kick out the silver medallists from EHF EURO 2020. An otherworldly game from Sander Sagosen, who scored 12 goals, helped Norway deliver one of Serbia's worst-ever losses in the EHF EURO Qualifiers, only their 10th in 50 matches in this competition, but Toni Gerona's side are also virtually through, being in the same position as Norway.
GROUP 3
Iceland vs Czech Republic 28:19 (15:12)
Four days ago, Iceland were limited to only seven goals scored in the second half in the away game played in the Czech Republic, therefore it was only normal for them to try and avenge this loss. After a well-balanced first half, Iceland went into overdrive in defence and stopped their opponents, who scored only three goals in the first 15 minutes of the second half. Much of that was thanks to goalkeeper Viktor Halgrimsson, who played a blinder, saving 15 shots for a 57.6% saving efficiency, as the Czech Republic failed to produce the same energy from the first game. The two sides are dominating the standings, with six points each and Iceland holding the tiebreaker, as they are heavily favoured to secure berths for the EHF EURO 2024.
Israel vs Estonia 29:27 (15:13)
Israel broke a six-game losing streak and stayed alive in the hunt for an EHF EURO 2024 berth, after a 29:27 win against Estonia. Four days ago, Estonia took a 30:28 win, with Karl Toom scoring 11 goals, but this game looked totally different.  The hosts took  control of the match early on and never relinquished it. Goalkeeper Yahav Shamir was crucial for Israel, finishing the match with 10 saves and a 41% saving efficiency, but eventually it was about a team fighting for their status in this group, which truly delivered a good game.
Everybody is a little bit disappointed because we lead during all the match. It was a good night, two teams fought until the end of the match and the end of power. Both teams deserved to win. In my personal feelings, we are better. We make our goal to win by two goals and more. We should celebrate this and believe in this team, it is a very young team
We really expected more, we were ready for a fight and we gave a fight, but Israel had an answer for everything we did today. They had analysed us well. Maybe what we lacked today was a real leader in the game
GROUP 5
Greece vs Belgium 26:24 (13:12)
Belgium's challenge for their maiden EHF EURO berth, which looked like a logical next step after qualifying for the 2023 IHF Men's World Championship, was stopped in its tracks this week, after the "Red Wolves" lost both matches against Greece and need a miracle to progress to the final tournament in Germany. Credit to Greece, though, who once again proved to have excellent grit, as they went down early in the second half, only to bounce back and go to six points in the group, going very close to their first-ever EHF EURO berth. Veteran centre back Charalampos Mallios, who is 35 years old, and 18-year-old rookie Achilleas Toskas were Greece's top scorers, with six goals each, as Greece secured their third win in a row, winning as many games in this group as in the previous two editions of the EHF EURO Qualifiers combined.
GROUP 7
Bosnia Herzegovina vs Kosovo 25:18 (10:7)
In their bid for their third consecutive appearance in the EHF EURO, Bosnia and Herzegovina made it two out of two against Kosovo, in a hard-fought match, which duly delivered a close result. Experienced line player Senjamin Buric was unstoppable throughout the whole match, scoring seven goals out of eight shots, as Bosnia constantly led, forcing Kosovo to try and mount a comeback. But time and time again, the guests were stopped by goalkeeper Admir Ahmetsavic, who had a flawless match, saving 19 shots for a mindboggling 51.3% saving efficiency. Kosovo's failure to get back into the match means they are virtually out of the battle for a spot in the final tournament in Germany, after they conceded their fourth loss in the group and their 19th in 24 matches in the EHF EURO Qualifiers. On the other hand, Bosnia are back on track, with four points in four matches, but they will need something in their last matches against Montenegro and Slovenia to improve their chances.