EHF EURO
Summary: Favourites make no mistakes in round 1 qualifiers
All favourites scheduled to play have started with wins in the Men's EHF EURO 2022 Qualifiers, which threw off with 10 round 1 matches on Wednesday and Thursday.
Teams like world and Olympic champions Denmark, 2018 silver medallists Sweden, and 2016 champions Germany all earned comprehensive victories.
However, the EHF EURO Cup 2022 started with a surprise victory from Hungary over EHF EURO 2020 champions Spain.
round 1 of the Men's EHF EURO 2022 Qualifiers included 10 matches
WEDNESDAY: all six qualifiers won by home nations - Austria vs Estonia 31:28, Portugal vs Israel 31:22, Iceland vs Lithuania 36:20, Netherlands vs Turkey 27:26, North Macedonia vs Finland 33:24, Montenegro vs Kosovo 32:25.
THURSDAY: no missteps from the big teams - Ukraine vs Russia 27:27, Germany vs Bosnia and Herzegovina 25:21, Sweden vs Romania 33:30, Denmark vs Switzerland 31:26; tell us in the poll which team you liked the best on Thursday
Hungary defeated Spain 32:29 in the EHF EURO Cup 2022 opener
round 2 of the qualifiers scheduled for Saturday and Sunday
22:30
It feels great that men's national team handball has returned after nearly 10 months! And we don't have to wait very long before we see the men back in action, as already this weekend round 2 of the Men's EHF EURO 2022 Qualifiers takes place.
Make sure you join us again then, but for now, I want to leave you with a gallery of the best pictures from tonight.
21:51
The four games that wrap up this week's round 1 action:
21:47
Behind-the-scenes footage from Denmark in party mode!
Today, we have seen Ukraine rallying to get a draw against Russia, Germany coming from well behind to beat Bosnia and Herzegovina, Sweden holding off a challenge by Romania, and Denmark dominating against Switzerland.
Tell us in the poll which team impressed you the most tonight:
21:31
Game over in Aarhus! Denmark open their qualifiers account with a convincing 31:26 win over Switzerland.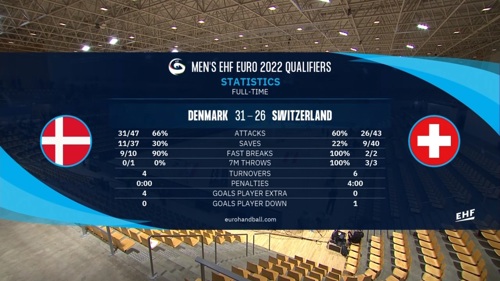 21:22
Even Andy Schmid's 10 goals so far likely won't prevent Switzerland from suffering a defeat in Aarhus tonight.
It is 29:24 to Denmark with less than five minutes until the buzzer.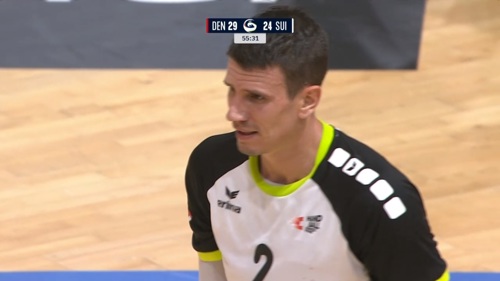 21:09
Denmark remain in the lead (25:19, minute 49) but, back in the first half, even Niklas Landin was without chance against this cracker from Lenny Rubin.
20:44
To fill your 15-minute break during Denmark vs Switzerland, watch this from the previous game, Sweden vs Romania.
"If I had a hammer, I'd hammer in the morning, I'd hammer in the evening..."
20:36
Half-time in Aarhus! Denmark in the driving seat, leading Switzerland 14:8 with Rasmus Lauge their best scorer (five) so far.
Well, today we have already seen some comebacks from Ukraine and Germany, and also Romania, so why not Switzerland next?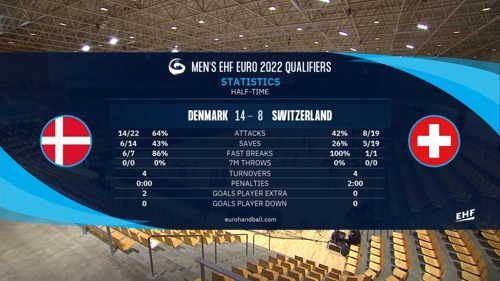 20:21
Nicolaj Jacobsen likes what he sees: His Denmark are up 9:5 against Switzerland after 18 minutes.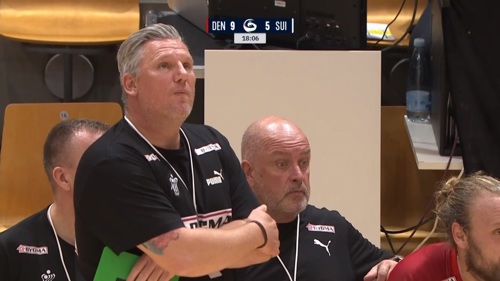 20:09
Niklas Landin had something to celebrate tonight even before the Switzerland match had started. The goalkeeper has been named Denmark's national team player of the year, for a second time in his career.
Tillykke!
20:04
Denmark are obviously the favourites in this match. A look at the head-to-head comparison tells us that Switzerland have never beaten their Scandinavian opponents - but they did get two draws.
However, the most recent draw is 25 years and two months ago...

20:01
Yes, we are under way. Denmark vs Switzerland for a closing match of the day, I think I can live with that!
19:54
I give you five minutes, then you need to be back for a typical last-but-not-least match...
... as we have world and Olympic champions Denmark coming up, taking on Switzerland in the last round 1 qualifier for today.
Here is your direct link to EHFTV for Denmark vs Switzerland.
19:51
Sweden federation calls their 33:30 win over Romania "a bit of a thriller" - and that is maybe an understatement.
19:41
Game over in Pertille! Sweden hold on to their lead to open their EHF EURO 2022 Qualifiers campaign with a 33:30 win over Romania.
Somehow you feel the hosts are happy that this match did not last for another 10 minutes or so...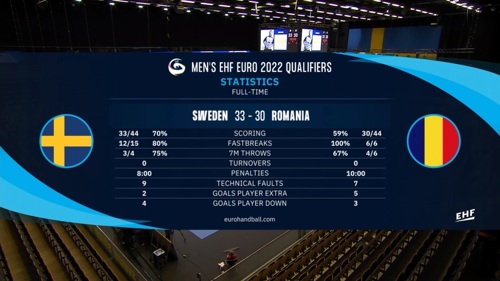 19:34
Team timeout Romania. They are now just three (3!) behind Sweden. It is 31:28 with still five minutes left on the clock.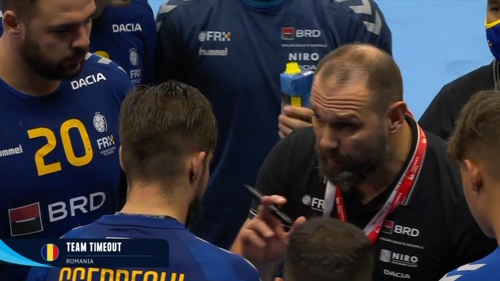 19:22
This clip is from the first half, but Romania keeper Ionut Iancu has been producing similar saves over and over again after the break.
19:16
Shout-out to Romania, who have been battling their way back into this match in Pertille. The difference reduced to four (24:20) now, no wonder Sweden coach Glen Solberg calls a timeout.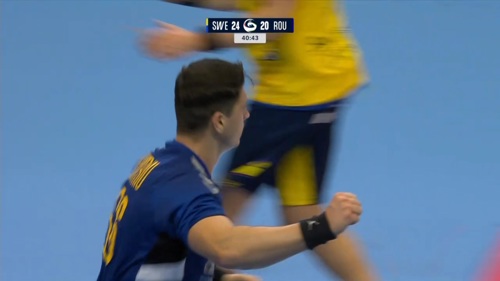 19:04
Hampus Wanne does in the opening seconds of the second half what he has been doing eight times before the break: scoring.
Sweden now nine goals up, and closing in on their biggest ever win over Romania - which stands at +11 from a 36:25 win in 2007. 
18:48
Half-time in Partille and Sweden seem on track for a big win over Romania as the 2018 silver medallists lead 20:12.
One highlight of the first half was this sweet Sweden classic counter:
18:42
Those Sweden fans remain remarkably quiet for the fact that their heroes are comfortably leading Romania...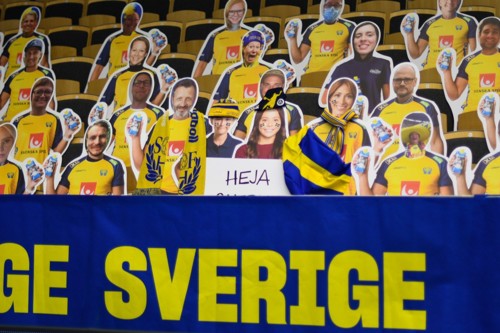 18:31
One more look back at Germany's hard-fought win over Bosnia and Herzegovina this afternoon. Kai Häfner was one of the key reasons that head coach Alfred Gislason had a sweet start in his job despite serious troubles for his team early on.
18:23
So far so good for Sweden against Romania! Peter Johannesson saves a penalty so the hosts hold on to a healthy 9:3 lead after the opening 10 minutes.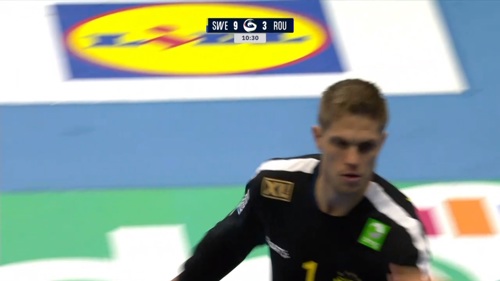 18:07
Sweden and Romania share a rich history as they have played 14 official games against other since their first meeting in 1964.
However, they have met only twice in the past decade - in a World Championship play-off tie in 2014, when Sweden won both legs. The last Romanian win? 13 years ago!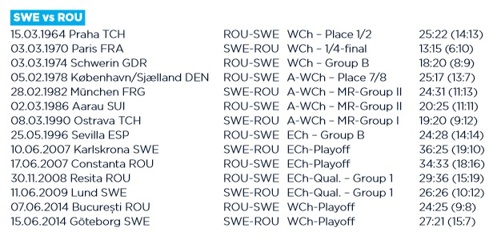 17:58
If you want to grab a refreshment, do it NOW please...
... because in only 10 minutes the next qualifier throws off, as we head to Sweden for their group 8 clash with Romania.
Just click on this direct link to the EHFTV stream for Sweden vs Romania. (If you are in Romania, you must use this link to see the game as this is the exclusive stream!)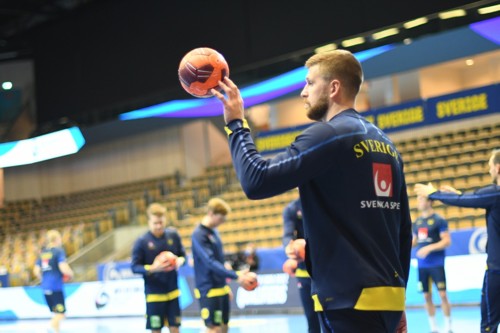 17:49
Wow, that has been an intriguing start to today's schedule, with Ukraine and Russia playing to their first ever draw and Germany made to work very hard for the win by Bosnia and Herzegovina.
Remember you can also follow our live coverage of the qualifiers on Twitter, where Courtney Gahan is keeping you up-to-date today.
If you want to join the conversation on Twitter, make sure to use the official hashtags #ehfeuro2022 and #watchgamesseemore.
17:44
Full-time in Düsseldorf! Germany come away with a four-goal win (25:21) over Bosnia and Herzegovina after trailing for a good part of the game - their first under new coach Alfred Gislason.
17:33
We are done in Minsk! Ukraine have clawed their way back into this qualifier to get a draw against Russia, 27:27, also thanks to awesome goals like this one:
17:28
Meanwhile in Düsseldorf, Germany have completely turned the tide and now lead Bosnia and Herzegovina by three goals with 14 minutes to go.
Unfortunately the visitors have lost key asset Ivan Karacic, who sprained his ankle. Get well soon!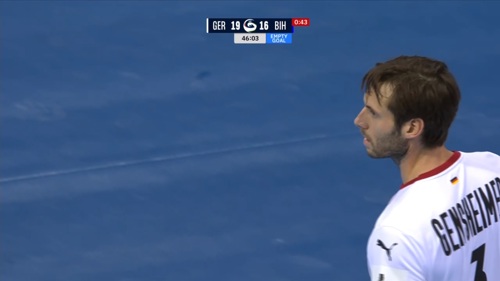 17:24
Things are heating up in Minsk: Ukraine have closed to gap Russia to just one single goal, with five minutes on the clock.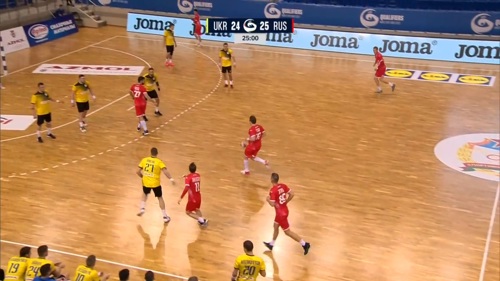 17:18
Get a glimpse of Nikola Prce's stunning performance in the first half.
17:04
You need to come up with more than just a quick underarm shot to surprise Russia goalkeeper Victor Kireev.
16:52
Half-time in Düsseldorf! Bosnia and Herzegovina are four goals up against Germany (13:9) thanks to a leading six-goal contribution from Nikola Prce.
Be prepared for quite some second half...
16:48
One can read from Alfred Gislason's expression how this first half is going for Germany...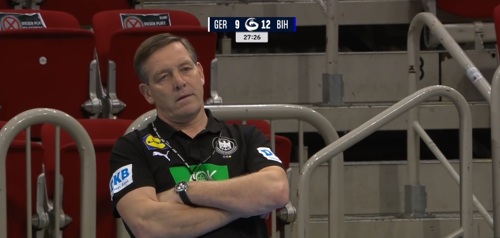 16:38
Half-time in Minsk! Russia have carved out a useful three-goal lead but Vladimir Petkovic's team will still be wary of their Ukrainian opponents in the second half.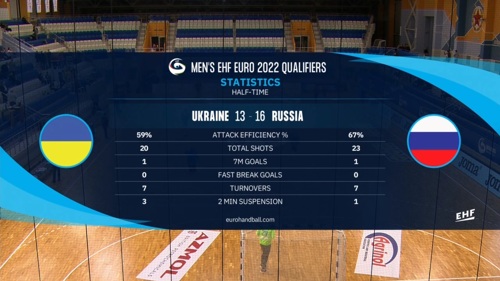 16:29
Not quite the start new coach Alfred Gislason was hoping for: Germany trail Bosnia and Herzegovina by three goals (5:2) early on.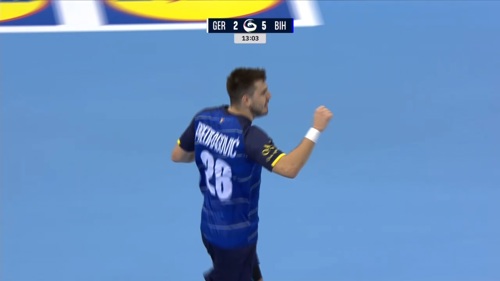 16:26
With less than eight minutes left in the first half, Russia have gone two up against Ukraine (11:9), with Alexei Fokin scoring four times so far.
16:19
With both afternoon qualifiers now in full swing, it is time I plug that brilliant multi-screen function on EHFTV again.
Start one stream, add the second, and enjoy both matches next to each other on the same screen.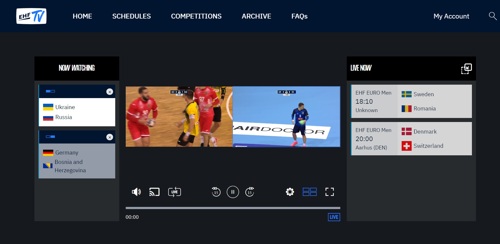 16:11
Wanna double dose? OK, let's add a second qualifier right away!
Here is your direct link to the live stream of Germany vs Bosnia and Herzegovina.
16:06
The second day of qualifiers is running!
It took both teams nearly three minutes to find the net but after five, Ukraine and Russia are tied at 2:2.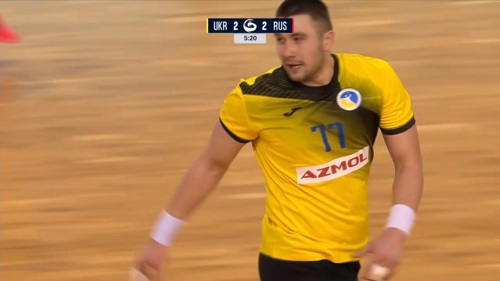 15:48
I guess you know by now that all qualifiers are streamed live on EHFTV. Here is the direct link to the Ukraine vs Russia stream.
Enjoy!
15:40
We throw off today's action in about 20 minutes in Belarus, where Ukraine and Russia play the first part of their double-header this weekend.
This match opens group 3, which also includes Czech Republic and Faroe Islands.
15:20
Germany are less than an hour away from their qualifier opener against Bosnia and Herzegovina, which will be coach Alfred Gislason's debut at the helm. 
14:55
Round 1 of the qualifiers will end in Aarhus, with Switzerland taking on Denmark. 
No doubt we all remember the surprise early exit the Danes made at the EHF EURO 2020, and they will surely not be taking anything for granted in the qualifiers for the next edition in Hungary and Slovakia. 
Switzerland also bowed out in the preliminary round at the EHF EURO 2020, where their participation came after a gap of 14 years. 
Switzerland have never beaten Denmark in an official match, but have managed two draws in a total of 11 games.
13:40
Later in the evening we will return to one of the homes of the EHF EURO 2020, Sweden, where the Scandinavian side will host Romania in their qualifier campaign opener. 
While Sweden are the record winners of the EHF EURO, with four titles (last in 2002), Romania have only reached two final tournaments, in the 1990s. 
The teams have a lengthy history against each other, having met in official matches a total of 14 times from the 1960s to their most recent clashes in 2014, both won by Sweden. Romania last beat Sweden in 2007. 
In Sweden's camp there are some big changes in the line-up from when we saw them on the EURO court in January: the match will be the debut of new coach Glenn Solberg (Norway), who took over from Kristjan Andresson after the EHF EURO. Sweden will also have to replace both goalkeepers – Mikael Appelgren and Andreas Palicka – due to injuries.
12:53
Germany and Bosnia and Herzegovina have a pretty remarkable head-to-head history before they meet again at 16:15 CET this afternoon.
So far they played each other only twice: while Germany won their first meeting as clear as 36:24 in a World Championship play-off in 2012, they lost the second meeting by 33:24 in the return game only one week later!
12:37
The second match this afternoon sees the debut of Alfred Gislason on the bench of the German national team.
Björn Pazen caught up with the former long-term THW Kiel coach for this interview.
It is game on again in less than four hours. This afternoon we will visit Belarus and Germany.
Belarus? Yes, Ukraine and Russia have agreed to play both their qualifiers in Minsk these days, starting with Ukraine's 'home' game today at 16:00 CET and followed by the reverse fixture on Saturday at 13:00 CET.
Some interesting facts about Ukraine and Russia:
both teams qualified for EHF EURO 2020 but missed the main round before finishing in 19th (Ukraine) and 22nd position (Russia) respectively
Russia lead their head-to-head with seven wins from their eight duels, losing only once - by a single goal in a World Championship play-off more than 16 years ago
both teams changed coaches after EHF EURO 2020: Velimir Petkovic took the helm of Russia from Eduard Koksharov; Mykola Stepanets is the successor of Sergej Bebeshko with Ukraine
six Ukraine players nominated by Stepanets play for Russian clubs
11:46
Fair to say that Wednesday was the night of the home teams.
All six qualifiers plus the opening match of the EHF EURO Cup were won by the respective host nations - although the margins varied between +16 (Iceland) and +1 (Netherlands).
Relive the best moments by flipping through our picture gallery!
11:30
Good morning, welcome back to round 1 of the Men's EHF EURO 2022 Qualifiers.
Round 1 started with a packed schedule on Wednesday and we look forward to four more games today:
16:00 CET - Ukraine vs Russia
16:15 CET - Germany vs Bosnia and Herzegovina
18:10 CET - Sweden vs Romania
20:00 CET - Denmark vs Switzerland
All matches will be shown live on EHFTV again.
In Romania, the match of the national team in Sweden will be streamed exclusively on EHFTV. So fans in Romania know where they have to tune in this evening to see their heroes playing.
Before we dive deeper into today's schedule, let's have a look back at what happened yesterday. 
23:15
So, let's call it a night. So far round 1 of the EHF EURO 2022 Qualifiers has been dominated by the home teams, scoring six from six wins tonight. Are we going to see a different picture on Thursday?
Join me again for more action as the qualifiers resume in the afternoon, though the live blog will be updated throughout the day.
For now, I leave you with another clip from our social media channels. Sometimes we post great assists, sometimes great saves... and sometimes both in one!
22:46
Here are the remaining EHF EURO 2022 Qualifier results to complete tonight's schedule: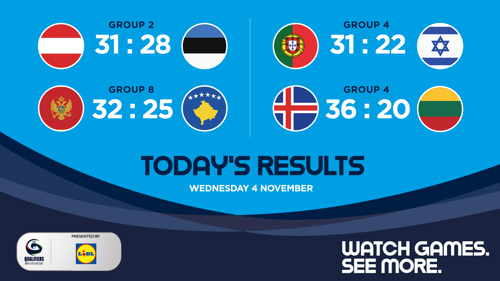 You find the first batch of results here.
22:29
There is something going on about voting these days...
... so let's do a poll and you can vote right here as well.
22:14
Quick overview of all EHF EURO 2022 Qualifier results from Wednesday:
group 2: Austria vs Estonia 31:28
group 4: Portugal vs Israel 31:22
group 4: Iceland vs Lithuania 36:20
group 5: Netherlands vs Turkey 27:26
group 7: North Macedonia vs Finland 33:24

group 8: Montenegro vs Kosovo 32:25
22:02
"It was a big fight. Estonia were very well prepared to play us but we won and are just happy to take those two points."
Austria's Tobias Wagner on ORF Sport+ after his team beat Estonia 31:28.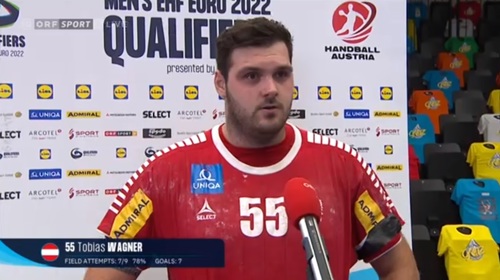 First EHF EURO 2022 Qualifier results are in: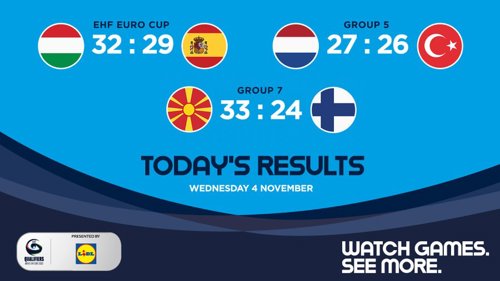 21:21
Porrrrrtugal powerrrrr!
21:02
That's what you call turning the tide...
Netherlands trailed Turkey by five goals early in the match but have now built a two-goal lead. All to play for in the closing quarter.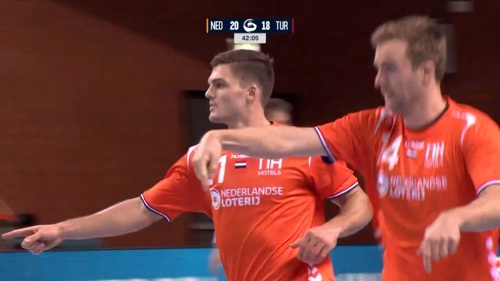 20:48
"A Finnish finish" ;-)
20:44
Austria's colourful solution for playing in an arena without fans: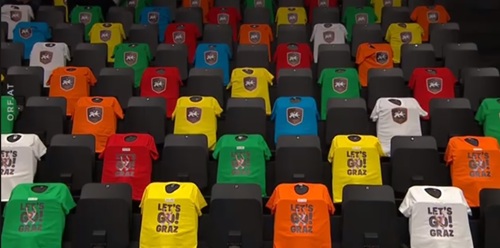 20:36
Throwback to Hungary vs Spain earlier this night:
Watch the powerrr from Rubén Marchán:
20:31
And three more matches have just started - all on EHFTV:
20:25 - Austria vs Estonia
20:30 - Montenegro vs Kosovo
20:30 - Portugal vs Israel
20:16
You want to watch more qualifiers at the same time without switching between windows?
EHFTV has you covered! Try out the multi-screen function to watch up to four games at once.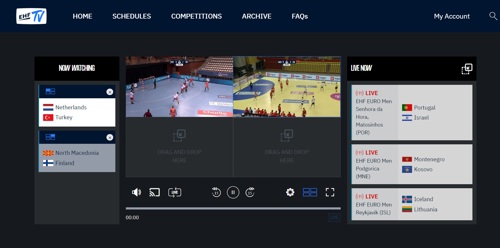 20:10
And here is what you have always wanted to know about North Macedonia and Finland:
North Macedonia have qualified for all EHF EURO tournaments since 2012. Their best result was fifth in 2012 in Serbia
Finland wait for their first appearance at EHF EURO events. They lost all qualifiers for EHF EURO 2020 but two years earlier they sensationally won their qualifier in Austria
the only previous duels between North Macedonia and Finland were in the qualification for the 2005 World Championship: the Balkan team won 36:30 at home, before a draw in Finland
Ola Lindgren, the Swedish-born head coach of Finland, won the EHF EURO four times as a player
Macedonian legend Kiril Lazarov will end his career after this season
20:08
Some nice-to-know things about Netherlands and Turkey:
Netherlands earned their first EHF EURO ticket in history for the 2020 edition, where they finished 17th
at the EHF EURO 2020, Netherlands lost to Germany and Spain but defeated Latvia in their preliminary round group
Turkey have yet to reach a final EHF EURO tournament
the teams have a lengthy history against each other, having met 12 times in qualifiers for European and World Championships, with Netherlands winning nine of those clashes
their last meetings were in 2018 in qualifying for the World Championship – both sides won their home matches on that occasion
Netherlands' key back-court player Luc Steins is injured and is missing the match
19:57
This Hungary vs Spain clash has given us appetite for more... and thankfully we have a bunch of EHF EURO 2022 Qualifiers coming up to still your hunger tonight!
Those two matches are first in line:
19:53
"The Spanish team falter on their return to competition against an inspired Hungarian team."
Excellent match analysis by the Spanish federation:
19:45
Yes! To answer the question in my previous post.
The EHF EURO Cup has started with a bang, as Hungary defeat Spain 32:29.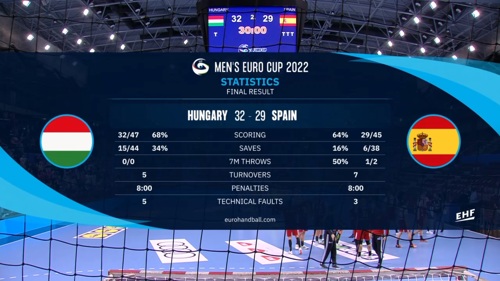 19:37
Have Hungary done enough to start their EHF EURO Cup 2022 campaign with a win over the defending champions? Spain trailing by six with around five minutes left...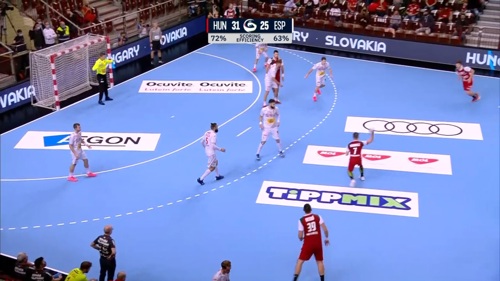 19:18
ICYMI - Nice spin this from Bendegúz Bóka!
19:03
This face tells the story of the first half...
18:58
Interesting stat!
While Hungary have five players who scored at least twice, led by Miklos Rosta's four, Spain have only one player who netted more than once, Jorge Maqueda (three).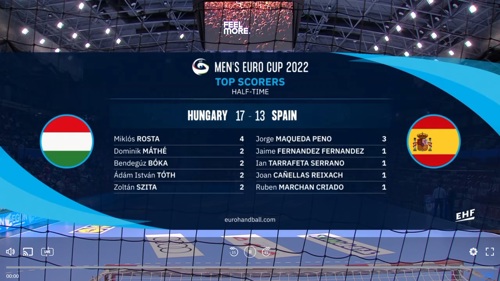 18:54
Spain have reduced the gap with three consecutive goals to finish the first half but Hungary are enjoying a four-goal lead at the break: it is 17:13 in Veszprém.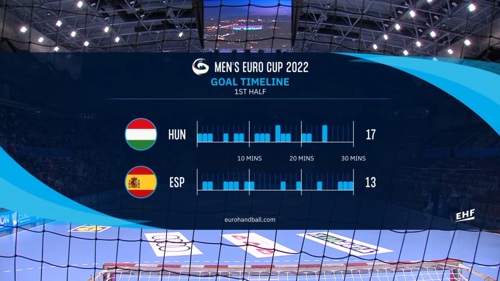 18:43
You can also follow our coverage of the EHF EURO Cup and Qualifiers on the official EHF EURO Twitter account. Tonight Andrew McSteen is keeping you up-to-date, and entertained.
If you want to join the conversation on Twitter, make sure you include #ehfeuro2022 and #watchgamesseemore, the official EHF EURO 2022 hashtags!
18:32
Hosts Hungary off to a slightly better start, leading Spain by two goals after the opening quarter of this EHF EURO Cup encounter (9:7).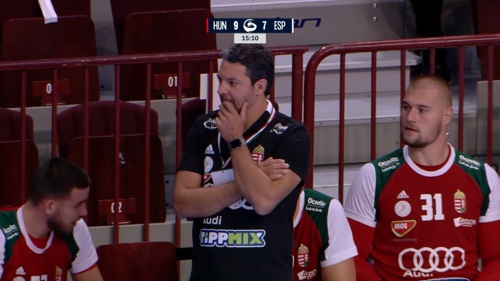 18:16
We are running! And the Hungarian fans had something to cheer right away...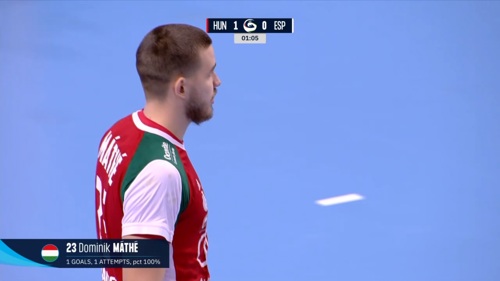 18:04
Here are some interesting facts on Hungary and Spain:
Spain won EHF EURO 2020, Hungary finished ninth
Spain are also defending champions of the EHF EURO Cup
Hungary assistant coach Chema Rodriguez played for the Spanish national team for many years
the two top Hungarian clubs – Veszprém (David Davis) and Szeged (Juan Carlos Pastor) – both have Spanish head coaches
Hungary will host the Men's EHF EURO, together with Slovakia, for the first time, though they have hosted the Women's EHF EURO twice - in 2004 and, together with Croatia, in 2014
17:58
Spain are getting ready for this first match after successfully defending the EHF EURO title in January. Well, they are defending EHF EURO Cup champions, as well.
Throw-off in Hungary is 18:15 CET and here is your direct link to the live stream on EHFTV.
17:30
We are closing in on the action... Less than an hour now before the party starts, and how fitting that the opening dance will feature the reigning European champions, Spain.
So before we turn our attention to the qualifiers, we will first focus on the game between Hungary and Spain, which opens the EHF EURO Cup 2022.
15:15
We are three hours away from the first throw-off tonight. Here is your schedule, in chronological order:
18:15 - Hungary vs Spain (EHF EURO Cup 2022)
20:00 - Netherlands vs Turkey
20:00 - North Macedonia vs Finland
20:25 - Austria vs Estonia
20:30 - Montenegro vs Kosovo
20:30 - Portugal vs Israel
20:45 - Iceland vs Lithuania
And remember, EHFTV is your place to go for the live streams.
11:45
There is one important change to the schedule. The match between Denmark and Switzerland, scheduled for this evening at 20:00 hrs will be played Thursday, at the same time, in the same venue.
11:11
Our journalists have been writing some great pieces in the build-up to this week's matches. Portugal were the real feel-good story of 2020 with their run to sixth place and they head into their opening qualifier against Israel with plenty of ambition within the group and expectations from everyone else.
10:24
This is not quite the start of the road for three of the 32 teams in the qualifiers. Finland, Estonia and Belgium had to survive the relegation round in January.
In fact, the journey has already come to an end for Cyprus, Georgia, Luxembourg, Bulgaria, Great Britain, Ireland, Azerbaijan and Malta.
However, five of them can now turn their attention to the 2024 edition, with qualification round 1 set for March 2021.
09:52
Live coverage of the first round of today's qualifiers is available to handball fans across the continent. All matches will be streamed live on EHFTV, subject to geoblocking. Throw off times below are all CET.
Portugal v Israel (20:30) – RTP2, Charlton (Sport 3), EHFTV
Montenegro v Kosovo (20:30) – RTCG2, Arena Sport, EHFTV
Iceland v Lithuania (20:45) – RUV, LRT, EHFTV
Netherlands v Turkey (20:00) – handball.tv, TRT Spor 2, EHFTV
North Macedonia v Finland (20:00) – MRT1 or MRT3, V Sport Urheilu, Viaplay, EHFTV
Austria v Estonia (20:25) – ORF Sport Plus, EHV2 and online, ZDF, EHFTV
Alongside these matches, we also have co-hosts Hungary take on reigning champions Spain in the opening match of the EHF EURO Cup, a competition for the host nations and 2020's finalists, Spain and Croatia, who have already secured a ticket for the final tournament.
09:30
Good morning to one and all and welcome to the start of the EHF EURO 2022 qualifiers. It has been a long old 283 days since Spain lifted the 2020 title at the end of a fantastic weekend in Stockholm and today we see 12 teams launch their campaign to reach the 2022 event in Hungary and Slovakia.