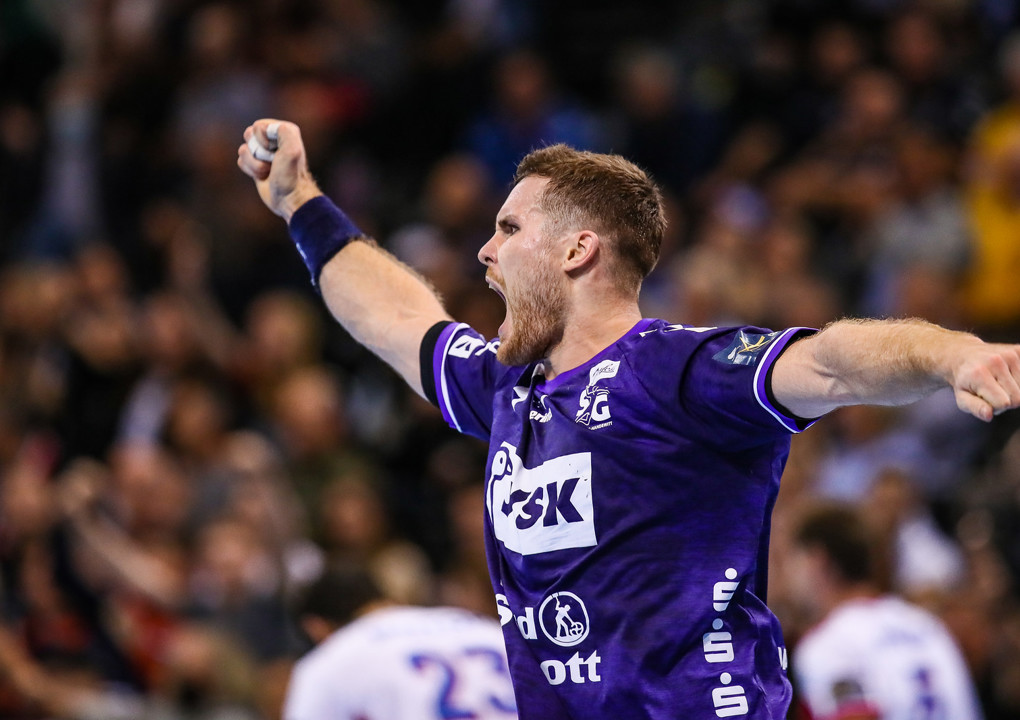 Johannes Golla: fighter and leader at both ends of the court
It was on his 24th birthday – 5 november 2021 – when SG Flensburg-Handewitt line player Johannes Golla became the youngest ever captain of the German national team. Some weeks later, experienced national team coach Alfred Gislason praised Golla as "the best captain I ever had in my long career."
The Men's EHF EURO 2022 in Slovakia and Hungary was Golla's first major tournament in his new leadership position. Golla was one of only four players of the initial 18-man squad who was on court in all seven matches Germany played.
After Germany finished seventh, despite being severely hit by a high number of Covid-19 cases during the event, Golla was awarded a place in the EHF EURO All-star Team.
"This award was a huge surprise for me and an even bigger recognition and honour. I was really happy, as I never reckoned to receive it," Golla said.
"Though we did not get as far as we had wanted, this award is also for the whole team. I want to lead the team as their captain, and I am always trying to go ahead with a top performance."

Now, Golla is back in his club SG Flensburg-Handewitt – and ready for the EHF Champions League resuming with the Match of the Week against Lomza Vive Kielce on Wednesday (live on EHFTV at 20:45 CET).
Golla was not the only player who returned to Flensburg decorated from the EHF EURO: Jim Gottfridsson was the MVP and won gold with his Swedish teammate Hampus Wanne, and several Danish players arrived back at the club with bronze medals.
"We are used to it that many players win silverware at major tournaments, but it always feels great to welcome them back in our really cool team," says Golla.
"After this very special event there was a lot to talk about. All of us brought home a lot of memories, especially for me, as it was my first one as team captain."
Golla usually does not have problems in switching between national team and club level.
"I always restart with positive emotions and a good feeling. I have a huge anticipation for the upcoming weeks, as there is a lot at stake for Flensburg. We have high goals, and for example, our team captain Lasse Svan will finish his career at the end of the season."

In the German Bundesliga, Flensburg are hunting leaders SC Magdeburg as well as THW Kiel; in EHF Champions League group B, crucial weeks are ahead as positions for the play-offs will be determined, with Flensburg currently sitting in fifth.
"We have the same focus on both competitions. We aim to win all matches, no matter if it's Bundesliga or Champions League," Golla says.
"We play in maybe the toughest and closest group in Champions League history; we only face top opponents this season. But exactly those matches, like now against Kielce, are what you train for the whole year. Those games are pure joy."
Opponents Kielce include his German national teammate, Andreas Wolff. So, the boss of the German defence will face the country's No. 1 goalkeeper.
"Andy is absolute world class. It's a special sort of fun playing against him, although our friendship will be suspended for 60 minutes. I hope we have the time to chat before and after the match."
Flensburg lost the season opener in Kielce 37:29 in September, but Golla is convinced that Flensburg will do better in the MOTW on Wednesday.
"We didn't play the way we wanted to play in Kielce. But at that time, we were hit hard by a huge number of injured players. Now, our squad is wider, and I hope that we can turn the result around."
In the summer of 2018, at the age of 20, Golla moved from MT Melsungen to Flensburg. He was intended to become the replacement of club legend Tobias Karlsson, the former defence boss.
"I was so happy that I could learn from him in the one season we played together. But I am Johannes, he was Tobias, it is hard to compare us as I do not only play in defence but also in attack. But, of course, Tobias Karlsson was a role model in the club for years."
The significance of his attacking performances was underlined at the EHF EURO 2022, where Golla became the leading German scorer with 28 goals.
Golla knows that his style of playing, constantly at both ends of the court, is extremely intense.
"It stretches me to the limit to play defence and attack, so I really have to take care of my body and train harder, but of course this is exactly the role I like to play."
We play in maybe the toughest and closest group in Champions League history; we only face top opponents this season. But exactly those matches, like now against Kielce, are what you train for the whole year. Those games are pure joy.
One key for Golla's constant development is Flensburg head coach Maik Machulla.
"He gave me the chance to come to Flensburg as a young player, he gave me playing time, he supported me, he gave me the opportunities to develop and get experience. And I am sure there are still many trophies to be won with him."
The line player has just extended his contract with Flensburg until 2026, He has been feeling at home in Flensburg in the Northern part of Germany – although he himself is from the Southwest.
"Me and my fiancée really like to live here. It's important for me that my family fits well and from the sportive point of view, it is perfect. I am convinced that we can play a main role on the domestic and international stage in the upcoming years. This is why I extended the contract."

His main dream for the – near – future: playing at the EHF FINAL4 in Cologne.
"I heard so much from teammates who have been there that this is the biggest tournament in the whole world you can play on club level. And I truly hope that once in my lifetime, or even more often, I can make it there."
A return to the EHF FINAL4 is a goal for Flensburg every season since they lifted the trophy in 2014.
"Last season, we had a great chance but failed against Aalborg in the quarter-final. Maybe this year the time has come, though we all know how steep the way to Cologne is. But, personally, I dream of it."