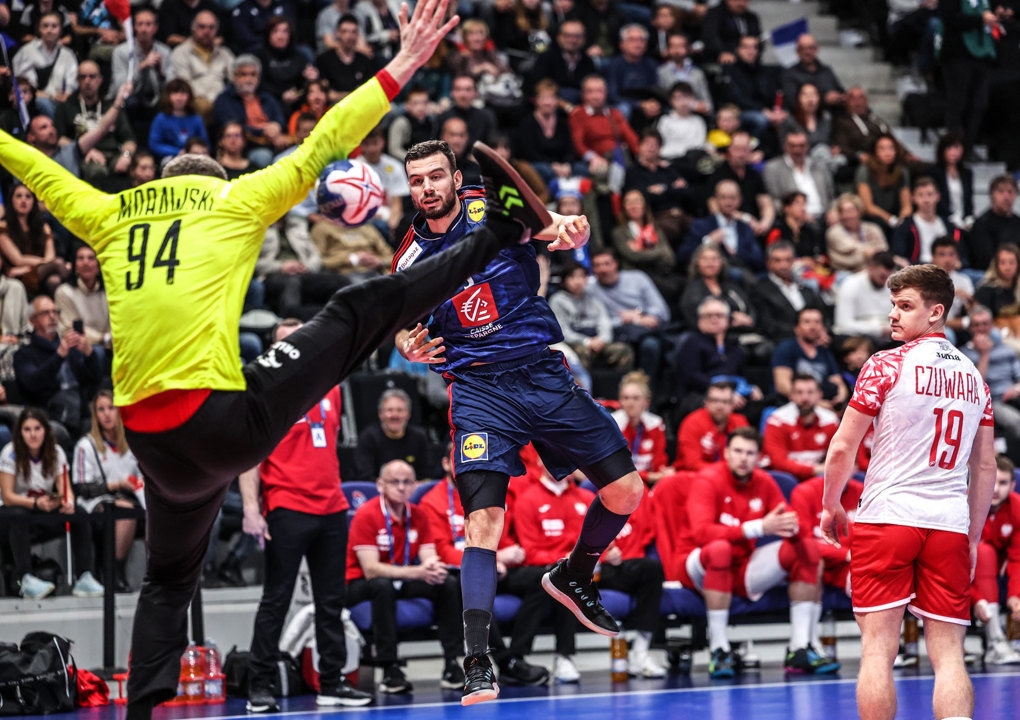 France qualify for their 16th consecutive EHF EURO
After Austria half an hour before, France are the second team to book their EHF EURO 2024 ticket from the qualification. Winning the close and equal Highlight match of round 4 of the EHF EURO 2024 Qualifiers against Poland 30:27 means France have the optimum of eight points after the four rounds.
France have not missed a single tournament since the first-ever EHF EURO in 1994, and they will now play their 16th consecutive championships. Poland remain on four points from rounds 1 and 2, and interim coach Bartosz Jurecki, who succeeded Patryk Rombel after the World Championship, still has to wait for his first point.
GROUP 8
France vs Poland 30:27 (16:14)
Compared to the first leg on Wednesday, when France were ahead 22:11 at the break and kept a double-figured margin until the end (38:28), Poland stood much stronger at Aix-en-Provence, mainly in defence. They managed to avoid the French counter attacks and could rely on strong goalkeeper Adam Morawski (16 saves in total) and sharp-shooter Jan Czuwara, who scored all his five goals in the first half. France led throughout, but the biggest margin was only four goals.
The hosts returned to the court stronger and more eager, and extended their lead to five goals at 21:16. But still backed by Morawski's saves, Poland struck back and reduced the gap to constantly two goals, while France struggled hard in attack to remain ahead. Finally, a double strike by Dika Mem in the last minutes provided France with their fourth win and their EHF EURO 2024 ticket.
Key fact: In the first match against Poland on Wednesday, three current and one former player of Polish top club Industria Kielce combined for 16 goals, topped by 10 strikes from Dylan Nahi, while Benoit Kounkoud and Nicolas Tournat scored once each and Nedim Remili, who transferred from Kielce to Veszprém in February, scored four times. On Saturday, those four were again in focus facing many of their club teammates, and Nahi again topped the scoreboard with five goals. In total, this quartet combined for 13 of France's 30 goals.