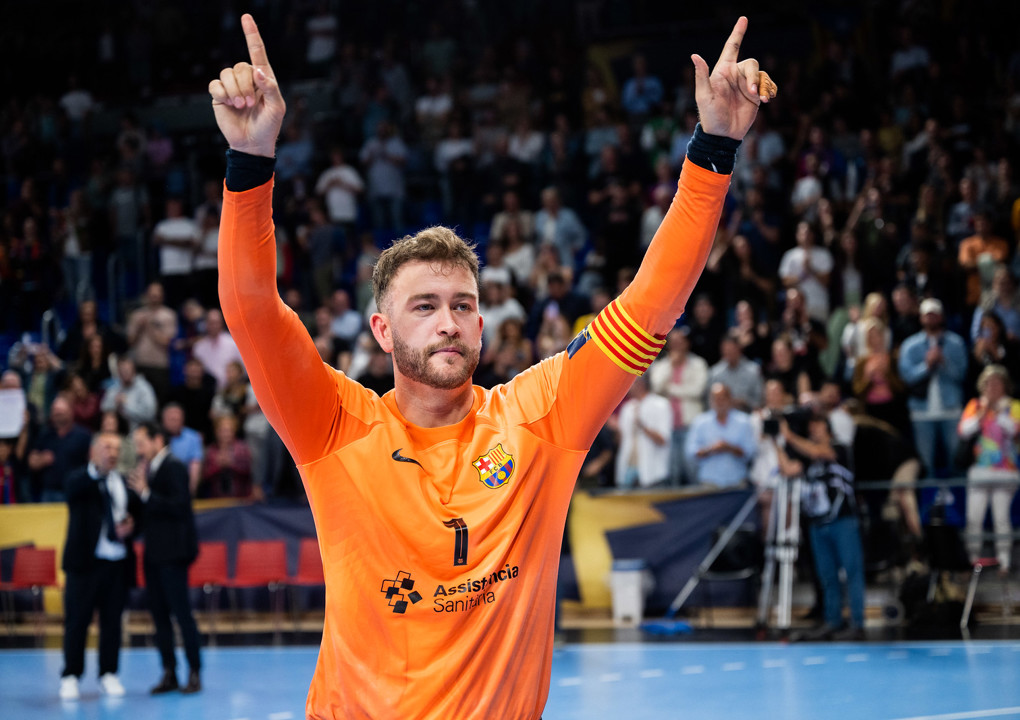 Five talking points after thrilling race to Cologne
Handball fans all over Europe held their breath across four evenings and eight quarter-final matches, as the remaining teams in the Machineseeker EHF Champions League fiercely battled for their spot at the TruckScout24 EHF FINAL4 2023 on 17/18 June in Cologne. Ultimately, SC Margdeburg, Pars Saint-German HB, Barlinek Industria Kielce, and Barça have made it through. Before we turn our eyes to the semi-final draw on Tuesday, here are five topics to discuss after the quarter-finals.
SC Magdeburg seal first ever EHF FINAL4 berth
In 2002, SC Magdeburg lifted the EHF Champions League trophy for the first time, beating Fotex KC Vszprém in the final. Four years later, the German side played the competition for the last time, reaching the Last 16 before being defeated by FC Barcelona.
Almost 17 years later, SC Magdeburg made their comeback in the leadingt European club competition – and made the best out of the occasion, as they qualified for their first EHF FINAL4.
Magdeburg finished second in a tough group featuring PSG, Telekom Veszprém HC, GOG, and CS Dinamo Bucuresti. And in the quarter-finals, despite missing several key players, Bennet Wiegert's team edged out Orlen Wisla Plock: 22:22 in Poland, 30:28 at home. To do it without injured leading players Ómar Ingi Magnússon and Gísli Thorgeir Kristjánsson, but with a 14-goal outing from right back Kay Smits, makes the achievement even more remarkable.
Barça looking to make it three in a row
In the history of the EHF Champions League, only two sides – both Spanish – have won the competition twice in a row: Barça and Ciudad Real. Well, Barça won it even five times in a row, from 1996-2000.
Last season, Barça became the first team to win the EHF FINAL4 (since 2010) for two consecutive years, having beaten Aalborg Håndbold in the 2021 final and Kielce – after a shootout – in 2022.
From the current Barça squad, 12 players were already part of the last two triumphs. For Emil Nielsen, Hampus Wanne, and Jonathan Carlsbogard, lifting the trophy with Barça would mark their first EHF Champions League victory.
Yet another chance missed for Veszprém
Will Veszprém ever win the EHF Champions League? For certain, the Hungarian side will have to wait one more year to do so, as they were eliminated by Kielce in the quarter-finals. After drawing at home (29:29), Veszprém never came really close to grabbing their ticket in the return leg, which they lost 31:27 in Poland.
Since the EHF FINAL4 was implemented in 2010, Veszprém have been in the quarter-finals 10 times; they made it to Cologne seven times; and they played the final three times – yet they have only had a look at the trophy but never touched it.
Along with Barça, Veszprém have been the most frequent participants in the EHF FINAL4. There is no reason why they should not keep showing up in Cologne in years to come – but when will it finally be their year?
Race to top scorer title is truly on
Who will succeed Aleix Gómez as the season's top scorer? The Barça wing netted 104 times last year but missed a substantial part of the 2022/23 campaign and is currently on 55. For the first time in EHF FINAL4 history (2010), the best chance to become top scorer is held by a player whose team have not qualified for Cologne.
Emil Madsen has netted a stunning 106 times but won't be able to add to this tally since his GOG went out in the quarter-finals. Remarkably, the second-ranked player is also from GOG: Simon Pytlick, with 94 goals.
So, who can realistically still overtake Madsen at the EHF FINAL4? Arkadiusz Moryto is on 92 and would need to score at least 14 times in Kielce's two duels in Cologne. PSG's Kamil Syprzak (91 goals) would even need one goal more.
Plock and GOG show bright hopes for the future
Plock and GOG returned to the EHF Champions League after a three-years absence – and both went on to reach the first quarter-finals in the clubs' history. The Barça step to reach Cologne was clearly a bit too high for GOG, but the Danish side have proeven to be an attractive addition to the later stages of Europe's top flight, with an attacking style and standout players like Emil Madsen, Simon Pytlick, and Tobias Thulin. However, a string of big names is set to continue their careers elsewhere, including Pytlick, Jerry Tollbring, and Lukas Jørgensen.
And Plock eliminated former finalists HBC Nantes, before coming up just short against Magdeburg. Their trademark defence was a highlight all season round, and only a late defeat in the return leg in Germany prevented Plock from making it to Cologne.
photos © Victor Salgado, Anna Benicewicz-Miazga