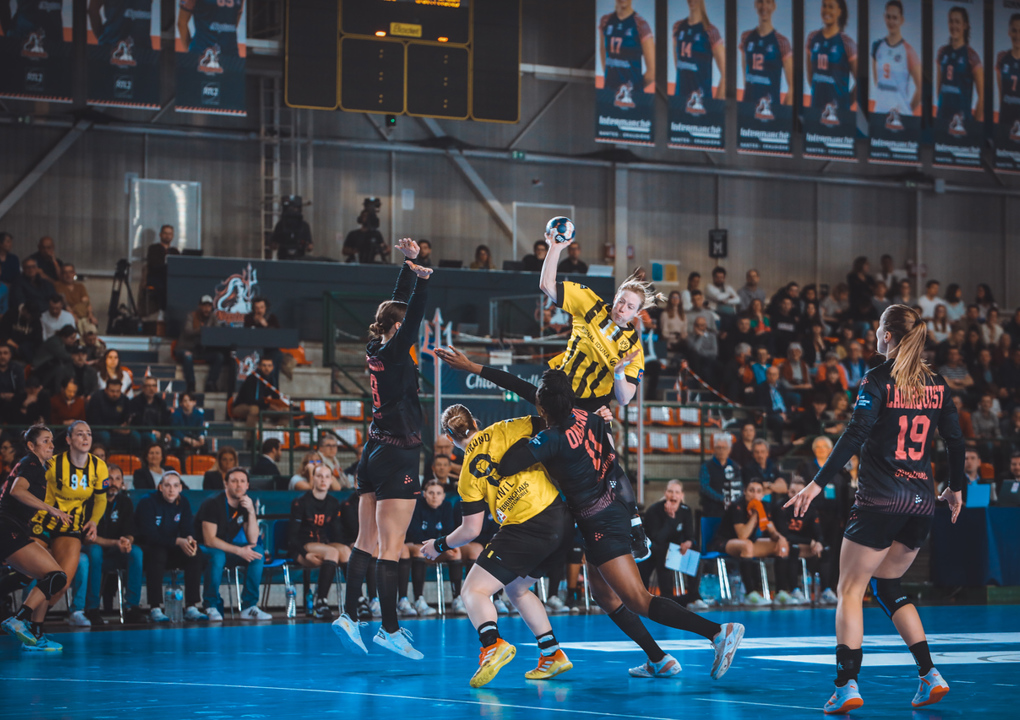 Final lineup for Graz to be revealed
Ikast Handbold and Neptunes de Nantes had a good day in the office in the first leg of the EHF European League Women quarter-finals. Siófok KC and BV Borussia 09 Dortmund were almost helpless last week, and must now try to make an impressive comeback.
Nykøbing Falster Håndbold will seek to overcome a three-goal deficit after a defeat in Romania to SCM Ramnicu Valcea. But the tightest race is the one between Thüringer HC and Sola HK as both sides are trying to reach their first ever EHF Finals.
The EHF Finals Women draw will take place on Tuesday 28 March at 16:00 CEST in Graz and will be streamed live on the Home of Handball YouTube channel.
QUARTER-FINALS, SECOND LEG
Ikast Handbold (DEN) vs Siófok KC (HUN) - first leg: 30:20
Saturday 25 March, 20.00 CET, live on EHFTV
in the first leg of the quarter-final, Ikast secured the win in a convincing manner with the end result 30:20 as guests in Siofok
Swedish goalkeeper Jessica Ryde did a magnificent job for Ikast with a saving percentage of 45.5 per cent – 15 saves from 33 shots
Siófok still have the possibility to qualify for the semi-final and the EHF Finals, but they have to win by more than 10 goals to do so
Ikast head coach Kasper Christensen: "Siófok have had another week to prepare for the match and they probably have many things they want to improve. So we are going to meet a team that will be ready to fight form the very first minute." 
Ikast were third at the EHF Finals 2022, while Siófok were runners-up in 2021
on Wednesday evening Ikast took a big 32:21 win in the Danish domestic league against Ringkøbing
Thüringer HC (GER) vs Sola HK (NOR) - first leg: 35:35
Sunday 26 March, 14:00 CEST, live on EHFTV
the first quarter-final between Sola and Thüringer ended in a draw (35:35) after a game filled with tension and ups and downs
two Thüringer players stood out with their performances: Annika Lott with 10 goals from 15 shots and Nathalie Hendrikse with eight goals from 10 attempts
the two highest-scoring players from these two teams after the group phase and the first leg of the quarter-finals are Sola's Live Rushfeldt Deila with 39 goals, and Lott with 50
Sola reached the quarter-finals last season too, but were knocked out by CS Minaur Baia Mare thanks to a 32:40 away loss followed by a 29:29 draw at home
on Wednesday night Sola took a great win in the Norwegian domestic league against Aker, where they won by 18 goals away – 39:21
We go to Germany as challengers. We would like to have had a few extra goals in our advantage after our home game, but now we are back to the start where one game decides which team will go to the EHF Finals. We are looking forward to the game, and hope we can surprise again.
BV Borussia 09 Dortmund (GER) vs Neptunes de Nantes (FRA) - first leg: 19:28
Sunday 26 March, 16:00 CEST, live on EHFTV
Neptunes de Nantes are on a good way to their second EHF Finals after winning the inaugural edition in the 2020/21 season – they have a nine-goal advantage
right wing Nathalie Hagman is Nantes' top scorer this season with 50 goals since the start of the group phase and she was the best against Dortmund also, netting seven
both sides have almost equal attacking efficiency since they entered qualifcation round 3 – Nantes have scored 270 goals at 59.9 per cent, while Dortmund netted 269 goals at 62.8 per cent efficiency
this will be only their second meeting; Dortmund were not defeated at home in the group phase, while Nantes won only one away match, against Motherson Mosonmagyarovari KC
both sides had a rest from their domestic leagues this week
We have a three-goal advantage but it will be a hard game. We will fight 60 minutes, until the end. It's an away match, but I hope we win and we go to the EHF Finals.
Nykøbing Falster Håndbold (DEN) vs SCM Ramnicu Valcea (ROU) - first leg: 29:32
Sunday 26 March, 18:00 CEST, live on EHFTV
Valcea managed to win the first leg, but they dropped their six-goal lead they had in the second half
the first-leg game was the first mutual encounter between these two sides
Valcea's Iryna Glibko was the most efficient player in the first leg and added seven goals. Her season tally now stands at 55 goals, making her the top scorer of the group phase and play-offs so far
since the start of qualification round 2, Nykøbing have scored 331 goals at 66.9 per cent efficiency; only Thüringer have scored more in 11 matches
the Danish side beat København Håndbold 40:34 in Denmark last week; Ramnicu Valcea suffered a narrow defeat (27:28) against Gloria Buzău in Romania
Photos © Surf Up, Kenneth McDowell