EHF Champions League
Live blog: Kiel win VELUX EHF FINAL4 2020
Welcome to the live blog for the VELUX EHF FINAL4 2020, which promises to be a true celebration of handball. Four of the best teams in Europe will compete to lift the iconic trophy on 28 and 29 December.
This gold medal is what I dreamed about when I was five years old, standing with my gold medal around my neck. I am unbelievably proud of this team of what we put down in those two days.






23:10 | KIEL ARE THE CHAMPIONS
So Kiel are the Christmas EHF Champions League champions, in what is perhaps a surprising end to a unique year. Along with the rest of the 2020/21 participants they are in with another chance of lifting a trophy - the new-look EHF Champions League trophy - next year. 
Thanks for your support of all the teams and we hope you enjoyed every moment as much as we did!

22:43 | PEKELER IS MVP
Kiel's Hendrik Pekeler is named MVP of the VELUX EHF FINAL4 2020. The line player scored five goals today but was also integral to Kiel's defence both today and yesterday. Well deserved!

22:10 | FULL-TIME THW KIEL 33:28 BARÇA
Kiel celebrate a superb win. It's the first loss for Barça in 23 EHF Champions League matches, and what a time to lose.
Filip Jicha becomes the third person to win the EHF Champions League as both a player and a coach, a decade after he won the first ever VELUX EHF FINAL4 with Kiel against Barça.
22:03 | TIME RUNNING OUT
Aleix Gómez's latest attempt at scoring a penalty hits the crossbar, and Kiel stay three in front. Nevertheless Gómez has played a key role in trying to get Barça back into this.

21:58 | KIEL LEAD BY THREE
Patrick Wiencek makes a high tackle on Luka Cindric and receives a two-minute suspension; Aleix Gómez gets the penalty past Niklas Landin. 
21:52 | GÓMEZ CLOSES 
Aleix Gómez capitalises, twice, on mistakes from Rune Dahmke and Miha Zarabec. They drop the ball and Gómez makes short work of the goals to get it back to 26:23. Steffen Weinhold gives Kiel a small cushion but now it's Barça back with the momentum. 
Xavi Pascual calls a time-out; Filip Jicha tells his team to stay cool.
Now it's Barça's turn to play seven-on-six.
21:48 | KIEL HOLD FIVE-GOAL LEAD
Niklas Landin is performing brilliantly and Kiel are holding a five-goal lead at 26:21 with 12 minutes to go. Ten years ago Kiel produced an eight-goal turnaround in the last quarter to win, but this time they just need to hold on to the lead they already have.
21:39 | CAN BARÇA FIGHT BACK?
Barça closed to two goals again, but once more Kiel have brought it back and it's 23:20 - despite some good saves by Gonzalo Perez de Vargas. Kiel are playing seven-on-six and it's working at the moment.


21:30 | KIEL HOLD LEAD
Kiel have extended to a four-goal lead after Sander Sagosen's fifth goal. There's no sign that Barça have found something new in the break, or that Kiel have lost their momentum. 













21:20 | HALF-TIME THW KIEL 19:16 

BARÇA

Here's what EHF journalist Björn Pazen thinks so far:

"Thanks to a double strike in the last minute before half-time, Kiel are on course for their fourth EHF Champions League trophy, leading against record winners Barça at the break of the re-match of the 2000 and 2010 finals.

"Although the number of goals was again really huge, the final is more tactical than the semi-finals. Kiel are trying to put pressure on the Barça defence by using a seventh court player in attack, while the Catalan side seek to bring their line players in perfect position.

"After only 11 minutes, Kiel had to change their defence strategy, as Sander Sagosen had received his second two-minutes suspension, and could only be used in attack.

"Despite this loss in defence, Sagosen (4 goals) and new EHF Champions League top scorer Niclas Ekberg (6 goals) are on fire, steering THW to a 13:9 advance. Barça grabbed their chance with one player less on court, scoring a 2:0 run, and levelling the result at 15:15. 

"Barça have the wider bench, but will this be enough against those bravely fighting Zebras from northern Germany?"
21:05 | BARÇA EQUALISE
Dika Mem forces his way through the Kiel defence and it's 15:15. Credit to Barça for stubbornly getting back into the game - this one looks like it's going to be a real fight throughout.
21:00 | KIEL STILL LEAD
Aleix Gómez steals the ball and nets off the resulting fast break, and it's 13:12, before a penalty sees Ekberg make it 14:12 again - then Gómez brings it back to 14:13! Barça are on the attack.

20:55 | EKBERG SHINES
Niclas Ekberg played well yesterday and he's picked up where he left off with four goals so far. Another four by Sander Sagosen and Kiel lead 12:9 after nearly 18 minutes.

20:52 | FIRST TIME-OUT
Kiel lead 10:8 and Xavi Pascual is giving his team a talking-to, pointing out that Sander Sagosen is vulnerable as he's already had two two-minute suspensions. 
20:44 | KIEL IN LEAD
Kiel took a two-goal lead after Kevin Møller saved a shot by Hendrik Pekeler, only for Rune Dahmke to grab the rebound and score. Ludovic Fabregas made it 6:5 but Sander Sagosen then adds one of his trademark bullets to extend the lead at 7:5.
20:38 | 3:3 AFTER FIVE MINUTES
The pace has begun to pick up and it's all square at 3:3. Sander Sagosen and Dika Mem are both serving two-minute penalties.
20:35 | THROW OFF!
Barça receive an early penalty and Jure Dolenec comes on to take it, but misses - no goals so far.
20:20 | 10 MINUTES TO GO
Just 10 minutes to go before throw off. 
As well as the history between the two sides, it's worth noting that referees Matija Gubica and Boris Milosevic of Croatia become the first pair to whistle both a VELUX EHF FINAL4 semi-final and final, after taking on the first semi-final at short notice due to a positive Covid-19 test for the original pair. 
It's also worth noting that Jure Dolenec comes in tonight for Barça, in place of Domen Makuc who played yesterday.
20:10 | FINAL PREDICTIONS
The final begins in just 20 minutes and here's EHF journalist Björn Pazen with his pre-match thoughts.
"Will Filip Jicha become the third person in handball to win the EHF Champions League as a coach and a player? There is no better place than LANXESS arena to make history like this – the theatre of handball dreams, where a string of underdogs have defied the odds to lift the trophy.
"In tonight's final Kiel play the role of the underdogs, although it's fair to say that when Kiel face Barça there is not such a big difference between underdogs and favourites. Compare to 2014, for example, when Flensburg came to Cologne without expectations and then beat Barcelona and Kiel to win the trophy.
"But still, when you look at the current Barça squad – their string of victories, their confidence, their strengths, their unstoppable attack, their feeling of a well-balanced and well-rehearsed team – they are definitely the favourites tonight.
"Yet Jicha has a number of star individuals such as Sander Sagosen, Domagoj Duvnjak and Niklas Landin at his disposal, as well as the "masters of concrete" – Patrick Wiencek, Hendrik Pekeler and Steffen Weinhold – to form a human wall facing Ludovic Fabregas, Luis Frade and Cedric Sorhaindo.
"The wider bench may be to Barça's advantage, as well as the fact that they do not have to give 100% in all their domestic league matches and arrived in Cologne with fully charged batteries. If Barça play like they did in on Monday against PSG, they will make it to the podium. But if Kiel do not allow them to play like this, the underdogs could triumph again, and Jicha will join Talant Dujshebaev and Roberto Garcia Parrondo as a Champions League winner as both player and coach."






19:30 | FULL-TIME TELEKOM VESZPRÉM 26:31 PARIS SAINT-GERMAIN HB
The match ends in a slightly lacklustre way as the teams both run out of energy. PSG take third place and Veszprém go home in fourth. 
19:25 | A GOOD DAY FOR PRANDI
The 22-year-old left back Elohim Prandi wasn't used much yesterday, but has played most of today's match and is currently PSG's top scorer with six goals from six attempts. He joined the club from USAM Nimes Gard this year and is definitely making his mark in this game.
PSG lead 28:24 with three minutes left.

19:15 | PARIS IN CONTROL
Veszprém got back to two goals but Paris held their nerve and are five goals up. David Davis has taken Rodrigo Corrales off and put Vladimir Cupara on in goal. He calls a time-out and tells his team they cannot lose any more easy goals.
19:08 | VESZPRÉM EDGE BACK
A bit of luck for Veszprém as a suspension for Dylan Nahi gives them a power play period, and Mate Lekai briefly closes the gap back to 17:20 before Elohim Prandi, having a great day, makes it 17:21 again. Now Dainis Kristopans is handed a suspension for a foul and Lekai brings it back to 18:21. 
Here's an earlier fast break from Lekai that defies logic.

19:04 | PSG EXTEND LEAD
PSG have extended their lead to four goals. Veszprém are looking a little fatigued and although they're still producing some good play PSG just have a bit more energy. It's 19:15 with 20 minutes to go.
18:53 | GENTY DOUBLE SAVE
Yann Genty produced a simply brilliant double save against a Kentin Mahé penalty shot just before the buzzer.









18:45 | HALF-TIME TELEKOM VESZPRÉM 11:14 PARIS SAINT-GERMAIN HB
Björn Pazen reacts to the match so far:
"The first half of the placement match was entertaining, but also imprinted by a low attacking efficiency of both sides (Veszprém with 44 and Paris with 56 per cent scoring percentage) and with a huge number of missed shots from 100 per cent chances.
"Even though Mikkel Hansen missed two penalty shots, PSG turned a 3:6 deficit into 9:7, forcing Veszprém's coach David Davis to a short, but intense time-out - but nothing changed, as PSG entered the locker rooms with a 14:11 advance.
"The Hungarian side started well, but then could not cope with the changes in PSG's defence. Later on, both sides caused a huge number of technical errors, but also showed some great one-against-one actions. On the other hand, both goalkeepers - Yann Genty for PSG and Rodrigo Corrales (Veszprém) were on a top level. And sharpshooters such as Hansen or Elohim Prandi were more efficient with assists than with goals."
18:30 | PARIS NOW LEAD
With just over 23 minutes gone PSG lead 10:9. David Davis called a time-out after Paris took the lead, and it has helped Veszprém halt their opponents from stretching further ahead.

18:22 | PSG EQUALISE
Elohim Prandi equalises with a lovely goal after a period in which PSG have had the upper hand. A few passes have gone wrong for Veszprém and a few shots high or saved by Yann Genty, who is proving why Raul Gonzalez put him on court for this game.
18:18 | VESZPRÉM LEAD
Despite a couple of two-minute suspensions for Veszprém, giving Paris opportunities for power play, Veszprém still lead by three goals. It's now 6:3 and each of Veszprém's six goals have been scored by a different player!

18:10 | PSG FINALLY ON THE BOARD
It's taken PSG six minutes but they have finally scored, thanks to Nedim Remili. Veszprém lead 3:1 in what is a slow match so far.
18:05 | VESZPRÉM FIRST TO SCORE
Rogerio Moraes is the first to score, in a slow fast break. PSG have put Yann Genty in goal, after Vincent Gerard played the entire match yesterday, and Genty saved the first two shots by Veszprém. Meanwhile PSG have not had a great deal of possession so far.
17:40 | PRE-MATCH THOUGHTS
EHF journalist Björn Pazen has examined the chances of PSG and Veszprém ahead of the 3/4 placement match, which begins soon. EHFTV is live now with the warm-up!
"Playing a placement match is always tough and comes down to hearts and heads, when hands and legs are tired. The 3/4 placement match at the VELUX EHF FINAL4 2020 is no exception, especially for Veszprém.
"The Hungarian side have a psychological disadvantage, as they were much closer to making it to the final against Kiel compared to PSG in their mostly unequal game against Barça, and also a physical disadvantage as they had the second match and had to play extra time on Monday night. However, PSG's limited roster of 14 players helps negate the latter disadvantage.
"Which side will win this duel of the disappointed – two teams still waiting for the trophy? Veszprém seem to have the goalkeeping advantage, with two top options, and the better defence. But Paris can count on stronger individual attackers such as Mikkel Hansen.
"The line player position is perhaps the only attacking role where Veszprém have the edge, with Andreas Nilsson and Rogerio Moraes stronger than Luka Karabatic, missing his counterpart Hendrik Toft Hansen.
"As usual at the VELUX EHF FINAL4, the outcome is hard to predict, even when there is no trophy to play for."
17:25 | NOT LONG NOW
PSG and Veszprém have arrived at the LANXESS Arena ahead of the placement match. Make sure you're following us on Instagram as our story will be constantly updated tonight with video clips and more!
17:04 | TEAMS PREPARE
Less than an hour to go before the placement match throws off. Meanwhile, earlier today Barça posted a video of their 'activation' session to prepare their legs for the big match ahead.

16:40 | WHERE THE SHOTS WENT IN
We've used tracking technology to have a look at the teams' shooting last night. 
Barça made 56 attempts at goal, scoring 37 (66 per cent), including three out of five penalty shots. They were most successful from the centre and their wing accuracy was poor with neither of the two shots attempted from the left-hand corner going in, and only one from the right wing. 
PSG had more success from the wings, particularly on the right, and more success generally from the right of the court. Overall they netted 32 out of 52 shots (62 per cent), but their efficiency dropped off from 72 per cent in the first half to just 52 per cent in the second.
Kiel struggled from the left of the court too, although were better right on the wing and closer to the net. Of the four teams they made the most attempts at goal, shooting 58 times and netting 36 of them (62 per cent), although their second-half accuracy was down at just 48 per cent as Veszprém came back into the match.
Veszprém scored 35 goals from 49 shots (71 per cent) and achieved an accuracy of 80 per cent in the second half of full time. Their accuracy was pretty good from all around the court, although like the other teams, better on the right than the left.




15:45 | KIEL VS VESZPRÉM HIGHLIGHTS
What a match this was last night - both teams holding comfortable leads, and both losing them. Enjoy the highlights of the second semi-final here.
15:10 | RELIVE YESTERDAY
Get in the mood for tonight's matches with the highlights of yesterday's games! First up, here's Barça vs PSG.

13:30 | SQUADS ANNOUNCED
Here are the squads for tonight's matches. Both Patrick Wiencek and Petar Nenadic are able to play after receiving red cards last night.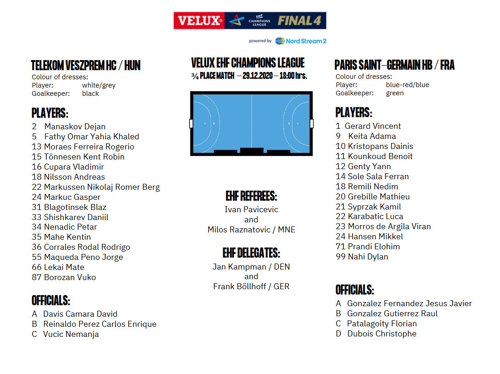 11:00 | FINALS DAY DAWNS
It's VELUX EHF FINAL4 finals day in Cologne and the four teams are preparing to send the 2019/20 season off with a bang. PSG and Veszprém will provide the starter at 18:00 CET as they play for third place, and PSG know they have never left Cologne after losing both their matches. 
At 20:30 CET it's the final, a repeat of both 2000 and 2010. Barça won in 2000 and Kiel in 2010 in the first edition of the VELUX EHF FINAL4, and it seems appropriate that these two clubs will meet again as we bid farewell to the famous arm trophy. Check out the match previews.
MONDAY 28 DECEMBER
23:50 | SEE YOU TOMORROW
That's all for tonight - check out the match reviews and the amazing photos from the evening, and be back tomorrow for the placement match at 18:00 CET and of course the VELUX EHF FINAL4 final between Barça and THW Kiel at 20:30! 












23:40 | WATCH THE WINNING GOAL
Here's the key goal that won it for Kiel - stunning stuff from Niclas Ekberg under pressure.

22:25 | FULL-TIME THW KIEL 36:35 TELEKOM VESZPRÉM HC
Niclas Ekberg scores with 40 seconds left and then Kiel's defence holds strong to deny Veszprém the win. Petar Nenadic is awarded a penalty on the buzzer, but it hits the Kiel wall and they go through to the final, for a repeat of the 2010 VELUX EHF FINAL4 final against Barça.
22:16 | VESZPRÉM LEAD IN EXTRA TIME
After the first five minutes, Veszprém lead 34:32. Patrick Wiencek was given a red card after getting his foot in the way of Gasper Marguc's shot, and Veszprém now have a distinct advantage with five minutes left.
22:05 | EXTRA TIME
We're into extra time. Who would have thought this at the end of the first half, or halfway through the second? 
There will be one extra time consisting of two five-minute periods with a one-minute break halfway for the teams to change ends.
22:00 | LEVEL AGAIN
Kiel started playing seven on six and fell victim to an empty goal. It's 29:29 ...
21:57 | SAGOSEN PUTS KIEL UP AGAIN 
Unbelievably, Sander Sagosen puts Kiel ahead at 29:28 with four minutes to go. 
21:53 | KIEL FIGHT BACK
Two empty goals by Domagoj Duvnjak and Kiel are back to a one-goal deficit from being four goals down! There's still seven minutes to go and this could really go either way.
21:46 | VESZPRÉM TAKE THE LEAD
Vuko Borozan equalises and Gasper Marguc takes the lead at 25:24 with 13 minutes left. Veszprém are in control right now, with Rodrigo Corrales saving most of the shots coming his way and Niklas Landin watching balls fly past him.

21:38 | VESZPRÉM CLOSE UP
Suddenly a few mistakes by Kiel as their lack of depth starts to show, and Mate Lekai brings the deficit back to just two goals at 22:20. 
21:35 | SECOND HALF UNDERWAY
Filip Jicha is rotating his bench as much as possible; as Sander Sagosen already having served two suspensions he's being brought on for attack at the moment. Veszprém have so far failed to make a dent in Kiel's lead.








21:20 | HALF-TIME THW KIEL 18:13 TELEKOM VESZPRÉM HC
A few thoughts from Björn Pazen at the break:
"They did not beat Veszprém in the group matches in November and December, but when it counts THW Kiel are on a high. Their defence stands like a wall of concrete, although one of their best defenders, Pavel Horak, was ruled out for the semi-final.
"The fighting spirit of the centre block of Patrick Wiencek, Hendrik Pekeler and Steffen Weinhold is simply incredible, causing huge problems to Veszprém's attack, and the basis for three empty-net goals before the break.
"Even two time-outs by coach David Davis did not change Veszprém's way of playing. With Sander Sagosen in outstanding form - either by goals, passes, blocks or assists - Kiel forged ahead easily, after Veszprém already needed over five minutes to score their first goal.
"While Veszprém's goalkeepers have almost no saves on their tally, Niklas Landin is well-prepared for their shooters, who did not score for more than 10 minutes. 
"Kiel's only problem for the second half could be that Sagosen already received two two-minute suspensions - which could affect Kiel's way of defending. But after 30 minutes, it looks like Kiel can beat Veszprém for the second time in their fourth semi-final at Cologne."
21:02 | SAGOSEN!
Here's a Sander Sagosen classic - long-range and fast.
20:58 | KIEL HAVE FIVE-GOAL LEAD
It's all going Kiel's way right now. The Veszprém defence can't stand up to the Kiel attack, and with Niclas Ekberg and Sander Sagosen in good form Kiel are flying, leading 15:10 after 21 minutes.
20:48 | KIEL MAINTAIN LEAD
Kiel are up 9:6 and David Davis takes his first time-out. The Kiel defence is solid, blocking Veszprém's attempts at scoring, and Kiel are also showing solid teamwork in attack with six players already on the scoreboard.
20:41 | KIEL TAKE EARLY LEAD
Vuko Borozan scores Veszprém's first goal, but an empty goal takes Kiel up 3:1. Gasper Marguc and Petar Nenadic bring Veszprém level at 3:3. 
20:37 | SECOND SEMI-FINAL STARTS
After a shot and a save by both teams, it's Rune Dahmke who scores first for Kiel after nearly two minutes. It's a slowish start to the game but things will surely ramp up soon!
20:15 | SEMI-FINAL 2 PREDICTIONS
Here's Björn Pazen's thoughts on the second semi-final, which throws off in 15 minutes.
"When Kiel and Veszprém duel in the LANXESS arena under "normal" circumstances it is one of the best atmospheres in the world of handball. Thousands of fans sing, chant and celebrate to support their teams. Tonight, they will sit in their homes, wear their shirts and will be part of the event as virtual fans. One of the main questions prior to the second semi-final is which team can cope better with an empty arena?
"Veszprém won one of the two matches between the two this season and drew the other, but even their wider squad does not automatically guarantee a spot in the final. After four Champions League matches without a win, Kiel seem to be the underdogs, but they know how to strike back. Little things and the daily form of key players such as the goalkeepers or the masterminds such as Domagoj Duvnjak or Petar Nenadic will be crucial.
"Veszprém want to end their Champions League curse of never winning and Kiel want to end their six-year wait for another final – and in contrast to the first semi-final, this time, the defence will decide. Or maybe only the last shot or the last save. In Cologne, you never know."















19:33 | FULL-TIME BARÇA 37:32 PARIS SAINT-GERMAIN HB
Barça are through to another VELUX EHF FINAL4 final and are looking strong - can they win yet another title? PSG played well, but not well enough to defeat the strong Spanish side.

19:27 | TIME RUNNING OUT FOR PSG
For a moment it seemed like Paris had pulled themselves back into the game, but Barça rode it out and have regained a six-goal lead, which was, briefly, a seven-goal lead. With under three minutes to go the Spaniards do seem to have wrapped this up.


19:20 | BARÇA BACK IN CONTROL?
Barça seem to be back in control now. Blaz Janc makes it 31:25 with a fast break as errors cost PSG dearly. The Barça defence and attack are both functioning well, and Paris's attempts at 7-on-6 are not working for them.
19:11 | PSG CLOSE THE GAP
Dylan Nahi is having a brilliant match, now with six goals as PSG make it 24:27. There's still 16 minutes left and Barça haven't yet won this match. Xavi Pascual has called a time-out to try and sort things out.
19:05 | KRISTOPANS + SOLE
Here's that great start to the match for PSG. Plenty of goals since; Mikkel Hansen has just scored his sixth of the game, a penalty shot, and it's 24:20.
19:00 | MATCH RESUMES
A brilliant goal from Ferran Sole opens the second half, and Vincent Gerard has made three superb saves to consolidate a good start for Paris.








18:48 | HALF-TIME Barça 18:14 PARIS SAINT-GERMAIN HB
EHF journalist Björn Pazen has some half-time thoughts:
"The better option between the post (Kevin Møller), two more players to rotate, two brilliant playmakers (Luka Cindric and Aron Palmarsson), an unstoppable right back (Dika Mem) and a 5:0 run were Barça's key to a quite clear 18:14 halftime advantage in the first semi-final of the VELUX EHF FINAL4 in Cologne.
"PSG lacked two alternatives - playmaker Luc Steins and line player Hendrik Toft Hansen are ruled out through Covid-19 infections - and have only 14 players in Cologne. Therefore they tried to keep the pace a bit slower than Barça. But the back gear to defence worked perfectly in the first 20 minutes, stopping Barça's famous counter-attacks.
"Right at the start, Nedim Remili and right back Dainis Kristopans took the responsibility in attack, while the Catalans counted on the assists of Palmarsson and Cindric and Mem's goals. But their biggest asset was goalkeeper Kevin Møller, who replaced Gonzalo Perez de Vargas quite early and saved eight of 12 shots for an efficiency of 67 per cent."
18:38 | KEVIN MØLLER SHINING
Since he took to the court Kevin Møller has had a spectacular game and made a real impact, helping to keep Barça ahead.

18:33 | BARÇA IN CONTROL
A suspension for Luka Karabatic proved costly for PSG and Barça have taken complete control of the match, leading 17:13 after just over 26 minutes. 

18:31 | GERARD SAVES
Here's Vincent Gerard's earlier save - although Kevin Møller is currently the outstanding goalkeeper on the court.

18:22 | BARÇA TAKE THE LEAD
A superb fast break from Blaz Janc, followed up by Dika Mem's fourth goal of the game, gives Barça the lead for the first time at 11:10.
18:19 | 15 MINUTES DOWN
A quarter of the match down, and PSG lead 9:8. Aleix Gómez just missed what ought to have been an easy equaliser, but it bounced off Vincent Gerard's foot and went high. 

18:11 | PSG LEAD
PSG have made a great start and after seven and a half minutes lead 6:4, with Dainis Kristopans and Nedimi Remili both netting twice. The scoring was pretty even to begin with, but a fumble by Dika Mem gave PSG a chance to establish a lead.


18:04 | SEMI-FINAL 1 THROWS OFF
Here we go! Dainis Kristopans scores for PSG, quickly followed by Aron Palmarsson making a record ninth VELUX EHF FINAL4 appearance. It's 1:1 with a minute played.
Nearly 80 per cent of fans on Twitter have given this one to Barça. Will they be right?
17:50 | MATCH PREDICTIONS
EHF journalist Björn Pazen has a few thoughts about the match ahead.
"There will be magic in the air in Cologne. Never before have Barça and PSG clashed in the handball cathedral of the LANXESS Arena.
"The statistics and history speak in favour of Barça. But so often, when the Spanish club have arrived at Cologne as favourites, they have returned home empty-handed, such as in 2014 or last year, when they had their fate in their hands in the semi-final against Vardar, but again lost it. A five-year-wait for the trophy can be a truly long time if you are FC Barcelona.
"But PSG can exactly tell the same stories about Cologne – losing a final against Vardar in 2017, or giving away a chance at a place in the final in 2016. Or in 2018, when PSG arrived as clear favourites of a French trio and finished third of those three after a semi-final defeat against Nantes.
"We can expect a goal-fest in the first semi-final. But a key factor could be how much Icelandic genius Aron Palmarsson will be able to play after his tendon injury. But still, when you have Luka Cindric as back-up, even the loss of a genius can be compensated.
"Or will it be another Mikkel Hansen masterpiece for PSG? Hansen has never won the EHF Champions League trophy, but lost two finals: with Barça in 2010 against Kiel and with PSG in 2017 against Vardar. History is in the making, stay tuned!"










17:25 | SAGOSEN AND DAVIS INTERVIEWS
The second semi-final features Sander Sagosen, who moved from PSG to Kiel this summer after a breakout performance at the EHF EURO 2020 that made him one of the undeniable stars of the handball world. He faces Veszprém, coached by David Davis who is hoping to bring an end to his team's run of poor luck at the EHF FINAL4.
17:00 | VESZPRÉM BUILDING THE HYPE
This video from Veszprém will definitely get you in the mood for the upcoming drama!

16:40 | HANSEN AND KRISTOPANS INTERVIEWS
Before the competition our journalists spoke to some of the players about their expectations for this year's EHF FINAL4. Paris Saint-Germain have never won the EHF Champions League, but their tall right back Dainis Kristopans has, lifting the trophy last year with Vardar. Meanwhile Danish star Mikkel Hansen has won everything else, but never the Champions League. Check out their stories below!
15:50 | TOM'S BLOG
Many of you watching at home tonight will listen to Tom Ó Brannagáin's wonderful commentary on the matches. We asked him to put together a blog about why this particular VELUX EHF FINAL4 matters so much. It's worth a read before the evening's action throws off.
15:00 | GO BEHIND THE SCENES WITH PSG
Join Paris Saint-Germain on their journey to Cologne yesterday in this great behind-the-scenes video!

14:15 | SQUADS ANNOUNCED
All four teams have named their squads for the semi-finals!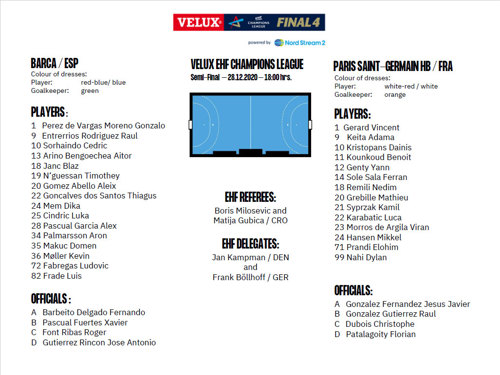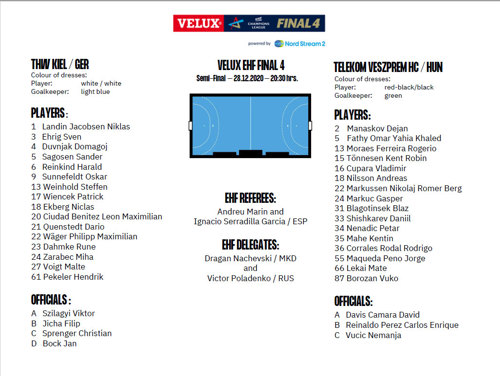 13:30 | HOW TO FOLLOW THE VELUX EHF FINAL4
There's plenty of ways to follow the action today - you've already found the blog, plus we'll have plenty of coverage on social media. Of course the matches will be shown by TV broadcasters around the world, so click here to see who's showing the competition in your country. If there's no broadcaster for where you live, head to EHFTV for online streaming!
SUNDAY 27 DECEMBER
19:30 | VELUX EHF FINAL4 TALKS - KIEL & VESZPRÉM
Hannah Jackson was joined by Kiel's Oskar Sunnefeldt and Gaspar Marguc of Veszprém ahead of their semi-finals tomorrow. She found out what it's like to be playing your first EHF FINAL4, and what it's like to be playing your fifth, regardless of this year's special circumstances, as well as why matches between the two clubs are always so exciting. Watch the video here.
Make sure you check the blog again tomorrow for more build-up ahead of throw-off at 18:00 CET.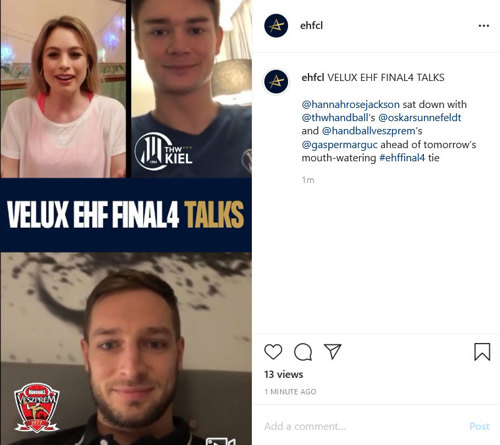 18:50 | VELUX EHF FINAL4 TALKS - BARÇA & PSG
Barça's Gonzalo Perez de Vargas and Paris Saint-Germain's Viran Morros got together - virtually - with Face of the EHF Champions League Hannah Jackson to talk about the build-up to the VELUX EHF FINAL4, how they spent Christmas, and their expectations for tomorrow's semi-final. Don't miss their chat!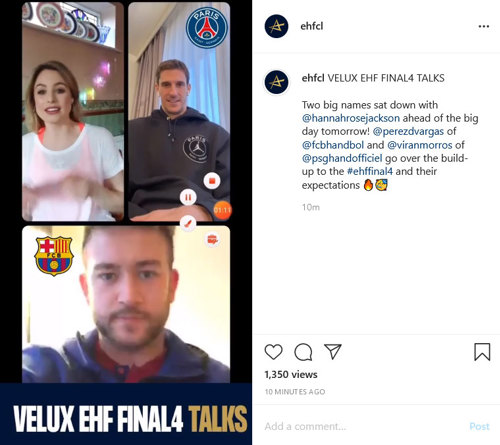 18:15 | VIRTUAL ARENA TOUR WITH KARABATIC
Did you miss the virtual arena tour earlier with Nikola Karabatic? Click here to watch on Instagram! He tells us how his recovery from injury is going, his favourite things about the LANXESS Arena, and answers a few fan questions.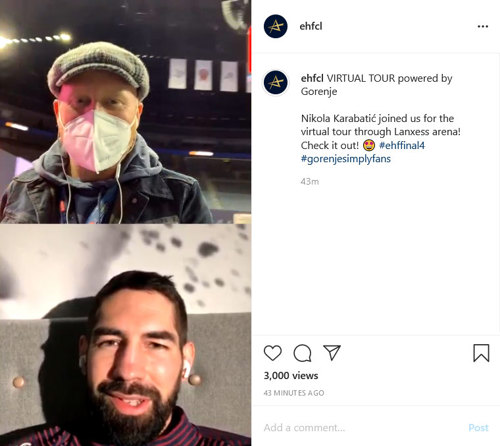 17:45 | ALL PRESENT & CORRECT
The teams are now all in Cologne and getting ready for tomorrow. Stay tuned for some special interviews on social media helping to build up the excitement - there's only 24 hours left before the VELUX EHF FINAL4 throws off!




17:10 | VESZPRÉM HAVE LANDED
Telekom Veszprém are in Cologne, flying over a short while ago from Hungary. Their photographer David Vörös sent some shots of the journey, including a stunning overhead image of the LANXESS Arena itself, home to the VELUX EHF FINAL4.





16:35 | UPCOMING: BEHIND-THE-SCENES WITH NIKOLA KARABATIC
Although PSG star Nikola Karabatic can't play the VELUX EHF FINAL4 due to an injury, we've still got him involved with the tournament. At 17:00 CET Karabatic, who is an ambassador for Gorenje, will be live with Face of the EHF Champions League Markus Floth on Instagram for a special behind-the-scenes virtual arena tour, and we want your questions for him. So head on over to our Instagram story and ask away!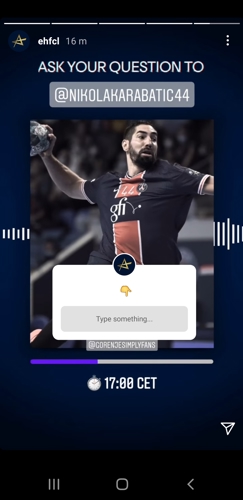 15:35 | WELCOME TO COLOGNE!
Barça have landed in Cologne and it's straight on to the bus - the strict hygiene protocols for the next three days mean that they will be whisked to the hotel, where they will stay in team bubbles each with their own floor and their own training venue. They seem to be in good spirits after the journey.

15:15 | RATING THE TEAMS
Earlier this week the EHF journalists broke down the four FINAL4 teams, examining how they rate in six key areas: attack, defence, goalkeeping, their benches, experience, and the X-factor. 
Have a read through their analysis, and vote for yourself in each category to rate the best team in each area.
14:40 | KIEL > COLOGNE
Kiel are also on their way to Cologne, making the short trip in what looks like a very small aeroplane!



13:20 | TEAMS EN ROUTE!
The teams are on their way to Cologne and later on we'll bring you the best pictures from their arrival. In the meantime, here's some that Barça took as they left Spain a little earlier on.
12:50 | SEMI-FINAL PREVIEWS
Check out the previews of tomorrow's semi-finals. Both promise to be classic clashes, with lots of history between the teams.
12:20 | WELCOME TO THE BLOG
Welcome to the live blog! Keep checking back over the next three days for plenty of insight and fun content from our website and across social media as we build up to throw off for the VELUX EHF FINAL4 2020.