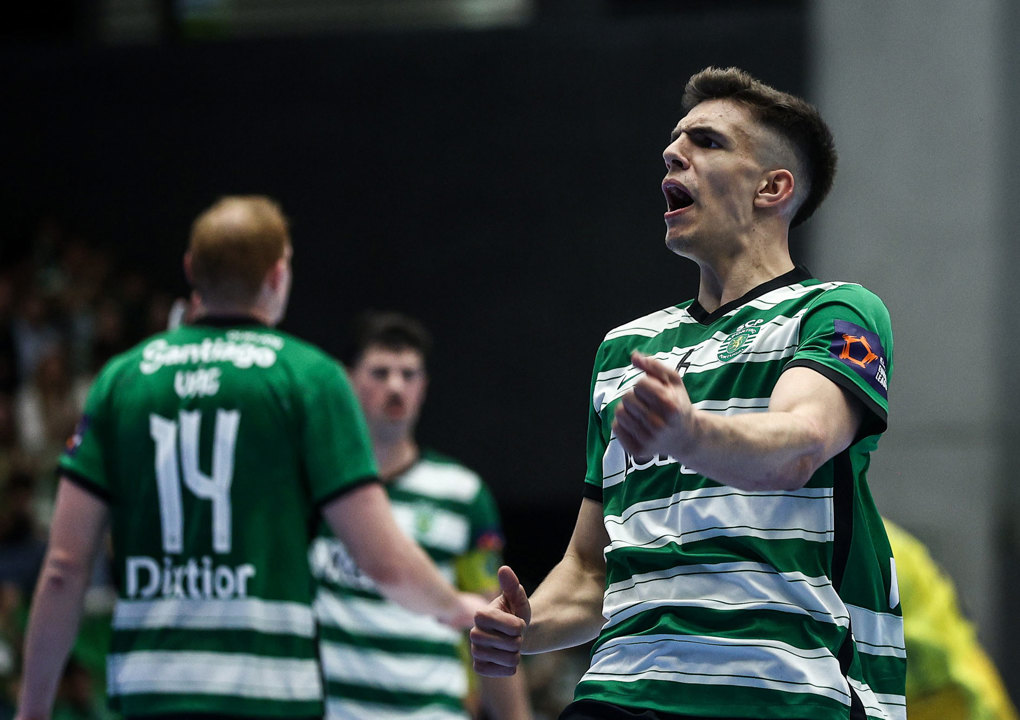 Summary: Quarter-final pairings sealed after thrilling Last 16
SG Flensburg-Handewitt, Kadetten Schaffhausen, Frisch Auf Göppingen, Füchse Berlin and Montpellier HB all went into the second leg of the EHF European League Men Last 16 with margins of five or more goals, but it was all to play for in the other three matches on Tuesday night as teams battled for the eight quarter-final spots.












23:55
We close the round with the match reviews, in case you missed anything. 

The quarter-finals are on 11 and 18 April - put the date in your diary!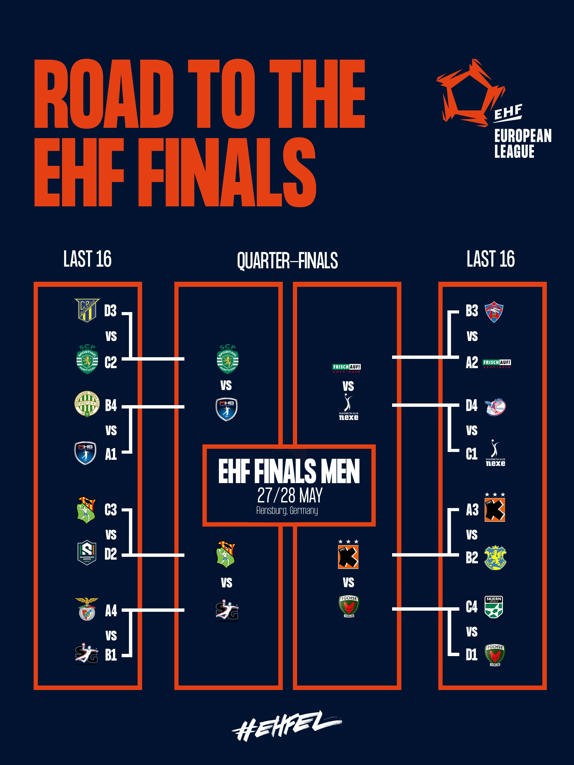 23:30
More post-match reaction, this time from Sporting CP coach Ricardo Costa. His side have an even tougher battle ahead in the quarter-finals, with Montpellier to face.
CD Bidasoa was a tough opponent, we did not expect anything different. Three goals was a difficult margin to come back from, it was a mountain to climb and we confirmed it during the 60 minutes, in which Bidasoa equalised the match almost all the time. Two teams with similar ideas, a very rich match tactically.
22:52
We now know the quarter-final pairings - so which match are you looking forward to most? Vote now!
22:43
Full results of the night here, running the full spectrum from very close to very comfortable.
22:38
Some reaction from the earlier games - here's Nexe coach Branko Tamše on his team's result. His opposite number, Gintaras Savukynas, added that Motor have been playing for Ukraine throughout the tournament, and thanked fans for their support around Europe.
I would like to congratulate HC Motor who showed a great game in both matches and we were right when we said that they should not be underestimated. They have great young players, and first of all I would like to congratulate their goalkeeper Gennadii Komok, who showed all the splendour of his talent in the first part of tonight's match. I would also say that I was unhappy with how we went into the game, but I would attribute that to fatigue. Nevertheless, we showed great character and heart.

22:25 | FULL-TIME
Valur exit the tournament, but do so after a much better showing than last week. Look out in the future for Tryggvi Garðar Jónsson; the 19-year-old left back scored 11 times, more than doubling his score in the entire tournament. 
Frisch Auf will face RK Nexe in the quarter-finals.
Berlin win their 12th straight European League match and book their quarter-final ticket to face Kadetten. It's a step further than they got last year. 
Emil Bergholt netted 11 times for Skjern, while Austrian veteran Robert Weber showed he's still got it by scoring eight for Berlin.
Sporting led from the start and earn a well-deserved win which sends them to the next round and a meeting with Montpellier. Martim Costa and Jon Azkue both end up with 10 goals, but in contrast to last week when Medhi Harbaoui stood out between the posts, tonight it was Leonel Maciel's turn to shine with 15 saves (35.7 per cent).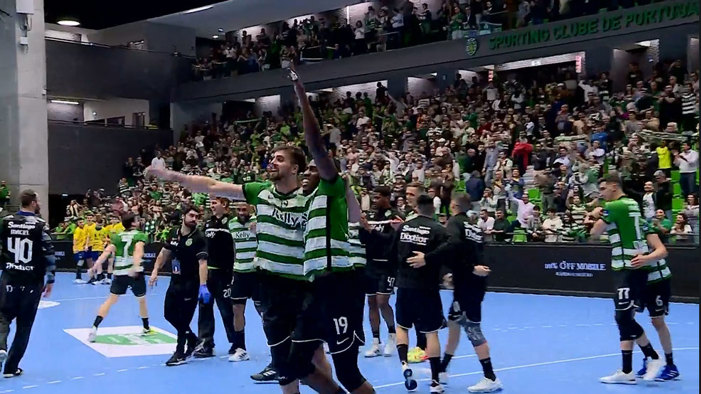 22:14 | FULL-TIME
Montpellier wrap up an easy, big win against FTC. Charles Bolzinger was on fine form, and FTC just found it hard to get shots past him. It's the home team's biggest win of the season, and what a time to send a message about their intentions in the competition!
22:07
Ricardo Costa calls a timeout for Sporting, as they look to extend their lead and secure their quarter-final spot. It's 29:25, giving them a two-goal aggregate advantage, but there's still eight minutes to play. Leonel Maciel continues to defend his goal well, while Martim Costa and Jon Azkue are contributing most of the goals at either end.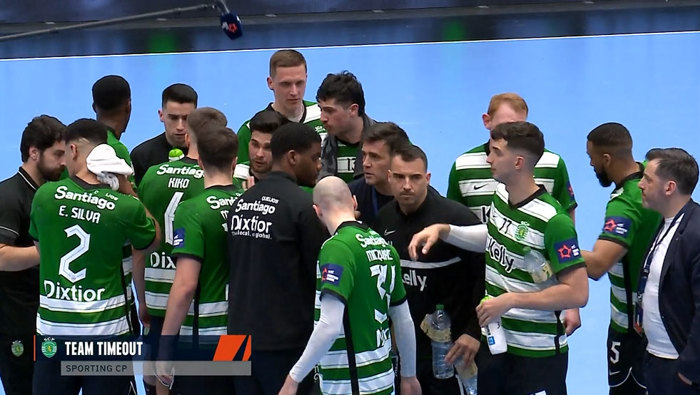 22:00
Montpellier's highest score this season was a 41:30 victory against Tatran Presov in round 2 of the group phase - with more than 12 minutes to go, they've scored 38 goals against FTC and kept their opponents to just 22. It's a dominant showing.
Sporting and Irun remained locked with a three-goal margin, level on aggregate. Could this one go to penalties?
21:45
Skjern are having a great game, staying well in touch with Füchse Berlin as the second halves get underway.
Montpellier continue to dominate, Valur are not letting Göppingen pull further ahead, and a good fast break goal by Asier Nieto keeps things tight in Lisbon. Nieto scored off a turnover from Francisco Costa, but despite this both Costa brothers are playing a big role in making sure Sporting stay ahead - nobody else from their team has scored since the restart.
21:26 | HALF-TIME
On aggregate, Sporting go to the break with a narrow three-goal lead after a good first 30 minutes. Salvador Salvador and Jon Azkue are top scorers with just four goals each, while Leonel Maciel is making the difference between the posts.
At the moment the teams are level on aggregate, setting up a thrilling conclusion to the game.
Valur started strongly, but once Frisch Auf got into their stride they took the lead and don't seem to be looking back. It's not helping that Björgvin Pall Gustavsson has had a terrible day so far, saving only three of 17 shots (17.7 per cent) - way below his best.
Montpellier are practically home and dry with a huge first-half showing. Lots of field players have scored, but goalkeeper Charles Bolzinger is on fire with 10 saves (47.6 per cent) so far.
So far, Skjern are arguably putting up a better fight than in Denmark last week - with line player Emil Bergholt on his best form of the season, with eight goals - but it's Berlin's game to lose and they don't look like they will.
21:14
Irun have two two-minute suspensions overlapping, which would give Sporting an extended period of power play to press home their advantage - except that they too have a player suspended. At 12:9, the aggregate score is level.
21:05
Home advantage so far for Sporting, who have a 10:5 lead as we come into the second quarter. 
Montpellier have a huge 12:6 lead over FTC, it's all square in Göppingen (9:9), and Füchse are 12:9 up against Skjern.

20:53
The teams are easing into the games. Sporting have made a strong start at home against Bidasoa, and lead 3:1 - cutting their visitors' aggregate lead to one goal already. 
Montpellier lead FC 4:3, Füchse are 5:4 up against Skjern, and Valur have brought the fight to Göppingen with an early 4:2 lead.
20:40
The last four Last 16 games are about to throw off - will we see more second-leg comebacks? Find out very soon!













20:27 | FULL-TIME
Motor win, but it's not much comfort - a very strong last quarter from Nexe gives them the aggregate victory.
It was a scrappy end to the match. With Motor up 29:26, Ihor Turchenko fell to the ground while trying to score. He protested he had been fouled, but no penalty was given against Nexe and Turchenko left the court, visibly annoyed. Motor, scrambling to shoot, then turned over the ball and Nexe had time for one last shot to secure the win.
Tomislav Severec is top scorer with eight goals, one more than Turchenko. 
20:19 | FULL-TIME
Granollers go wild as they win by five goals, taking their place in the next round with a three-goal aggregate win. A total of 14 Rangel da Rosa saves and eight Jan Gurri goals did the trick in a strong attacking performance by the Spanish side.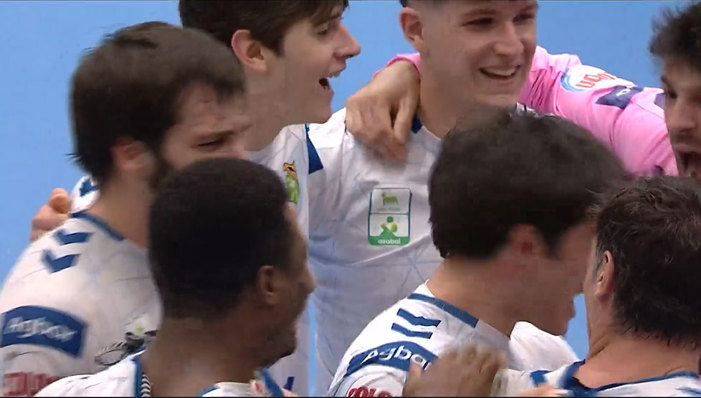 The defending champions are out after another loss to Flensburg, who were simply too dominant over the two matches - despite all but two of the Portuguese team's field players scoring today. The win continues a long unbeaten streak for Flensburg, who have also won all their home games.
20:13 | FULL-TIME
Kadetten are the first team to book their quarter-final spot, after a closer win than last week. Odinn Thor Rikhardsson is top scorer with eight goals; Kristian Pilipovic had a less strong second half, but Kadetten did enough at home.
20:08
Wow. From an eight-goal lead after 44 minutes, Motor have let Nexe right back into the game - it's 23:26 and Nexe now have the aggregate advantage back. Nine minutes to play for the quarter-finals!
20:03
Skanderborg's time-out did not produce the result they probably wanted - Granollers have moved ahead to a 24:21 lead. This match is being led by two outstanding young players: Danish centre back Thomas Arnoldsen and Spanish left back Jan Gurri. The latter has come into his own in the Last 16, while Arnoldsen has been good throughout the tournament.
19:53
Time-out for Skanderborg, who trail Granollers 19:21. 

Benfica are back to within a goal of Flensburg after putting Sergey Hernandez in goal instead of an under-performing Gustavo Capdeville - although it seems unlikely they can regain the margin they would need to progress. Kadetten lead Ystads by three, and Motor have a 21:15 margin over Nexe.
19:48
Motor maintain a seven or eight-goal lead against Nexe. Skanderborg are back to within two goals of Granollers.
If a match ends with a level aggregate score, we go to penalties - away goals do not count.
19:30 | HALF-TIME
Jan Gurri scores a penalty awarded on the buzzer, and Granollers go to the break three up today and one ahead on aggregate. The 20-year-old left back has netted four times so far. But it's Rangel da Rosa's eight saves which have made the difference.
What a 30 minutes from Motor! A seven-goal lead gives them a three-goal aggregate advantage. Group phase top scorer Ihor Turchenko is again performing, scoring four times, but nine Motor players have found the net, and goalkeeper Gennadii Komok has saved 50 per cent of shots so far. Nexe need something special to counter this.
Kadetten have picked up where they left off last week, and are now 11 goals ahead on aggregate. Kristian Pilipovic has saved 10 goals (52.6 per cent) - it's a superb showing from many goalkeepers today so far.
Now with a 16-goal aggregate lead, Flensburg must know they are practically through. There's just not much the defending champions can do.
19:16
Rangel da Rosa is producing some next-level saves - check this out!

19:08
Flensburg lead Benfica by three goals (17 on aggregate), while Kadetten are starting to stretch out against Ystads. 
Skanderborg are fighting back against Granollers, but the visitors are clinging to their two-goal gap. Meanwhile, Motor have brought all their power so far against Nexe - they produced an excellent game against Eurofarm Pelister in the last group phase match to qualify for the Last 16, so it's not impossible for them to do the same again here.
19:00
If Granollers have the upper hand in Denmark right now it's thanks to their goalkeeper Rangel da Rosa, who's become a true wall - five saves from nine shots, and the visitors lead 6:4 (38:38 on aggregate). 
Over in Croatia, Motor have, well, motored out to a similar lead against Nexe and at this early stage trail by one on aggregate. Exciting stuff...
18:50
The second leg of the Last 16 is underway. Don't forget, you can follow all the matches on our live tickers - and keep an eye on the standings page as it updates the aggregate scores in real time!
So far: all square in Aarhus, and Motor have had a solid start in Nasice.
18:40
Tune into EHFTV now, as coverage has started!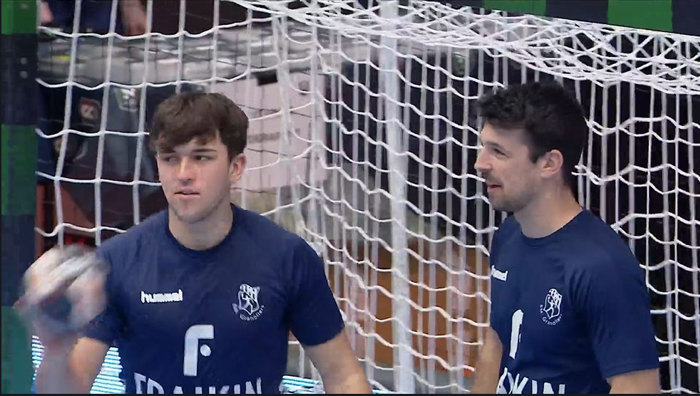 18:20
Bidasoa have the smallest advantage of the teams playing at 20:45 CET. Elsewhere, home sides Frisch Auf Göppingen, Füchse Berlin and Montpellier HB will all be hoping their good first-leg showings will take them through to the next round.
17:55
Looks like a glorious day in Lisbon, where Bidasoa Irun have been stretching their legs before their match with Sporting later on. The visitors hold a three-goal advantage going into the second leg. 
But the narrowest margin is between Skanderborg-Aarhus and Fraikin BM. Granollers - Skanderborg won 34:32 last week, and must now defend those two goals at home. The odds are in the home team's favour, as Granollers have won just one away match this season. We'll be keeping a particularly close eye on that game as it throws off at 18:45 CEST.
Also in the early matches, hosts RK Nexe are defending a four-goal lead over HC Motor, Kadetten have a six-goal margin against tonight's home team Ystads IF HF, and SG Flensburg-Handewitt are on the verge of knocking out defending champions after a huge 13-goal win last week.
17:00
Our build-up to the 18:45 throw-offs will begin in around an hour's time.
Remember, you can follow all the action right here, or across social media @ehfel_official.
EHFTV will also be streaming the action live (geo-restrictions apply)
16:45
Sporting CP are one of the teams needing to overturn a first leg deficit this evening. Goalkeeper Leo Maciel still has plenty of faith in his team! Read his thoughts on the battle with Bidasoa Irun.
16:30
EHF Finals Women
Before we get the EHF European League Men action underway, some big news to bring you from the women's side!
The semi-final draw for the EHF Finals Women has been made in Graz, Austria, and the two German and two Danish sides have avoided each other in the semis!
The EHF Finals Women takes place in Graz on 13/14 May.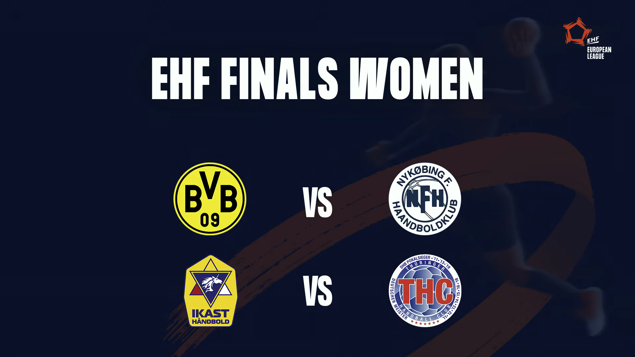 16:00
Welcome to the second leg of the EHF European League Men Last 16!
On the face of it, we have five teams - SG Flensburg-Handewitt, Kadetten Schaffhausen, Frisch Auf Göppingen, Füchse Berlin and Montpellier HB - who are in a strong position to go through to the quarter-finals after pretty comfortable first-leg wins. Bidasoa Irun, RK Nexe, and Skanderborg-Aarhus all won last week but have narrower margins to defend. 
For more on where the Last 16 stand ahead of tonight's action - which starts at 18:45 CEST - check out the round preview.