Summary: Barça join Kielce in the quarter-finals
In the final round of the EHF Champions League Men 2021/22 group phase, Lomza Vive Kielce and Barça both earned valuable victories in group B to join Aalborg Håndbold and THW Kiel in the quarter-finals.
23:25
To close the blog for this evening, here is the final goal of the group phase – Yahia Omar's winning goal for Veszprém – and an overview of the round 14 results. Live blog coverage of the EHF Champions League Men will return for the play-offs on 30/31 March.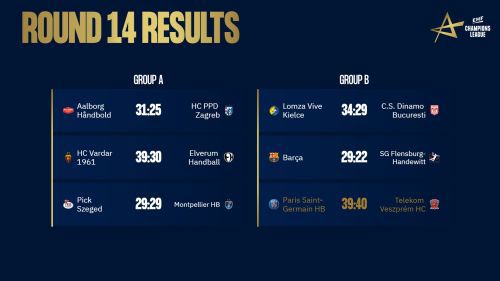 23:13
The EHF Champions League Men will return on 30/31 March for the first leg of the play-off matches.
SG Flensburg-Handewitt (GER) vs Pick Szeged (HUN) 
Elverum Handball (NOR) vs Paris Saint-Germain Handball (FRA)
FC Porto (POR) vs Montpellier HB (FRA)
HC Vardar 1961 (MKD) vs Telekom Veszprém (HUN)
Indeed, Elverum have already described their home match against PSG as the biggest in their 76-year history.
23:05
A selection of the best images from Thursday's matches can be viewed in the gallery below.














Even if this match means nothing for the standings in our group, we couldn't see that and feel that tonight. Each team gave everything, and each team wants to win every game. I'm very happy to came back from Paris with the win. As our coach said, these two points mean nothing in the standings, but they are very important for us and for our self-confidence.
22:55
The group phase is now complete, but tonight's match reviews are now online for you to read. 
22:45
Rasmus Lauge scored three goals in the final quarter for Veszprém. His footwork and improvisation enabled him to score this goal in the 52nd minute. 
22:37
Here is a look at the EHFTV statistics for Match of the Week between PSG and Veszprém. Petar Nenadic finished as the top scorer of the match, with nine goals, while Nikola Karabatic was PSG's highest scorer.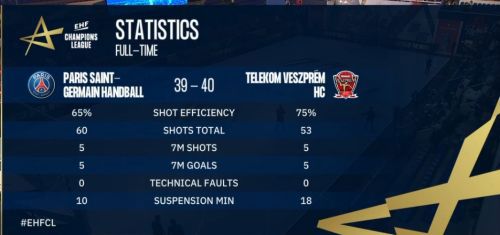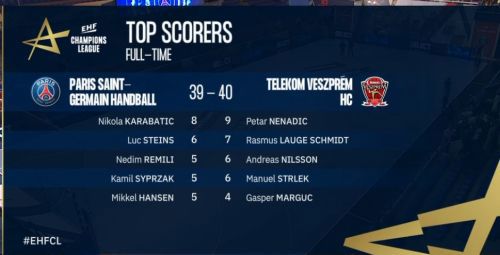 22:32
Rasmus Lauge has received the award as the player of Match of the Week. Officially, he scored seven goals and provided one assist, though his impact on Veszprém's attack might have been greater than the assist column implies.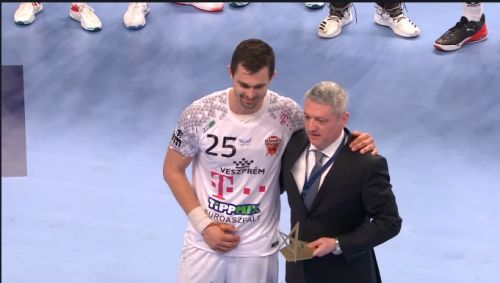 22:28
Drama is guaranteed in the EHF Champions League! Mikkel Hansen equalised for PSG from the seven-metre line with 14 seconds remaining, but Yahia Omar's only goal of the game, scored with two seconds left on the clock, gives Veszprém the victory.

22:16
With the pressure being off – at least to some degree – we have seen both teams showcase their skills in attack. This PSG move is a fine example of what we have witnessed tonight.
22:09
Rasmus Lauge is making the difference in attack for Veszprém as Match of the Week reaches its climax in Paris. The Hungarian side lead 36:32 with seven minutes remaining.
22:04
Nedim Remili, who has scored five goals for PSG this evening, has become the second player to receive a third suspension. In between the flurry of goals, the referees have been extremely busy.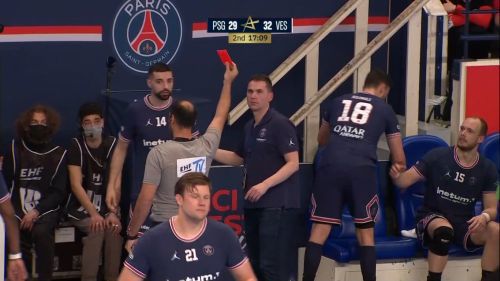 21:55
Adrián Sipos had some difficulty defending against Luc Steins earlier in the match. The Veszprém line player has now received his third suspension and his game is over.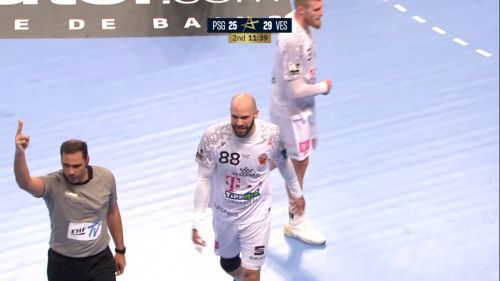 21:48
It is fair to say that Yann Genty was involved in one of the more unusual moments of the first half.
21:44
Yann Genty made eight saves from 28 shots in the first half, but Vincent Gerard has replaced him in the PSG net at the start of the second half. After Gasper Marguc beat Gerard with a shot on a fast break, the French goalkeeper has stopped shots from Rasmus Lauge and Yahia Omar.
21:38
Here is double helping of Petar Nenadic at his best for Veszprém in the first half! Empty net goals are not always the most entertaining goals in handball, but Nenadic's interception was, as Chris O'Reilly rightly said, "brilliant".
21:32
HALF-TIME UPDATE | Paris Saint-Germain Handball 19:20 Telekom Veszprém HC
After a high-scoring 30 minutes in Paris, Veszprém have a one-goal lead at the break. Aside from the number of the suspensions that they received in the first half, the Hungarian side will probably be reasonably content with how the match has gone so far.
Luc Steins has arguably been PSG's main danger in attack, while the combination of Petar Nenadic and Manuel Strlek have shone for Veszprém.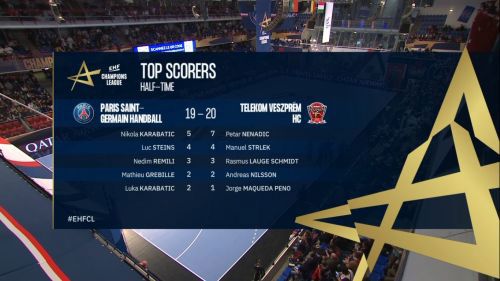 21:24
Petar Nenadic steps up to covert a penalty for Veszprém, his seventh goal of the game, and the Hungarian side lead 20:18 with 30 seconds remaining in the first half.
21:13
Fast breaks have featured heavily for both teams in the first 20 minutes. Nikola Karabatic, however, showed that he still has the moves to breakthrough a top defence.
21:06
Well, after PSG made a solid start, Veszprém have enjoyed a 5:0 run and now lead 12:10 after 15 minutes. If both teams continue to score at this rate, we will be in for an entertaining match to close the group phase.
Both teams did a great game in defence and both (teams) also had a good goalkeeping performance. Playing at home and for the two top spots made us stronger today and more focused. At the end we had a bad period in attack ,but we solved it with a great defensive performance from the team.
20:50
Chris O'Reilly is in full voice on EHFTV for Match of the Week between PSG and Veszprém. As he said just before the throw-off, when giants like these two teams meet in European handball, they will always want to perform.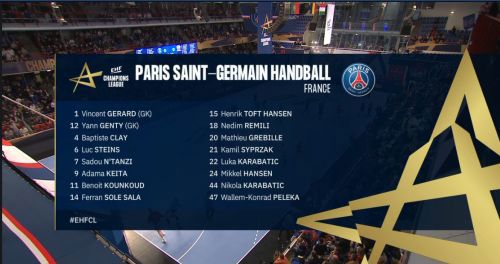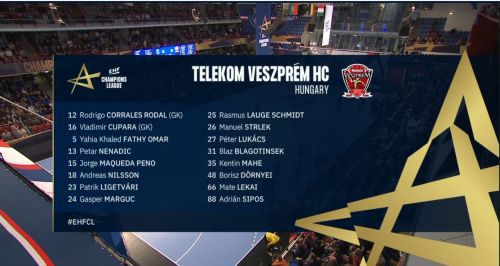 20:43
Earlier this evening, we mentioned Barça showing their support for International Women's Day.
In round 14, the EHF Champions League has partnered with Plan Global to promote equality in sport.
20:36
With Barça's place in the quarter-finals now confirmed after their victory against Flensburg, a win for PSG in Match of the Week against Telekom Veszprém HC will not be enough for the French side to reach the quarter-finals without playing in the play-offs. 
20:33
Here is a look at the top scorers for Barça and Flensburg. Aleix Gómez was the top scorer of the match, with nine goals, but four players for the Spanish side scored four times: Dika Mem, Timothey N'Guessan, Ludovic Fabregas and Haniel Langaro.
Hampus Wanne finished the game as Flensburg's top scorer, although he didn't score in the second half.

20:28
Meanwhile, in group A, Pick Szeged have drawn with Montpellier. Although Szeged might be disappointed that they allowed a four-goal lead (27:23) to slip in the second half, they will be pleased that they have finished third in the group.

20:23
There was no doubt about who the Barça players thanked at full-time for their victory against Flensburg: Gonzalo Perez de Vargas. The Spanish goalkeeper finished with a total of 18 saves from 40 shots faced.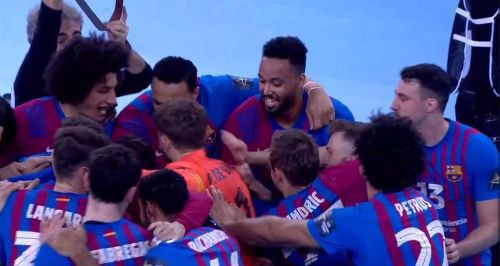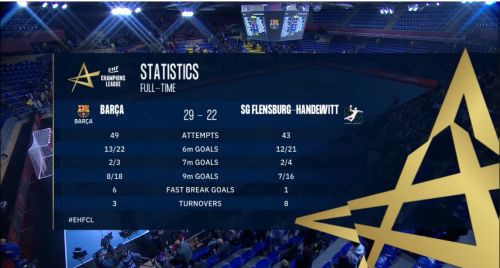 20:11
A tense finish is guaranteed in Szeged. The Hungarian hosts have a one-goal advantage with four minutes remaining against Montpellier, 29:28.
Meanwhile, Barça have extended their lead to six goals once again. Flensburg have called a timeout.
20:08
This game might not be over! Flensburg have reduced Barça's lead to three goals, 24:21, with five minutes to play.
20:04
While Perez de Vargas has been outstanding in goal, Aleix Gómez has delivered at the other end for Barça. Barça's prolific right wing has already scored eight times, including this in-flight effort.
20:00
We have mentioned more than once how good Gonzalo Perez de Vargas has been for Barça this evening – and here are the pick of his saves from the second half. 
19:56
Barça's lead against Flensburg now stands at six goals after 47 minutes (23:17). Unless Flensburg can produce a miraculous comeback, Barça will book their place in the quarter-finals of this season's EHF Champions League. 
19:42
Sebastian Frimmel was the top scorer for Szeged in the first half against Montpellier, but Mirko Alilovic had the crowd chanting for him in the first 10 minutes.
19:35
When you look at the match statistics provided on EHFTV at half-time, Gonzalo Perez de Vargas' impact in the first half of the Barça vs Flensburg game becomes clearer. The Spanish goalkeeper has made nine saves from 20 shots.
With the exception of goals from nine metres, most of the categories are relatively even. Indeed, both teams have scored one fast break goal, which is perhaps surprising, and Flensburg have only made one more turnover than Barça.

19:28 | HALF-TIME UPDATE
It is half-time in both of our matches that started at 18:45 CET. Barça lead 15:11 against SG Flensburg-Handewitt in Spain, while Pick Szeged have a narrow 17:16 advantage against Montpellier.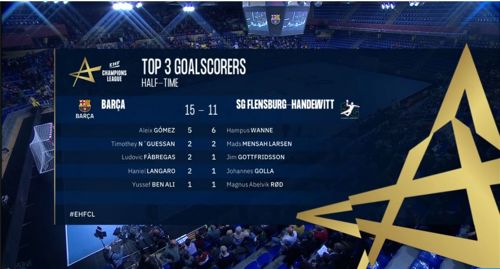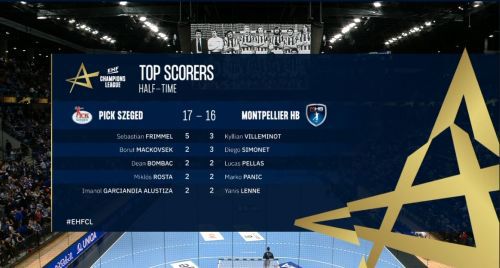 19:18
How did Ludovic Fabregas get this shot away? There is a lot of handball left to play this evening, but this will be one of the best goals that we see.
19:08
As per the match stats, Gonzalo Perez de Vargas has made seven saves from 14 shots. He has saved the last six shots that he has faced! Barça have taken advantage of his strong performance to build a three-goal lead, 10:7, which has prompted Flensburg to call a timeout.
19:02
After Aleix Gómez and Hampus Wanne scored the first three goals for their respective sides in the first seven minutes, other players are now making an impact on the game. Ludovic Fabregas produced an outrageous behind-the-back flick to level the score at 4:4 in the eighth minute, and Gonzalo Perez de Vargas has made three saves in quick succession in the Barça  goal. Barça lead 8:7 after 16 minutes.
18:47
Live coverage of the match is now underway on EHFTV!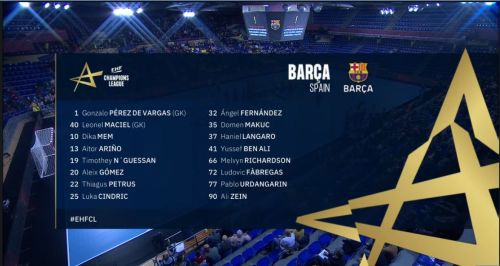 18:40
Earlier in the week, Barça coach Carlos Ortega offered his thoughts on the Flensburg team.
"(Jim) Gottfridsson is a very important piece, but at right back they have recovered (Franz) Semper and it is giving a good result. They also got (Gøran Søgard) Johannessen back. They have great wingers who can score from no angle and a very strong 6-0 defence."
18:30
With the match between Barça and Flensburg approaching, the Spanish side have welcomed back goalkeeper Kevin Møller to the Palau Blaugrana.
Møller spent three seasons in Barcelona and was part of the Barça team that triumphed in the EHF Champions League last season.
18:16 
While most of the focus at 18:45 CET will be on Barça's clash with Flensburg, the match between Pick Szeged and Montpellier will decide third place in group A. Szeged currently have a two-point lead over Montpellier, but with the first match this season between the two teams ending in a 29:29 draw, the French side can take third place if they win in Hungary.
18:05
There is less than an hour to go until the throw-off in our first two games of the evening. As we mentioned earlier, Barça can seal their place in the quarter-finals if they beat Flensburg at 18:45 CET.
Ahead of the match, Barça have also been showing their support (via Twitter) for International Women's Day, which took place two days ago.
16:55
Barça are in a stronger position than PSG in the race for the direct quarter-final spot from group B, as they hold the advantage over the French side thanks to their 30:27 win in round 5. If both teams take the wins tonight, it will be the Spanish powerhouse that earns the right to skip the play-offs. 
And it looks good for Barça, considering their opponents, Flensburg, have never taken a point in Palau Blaugrana. The teams have met in Spain four times previously. This season, the reverse fixture ended with a 25:21 win for Barça. 
Flensburg have the chance to climb one position higher from their current sixth rank if they defeat Barça. 
16:33
What better way to end a great group phase than with an epic Match of the Week? PSG will host Veszprém in the very last group match at 20:45 CET tonight, with the French side targeting group B's second quarter-final berth. Barça are also in the race for that quarter-final ticket. 
Kielce clinched one of the top two positions in the group with their victory last night, and will find out whether they win the group or place second tonight. But the most important task has been accomplished as the Polish side are set to contest the quarter-finals for the first time since 2018/19. 
A MOTW means special coverage, and we have plenty for you to enjoy today. Check out our latest installment of the Timeout with Champions series, starring PSG's Kamil Syprzak and, with a special appearance due to International Women's Day, Brest Bretagne's Sladjana Pop-Lazic. Also read the feature with PSG back Nedim Remili below!
THURSDAY
16:01
Hello and welcome back to our live blog coverage of round 14 of the EHF Champions League Men! Unbelievably, today marks the last day of the group phase in the 2021/22 season, but that means the drama of the business end is just around the corner. 
Before we enter the knockout round though, we have three more matches to look forward to tonight:
Szeged vs Montpellier 18:45 CET
Barça vs Flensburg 18:45 CET
MOTW PSG vs Veszprém 20:45 CET
WEDNESDAY
23:08
The last match review is in and that means the end of tonight's coverage. Recap on all today's action with the reviews below, and be sure to join us tomorrow for the final curtain on the 2021/22 group phase!
22:57
We are coming to the end of this first day of round 14 live blog coverage! Let's take a look at what's coming up tomorrow as a great group phase comes to an end.
Thursday 10 March:
Szeged vs Montpellier 18:45 CET
Barça vs Flensburg 18:45 CET
MOTW PSG vs Veszprém 20:45 CET
22:41
Let's talk Vardar! The Macedonian side ended a remarkable group phase campaign with a strong win tonight, extending coach David Davis' perfect run so far as head coach. Since the former Spanish international took the helm in December 2021, Vardar have won all three Champions League matches. 
Prior to that, they had some excellent results in the group phase, including victories against group winners Aalborg and a solid Montpellier in France. Alongside their five wins and a draw, Vardar had some very close defeats against big opponents, such as a two-goal loss to Kiel in Germany and two three-goal losses against Szeged. 
They may finish the group stage ranked fifth in the group but Vardar are looking very interesting indeed. Keep in mind that they were fourth in their group when they went on to take the title in 2019, in what was a great underdog story. 
No doubt in the end, as Vardar power through the final minutes to record a nine-goal victory against Elverum. 
Elverum's Eric Johansson is the top scorer of the match, with eight goals, while five other players net at least five goals. 
22:07
As the last five minutes edge closer, it looks as though Vardar are on track to clinch the two points as they lead 33:29. But Elverum are not ready to give up yet, calling a timeout as they search for solutions to turn the momentum in their favour. 
22:02
10 minutes to go and we have a new leader again: Vardar have reclaimed the upper hand and hold the advantage at 29:27. And it was all powered by the Nyokas twins. 
Between them, Olivier and Alix Nyokas netted five of the six goals that saw Vardar turn the 24:25 game into a 29:27 lead. In total, their combined contribution for Vardar is 11 goals this match. 
21:53
A much stronger start to the second half sees Elverum snatch the lead four minutes in, 19:18, and the Norwegian side did not stop there. Pulling away as clear as three goals, Elverum have held the upper hand since Stig-Tore Nilsen netted the first goal for the advantage. 
As the clock hits 43 minutes, Elverum are in front 23:22. 
The great game these two teams are delivering gives new meaning to the phrase 'playing for nothing'. Despite their group rankings being set, the match is clearly an important one for both teams to put on a positive show as they prepare for the play-offs. 










21:33
Starting whistle for the second half! Join us on EHFTV for what promises to be an exciting second half, with only one goal separating Vardar and Elverum as the second period gets underway. 
21:18 HALF-TIME UPDATE | VARDAR VS ELVERUM 17:16
Elverum's tenacity is rewarded in the last 10 minutes of the half, as they close the gap to one goal, more than once, and go to the break behind by the narrowest of margins. 
Two of the Norwegian side's players lead the individual stats, with Emil Imsgard making six saves to be the strongest keeper in the opening half, while Eric Johansson nets six to top score. 
21:07
As we pass the 20-minute mark in the last match of the day, Vardar maintain the upper hand versus Elverum, 13:10. 
Elverum's top scorer of the season, Tobias Grøndahl, has netted two goals so far, taking his overall tally for 2021/22 past the 70-goal mark, with now 71. Grøndahl is the sixth player this season to hit 70 goals, alongside Aalborg's Felix Claar, Dinamo Bucuresti's Raul Nantes Campos, Zagreb's Ivan Cupic, Barça's Dika Mem and PSG's Mikkel Hansen. 
20:49
4 minutes and 19 seconds for Elverum to score their first, while Vardar create an early lead with four unanswered goals. 
The start hints at a continuation of the series that has seen Vardar unbeaten against Elverum (one win and two draws previously) and also the unbeaten record of David Davis as coach of the Macedonian team. A victory for Vardar would also extend Elverum's series of defeats, which currently stands at seven consecutively. 
But it is early days yet, and Elverum have already made history tonight, with their first ever knockout round qualification in Europe's top flight. 
20:31 
One match remains to wrap up this opening night of round 14: Vardar vs Elverum, starting at 20:45 CET. Both teams take the court without pressure as their final rankings in group A are set, with Vardar sure to finish fifth while Elverum are sixth. The Norwegian team can thank Aalborg for ensuring their play-off spot was booked before taking the court. 
When Elverum and Vardar met in the season opener, the match ended in a 27:27 draw, so we may be about to enjoy a thriller to end the night.




When we started the Champions League, we lost in Bucharest and no one would say we would finish as first or second in the group. It was an amazing match of Andy (Andreas Wolff). Thanks to him we could score easy goals. I'm not satisfied with our performance from the 29th minute of the first half to the 12th minute of the second half.
Dinamo Bucuresti's comeback falls short and Kielce clinch a five-goal victory and, with that, a certain top two finish in group B, which means a direct quarter-final spot. 
Aalborg clinch a win that brings a three-pronged result: The Danish team top group A, Zagreb are knocked out of the competition and Elverum are through to the play-offs. 
20:10
In Kielce, the home side's dominant advantage shrunk completely. Dinamo Bucuresti came as close as two goals, at 24:22 in the 43rd minute, and have managed to stay right behind their opponents. With seven minutes on the clock, Kielce stay in front but at a far less comfortable difference than earlier in the game, 30:26. 
If Dinamo Bucuresti can close the gap completely and snatch the victory here, it will be one to remember. But even if they cannot, the slow start to the match is long forgotten as they really bring it to Kielce here. 
20:04
Eight minutes to go and Zagreb have not managed to reduce the distance against Aalborg to less than five goals at any point since the distance grew early in the second half. The Danish side have the upper hand at 29:24. 
Zagreb wing Ivan Cupic has now reached a huge 11 goals, but that will be no consolation for missing the play-offs. Zagreb need a miracle now. 
Last season, the Croatian team contested the play-offs due to the Covid-19 situation meaning all teams progressed from the group phase after a season impacted with postponed and unplayed games. Aside from that, the record domestic champions have not reached the knockout stage of the Champions League since 2018/19.
Can they possibly pull off a late comeback and end this series? The clock is against them...
19:49
10 minutes into the second period, Zagreb could be watching their play-off dream slipping away, as they have fallen behind by six goals (23:17). If the Croatian team take no points from this encounter, Elverum will clinch the last play-off ticket available. 
Concerning the Ivan Cupic watch, the wing has now reached a tally of eight goals. 
Meanwhile in Kielce, the Polish team still have a clear upper hand, 24:18. Both teams have been rotating extensively and hardly any field players have not had their input on the score board, as Dinamo Bucuresti throw everything at Kielce for the chance to earn one last win to cap their season. 

















19:24 HALF-TIME UPDATE | KIELCE VS C.S. DINAMO BUCURESTI 20:13
Dinamo face a difficult task for the second period in Poland, as they have a seven-goal deficit to overcome in order to finish their Champions League season strong. 
It is a vastly different match from when these two sides met in the opening round back in September, when the Romanian side won 32:29. 
19:20 HALF-TIME UPDATE | AALBORG VS ZAGREB 16:13
Aalborg retain a not decisive but relatively clear advantage as we go to the break in Denmark. 
Below, check out Zagreb wing Ivan Cupic's run of goals early in the game. 
19:17
We edge closer to half-time with Aalborg having reasserted their lead versus Zagreb at 16:13 with less than three minutes to the end of the period. 
In Kielce, Dinamo Bucuresti have found their way and are more competitive, but the Polish side still enjoy a commanding advantage at 18:11 in the 26th minute. 
Two individuals are standing way out for Kielce: wing Arkadiusz Moryto, with six goals at 100 per cent accuracy and Andreas Wolff with six saves at 35 per cent. 
19:04
Driven by five goals from five shots by Ivan Cupic, Zagreb have reeled Aalborg in for a level game in Denmark, 9:9 in the 17th minute. 
In Poland, Dinamo Bucuresti are facing a tough task against a Kielce motivated to grab a direct quarter-final spot, with the home team in front 11:4 in the 16th minute. 
18:51
Round 14 begins! Both home teams have had a strong start, with Aalborg creating an early lead at 4:2 against Zagreb while Kielce have powered to a 4:0 advantage versus Dinamo Bucuresti.
18:40
Just five minutes until round 14 gets underway! Tune in on EHFTV now and/or follow the match stats and live scores right here: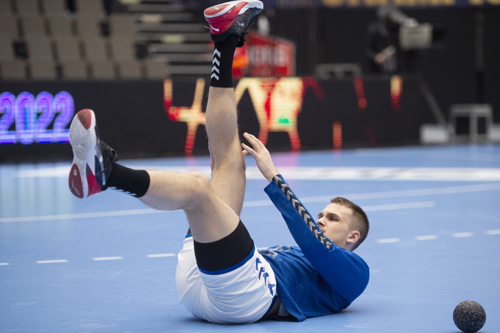 18:28
Aalborg may not have quite as much on the line as their opponents Zagreb, but they can lock up first position in group A with a victory. 
The Danish team have had a stellar season once again, following their breakthrough appearance at the EHF FINAL4. With a 33:31 victory in Montpellier last round, Aalborg extended what is their longest winning run ever in the competition to six. Aalborg seem to be peaking just at the right time in the season.
Aalborg's Felix Claar enters the round as top scorer in the Champions League 2021/22, with 75 goals. 
18:17
There are two teams in particular with a lot on the line in tonight's opening games: While Zagreb need a point more than Elverum tonight, in order to reach the play-offs, Kielce are in a three-way contest for one of group B's direct quarter-final tickets. Their rivals are PSG and Barça, who will both play their last group phase games on Thursday night. 
PSG rely on Kielce and Barça's results as well as their own, whereas the Polish and Spanish sides control their fate. A win for Kielce as they host Dinamo Bucuresti at 18:45 CET will take them to the quarter-finals. 
Dinamo Bucuresti are out of the play-off race ahead of the round 14 match. 
We have one of the hardest matches in front of us. We are playing against Aalborg, who were at the EHF FINAL4 last season. That says enough about them. However, we will give our best to win. It is a downside we do not play at home but we will show our fighting spirit in Denmark.
17:56
Less than an hour remains until throw-off in the last round of the group phase. We start with one of the most pivotal games of the round, Aalborg vs Zagreb, where the result has a bearing on who will grab the last play-off ticket.
The Croatian team are under pressure as they meet the 2020/21 finalists at home in Denmark. Goalkeeper Dino Slavic told us all about their season and the upcoming match in a special feature. Read it below. 
17:00
In the last of the three matches today, starting at 20:45 CET, Vardar are set to take on Elverum.
Maybe not such a big deal for the hosts, who finish the group in fifth place no matter the results in round 14. But Vardar remain Vardar, which means: they always go for the win.
Elverum will need at least a similar result like Zagreb got in the earlier match tonight. One of those two teams will pick up that last play-off berth. They are level now (on eight points), and if they remain level, Elverum will snatch it. And remember: Elverum will know exactly what they need before the throw-off of their match in Skopje. 
16:53
And Kielce? Well, the 2016 champions find themselves in an exciting three-way contest for the top-two spots in group B, alongside Barça and PSG.
If all three teams win in this round, Kielce would lock up the No. 1 spot. So the Polish champions certainly want to do their part before Barça and PSG - in the MOTW against Veszprém! - play their final group games on Thursday.
16:45
So, in two hours' time the final round 14 throws off in Aalborg (vs Zagreb) and Kielce (vs Dinamo).
Aalborg have already secured their direct entry into the quarter-final, but the Danish finalists from last season still have another goal to play for: the top spot in group A.
A win will see them overtake Kiel; a draw will have both teams finishing on level points, but the advantage would be with the German side thanks to the better results in the direct duels.
16:29
As always, our round preview is a good starting point to get informed on what is happening tonight and tomorrow:
16:22
Click here to see how the standings in both groups are, heading into that final playing round. We are still looking for two teams from group B that are going to skip the play-offs and advance to the quarter-finals directly, and for one team from group A that grabs the last ticket to the play-offs.
16:15
Good afternoon, and welcome - for one more time - to a group phase round in the EHF Champions League Men this season. Round 14 on Wednesday and Thursday is closing this group phase and determining the final standings in the two groups.
Here is the schedule: