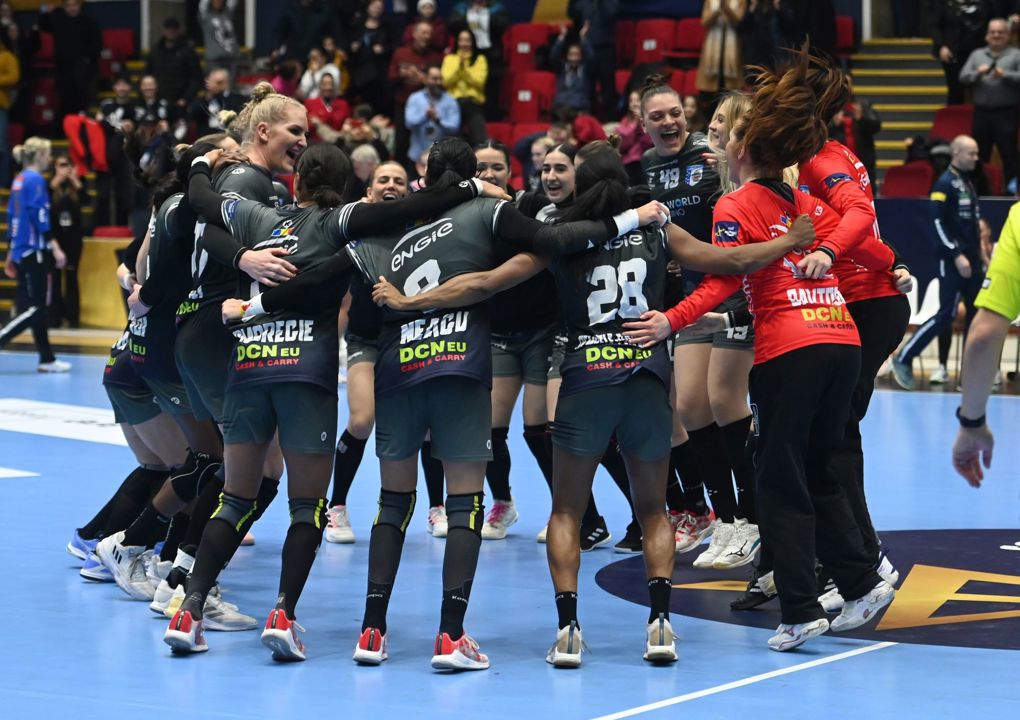 Summary: CSM and Metz top group standings at end of 2022
In round 9 of the EHF Champions League Women group phase, Györi Audi ETO KC tasted success in the Match of the Week against WHC Buducnost BEMAX in Podgorica.
While Györ narrowly triumphed in the feature match of the weekend, CSM Bucuresti and Metz Handball both secured victories on Sunday that put them top of their respective groups at the end of 2022. 
Sunday 18 December 2022
18:40
As our coverage from round 9 of the EHF Champions League Women group phase concludes, remember that the competition resumes in January with round 10. More precisely, round 10 begins on Saturday 7 January 2023.
Until then, we will leave you with the best photos of CSM Bucuresti's win this evening. The first picture that you will see is of the golden ball that Cristina Neagu was set to receive for being named the best left back at the Women's EHF EURO 2022.
You can also check out Adrian Costeiu's review of CSM's win via the link below.
















18:26
Highlights of Sunday's three EHF Champions League Women matches are now available on YouTube via The Home of Handball channel.
18:22
If you haven't done so already, you can read the match reviews of Odense and Metz's wins from earlier this afternoon by clicking on the links below.
I think we came out of the locker room with a lot of energy, more aggressively and in a very good mood. It wasn't at all easy. We expected a tough game. The second half was a very good example of good defence, which I really like.
18:15
Round 9 was a good round for away teams. Indeed, it was a very good round for Hungarian, Danish and Romanian clubs, with two sides from each country all recording wins. 
18:00
Enjoy a selection of the best photos from Odense's victory against Bietigheim and Metz's win over Lokomotiva Zagreb in our gallery below.













17:43
At the end of round 9, the group A standings look good if you're associated with CSM Bucuresti. Of course, Vipers Kristiansand remain in the top two places, so the reigning champions should not be too disappointed when they assess their overall performance in the first nine rounds of the group phase.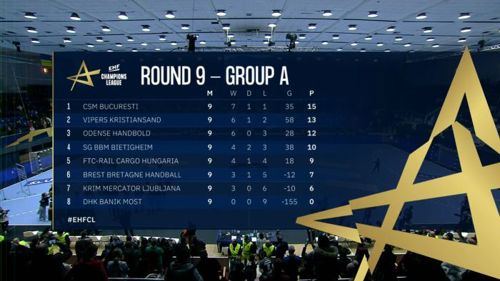 17:39
Despite a late 3:0 run for Vipers in the second half, CSM seal a three-goal win over Vipers Kristiansand to end 2022 in first place in group A of the EHF Champions League Women 2022/23.
Cristina Neagu scored nine goals from 18 shots for CSM, including the Romanian side's 27th goal in the closing minutes, but goalkeeper Marie Davidsen became the star of the show in the second half. Having failed to make a save in the first half, Davidsen stopped 12 shots after the break to finish with a save percentage above 40 per cent. 
Vipers' shot efficiency of 31 per cent in the second half will undoubtedly leave their players and coach Ole Gustav Gjekstad disappointed. But with Markéta Jerábková only able to score two goals from six shots after half-time, the Norwegian side could not build on their good performance in the first half. 
17:25
Saves win matches – and CSM have had a significant improvement in that department since half-time. While Marie Davidsen has made nine saves in the second half, Evelina Eriksson made a huge stop in the 45th minute.
17:18
Adrian Vasile calls a timeout for CSM with his side holding a four-goal lead, 24:20, as we approach the last 10 minutes. If Marie Davidsen continues to perform at the level she has in the first 20 minutes of the second half, CSM should be able to seal a win that puts them top of group A heading into 2023.
17:11
A suspension for Ana Debelic, who caught Elizabeth Omoregie high, means that CSM have a numerical advantage at a crucial point in this match. Marina Sudakova has scored her first goal to extend CSM's lead to three goals, 22:19, and the hosts will have almost one minute and 20 seconds to add to it once Vipers' timeout has concluded.
17:04
With five saves in the first nine minutes of the second half, Marie Davidsen has started to make an impact in goal for CSM. The Romanian side's defence is seemingly more engaged after the break.
16:55
Malin Larsen Aune opens the scoring for CSM with an assured finish from the right wing. CSM's joy doesn't last long, though, as Markéta Jerábková earns a penalty for Vipers and Crina Pintea receives a suspension for denying the Czech back a clear scoring opportunity on a fast break.
They have played really impressive in this season, and we knew we had to play really good to win here. In the first half, our defence was not so good and therefore we lost our rhythm, but I think we did a really good collective job in the second half as a team. Our defence was really there, and we gave Bietigheim a hard time in their attack.
From the 15th to the 30th minute, we had a phase where we defended well. After half-time there was no pace and no flexibility. We couldn't find a solution. We wanted to stay level and fight for third place in the group. Odense simply had a better performance the in two games.

16:44
Vipers Kristiansand have a one-goal advantage after 30 minutes of their top-of-the-table clash with CSM Bucuresti in Romania. 
Markéta Jerábková has excelled for the visitors, scoring seven goals from seven shots, while Cristina Neagu has not been quite as efficient for the home side. Regular viewers of CSM may not be surprised that Neagu has scored six times from 11 shots, as she remains the focal point of the Romanian side's attack and takes responsibility when they need to find a solution.
Interestingly, even with Emilie Hegh Arntzen scoring a penalty just before half-time, CSM only had five players in the first half. Vipers Kristiansand had seven players register on the scoresheet. In the battle between the posts, Katrine Lunde has made seven saves from 21 shots faced, while Marie Davidsen had no official saves after facing 10 shots. Evelina Eriksson has recorded one save from six shots faced for CSM.
16:34
If you thought the outcome of the this clash between CSM and Vipers would depend on how Cristina Neagu and Markéta Jerábková performed, Jerábková has scored six goals from six shots. Meanwhile, Neagu has scored six times from 11 attempts. 
16:23
We have post-match reaction from Emmanuel Mayonnade and Tamara Horacek after Metz's victory in Zagreb. Horacek was not one of Metz's nine scorers against Lokomotiva – but she did provide six assists, the most of any player in the match.
"Obviously, we're happy about the win here today. This was our last game of the first part of the season. We opened the game well but then slowed down at the beginning of the second, only to step it up once again later on to win this," said Emmanuel Mayonnade, Metz coach.
"Two completely different games – this one and our premier encounter of the season in France. We've once again seen that we all have to be on the same page both in attack and defence, giving our absolute best, in order to achieve success. We're not playing as well as we know we can right now, and we'll definitely use this break to grow," said Tamara Horacek, Metz centre back.
16:16
Jamina Roberts' shot from a breakthrough attempt is Vipers' first miss of the match. Roberts had clearly broken through CSM's defence, but she was possibly travelling too quickly to provide an accurate finish. CSM lead 7:6 after 15 minutes - though Vipers are in possession again in attack.
16:13
Vipers Kristiansand's shot efficiency stands at an impeccable 100 per cent after 12 minutes in Bucharest. The Norwegian side have scored all of their six attempts, but they have made four technical errors.   
15:57
Odense had every reason to celebrate in Germany after taking their fifth consecutive win in group A. The Danish side have now beaten Bietigheim twice, Krim twice, and when the EHF Champions League resumes in January, they will face Brest for the second time this season. Odense beat Brest 25:21 in October to start their winning run.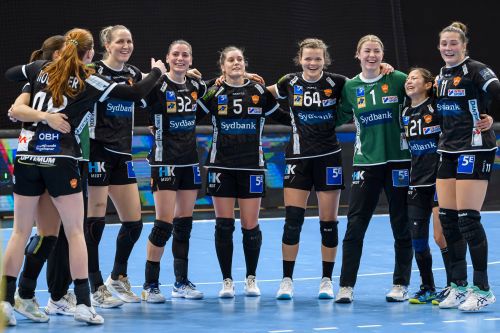 15:48
First place in group A will be at stake when CSM Bucuresti and Vipers Kristiansand meet on EHFTV in less than 15 minutes.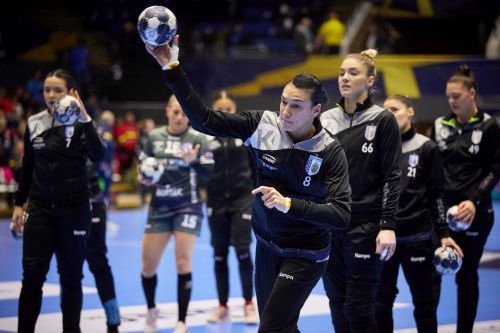 15:44
Metz now have 15 points in group B after their victory in Zagreb, meaning that they are one point clear of Esbjerg, Györ and Rapid in the race to earn a top two finish and a direct quarter-final place.
15:40
Confirmation that Metz have ended 2022 on top of group B after their nine-goal win over Lokomotiva Zagreb in Croatia. Sarah Boukit and Debbie Bont both scored five goals from five shots for Metz, while Ana Malec scored the same number of goals from twice as many attempts (10) for Lokomotiva. The Croatian side remain on zero points after nine matches played in this season's EHF Champions League.
15:33
Odense complete a fine comeback in the second half against Bietigheim to take their fifth consecutive win in the EHF Champions League Women, 27:24. The Danish side are now in third place in group A and have a two-point lead over Bietigheim, who suffered their first home defeat of the group phase.
In the second half, a combination of Odense's strong defence and Althea Reinhardt prevented Bietigheim from repeating their performance in attack from the first half. Dione Housheer scored seven goals to finish as the top scorer from either side, while Julia Maidhof had another good afternoon for Bietigheim from the seven-metre line.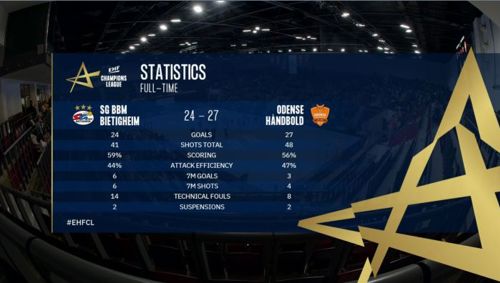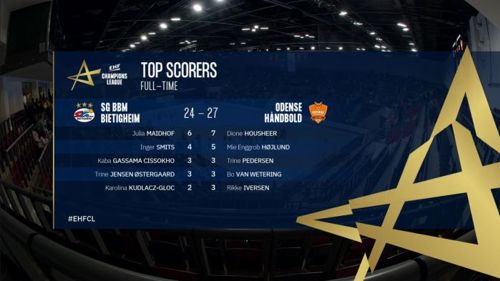 15:21
With seven goals from 10 shots, Dione Housheer leads the scorers for Odense. Housheer's goals when Bietigheim were struggling to score look crucial in the outcome of this match.
15:18
Althea Reindhart's save percentage for Odense is now slightly higher than Melinda Szikora's for Bietigheim. It is worth emphasising that Reindhart has faced five fewer shots than Szikora, which may tell you something about Bietigheim's attack in the second half.
15:16
Bietigheim's goalless run has been broken via two penalties converted by Julia Maidhof. However, Odense lead 24:20 as we enter the last nine minutes. 
15:09
As Bietigheim seek to end their goal drought, Markus Gaugisch has called a timeout with his side still trailing 21:18. In the final seconds before the timeout, Bietigheim had a numerical advantage in attack, courtesy of a suspension for Lois Abbingh, but they weren't willing to take a risk with their play.
15:04
Bietigheim have not scored since Xenia Smits received a suspension when they led 18:16. With Housheer just hammering home a penalty, Odense are on a 5:0 run and lead 21:18. 
15:01
After Rikke Iversen missed an empty net when she had an opportunity to equalise for Odense, Maren Aardahl made no mistake by taking the shot from a much closer distance when presented with a similar chance. Dione Housheer has since scored again to put Odense in front by one goal, 19:18, after 39 minutes.

14:51
Here are a couple of Melinda Szikora's excellent saves from the end of the first half. Szikora's penalty save to deny Maren Aardahl really sparked a reaction from the home fans in Ludwigsburg.
14:45
The half-time score between Lokomotiva Zagreb and Metz remains unchanged from our previous update. Although Metz haven't scored at the same rate that they did in their previous meeting against Lokomotiva, the Croatian side have again found scoring challenging. Their attack efficiency after the first half is below 25 per cent.

14:42
Bietigheim hold a three-goal advantage at the break against Odense after keeping the Danish side scoreless for the last eight minutes of the first half.
Although Odense led by two goals (10:8) after Dione Housheer scored in the 15th minute, Melinda Szikora's superb performance in the last 15 minutes has swung the match in Bietigheim's favour.
Szikora made 11 saves from 24 shots faced in the opening minutes, but eight of her saves came after the midway point of the first half. As a consequence of Szikora's stunning finish to the half, Odense's shot efficiency has dropped from 71 per cent after 20 minutes to 52 per cent.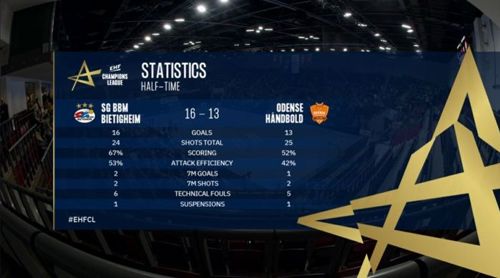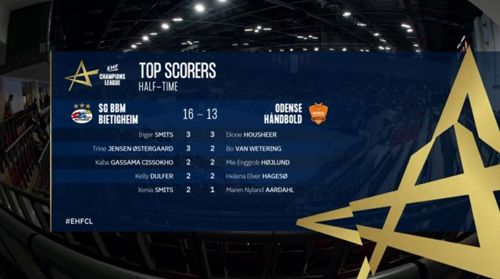 14:31
It's all smiles for Debbie Bont, who has scored five goals from five shots for Metz, as her lob proves successful here for the French side. Metz have a 13:6 lead in Croatia against Lokomotiva Zagreb as half-time approaches.
14:25
The quality of shooting has been high in the opening 20 minutes between Bietigheim and Odense. Indeed, aside from a few technical errors in unexpected situations, the quality of the match has been high.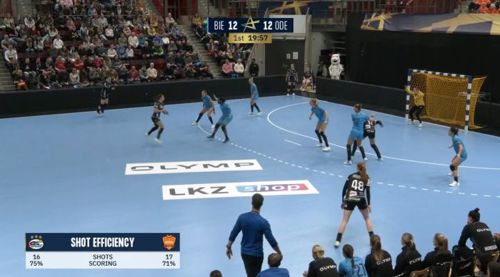 14:21
Bietigheim and Odense both have Dutch stars in their squads, so it isn't a surprise to see Inger Smits and Dione Housheer leading the scoring after 10 minutes. Inger Smits has scored three goals from three attempts, while Housheer has the same number of goals from four shots. 
14:09
A steal by Kaba Gassama Cissokho sets up a straightforward fast break for Xenia Smits to bring Bietigheim level at 6:6 after eight minutes. Odense have generally had the upper hand in the opening stages, but both teams have made a positive start in attack. 
13:50
With 10 minutes to go until the throw-off in Germany, pre-match coverage of Bietigheim vs Odense has begun on EHFTV.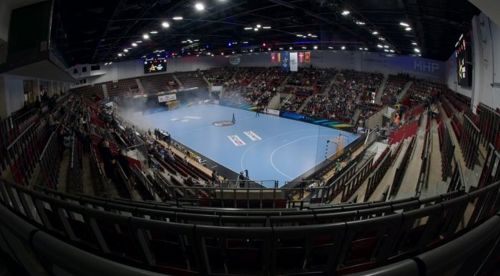 13:40
When Bietigheim faced Odense in October, the Danish side took a convincing seven-goal win (31:24) at home.
Since then, Bietigheim drew at home against Brest before losing by four goals in France. Bietigheim coach Markus Gaugisch is aware that his team need to return to the form that they displayed in the first five rounds of the competition, when they won four games and drew the remaining match (vs CSM Bucuresti, 28:28). 
"We're noticing at the moment that you can't afford even the smallest mistakes in the premier class – they are punished mercilessly," said Markus Gaugisch.
13:25
After only winning one of their first four matches this season, Odense have won four games in a row. Ahead of this afternoon's match, Odense coach Ulrik Kirkely has his eye on remaining in touch with Vipers Kristiansand and CSM Bucuresti at the top of the group.
"A tough match awaits us in Bietigheim, and we must keep focus on our game in order to take points in Germany. If we can take the points, we have the opportunity to follow the leading teams in group A. The match is therefore very crucial – also with the next rounds in the Champions League in 2023 in mind," said Ulrik Kirkely.
13:15
Good afternoon and welcome to the live blog for Sunday's coverage of round 9 of the EHF Champions League Women 2022/23 group phase. We have the final three EHF Champions League matches of 2022 ahead of this afternoon, and first place in both groups is up for grabs.
When CSM Bucuresti host Vipers Kristiansand in group A at 16:00 CET, the winners will finish 2022 in first place. If the match ends in a draw, Vipers Kristiansand will remain at the top of the group standings. 
Before then, Metz can regain top spot in group B when they face Lokomotiva Zagreb in group B at 14:00 CET. The French side will start the match as huge favourites as Lokomotiva have lost all eight matches in the EHF Champions League this season. 
The match that is perhaps most interesting at 14:00 CET, however, is Bietigheim's clash with Odense in Germany. Both teams are three points behind Vipers and CSM, and a win for either side will give them a cushion over the chasing pack in group A. 
Saturday 17 December 2022
22:30
We leave you now with the best photos from today. Come back Sunday for the final action of the year in the EHF Champions League Women. Have a good night!



























22:10
Here are some quotes from participants in the Match of the Week:
Bojana Popovic, Buducnost Head Coach: I am proud of the players, they did their best and there is nothing to complain about. They left their hearts on the field, showed exceptional energy. It was a tough game, but I knew the girls would fight. The result is what it is, but the most important thing is that the players gave their maximum. We managed to come back thanks to the great Armelle Attingre, but there were also mistakes that Gyor punished. The players are tired, and we don't have a wide rotation.
Stine Oftedal, Györ centre back: A very important victory for us. Armelle Attingre deservedly received the award for player of the match. It's always difficult against Buducnost in Podgorica, because they have great energy, but it's nice to play in this city.
22:00
We have highlights of all our matches on the Home of Handball channel. There you can check out Match of the Week highlights or any other match this season.
21:30
FULL-TIME: WHC Buducnost BEMAX 23:25 Györi Audi ETO KC
In the end, Györ was the better team. Despite Player of the Match Armelle Attingre's display in goal, Buducnost will come up empty-handed as the Hungarians leapfrog Metz Handball into the top three, at least for now. Stine Oftedal was the game's leading scorer with six goals.
21:22
This pass by Stine Oftedal was smooth as silk.
Györ have a two-goal advantage with over five minutes to play.
21:10
Györ had an opportunity to increase their lead to five, but the shot hits the post. After two Buducnost goals, the lead is back down to two before Ambros Martin calls timeout with roughly 12 minutes left.
21:00
Here's a treat. Stine Oftedal stealing the goods...
20:50
Here are a couple of quotes from coaches in the earlier matches, on the opposite sides of victory and defeat.
A win always makes me happy. The points are very important for us, and we need all the points we can get. We are still hoping and trying to get into the top two in the group but there is a long way to go, but it is our aim right now.
The players have worked hard to deliver a good fight. It was an important match for the Champions League play-offs. We had a very good first half but in the second half we made a few mistakes in defense, we played less aggressively and we also missed some easy goals. Krim knew how to keep the ball, played well and won in the end. It's hard but we know that this Champions League group is very difficult and we have to fight every game.
20:35
HALF-TIME: WHC Buducnost BEMAX 12:14 Györi Audi ETO KC
Györ jumped out to a three-goal lead at the start of the game, but Buducnost did not take long to bring the game back on level terms, even taking the lead on one occasion. However, it was Györ who managed to create a small gap, and it seemed they were on the way to taking a three-goal advantage into the locker room before Matea Pletikosic scored a last-gasp goal. Stine Oftedal and Yvette Brock both have three goals to lead all players.
20:20
Armelle Attingré has been excellent between the posts up to now. She currently has five saves from 12 shots for a roughly 41 per cent save rate.
20:15
Györ fail to use their player advantage wisely, but Buducnost manage it very well, scoring two goals to tie the game before a deflected shot gives Györ the lead again.
20:10
Györ hold a 5:2 lead nine minutes into the game, as Silje Solberg catches one in the midriff and Ryu Eun Hee scores on the other end.
19:52
Yet another reminder: if you do not have any restrictions due to a local broadcaster, you can watch the match on EHFTV!
19:45
While we are a quarter of an hour away from the Match of the Week, read our MOTW feature with Buducnost player Matea Pletikosic.
19:30
FULL-TIME:
Brest Bretagne 22:24 Krim Mercator Ljubljana 
Team Esbjerg 39:31 Kastamonu Belediyesi GSK
Storhamar Handball Elite 29:36 CS Rapid Bucuresti
It was a heck of a match in France! Brest cut the lead to one less than thirty seconds before the final horn, but the forced pressure by the French team led to an easy goal for Krim. Jovanka Radicevic was the leading scorer of the match with seven goals.
Esbjerg coasted to a comfortable victory at home, with Kaja Kamp Nielsen scoring six to pace the Danes. Mouna Chebbah should not go unmentioned with 12 goals from 16 attempts.
Storhamar's woes in the Champions League continue with a 29:37 loss to Rapid Bucuresti. On a positive note for the Norwegians, Maja Jakobsen was the highest scorer with nine goals.
19:25
Darya Dmitrieva is a force to be reckoned with...
19:22
We're in the final minutes. Krim are ahead of Brest Bretagne 21:20, Rapid are winning their match against Storhamar 28:23 and Team Esbjerg have a comfortable six-goal lead, 36:30, over Kastamonu.

19:10
Brest are currently down by two, 16:18, but Itana Grbic has had some impressive goals in this match.
18:55
It would be a shame for an EHFCL weekend to pass by without the mention of Nora Mork. Thankfully, that's not the case today.
18:40
HALF_TIME:
Brest Bretagne 12:10 Krim Mercator
Team Esbjerg 23:17 Kastamonu Belediyesi
Storhamar Handball Elite 15:17 CS Rapid Bucuresti
Both Brest and Rapid take a two-goal lead into halftime. Djurdjina Jaukovic is the leading scorer for Brest with four goals, while Daria Dmitrieva leads the Slovenia club with three. Storhamar player Maja Jacobsen leads all scorers in the match in Norway with six goals. Esbjerg, rounded out with evenly balanced scoring, had a double-digit lead at one point, but Kastamonu closed the gap to six by half-time.  
18:35
You simply cannot miss this cunning play from Djurdjina Jaukovic. Simply outstanding.
18:26
As Brest demonstrate, teamwork makes the dream work.
18:22
Ivana Kapitanovic makes goalkeeping look easy and cool.
18:17
Two of the three matches have a tight battle; Brest and Krim are tied at six goals each while CS Rapid Bucuresti lead Storhamar by one. 
Kastamonu can't say the same, unfortunately, about their match. Currently down by nine, the Turkish team is losing 4:13.
18:07
We're over five minutes in and here are the scores so far:
Brest 2:3 Krim
Esbjerg 4:0 Kastamonu
Storhamar 3:5 Rapid Bucuresti
17:50
Don't forget, you can watch matches on EHFTV if you are not blocked due to restrictions. Here are the links:
Brest Bretagne vs. Krim Mercator
17:40
While we wait for the next slate of matches to begin, watch the best of Katrin Klujber below:
17:35
Brest did not have the best start to the season, but after drawing and beating Bietigheim in the last two rounds they look to be in great shape. In contrast Krim have lost four of their last five matches in the competition, their latest success a 24:22 victory against Brest back in October.
Team Esbjerg are on a tear with a four-game winning streak and are just one point from leader Metz, while Kastamonu are on a three-game skid after gaining their first-ever points in the competition against Lokomotiva Zagreb in October. Esbjerg won the first meeting decisively, 43:27
Both Storhamar and CS Rapid Bucuresti are newcomers, but they have had different outcomes. Rapid are currently in fourth place with twelve points, while Storhamar hold the final playoff spot with four points, all of them coming against last-place Lokomotiva Zagreb. Rapid won the first-ever match between the two clubs, 27:25.
17:25
FULL-TIME: FTC Rail-Cargo Hungaria 43:19 DHK Banik Most
Once FTC took control in the first half, they never looked back. Most could not continue their positive momentum from the first six minutes of the match, and FTC could not be stopped. Katrin Klujber is the game's leading scorer with 10 goals from 11 shots. Charlotte Cholevova paced the Czech offence with six goals, but with 14 shots.
17:15
It has gone from bad to worse for Banik Most as they now trail by 20 goals, 35:15, plus one of their players has to serve a two-minute suspension.
17:03
FTC have not let up since the start of the second half. Outscoring Most seven to three after the break, they now lead 27:14.
16:45
While we wait for the second half to begin, check out these saves from Dominika Müllnerová:
16:35
HALF-TIME: FTC-Rail Cargo Hungaria 20:11 DHK Banik Most
Most had the better start, but as FTC warmed up the Czech club was left in the dust. The gap at half-time suggest that a FTC victory is a mere formality at this point. Szandra Szollosi-Zacsik for FTC and Veronika Andryskova from Most both have four goals each to lead their respective clubs.
16:30
Watch Emily Bölk do her thing.
16:20 
The timeout call by the Most coach has done nothing to alleviate the Czech team's trouble. FTC have gone on a seven-goal run, while Most went scoreless for almost seven minutes before scoring. However, FTC have a one-player advantage and a six-goal lead.
16:15
Dominika Müllnerová has been a thorn so far in FTC's side, so far with five saves on fourteen shots. She is keeping Most, who now trail 7:9, in the game. Nevertheless, her team regret not making better use of their player advantage in the last few minutes.
16:06
Most have taken advantage of their chances, leading 5:3 with seven minutes played so far. Well now 5:4 with a goal from Cvijic.
16:00
While the match is underway, here are a few impressions from the match at FTC.





15:45
The start of the weekend's first match is minutes away. Banik Most have certainly had their struggles this season, still without a single point in their name. They will a tough task against FTC, currently in fifth place with three wins, a draw and four losses. Another loss for Most will pretty much end their season as they would be nine points behind a playoff spot with five games left to play.
Nevertheless, there were some smiles on the Czech team's players as warmups went on.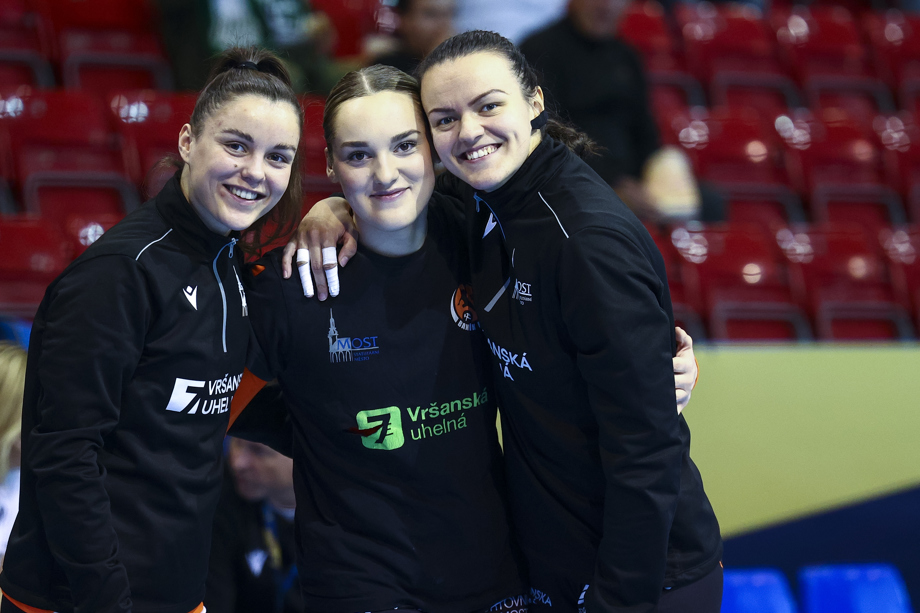 15:35
If you have not checked out our round preview below, you can do so right now. Just click on the link below.
15:25
And while we're talking about the schedule, here is the full slate of matches for the weekend: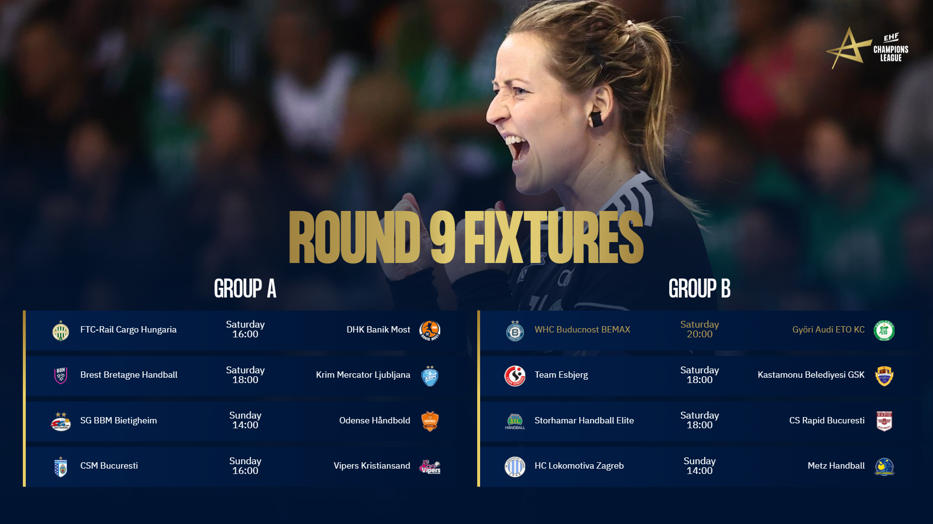 15:15
Good afternoon, ladies and gentlemen! We are about to commence with round 9 of the EHF Champions League shortly. We have five games on our schedule today, including the Match of the Week between Buducnost and Györ.
We have a schedule update: due to the delayed arrival of Györ's squad because of inclement weather, the start of the match will be postponed two hours. The official statement is available below.