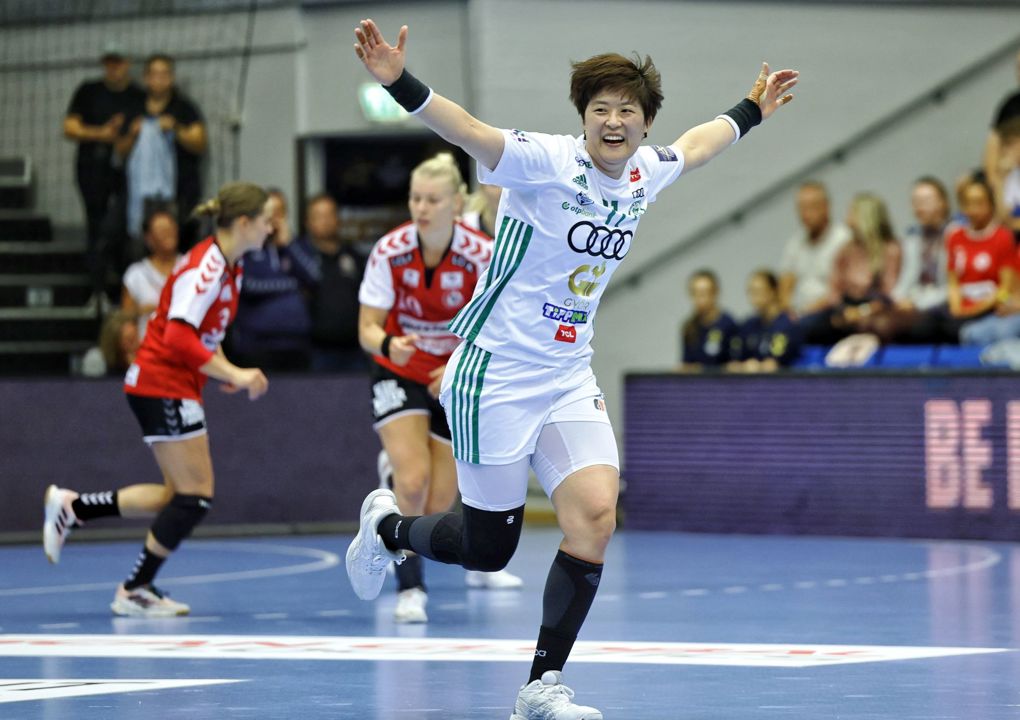 Summary: Györ close opening round with thrilling win
In the first round of the EHF Champions League Women 2022/23 group phase, defending champions Vipers Kristiansand began the season with an authoritative win in the Match of the Week on Saturday.
While SG BBM Bietigheim and WHC Buducnost BEMAX recorded wide-margin wins to top the group standings, Györi Audi ETO KC's 31:29 triumph against Team Esbjerg on Sunday provided arguably the most thrilling game of the round.
19:35
As we conclude round 1, here is an overview of the results. The live blog for the EHF Champions League Women will return next Saturday for round 2.

















19:18
The match reviews for the three games that started at 16:00 CEST are now online. You can find the links below.
It was amazing to play here! I knew that the Sala Polivalenta has a great atmosphere, and the crowd pushed us, which helped us a lot, and I am happy with the first impression that we have made today.
18:39
After Györ's thrilling win against Esbjerg, reaction from Jesper Jensen and Ana Gros can be found below.
If you haven't yet read the match review after Bietigheim's record-breaking win against Most, it's online for you to enjoy as well.
It was a great game. Playing so well so early in the season and between two top teams in Europe makes it look good for the rest of the season. Ana (Gros) was one of those who hurt us the most in second half.
Today's win is about the teamwork. I am really glad for my teammates. They put me in good positions to score the goals needed for the win, and I really appreciate them.
18:24
Tonight's poll question is about which individual performance in round 1 impressed you the most. We have selected four players from winning teams to comprise the poll options. 

18:01
At the end of round 1, Bietigheim top group A, courtesy of their 23-goal win over Banik Most, while Buducnost lead group B after decisively beating Kastamonu 40:27.
There is an extremely long way to go in this season's group phase, but after their recent experiences in the EHF Champions League, Bietigheim and Buducnost will be pleased to occupy first place in their respective groups.
17:52
Nora Mørk finished with 13 goals on her first appearance for Esbjerg in the EHF Champions League. Of course, as Esbjerg had 11 penalties to Györ's two, Mørk had the opportunity to record a high total, especially as she had 10 attempts from the seven-metre line. At the end of round 1, though, Mørk joins Milena Raicevic as the joint top-scorer in the competition.  
Ana Gros' ended her first match back at Györ in the EHF Champions League since the 2011/12 season as the Hungarian side's top scorer.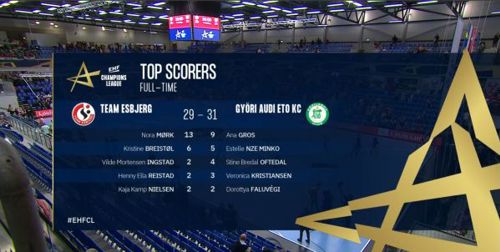 17:40
CSM Bucuresti, led by eight goals from Grace Zaadi Deuna, have completed a comeback in the second half to take a two-goal win against Krim.
Meanwhile, Metz have recorded a nine-goal win against Storhamar – although the Norwegian side can be proud that they won the second half 13:10 after trailing by 12 goals at half-time.
17:35
Small details can decide big games – and Kaja Kamp Nielsen's missed shot from the left wing gave Györ the opportunity to extend their lead to two goals inside the final 30 seconds, which Ana Gros duly took from nine metres. Amalie Milling couldn't hold Gros' shot, and Sandra Toft's save from Henny Ella Reistad's final shot confirmed Györ's 31:29 win against Esbjerg.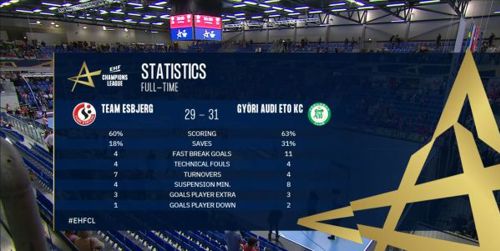 17:24
If you expected prolific right backs to head the list of top scorers, you are in luck: Nora Mørk has now scored 12 goals from 15 shots, while Ana Gros has eight goals from 11 attempts.
17:20
Amalie Milling has made four saves from eight shots faced for Esbjerg since replacing Rikke Poulsen in goal. As we enter the last six minutes with Györ holding a one-goal lead, every save matters.
17:12
As Jesper Jensen calls a timeout for Esbjerg after Estelle Nze Minko restores a one-goal lead for Györ, 25:24, here is an EHFTV statistic from a couple of a minutes ago that shows the difference in terms of fast break goals scored.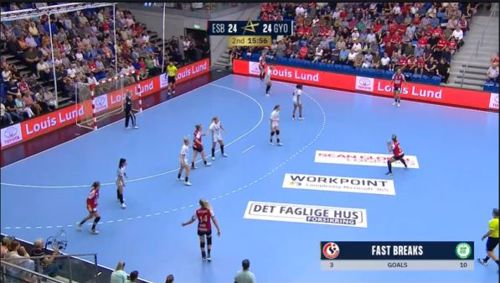 17:08
Bruna de Paula featured in the article about non-European players in the EHF Champions League that we mentioned earlier. The Brazilian centre back is starring for Metz again this afternoon...
17:04
Stine Oftedal creates a big gap for Ana Gros, who puts Györ in front for the first time in the second half, 20:19.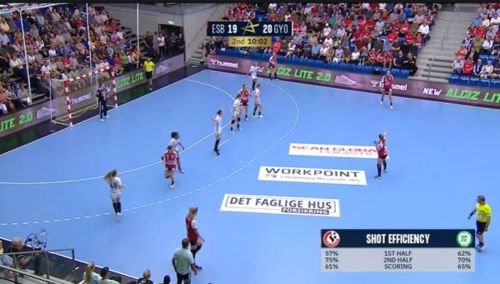 16:55
Sandra Toft stops a Mørk penalty for the first time this afternoon. But with the ball going over the sideline and Breistøl scoring with a breakthrough effort on the next attack, Györ ultimately were not rewarded.  
At first we were very excited that we can play in the Champions League again. The wait was long and all the players couldn't wait for the first match. Of course, we are happy that we won over Most. For them it could look tough, but they have a young team and these matches are very important for their future development.
16:47
In our two other matches that have reached the halfway mark, Metz are in firm control against newcomers Storhamar, while Krim lead in Romania against CSM Bucuresti. 
16:43
After 30 minutes in Denmark, Esbjerg and Györ cannot be separated. The Hungarian side utilised their counter attack ability in the first 20 minutes, but Esbjerg remained calm and took the lead shortly before half-time when Michala Møller scored.
If Esbjerg's goalkeepers can improve their save efficiency in the second half, the Danish side might be able to start the season with a significant home win.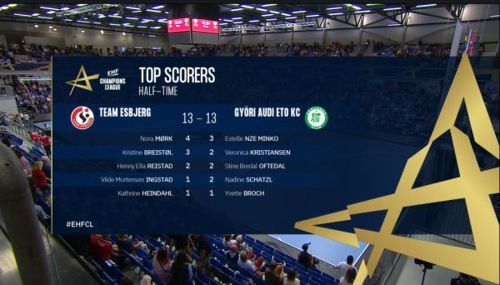 16:35
In a match filled with star right backs, Györ's Eun Hee Ryu started a 3:0 run that gave them a 10:7 lead. Esbjerg have fought back and are level at 13:13 as half-time approaches.
16:27
Nora Mørk watch: the Norwegian right back is three from three from the seven-metre line. However, she has missed her first two shots from open play.
16:25
Perhaps unsurprisingly, Györ's clear intent is to move the ball quickly in attack and reduce the number of attacks they will have against a set Esbjerg defence.  
16:18
A couple of minutes ago, Estelle Nze Minko missed an attempted steal for Györ, allowing Kristine Breistøl to take possession and fire home from nine metres, but the French back was in position to score an empty net goal off the resulting throw-off.
Nze Minko has just scored a fast break goal to restore a two-goal lead for Györ, 9:7.
16:12
From the seven-metre line, Nora Mørk has scored with her first two shots for Esbjerg in the EHF Champions League. However, the Danish side trail 5:4 after 10 minutes, but neither side has enjoyed a clear advantage yet. 
16:00
The feature match of this afternoon's action is about to begin in Denmark!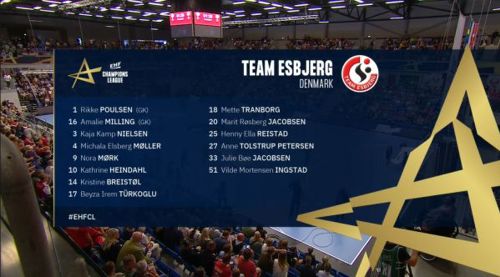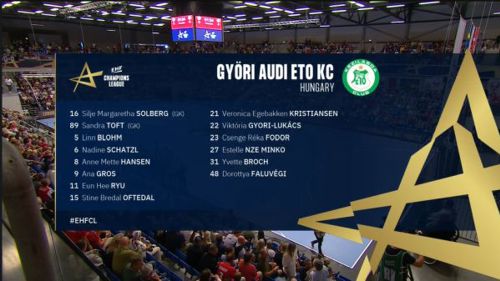 15:45
The fast breaks for Bietigheim didn't just come at an astonishing rate – they also featured some impressive finishes. Even when the match was in safe keeping, Veronika Mala added to Bietigheim's haul.
15:35
Bietigheim take a 23-goal win over Most in our first game of the afternoon. As we said during the match, Bietigheim's fast breaks made the difference. Czech left wing Veronika Mala finished as the top scorer for the away side, with eight goals.
The German side's win is the second biggest away win in the history of the EHF Champions League Women.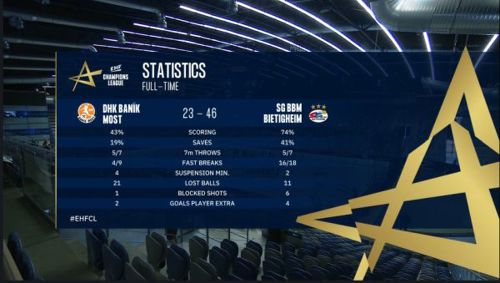 15:18
As Bietigheim have sailed past 35 goals, they have broken their record for most goals in an EHF Champions League match. It is highly likely that they will also break the record for their biggest Champions League win, which stands at 11 goals – vs FTC in November 2020.  
15:12
After more six minutes without her side scoring, Most left back Tatiana Sutranova has opened her account in the EHF Champions League with a long-range shot.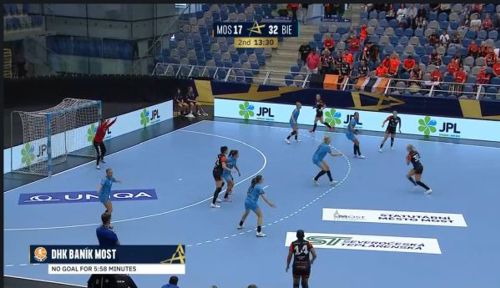 15:03
Before round 1 of the EHF Champions League started, we featured four non-European players to keep an eye on this season. 
Gabriela Moreschi, Bietigheim's Brazilian goalkeeper, might be another player from outside Europe who can make an impact if she can continue making saves like this. 
14:55
As per the EHFTV statistics, Most goalkepeer Dominika Müllnerová made three saves in the first half. Dutch goalkeeper Ellen Janssen replaced Müllnerová during the first half, but she did not stop any of the six shots she faced. Of course, when the goalkeepers are often facing high-quality chances, such as fast breaks and penalties, the toughest job in handball becomes even tougher.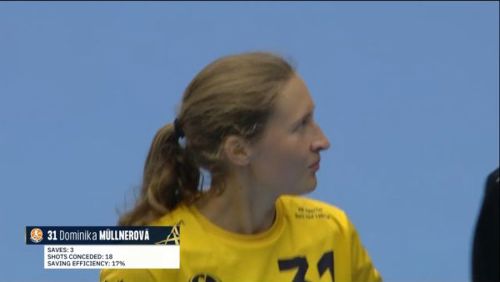 14:46
Bietigheim have taken a commanding 23:12 lead against Most after the first half in the Rocknet Arena. With a flurry of successful counter attacks in the opening quarter, Bietigheim established a nine-goal lead when Xenia Smits scored her second goal of the game.
Interestingly, while the Czech side are trailing on the scoreboard, it is Czech left wing Veronika Mala who has done the most damage for Bietigheim – scoring five goals from five shots. 
14:26
Fast breaks are the theme of Bietigheim's dominance so far – and Trine Østergaard has scored a historic one for the German club!
1⃣0⃣0⃣0⃣! Trine Jensen Østergaard concludes a lethal fast-break and scores the 1000th goal of @sgbbm in #ehfcl ✨ pic.twitter.com/4m5dyQpRt1

— EHF Champions League (@ehfcl) September 11, 2022
14:13
Bietigheim's speed on fast breaks is already evident. Through Trine Østergaard and Xenia Smits, the German side have capitalised on mistakes in attack from Most in the opening 10 minutes. As Most call their first timeout, Bietigheim lead 9:3.
14:02
With the introduction of the teams to the crowd complete, we are ready for the throw-off in the Czech Republic.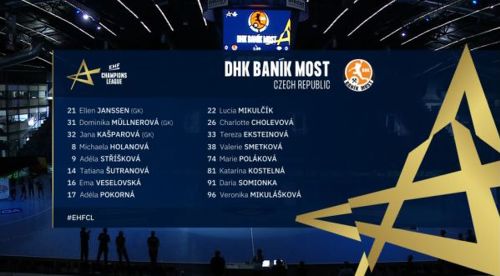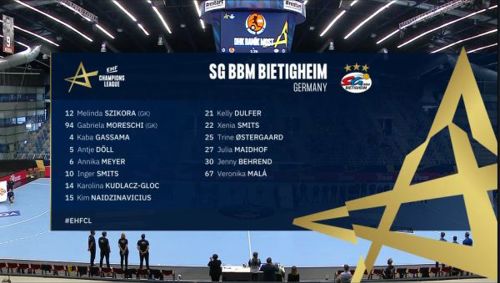 13:50
The countdown to the throw-off between Most and Bietigheim is now under way on EHFTV and in the arena.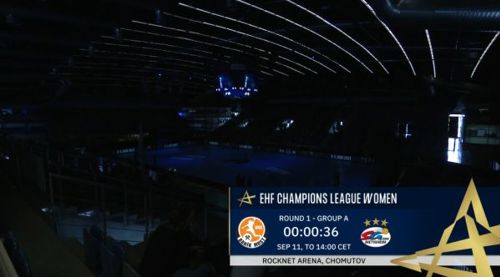 13:39
When Most captain Lucia Mikulcík spoke on Friday about their match against Bietigheim, she emphasised her belief that the Czech side are prepared for any physical test that may come their way this afternoon.   
"Bietigheim are very strong opponents, with a stunning run of matches without defeat, but we are ready to fight till the last second of the game. Generally, German handball is different from ours, but we know it very well. We prefer a fast game with a lot of running, rather than the strength and power they use in their league," said Lucia Mikulcík.
13:30
A reminder that you can watch this afternoon's matches on EHFTV (geo-blocking may apply) via our dedicated match links below. 
14:00 CEST: Most vs Bietigheim
16:00 CEST: Esbjerg vs Györ, CSM Bucuresti vs Krim and Metz vs Storhamar
13:25
While a host of Norwegian stars will feature in the match between Esbjerg and Györ, Norwegian club Storhamar Handball Elite will make club history at 16:00 CEST when they play their first match in the EHF Champions League. Facing Metz in France is definitely not an easy task, though, and Storhamar will probably look to build on the experience that they gain in this afternoon's match.
13:17
At 16:00 CEST, Team Esbjerg will face Györi Audi ETO KC in a repeat of their semi-final from the EHF FINAL4 Women 2022.
Kristine Breistøl scored five goals for Esbjerg when the teams met back in June, and she is not expecting any diminishment in Györ's ability this season. 
"Györ is one of the top-tier teams in the EHF Champions League Women. If one of their players is having a bad day, they can substitute her with another class player. That is why we have to focus on our own game and then see how far we can reach with that," said Esbjerg left back Kristine Breistøl.
13:00
Good afternoon and welcome to Sunday's coverage from round 1 of the EHF Champions League Women group phase.
On Saturday, Rapid Bucuresti secured their first victory in the competition, Vipers Kristiansand recorded their biggest Champions League win over Brest Bretagne, and Milena Raicevic scored 13 goals for Buducnost as her side beat Kastamonu. Yes, Raicevic's total increased from 12 to 13 when the official match report was released after verification, while Matea Pletikosic's tally fell from nine to eight.
In the first match this afternoon, DHK Banik Most will host SG BBM Bietigheim, who won the EHF European League Women as part of a perfect season in 2021/22. For the Czech side, returning to the EHF Champions League after three seasons away is special. Coach Adrian Struzik is hopeful that Most can showcase their skills and boost club handball in the Czech Republic.
"To be part of the EHF Champions League Women is great news and an opportunity for our team and the whole handball community in the Czech Republic. We want to play modern, fast handball. At club level, where else other than the Champions League can we see the best teams, players and handball in general?" said Adrian Struzik, DHK Banik Most head coach.

20:45
Also, all four match reviews are now online. You can find plenty of post-match reaction from players and coaches in our reviews.
On Sunday, the live blog returns with four more matches. Our coverage will begin at 13:00 CEST as we build-up to DHK Banik Most vs SG BBM Bietigheim, which begins an hour later, before three matches throw-off at 16:00 CEST. From the three games in the later timeslot, Team Esbjerg's clash with Györi Audi ETO KC will be the feature match. 
20:35
As the first day of the new EHF Champions League Women season draws to a close, enjoy the best photos from the games below. For Vipers Kristiansand, FTC, Rapid Bucuresti and Buducnost, Saturday was the perfect start to the 2022/23 season.



















20:01
Storhamar will get the chance on Sunday to win their first EHF Champions League match, but CS Rapid Bucuresti can celebrate a win as debutants in the competition tonight!
19:55
Confirmation that Markéta Jerábková received the Player of the Match award for her performance against Brest. With Katrine Lunde and Jana Knedlikova also having big games for Vipers, Jerábková had to shine this evening (which she did!)
19:51
From Markéta Jerábková's goals this evening, this is undoubtedly the most remarkable!
19:49
Debutants Rapid Bucuresti have made a winning start in group B with a four-goal victory over Lokomotiva Zagreb. Romanian players Alexandra Badea and Eliza Buceschi both scored six goals for Rapid Bucuresti, but Alexandra Lacrabere showed that she may be able to make a big contribution for the Romanian champions this season. 
19:39
Here is confirmation of Vipers Kristiansand's Match of the Week win from the EHFTV graphics.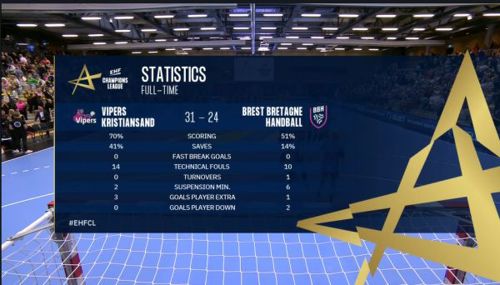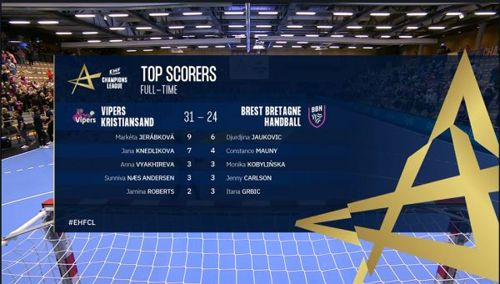 19:34
Vipers Kristiansand start the 2022/23 season with their seventh consecutive win in the EHF Champions League, beating Brest Bretagne 31:24 at the Aquarama Kristiansand in Norway. 
Falling short of Henny Ella Reistad's club record of 12 goals for Vipers in a match against Brest, Markéta Jerábková finished the game with nine goals from 15 shots. Ultimately, though, the Czech back's performance in the first half gave Vipers a cushion that they were not likely to lose.
19:18
With 49 minutes played, Katrine Lunde has made 13 saves from 33 shots faced. Her presence remains reassuring for Vipers, but it is just as intimidating for the opposition as ever.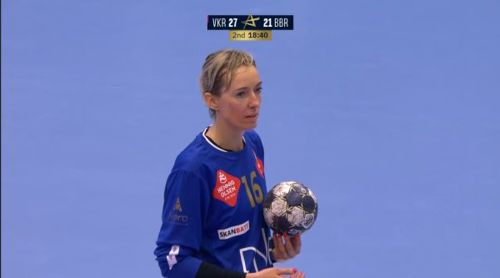 19:08
Anna Vyakhireva is having more of an impact as the game goes on. After setting up Jana Knedlikova's sixth goal of the game with footwork that drew the defence out, Vyakhireva's just scored an underarm spin goal to beat Darleux, who has returned in goal for Brest.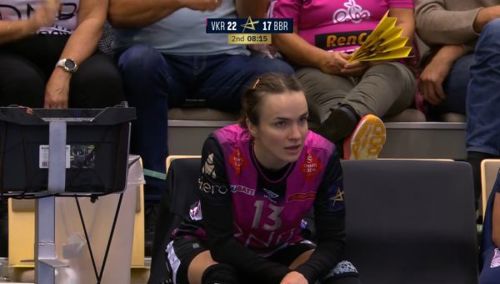 18:54
Markéta Jerábková finding the top corner isn't something that gets old!
18:52
The goal timeline from the first half between Vipers and Brest shows that the French side found it extremely difficult at both ends of the court in the second quarter.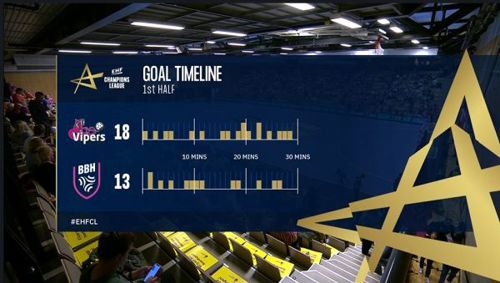 18:48
While a French side trails in the Match of the Week, Alexandra Lacrabere and Orlane Kanor have scored a combined total of seven goals for Rapid Bucuresti. The Romanian champions have a four-goal advantage after 30 minutes in Croatia against Lokomotiva Zagreb.
18:45
Anna Vyakhireva and Jamina Roberts have opened their accounts for Vipers Kristiansand in the EHF Champions League, but a familiar name has propelled the Norwegian club to a five-goal lead at the break in the Match of the Week: Markéta Jerábková. The Czech back has scored six goals from eight shots in the first half, but she has also controlled Vipers' attack when she hasn't been hitting the back of the net.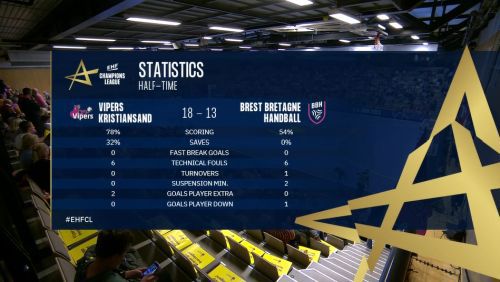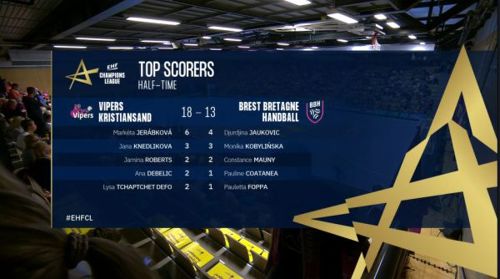 18:34
Jaukovic is back on court for Brest and has just scored a goal with a typically powerful effort from approximately nine metres.
18:27
Vipers, led by Markéta Jerábková, are utilising their efficiency in front of goal.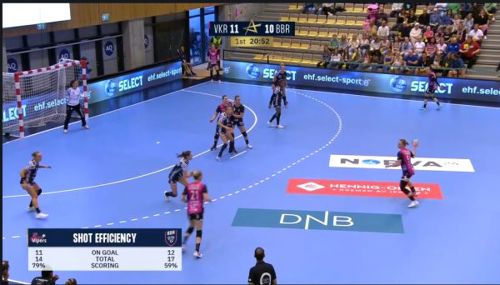 18:23
One moment of concern during the action so far is that Djurdjina Jaukovic left the court for Brest with what looked like an arm injury. We will keep you updated if there is any additional information or if she returns to the match. 
18:19
Anna Vyakhireva is the first of Vipers Kristiansand's three star signings to open her account against Brest. Vyakhireva races away to fire a sharp shot past Darleux, and Vipers have reduced the deficit to one goal, 8:7, after 16 minutes.
18:06
Of course, if you prefer to watch CS Rapid Bucuresti make debut in the EHF Champions League against HC Lokomotiva Zagreb, you can do so here: Lokomotiva Zagreb vs Rapid Bucuresti.
18:03
Match of the Week is live on EHFTV here: Vipers Kristiansand vs Brest Bretagne.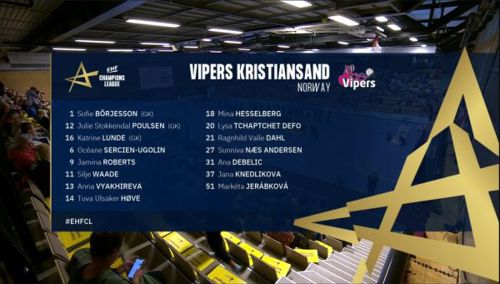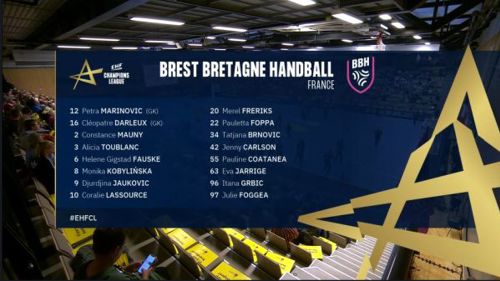 17:56
Odense's travelling group of fans remained supportive of their team until the end against FTC!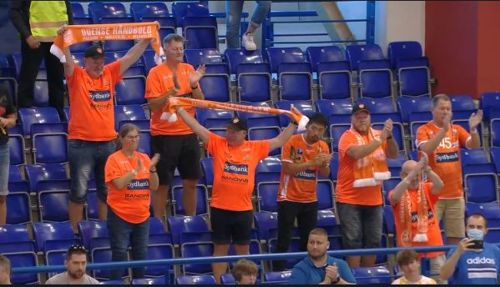 17:51
Brest Bretagne goalkeeper Cléopatre Darleux is sharpening her reflexes in the warm-up before her team faces Vipers Kristiansand in the Match of the Week.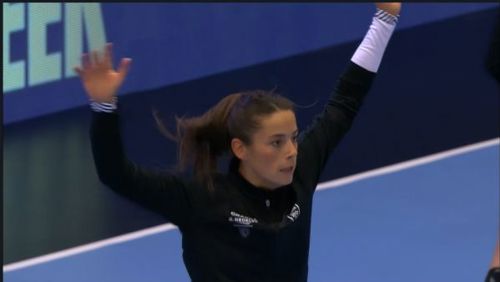 17:39
Milena Raicevic finished with 12 goals on her Champions League return for Buducnost, who have claimed a huge 13-goal win in Turkey against Kastamonu. Matea Pletikosic added nine goals for the Montenegrin side, while Katarina Jezic top-scored for Kastamonu with eight goals on her first match in the EHF Champions League for the Turkish club.
17:33
The statistics suggest there was not much between FTC and Odense, as the Hungarian side's scoring efficiency was only three per cent higher, but FTC have recorded a four-goal win in the first match of the season.
With Kinga Janurik matching the quality of Althea Reinhardt's performance and three of FTC's stars scoring seven times each, FTC have made a start that should please coach Gabor Elek.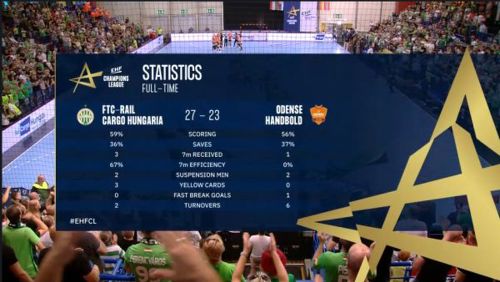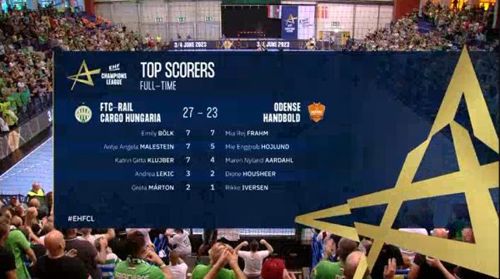 17:18
We probably shouldn't get carried away at this stage, but Milena Raicevic is currently the top scorer in the EHF Champions League Women 2022/23.
17:14
Everything is clicking in attack for FTC now as Emily Bölk sets up Katrin Kljuber to extend their lead to six goals, 26:20, with just under 10 minutes remaining.
17:11
FTC goalkeeper Kinga Janurik kicks away Ayaka Ikehara's effort from the right wing. More significantly, Janurik's save percentage is marginally above 40 per cent.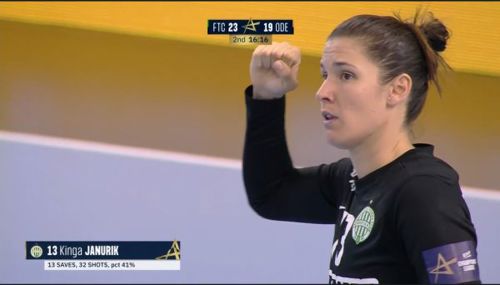 17:04
Angela Malestein, who has scored seven goals for FTC, misses an empty net chance that would have given the Hungarian side a six-goal lead.
17:00
Andrea Lekic breaks through the Odense defence to score her second goal and give FTC an 18:15 lead after 37 minutes. Ulrik Kirkely promptly calls a timeout for Odense – but the Danish side are chasing the scoreboard once again.
16:51
In case you missed Nóemi Háfra's first goal in the EHF Champions League for Odense, here it is. Háfra is currently on loan at Odense from Győri Audi ETO KC.
16:47
There is only one name that needs to be mentioned after the first half in Turkey: Milena Raicevic. In her first EHF Champions League game back at Buducnost, Raicevic has scored 10 goals from 13 shots against her former club. Kastamonu's wait for a first win in the competition appears as though it will continue.
16:42 
After FTC opened a four-goal lead on four occasions in the first half, Odense responded with a 5:0 run to take an 11:10 lead. Although Odense's scoring efficiency has not been particularly high, Althea Reinhardt's saves have ensured that they remain in the contest and are level at the break.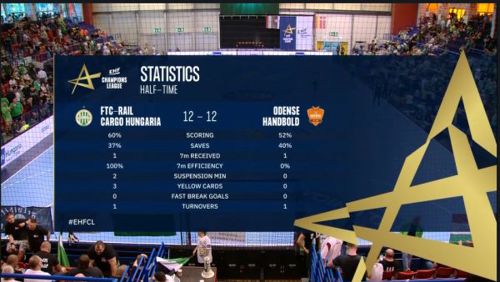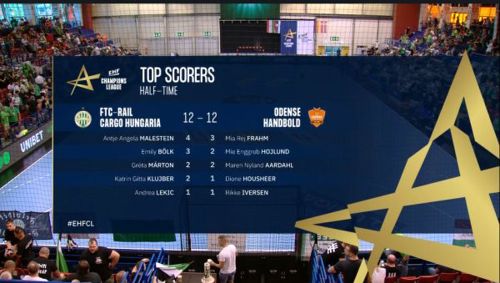 16:30
Odense's Nóemi Háfra punches the air after scoring her first goal of the afternoon against her former club. The Danish side have reduced FTC's lead to one goal with half-time approaching.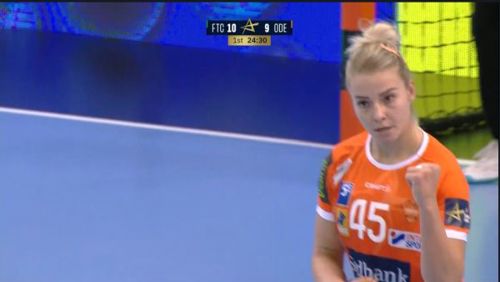 16:20
One Odense player who has made a good start to the game is goalkeeper Althea Reinhardt. Reinhardt has made five saves from 14 shots faced. If her teammates can improve their scoring efficiency at the other end of the court, Reinhardt's early saves that have kept the deficit down may prove valuable.
16:15
FTC lead 8:4 after 13 minutes against Odense. Emily Bölk scored the first goal of the EHF Champions League season, and the German back has added two more goals to lead FTC's scorers so far.
16:00
In the pre-match ceremony, Angela Malestein received her medal for making the All-star Team as the right wing in last season's EHF Champions League Women.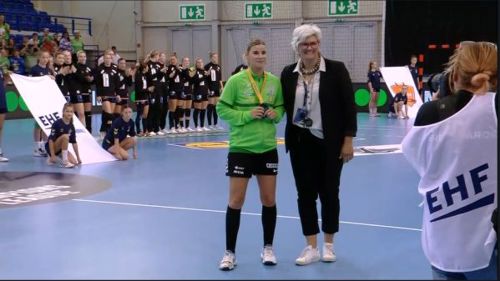 15:52
The countdown to the throw-off between FTC and Odense is now under way on EHFTV.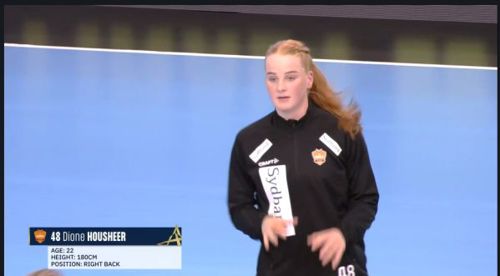 15:36
At 18:00 CEST, defending champions Vipers Kristiansand will face Brest Bretagne in this season's first Match of the Week.
The Norwegian side have some high-profile newcomers in their squad, including right back Anna Vyakhireva, who has discussed her return to top-level handball in an interview with EHF journalist Adrian Costeiu.
15:25
Before the match between FTC and Odense, both coaches shared their thoughts on Thursday about the round 1 encounter. FTC's Gabor Elek is aware of Odense's good start to the domestic season in Denmark, while Odense's Ulrik Kirkely is focused on the Hungarian side's new signings for this season.
"We had some problems during our preparations, and we are not yet in our best form, but I hope we can start the Champions League well. I am expecting a hard-fought match against Odense. They have a good team with talented players, and they won their first three games in the Danish league, so they seem to be in good form," said FTC head coach Gabor Elek.
"One of the toughest away arenas awaits when we go to Budapest to meet FTC. Like in previous seasons, FTC is a strong team that has signed strong new players. For this season, they have (Dragana) Cvijic and (Andrea) Lekic from Serbia, and they also signed (Zsuzsanna) Tomori, who joins the team from Vipers. Our defence must be at its highest level, and we have to play with smartness and make few mistakes in attack," said Odense head coach Ulrik Kirkely.
15:10
The wait for the new EHF Champions League season is over! Well, almost over, as we have just under an hour until the first two matches of the 2022/23 season throw-off. 
Based on last season's group phase standings, the two matches at 16:00 CEST feature teams that may well be closely matched at the start of this season. 
Watch live on EHFTV at 16:00 CEST
FTC-Rail Cargo Hungaria vs Odense Håndbold
Kastamonu Belediyesi GSK vs WHC Buducnost BEMAX  
While FTC finished third in group A, Odense ended their group B campaign in fifth place – but both teams lost in the play-offs.
Kastamonu are still searching for their first win in the EHF Champions League, but they came relatively close on three occasions at home last season. Buducnost won their final two group phase matches last season, and they will want to begin this season in better form than they did in 2021/22.
For the full look at this weekend's matches, check out our round 1 preview below.