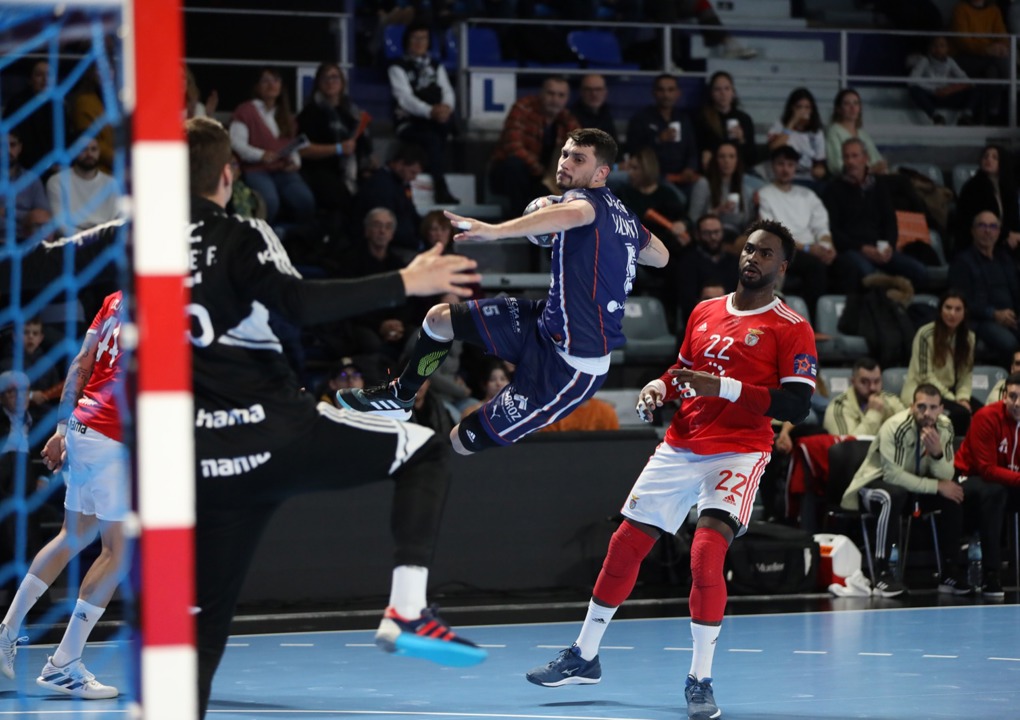 SUMMARY: Montpellier and Berlin first to book tickets to the Last 16
The EHF European League Men group phase had its final round before the eight-week break for the festive period and the 2023 IHF World Championship, with 12 matches across the four groups on Tuesday.
round 6 of the EHF European League Men 2022/23 group phase
Füchse Berlin make it six wins from six to be the first side to book a spot in the Last 16, soon followed by Montpellier after beating Benfica
Balatonfured, Presov and Motor claim first wins of the group phase
all matches streamed live on EHFTV (geo-restrictions may apply)
check out the standings in the four groups
Tuesday 13 December 2022












22:38
Another enthralling day at the office in the European League. That's it for 2022 as we go into the winter break and there is all to play for when we return with 14 of the Last 16 spots still up for grabs. Goodnight!
22:20
While Berlin and Montpellier kept their perfect records in tact, there was no such joy for Nexe, who lost to Granollers and must wait to book their place in the Last 16. It's looking really tasty in Group C as Granollers and Sporting are now just two points behind the Croatian side at the top.
22:11 | RESULTS
Sporting CP 27:23 Skjern Handbold
Valur 29:32 Ystads IF HF
HC Eurofarm Pelister 29:29 Bidasoa Irun
SG Flensburg-Handewitt 42:30 FTC
Fraikin BM. Granollers 25:22 RK Nexe
Montpellier HB 33:37 SL Benfica
Ystad react again and step up a gear to secure a hard-fought and very entertaining victory to go second in Group B.
Montpellier make it six wins from six with what turned out to be a comfortable win over the reigning champions. That gives them a spot in the Last 16, next for them is securing top spot in Group B.
22:02
Valur have a second wind and are coming back strong against Ystad. A few key Björgvin Pall Gustavsson saves and Óskarsson's 11 goals have led to a comeback - Ystad lead 27:26 with 8 minutes remaining.
21:55
Montpellier are really proving themselves as title contenders, en route to doing the double over champions Benfica and a spot in the Last 16 with four games to spare - 23:18 they lead with 17 minutes remaining.
21:47
How Valur would love to see more moments like this in the second half. Ystad are increasing the pressure and building a lead - two goals in a row by Kim Andersson gives the Swedish side a 23:18 lead after 41 minutes.
Tjörvi Týr Gíslason received a direct red for a rogue hand to the face, depriving Valur of a key defender for the rest of this contest.
21:38
Valur and Ystad pick up where they left off in the first half, going at this hammer and tongs. What impresses me about this high-tempo, high-scoring contest is that the goalkeepers are producing the goods as well - Valur's Gustavsson on 35% and Ystad's Kraft on 39%!
17:17 after four minutes of the second half.
21:23 | HALF-TIME
Exhibition-style handball at the end of the half in Reykjavik as Stiven Valencia scores a full-court in-flight to draw Valur level before living legend Kim Andersson lines up a buzzer-beater from about 12 metres out to give Ystad a 16:15 lead at the break.
Sporting CP 13:13 Skjern Handbold
Valur 15:16 Ystads IF HF
HC Eurofarm Pelister 17:16 Bidasoa Irun
SG Flensburg-Handewitt 23:15 FTC
Fraikin BM. Granollers 14:11 RK Nexe
Montpellier HB 16:12 SL Benfica
21:15
With severe weather in Lisbon, no fans are in the arena for Sporting vs Skjern but I'm certain they are enjoying the game at home. The Costa brothers are always worth a watch and Skjern are well-matched so far today - 12:11 to the Sporting after 25 minutes.
21:07
Óskarsson is not the only leftie impressing so far tonight, Valentin Porte leads Montpellier's scoring as they hold a narrow lead over reigning champions Benfica in another game worth keeping an eye on.
21:00
With the speed these teams are playing at, there are bound to be some steals and mistakes and that is what we're seeing. Valur's Arnór Snær Óskarsson is making the most of the chaos and has helped himself to 5 goals as his side lead 9:8.
20:52
A brisk start to this Nordic contest. Valur and Ystad are not wasting any time in attack and have already shared 10 goals between them in the opening 7 minutes.
20:43
Victory for Benidorm today means that Group B is looking mighty tight with just three points separating 2nd to 6th place. With that in mind, we'll focus on Valur vs Ystads IF HF at first and see where the action takes us.
20:31
Veszprém's victory over Presov is not just good news for them, their first win of the season, but it also opens the door for Montpellier to secure their spot in the knockout rounds with a win tonight.
Here is what we have coming up at 20:45 CET:
Sporting CP vs Skjern Handbold
Valur vs Ystads IF HF
HC Eurofarm Pelister vs Bidasoa Irun
SG Flensburg-Handewitt vs FTC
Fraikin BM. Granollers vs RK Nexe
Montpellier HB vs SL Benfica
20:21 | RESULTS
Kadetten Schaffhausen 30:35 Frisch Auf Göppingen
Skanderborg-Aarhus 28:29 Füchse Berlin
TATRAN Presov 22:20 Fejer B.A.L-Veszprem
TM Benidorm 33:32 PAUC Handball
HC Motor 30:24 Aguas Santas Milaneza
Heartbreak for Skanderborg as they fall just short against Berlin, missing a chance to take the lead before
seeing Mathias Gidsel score the winner. Morten Jensen produces a ridiculously good free throw after the buzzer to rattle the post but it stays out and Berlin secure their place in the Last 16 with a sixth straight win.
20:11
It is getting tense in Denmark. Berlin looked home and dry at one stage but Skanderborg-Aarhus are in no mood for rolling over and have drawn level - 28:28 with 3 minutes remaining.
20:05
There haven't been many saves in this game but that makes this double stop all the better. Göppingen 29:27 up with 10 minutes left on the clock.
20:00
A far cry from their slow start to the game, Benidorm are on the charge against PAUC, led by Iker Serrano's perfect 8 from 8 on the line, to lead 29:28!
19:50
In a crucial game at the top of Group A, Schaffhausen and Göppingen are treating us to some quality action. The German side has just gone 24:22 up in a game where attack is well on top. If one defence or goalkeeper can find a rhythm, it could turn the match on its head.
19:44
As you might expect, Berlin have come out much stronger in the second half and have their hosts under the cosh a little, opening up a 21:19 lead.
19:31
Skanderborg-Aarhus were given a spot in the power rankings and it's easy to see why with their performance so far tonight. They are pushing Berlin hard again this week and in a packed home arena, anything is possible.
19:23 | HALF-TIME
Kadetten Schaffhausen 17:17 Frisch Auf Göppingen
Skanderborg-Aarhus 16:15 Füchse Berlin
TATRAN Presov 12:11 Fejer B.A.L-Veszprem
TM Benidorm 17:18 PAUC Handball
HC Motor 13:8 Aguas Santas Milaneza
We wondered whether things would even out by half-time and that is exactly what has happened with no more than a goal between the sides in four of our matches.
The exception is HC Motor, who have six goals from Ihor Turchenko to thank for a comfortable lead at the break!
19:15
Igor Chupryna up to his old highlight reel tricks. If he keeps this up, Presov may well score their first win of the group. 
19:10
Mathias Gidsel returned to the court on Sunday for Berlin and he is on court now in Denmark, much to everyone's delight. He scores his first of the day with a classic breakthrough but his team has a lot more work to do - they trail Skanderborg-Aarhus 14:10 with 9 minutes left in the first half.
19:02
In Düsseldorf, HC Motor are in search of their first win of the season and off to a bright start, leading Aguas Santas Milaneza 7:3. In fact, we're seeing a number of 3 or 4 goal leads across the board here, curious for the first 15 minutes of the game, perhaps things will even out by half-time.
18:54
Among the most interesting clashes in this batch are Schaffhausen vs Göppingen, where Kevin Gulliksen has scored 3 early goals to give the German side a slight lead, and Skanderborg-Aarhus vs Füchse Berlin, where the Danish side has a surprise 6:3 advantage.
18:40
No rest for the wicked. No sooner has that game finished do we turn our attention to five more starting at 18:45 CET!
Kadetten Schaffhausen vs Frisch Auf Göppingen
Skanderborg-Aarhus vs Füchse Berlin
TATRAN Presov vs Fejer B.A.L-Veszprem
TM Benidorm vs PAUC Handball
HC Motor vs Aguas Santas Milaneza
18:35 | RESULT - Balatonfüredi KSE 27:26 Alpla HC Hard
What a conclusion and the lead swings back to Hard and back again to Balatonfüred in the final minutes. Milan Gostovic fires home a penalty to give the home side a 27:26 lead. Hard have one last chance to snatch a point but the ball slips through the hands of Nico Schnabl and the Hungarian side claim their first win of the group!
18:28
Balatonfüred with their noses in front again but a man down for the next two minutes. 25:24 and just three minutes remain.
18:21
Golub Doknic with a crucial save and goal into an empty net to end Hard's baron spell. 22:22 with 10 minutes left in a game where both sides need a victory.
18:17
Mihaly Tóth is quickly becoming the hero of the night for Balatonfüred has his 35% save rate has driven the home side to a 22:21 lead. Life becomes suddenly very difficult for Hard as they go 5 minutes without a goal.
18:13
Some news in connection to one of our late matches tonight:
Due to severe weather conditions in Lisbon, authorities have ordered the match Sporting CP vs Skjern Handbold to be played without spectators for safety reasons.
18:10
Just as Balatonfüred looked set to draw level again, a setback as Janos Denes gets himself a straight red card for a late challenge on Schnabl.
The home side are still just a goal behind with 15 minutes left to play, plenty of time for things to sway.
18:00
Nico Schnabl having a day to remember as he fires in his ninth goal of the day for a 19:16 lead. Balatonfüred with a more varied approach to keep themselves within reach but it's not getting any easier for them.
17:49
As we await the start of the second half, it's a good time to check out Adrian Costeiu's power rankings, now that we are embarking on the second half of the group phase. The top of the pile is much as you'd expect but we have a nice bit of variety as well. Take a look below.
17:38 | HALF-TIME
A scorcher from 11 metres out by Nico Schnabl beats the home side's keeper and beats the buzzer to give Hard a 15:13 lead at the break.
Schnabl leads the scoring with six goals this afternoon and he, combined with Doknic in goal, has made the difference so far!
17:29
Golub Doknic and his defence have really shut up shop here - a 44% save rate has laid the foundation for Hard to take control and lead 12:9 with just five minutes left in the half, a huge boost if they can hold onto this at the break.
17:19
A four-goal run inspired by Nico Schnabl has truly brought Alpla Hard into the contest now. They lead 9:8 and the onus is suddenly on the home side to come up with a response as we pass the halfway mark in the first half.
17:09
Balatonfüred have come out of the gates strong here. Confident start by Bendegúz Bóka, who was just named in the Hungary squad for the World Championship, scoring three early goals and his side lead 5:3.
16:53
We have a soft launch today with one match at 17:00 CET - Balatonfüredi KSE vs Alpla HC Hard.
These teams scored their first point of the group phase with a 30:30 draw last week. Both feel they need a victory today to stand any chance of making it through to the Last 16, so we can expect an intense encounter.
16:42
Füchse are another team that could put their name on the list of confirmed Last 16 participants tonight. Last week, they handed Skanderborg-Aarhus their first defeat, and both teams meet again for the reverse fixture in Denmark tonight (live on EHFTV at 18:45 CET).
However, fair to say Füchse have not had a flying start to this round 6 encounter: some delays on Monday forced them to take the bus instead of the plane to Denmark... 
16:31
Nexe are also on the brink of entering the Last 16, though the Croatian side are on a tricky trip to Granollers tonight (live on EHFTV at 20:45 CET). The Spanish side started the group phase with three straight wins, but must now be careful not to suffer a third straight defeat.
Pol Valera has been one of the standout players for Granollers so far, and EHF journalist Tiago Nogueira spoke with the centre back annex top scorer for this feature: "In Granollers, handball is very important and has a great tradition. And as handball is a minority sport in our country, it is very rewarding for those who love this sport to find girls and boys playing handball in the streets wearing our club's jersey."

16:22
Montpellier are one of the teams that can book their Last 16 ticket tonight, but they will have to overcome the resistance of defending champions Benfica once again. Last week, Montpellier left Portugal with a two-goal win, and Benfica will be on fire to get more out of this contest when the teams meet again in France at 20:45 CET.
Definitely one of the outstanding matches live on EHFTV tonight!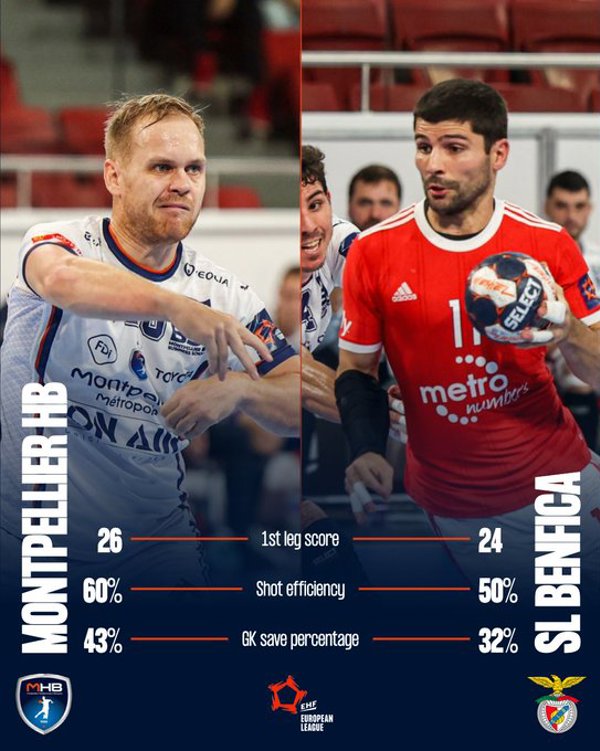 16:13
As usual, we start with our round preview, focusing on the three teams can already lock up a place in the top four of their respective group and thus earn a ticket for the knockout phase. This applies to unbeaten group leaders Montpellier, Nexe, and Füchse.
But round 6 includes much more to look forward to:
16:00
Good afternoon! Welcome to the live blog for round 6 of the group phase – the final round before the EHF European League Men heads into an eight-week winter break for the festive period and the 2023 IHF World Championship in Poland and Sweden in January.
Here is the full schedule for tonight: