Summary: Build up to the EHF FINAL4 Women 2022
The EHF FINAL4 Women 2022 is nearly upon us, and as the teams arrive in Budapest we'll be bringing you all the news and previews ahead of this weekend's action
action throws off at 15:15 CEST on Saturday as Györi Audi ETO KC play Team Esbjerg
the second semi-final at 18:00 CEST pitches Metz Handball against reigning champions Vipers Kristiansand
read the semi-final preview here
21:00
That's all from us for tonight. We'll be back tomorrow morning with a fresh blog to bring you the final hours of build-up, followed by extensive coverage of both of the EHF FINAL4 semi-finals. Until then, happy handball dreams.
20:45
It's nearly time to wrap up today's coverage, but you really can't miss this bit of fun from Vipers' Nerea Pena, Raghnild Dahl and Evelina Eriksson. Enjoy! 
20:10
The teams have all been formally welcomed to Budapest in front of the MVM Dome and their fans - check out the sea of yellow behind Metz in this photo. 

19:48
Handball anime, anyone? Enjoy our take on what it might look like.













18:55
The MVM Dome in Budapest is an amazing arena, and it's pretty much brand new - having only hosted the Men's EHF EURO 2022 back in January. More history will be made there this weekend, and the players are excited about appearing in such a huge space and one of the biggest audiences ever for women's club handball.
EHF journalist Adrian Costeiu has rounded up how the teams are feeling on the eve of the semi-finals.
18:25
The opening party and team presentations are starting at the MVM Dome - keep an eye on Instagram for updates and exclusive video.
17:15
While the other teams have all been here before, it's the first trip to Budapest for Team Esbjerg. And although they themselves acknowledge that their semi-final opponents Györ might be favourites, and they have travelled with the smallest squad of the four finalists, only a fool would rule the Danish club out. 
Before this weekend, we caught up with goalkeeper Dinah Eckerle, and last year's MVP Henny Reistad, to find out more about Esbjerg's ambitions for the EHF FINAL4.
16:30
The weekend will culminate not just in the awarding of the EHF Champions League trophy, but also in the award for MVP of the tournament.
Three of the last five winners have been goalkeepers, and two have been from Györ, but who will follow Jelena Grubisic, Nycke Groot, Amandine Leynaud, Kari Grimsbø and Henny Reistad in taking home the top individual award? Have your say in our social media channels. 
15:45
The teams have been doing their last training sessions before tomorrow's games - in the hotel, and on the training courts.


15:30
Tune in live to Twitch now for the (Un)informed Handball Hour's preview show - they're talking to Vipers' Nerea Pena.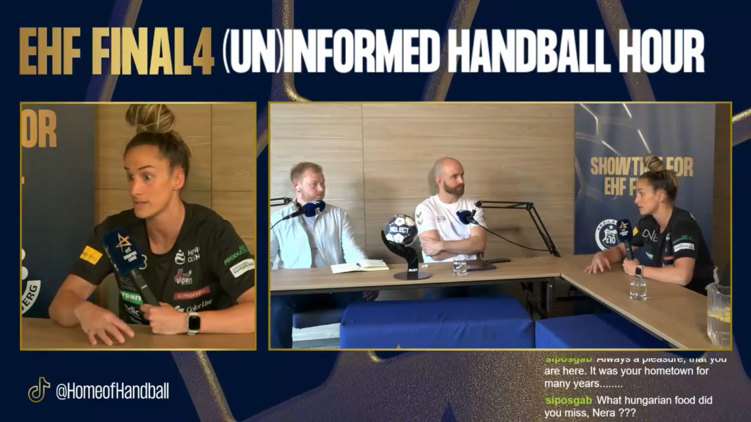 15:25
Did you know that 23 former EHF Champions League Women champions will take to the court in Budapest this weekend? 
EHF journalist Björn Pazen has done some stat-bashing to look at the players with multiple titles, which is headlined this weekend by Vipers' Katrine Lunde and Nora Mørk. Alongside Heidi Løke, both won their fifth Champions League titles last year, and could tie the record for the most trophies if Vipers win again on Sunday. (Løke is not named in the Vipers squad).
Have a look at the full list of multiple winners in our story.
14:15
The media calls and lunch are over, and the teams have some time for training before tonight's team presentations and opening party at the MVM Dome. 
You can find all the quotes from the media calls here. 
























It is an amazing feeling to be here once again and we are ready to play. We will see in two days if we did enough to win the trophy, only handball will decide the level which we are able to play at.
"All the four teams here are very strong so there are no underdogs. We will give 100 per cent and we will fight until the end both days and we hope that on Sunday we can lift the trophy."
We know that winning twice against an opponent means nothing, that each match has its own history and its own truth.
It's the hugest thing that the club has been a part of. We've been working like this and taking one step at a time, and we were hoping that we'd be here during some more years, and now already we are here this year.
11:25
Some of the teams had especially special arrivals to the hotel yesterday. Györ fans deployed some green smoke, while Metz found their floor decorated in their colours of blue and yellow.

11:10
The All-star Team is here! Check out the full list in our story. It's a seventh appearance for the one and only Cristina Neagu, while Stine Oftedal picks up her fourth straight All-star Team place as best centre back of the tournament. 
10:53
Here's the final gallery from yesterday's arrivals, of Metz in some cheerful red t-shirts. It's a triumphant return for Metz after 2019, and they can be optimistic about their chances tomorrow after beating Vipers twice in this season's group phase.











10:30
We can't wait to see thousands of handball fans flock to the MVM Dome tomorrow, but we know that not everyone will be able to make it. So we've put together a handy guide on how to follow the tournament, wherever in the world you might be. 
Broadcasters in countries across the globe will be showing the matches, but if you don't live in one of them, you can access the livestream on EHFTV. There's also the liveticker, social media and of course the blog, but if you're reading this you know about that last one!
10:00
It's a gorgeous sunny day in Budapest and in just an hour's time the teams will talk to the media before beginning their final preparations for the EHF FINAL4 Women 2022. We'll be bringing you live coverage of the media calls on Twitch - don't miss that show at 11:00 CEST.
The All-star Team is also set to be announced this morning. 
Yesterday Györ were the third team to arrive, the record champions looking pleased to be in Budapest once again.









THURSDAY 2 JUNE
19:00
We'll share photos of Metz and Györ's arrival here at the hotel tomorrow - in the meantime, here's Györ setting off on their short trip to the Hungarian capital.
The blog will be up and running again from 10:00 CEST with plenty of coverage of D-1 before the EHF FINAL4 Women 2022. 

18:30
This isn't Metz's first appearance at the EHF FINAL4 - but captain Meline Nocandy says she's more excited now than she was back in 2019, when the French side visited Budapest for the first time. 
Nocandy is moving on from Metz this summer and in our interview she talks about how she wants to end an already fantastic season on a high. 
17:30
Metz are on their way to Budapest!

16:40
Vipers Kristiansand have lots of big names on their roster, but among two of the biggest are Swedish star Isabelle Gulldén and legendary Norwegian goalkeeper Katrine Lunde. 
Gulldén is set to play her last EHF FINAL4 this year in Budapest, while Lunde thinks she has more years in her. We've profiled both players ahead of the final weekend - don't miss these features of two incredible women.
16:10
The second team to arrive were reigning champions Vipers Kristiansand, looking relaxed and chilled in the Budapest sun. Here are some shots of their arrival a little while ago.








15:58
It's the important questions which matter, right? That's why we caught up with Nerea Pena, Csenge Fodor and Hatadou Sako to find out their answers to the key things in life, like their dream jobs, the languages they speak and their favourite days of the week. Enjoy!

15:20
Wishing you could be in Budapest for the weekend's fun? There are still a few tickets left, so if you find you have a free weekend why not come and join us here? Click here to buy!

14:50
We've already published a wealth of features and news on the EHF FINAL4 ahead of this weekend, and in the blog over today and tomorrow we'll highlight some of those pieces.
First up, it's Julian Rux's analysis of the stats of the season. Rux has identified that Györ have the best attack and defence of all the teams in this year's EHF Champions League Women, surely putting them in a strong position ahead of the finals. 
Rux also looks at the other teams left in the running, picking out their key statistics - or, in Vipers' case, lack of key statistics. Read on for more!
14:15
Welcome to Budapest!
On the banks of the Danube, four of the world's best handball teams are arriving to contest the most coveted club trophy - the EHF FINAL4 Women. Will Györi Audi ETO KC make it a sixth title? Can Vipers Kristiansand win their second in a row? Are Metz Handball likely to be challengers? Or will Team Esbjerg produce a perfect EHF FINAL4 debut?
All these questions will be answered over the weekend, with Saturday's semi-finals followed by the climax of the European women's club season on Sunday evening. 
Esbjerg were the first team to arrive a little earlier on, closely followed by Vipers, and things are shaping up for a superb weekend.