11 nations represented in 28-team field for ebt Finals 2023
The 14 men's and 14 women's teams battling it out for the trophies at the ebt Finals 2023 on 8-11 June in Antalya have been confirmed. A total of 11 nations will be represented on the sandy courts in Türkiye, with Hungary, Portugal, and Spain competing with four teams each.
The final event of the European Beach Handball Tour 2021/2022 is again a promising four-day treat for all fans. A total of 28 teams, evenly divided between the men's and women's competitions, will have their eyes on the coveted trophies.
In the men's event, last year's runners-up GRD Leça, who lost the final to fellow Portuguese side LX50 Handball, will try to go one step higher this time, while third-placed Fomento Deporte CBMP Ciudad de Málaga from Spain hope to make it to the final this time.
The complete women's podium from last year's ebt Finals is back, with The Danish Beachhandball Dream going for a successful title defence. The team they beat in the 2022 final, Portuguese side GRD Leça, are also in the mix again, as are Team Almeira from Spain after they finished third a year ago.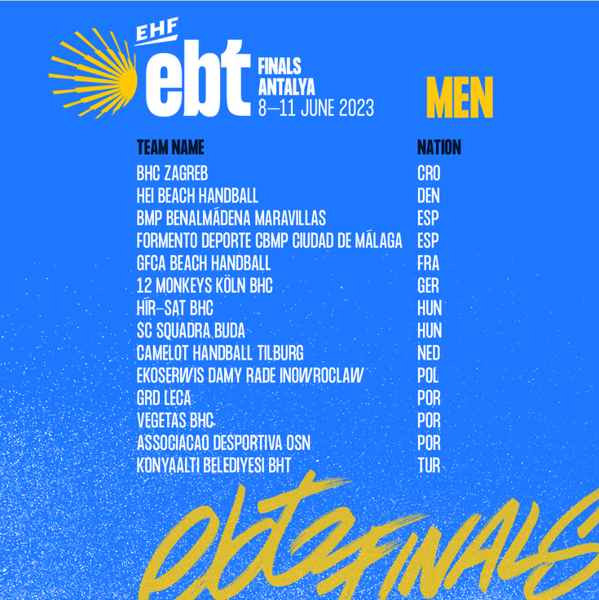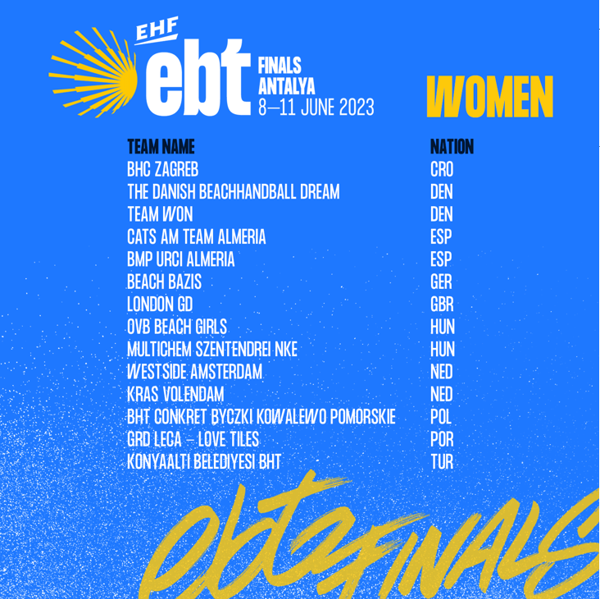 ebt Finals 2023 on 8-11 June in Antalya, Türkiye:
4 teams – Hungary, Portugal, Spain
3 teams – Denmark, Netherlands
2 teams – Croatia, Germany, Poland, Türkiye
1 team – France, Great Britain