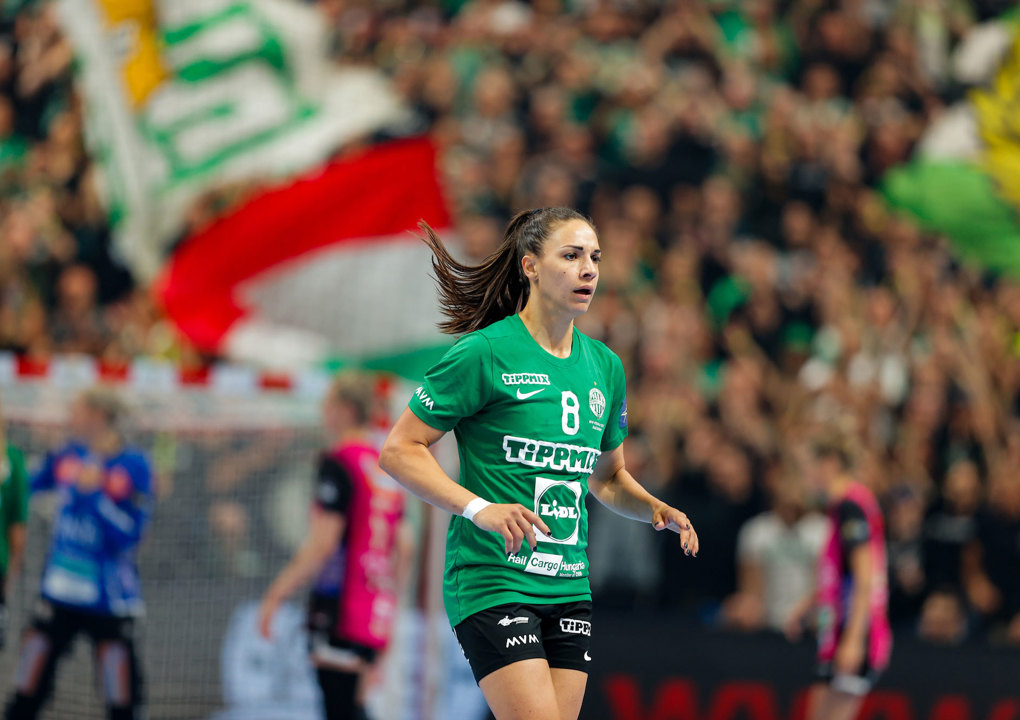 Szucsánszki says goodbye in record-setting environment
When Zita Szucsánszki first signed for FTC-Rail Cargo Hungaria in 2005, from Budapest club Kőbánya-Spartacus, few would have thought that she would become the team captain and synonymous with the club's most successful era.
However, Szucsánszki's excellent skillset – outstanding vision on the court and an excellent shooting arm – became crucial for the Hungarian side. FTC secured nine trophies with the centre back in the roster, including the Cup Winners'  Cup in 2011 and 2012 and the Women's EHF Cup in 2006, at the start of her career.
Therefore, when Szucsánszki decided she was ready to hang up her boots, it was just fitting that an excellent career ended in Budapest, in front of 20,022 fans in the MVM Dome at FTC's debut at the EHF FINAL4.
"FTC-Rail Cargo Hungaria is my one and only club, it became my life. I will always have a part in my heart which is green and white. The time has come for new goals, however I will never forget what handball, this club and its fans gave me," said Szucsánszki after the final against Vipers Kristiansand.
The 36-year-old centre back scored 306 goals throughout her career in the European premium competition, but had never previously fought for the title, and had never experienced the glamour and the emotions of an EHF FINAL4.
But after Szucsánszki announced her retirement, FTC earned a ticket to the EHF FINAL4 in the most dramatic of ways. After a six-goal loss in the first leg of the quarter-finals against Metz Handball, 26:32, the Hungarian side bounced back and sealed a 33:26 win in the second leg, in France.
It was exciting, it was an amazing comeback and it helped Szucsánszki retire on her own terms, in front of FTC's fans and in a sold out arena, where the centre back played a part in what proved to be a world record attendance for a women's handball game.
She even went one step further and fuelled a comeback in the semi-final against Team Esbjerg, where FTC cancelled a five-goal lead for the Danish side to bounce back and seal a 29:28 win.
With a chance to make the hat-trick of wins in the top tier, second-tier and third-tier European competitions, Szucsánszki started the game against Vipers, but the Norwegian team just had too much firepower for FTC, taking a 28:24 win.
"The best team won, we tried our best, and although we lost, I am super happy. Life goes on, new challenges are ahead of me and with this atmosphere, it was a perfect finish for this journey," said the centre back after the match.
"It was an amazing career. Everything was amazing in the last 18 years. I have enjoyed every moment of it, yet the farewell with this wonderful video we had was just jaw-dropping, a memory that I will never forget in my whole life. It was just a perfect and fitting ending."
Szucsánszki leaves handball with her head up high, sealing three Hungarian titles, a superb performance when FTC fought with Györi Audi ETO KC for supremacy over the last two decades.
Moreover, FTC also secured three Hungarian Cups, in 2017, 2022 and 2023, which was even more impressive, especially as their rivals were favourites to win the Champions League.
With Szucsánszki's retirement after an 18-year stint at FTC, and with coach's Gabor Elek departure after 16 years at the helm of the Hungarian club, the EHF FINAL4 finalists enter a new era, one which their fans hope to be as successful, if not even more successful than the previous one.
But the truth is that it is always going to be hard, especially as Szucsánszki embodied the grit and the spirit of FTC.
"Seeing the fans celebrating these two legends of the club was really emotional. It was a great farewell for them even though it was not a victory, but we did a great job this weekend and we really enjoyed it. I hope we can find our way back to the FINAL4, but it was a great history we made together," said Emily Bölk, FTC's left back, after the loss against Vipers.
One thing is sure, though: with over 850 goals scored in the past 18 years for FTC, Szucsánszki will be an icon. And regardless of the outcome in the final against Vipers, the centre back got the farewell she deserved.
Photos © Uros Hocevar, Jure Erzen, Sasa Pahic Szabo / kolektiff