2022 Master Coach Course cohort continue education in Porto
Following on from the opening module on the fringe of the Men's EHF EURO 2022, the second module of the EHF Master Coach Course 2022 was held in Porto alongside the Men's 20 EHF EURO 2022.
The EHF Master Coach Course 2022 is a notable one as it marks a decade since the introduction of the 'RINCK' Convention EHF Master Coach Course, since when over 150 graduates have passed through the programme. Participants must complete three modules on their path to graduation and obtaining the EHF Pro Licence, including a thesis defence in the third stage. There are also tasks in between the in-person modules.   
One of the most high-profile participants in the 2022 course is Spain international Nerea Pena, who was celebrating winning the EHF Champions League Women 2021/22 title with Vipers Kristiansand only two months ago. Past participants include Germany men's coach Alfred Gislason; Women's EHF EURO 2020 bronze medallist with Croatia, Nenad Sostaric; and former Austria men's coach Patrekur Johannesson. 
"I chose to make this Master Coach, because I don't know what will be with me in my future — there are not so many handball years left — and I would like to to be around handball if I can. This is a really nice opportunity in case I want to be a coach," said Pena.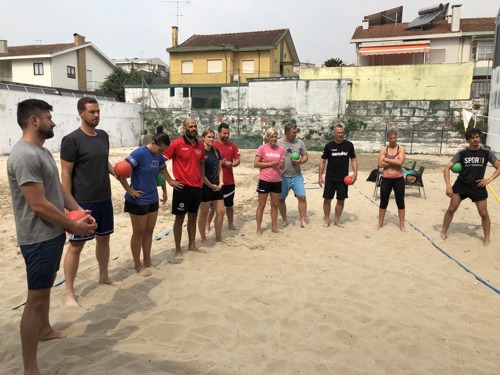 The second module of the EHF Master Coach Course 2022 saw a five-and-a-half day programme where 20 participants took part in a mixture of theoretical and practical sessions. The participants also had the opportunity to enjoy wheelchair handball and beach handball training sessions. EHF expert Mario Bernardes and Paulo Félix, the head coach of Portugal's beach handball team, led the beach handball session.
In addition to their work in the classroom and on the court, the course participants had the opportunity to attend some of the M20 EHF EURO 2022 matches. 
The third and final module of the EHF Master Coach Course 2022, scheduled for 7–12 November 2022, will take place in Ljubljana during the Women's EHF EURO 2022. The programme for the third module will mainly focus on the participants' thesis defence, and will also include the topic of anti-doping and a media communication workshop.