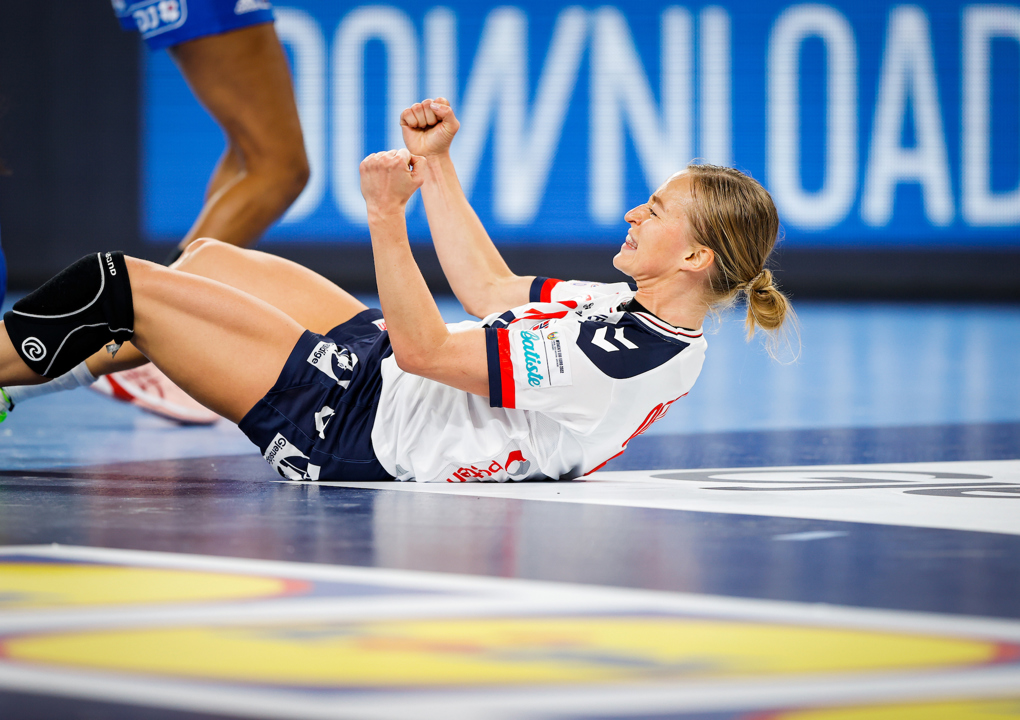 Norway power to 12th EHF EURO final
It will be an all-Scandinavian clash to decide the 15th Women's EHF EURO title, after Norway defeated France 28:20 in the second semi-final on Friday night in Ljubljana. Overall, it was Norway's 19th victory over France, who have beaten the defending title holders four times before and only once at the EURO.
Norway will play Denmark in the final on Sunday at 20:30 CET, while France meet Montenegro to decide the bronze medal at 17:45 CET.
SEMI-FINAL
Norway vs France 28:20 (12:11)
the first half was level but from the start of the second period, Norway inched ahead and held a steady lead changing between one to three goals. The outcome was decided as Norway moved ahead by five, 24:19, with eight minutes and France could not come back
Stine Oftedal scored all of Norway's field goals up to the 23rd minute and drew penalties converted by Nora Mørk, playing a very influential role against a more well-rounded effort from France's attack
France changed their defence temporarily to 5-1 to contain the centre back, but Norway moved around their back court and France soon dropped back to their standard 6-0
with her fifth goal, for 10:10 in the 25th minute, Mørk levelled with Montenegro wing Jovanka Radicevic as the all-time second top scorer of the EHF EURO, with 208 goals. By the end of the match, she reached 211 career goals in the event
Norway's Silje Solberg and France's Cleopatre Darleux had a great goalkeeping battle in the first half, with a combined 12 saves, before Solberg rose to a more decisive role in the second (13 saves)
Norway dictated the rhythm completely, leaving France to match them, even in the level first period. In the second half, left back Henny Reistad — who is among the top scorers of the EHF EURO 2022 but had a quiet first 30 minutes — found her game and played a more important role for Norway
Captain Oftedal in every sense
Stine Oftedal is simply an unrivalled force. There are many great players and many players who give us memorable performances in the critical stages of championships, but the sheer determination that Oftedal brings to the court makes her something else — and nothing is more intimidating than an Oftedal recently defeated.
After Norway's loss in the last main round game, Oftedal was ready to give everything to lead her team back to the final. The result was an unbelievable performance, where she singlehandedly spearheaded Norway's attack in the first half in particular.
Oftedal deservedly earned the player of the match award as she led Norway to their 12th EHF EURO final.
We played so good today in every part of the play. I am so impressed by the girls. After the last match against Denmark, we improved, especially in defence and the goalkeeper. I am just so happy right now.










Thorir Hergeirsson (ISL) – coach Norway: "France played an outstanding tournament so far. We were not afraid, but had big respect for them. We prepared very well on their counter attacks and breakthroughs, we worked very hard after the defeat against Denmark. We have some methods when we lose games, look on things we can change fast. This was a good focus how to win against France. Finally, defence and Silje in the goal were great, and we were quite good in attack."
Olivier Krumbholz (FRA) – coach: "We were very bad in attack, made too many technical mistake. Norway played fast, and in the end you could see: when we play like this against Norway, we cannot win – but: we win together and we lose together. Now we fight for the bronze medal."
Maren Aardahl (NOR) – line player: "Before the match we had a great atmosphere in the locker room and were very focused. We were very present from the start, after we had started some matches before with problems. This time, we were not struggling and kept this presence throughout the whole match."
Estelle Nze Minko (FRA) – left back: "In sport, you have to accept winning and losing. We still have a chance to win a medal. We lost today, but the journey is not over. We will cry tonight, but on Sunday we give 100 percent for the bronze."