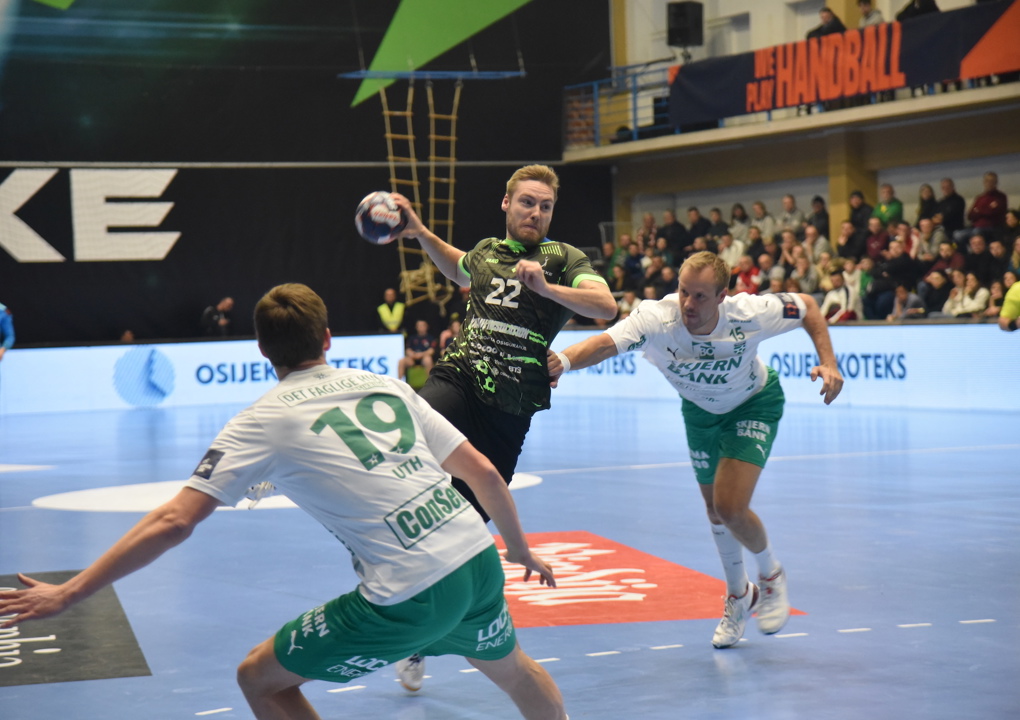 Nexe take last-gasp win over Skjern
Nexe defended their name as group leaders and secured their EHF European League Men Last 16 spot after a thriller finish in Nasice. After trailing by four, the Croatian side caught up with Skjern and once again the game was decided by a rocket from Tomislav Severec.
Fraikin BM. Granollers and Sporting CP joined Nexe in securing Last 16 spots after comfortable wins against Balatonfüred and Alpla Hard, respectively, led by Antonio García Robledo and Martim Costa.
GROUP C
Fraikin BM. Granollers (ESP) vs Balatonfüred KSE (HUN) 33:30 (17:14)
Fraikin BM. Granollers strolled to their second straight win by beating the Hungarian side again — and also booked their Last 16 spot.
The home team had a good start and held onto the lead until the 11th minute. Balatonfüred's Milan Gostovic had a great day, netting three by that time and grabbing an equaliser (6:6). At the end of the match Gostovic was at eight goals scored. But nothing could stop the impeccable Antonio Robledo Garcia, who produced a new series of goals and pushed Granollers to a two-goal lead.
The second half showed the lack of depth and experience for the Hungarian team, as Granollers hit an eight-goal lead 10 minutes before the final buzzer, securing the victory.
RK Nexe (CRO) vs Skjern Handbold (DEN) 29:28 (12:14)
Nexe remained group leaders and booked their ticket for the Last 16 after another thrilling finish against Skjern. The first half in Nasice was all about goalkeepers. Christoffer Hoffman Bonde capped his best performance, with 11 saves, allowing his team to make a turnaround after trailing by two. Midway through the first half, Skjern made a 5:0 goal run and could have had the same goal difference at half-time if not for Dominik Kuzmanovic, who locked his goal eight times.
Nexe were chasing Skjern until the 45th minute, when Fahrudin Melic netted for 20:20. For the second time this season, there was a thriller finish to the game and the same hero of the day — Tomislav Severec. A last-gasp goal by the Croatian left back brought Nexe their third straight Last 16 spot in the second-tier competition.
Alpla HC Hard (AUT) vs Sporting CP (POR) 26:31 (12:17)
Sporting got their hands on an easy win against Alpla Hard after a 12-goal outing from Martim Costa and are the third side from the group to secure a Last 16 spot. After a slow start of only one goal for each side in five minutes, the teams stepped up a gear. It was all level in the match until the 17th minute when Sporting gained a four-goal lead. Alpla Hard tried to catch up and goalkeeper Golub Doknic helped with his saves, but their attack lacked the strength to get back on track.
Martim Costa finished the first period with three easy goals and set the five-goal lead at half-time. Alpla Hard tried to rebound and came close on two occasions but lack of precision in attack was decisive. Srdjan Predragovic shone for Alpla Hard with eight goals, but could not help his teammates make a comeback.
Photos: Nexe: Ivan Ćosić / Granollers / ALPLA Hard: Alexandra Köß
European League is always a fun time which we long awaited and now finally it was here. Today we played pretty well against Sporting and we made a step in the right direction after we lost two points in Vienna in the Austrian Leauge. Especially in the beginning of the second half, we played well. Against a team like Sporting you can see the difference in quality but it was a great experience. Now we look forward to keep improving.