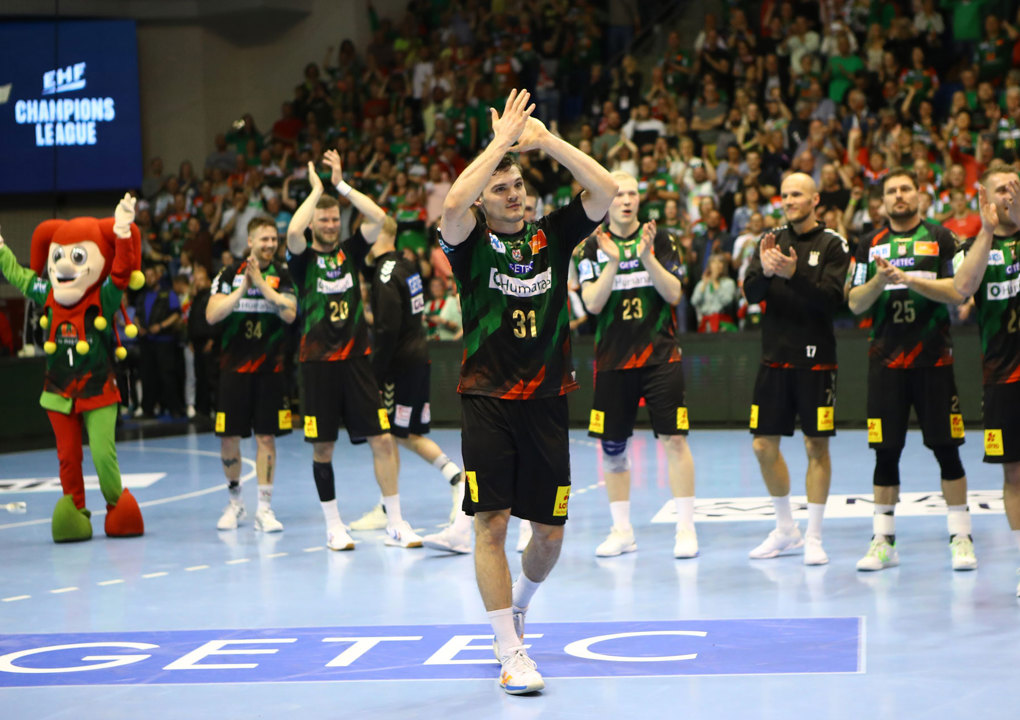 Kay Smits: We can beat every team
SC Magdeburg have made their mark on international handball in the past few years. They won the EHF European League in 2021 and reached the EHF Finals Men against last year, and won the IHF Super Globe title in both 2021 and 2022.
Now, in 2023, they are aiming for the Machineseeker EHF Champions League title for the first time since 2002. And one player in particular has played a huge part in getting Magdeburg to this position – Dutch right back, Kay Smits.
Smits joined Magdeburg in 2020 on loan from Danish side Team Tvis Holstebro, when former regular Albin Lagergren was out for some months. The club then extended his contract, but Smits will play his last games for Magdeburg at the TruckScout24 EHF FINAL4. Next season, he joins SG Flensburg-Handewitt.
With 78 goals, the 26-year-old brother of world champion and European League winner Inger Smits (SG BBM Bietigheim) is Magdeburg's best scorer in the Champions League. In particular, his performance in the second leg of the quarter-finals against Orlen Wisla Plock was outstanding, as he netted 14 of Magdeburg's 30 goals to take them to Cologne after a draw in the first leg in Poland.
And at the EHF FINAL4, Smits will have to take a lot of responsibility again, as the world-class Icelandic duo of Gísli Kristjánsson and Ómar Ingi Magnússon will miss the event due to injuries.
"It is really bitter for both of them not to be part of the EHF FINAL4, they played their part in making it to Cologne. They are extremely important for our team, but in the last weeks and months we have managed to play without them, we were successful and we have proved that we can beat every team. We are used to replacing them," says Smits.
Beating every team includes beating their semi-final opponent Barça. But Magdeburg have form here too: they beat the record Champions League winners twice in the Super Globe finals in Saudi Arabia. In the Champions League, Barça are undefeated in 25 matches and are looking for a third consecutive EHF FINAL4 title.
"Maybe it is a psychological advantage for some players to have proved that we can beat Barça, but this competition is different now. But we know what we are capable of and what our job is," believes Smits.
In contrast to the three remaining semi-finalists Barça, Paris Saint-Germain HB and Barlinek Industria Kielce, who are all making at least their sixth appearance at the EHF FINAL4, it is SC Magdeburg's debut. But this lack of experience is no disadvantage, says Smits.
"We have many experienced players who played finals at world and European championships. We are playing our third consecutive final tournament in an EHF competition, we know the arena and still it will be two handball matches, the court is the same as for all other matches."
Only two months before the EHF FINAL4, SC Magdeburg played the premiere of the German cup final tournament in the LANXESS Arena, but lost the final against Rhein-Neckar Löwen in front of 20,000 fans.
"Those were my first matches in this temple of handball, a dream come true for me, as it is the dream of every handball player to be on that court. Despite the lost final, it was a brilliant experience for us, and we know how it feels to play with so many fans. This will help us for the EHF FINAL4, mainly in terms of the atmosphere," Smits adds.
Back in April Magdeburg had the biggest group of fans of the four participants, and this could well be the same again on 17 and 18 June.
"Our fans are totally crazy, they follow us everywhere, and they create an atmosphere like no other. Already when you enter the court for the warm-up, you feel this strong and intense support, which can grant us wings. And maybe by this great support we can get the thousands of neutral fans on our side in the LANXESS Arena," the right back says.
And as the Netherlands is close to Cologne, and fellow Dutch star Luc Steins is on court for PSG, Smits hopes for some Oranje support too.
"I heard of many Dutch fans who plan to come, and for me it is great that my whole handball-crazy family has the chance to attend this event, to be close to me in those crucial moments of my career," he says.
Talking about Barça, Smits knows that this match is "the highest possible challenge. Barça dominate the Champions League in the last two years, they have the greatest team, but we also know that everything is possible in Cologne. And PSG and Kielce are out for the trophy too."
Personally, Smits is overjoyed that in his first Champions League season he made it all the way.
"When we became German champions last year, we were so excited to play the Champions League. This is the competition I had dreamed of. To play the Champions League gives me goosebumps – and now we can even fight for the title."
photos © Eroll Popova