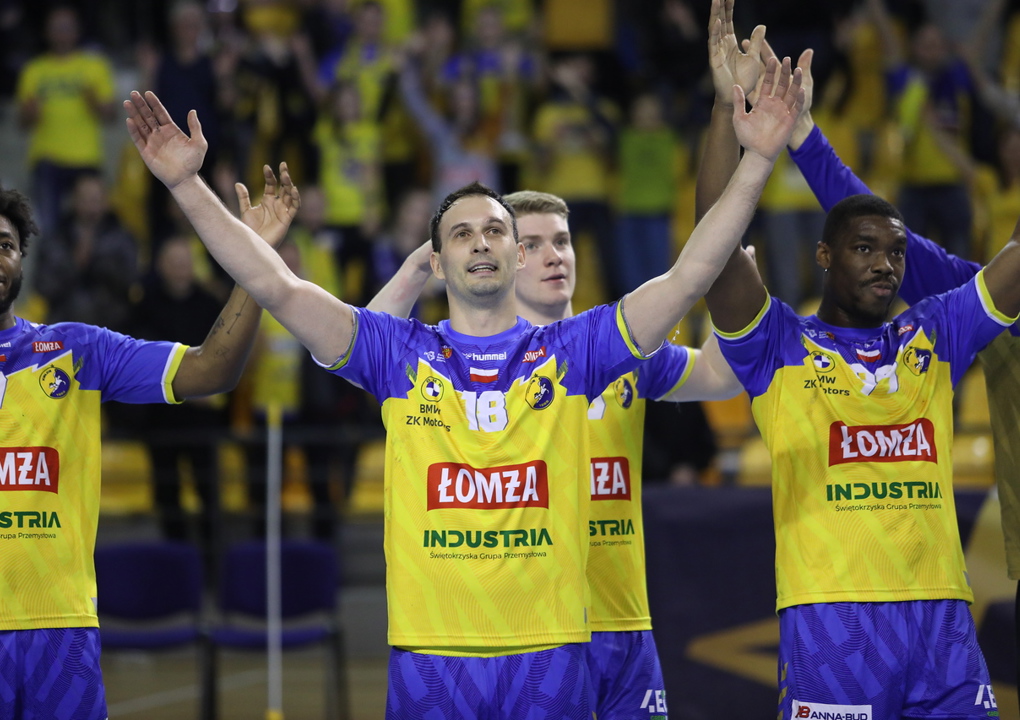 Karacic: "We have put pressure on ourselves to be at Cologne again"
In his fourth season at Barlinek Industria Kielce, Igor Karacic dreams of lifting the Machineseeker EHF Champions League trophy with the Polish champions. The two-time winner with Vardar wants to make his fifth trip to Cologne worth the visit after a strong performances in the 2022/23 season and after a great second-leg of the quarter-final match against their long time rivals - Telekom Veszprém.
The Croatian international reveals going back to Cologne was the goal of every player among Kielce's squad: a goal they  set for themselves after losing the final match at the EHF FINAL4 in the 2021/22 season to Barça after extra time and penalties.
"It is nice to be in Cologne again. We have put the pressure on ourselves throughout the season to be at the EHF FINAL4 again. Especially after we lost the final match against Barça the way we did. We want to bring the trophy to Kielce. We know it's going to be very hard, as in my opinion, the best four teams in Europe at the moment are in Cologne," says Karacic.
Kielce achieved one of their goals ahead of the trip to Cologne - winning the Polish championship against Orlen Wisla Plock. Unfortunately, they could not repeat the same success in the domestic cup final but the main focus now is the season pinnacle in Cologne.
"We had a couple of days off after winning the championship in Poland and after two tough matches against Veszprém, ahead of the cup final match against Plock. That was promised to us and that's Talant's [Dujshebaev] method for motivation and all the hard work we have done."
"We unfortunately did not win the cup but I have to say, sometimes, playing matches like that, in that period of time, like after the championship and ahead of the EHF FINAL4, doesn't make sense," adds Karacic.
Kielce have little less than two weeks to prepare for the last two matches of the season and head coach Talant Dujshebaev has a tough task ahead. After a cup game against Plock, three players are left under question for Cologne; Michal Olejniczak, Artsem Karalek and Igor Karacic. However, the centre back has the highest chance of fully recovering for the game against Paris Saint-Germain in the second semi-final on Saturday 17 June, at 18:00 CEST.
"In the last match against Plock we finished with couple of injuries and I don't know who will be ready for Cologne. Michal Olejniczak and Artsem Karalek are very important for us, defence wise. Defence was our key for the game this season.
"We have two weeks to prepare for PSG and for everything that awaits at the EHF FINAL4. And enough time to recover as much as we can, especially the few of us that are injured. Only thing I know right now is that we will give our best to be ready for those two matches and to be the best at the court. I know I will. I want to be there, and I want to win," says Karacic, one of the nominees for the EHF Excellence Awards.
Kielce was consistent throughout the season in the Europe's top flight, from the first game against HBC Nantes in September 2022 to the 31:17 win over Veszprem at the beginning of May 2023. After 16 matches played, Dujshebaev's team was defeated only three times (by Barça and THW Kiel) and had one draw (against Veszprém). Compared to last season, Kielce even increased their average number of goals scored.
When asked about the secret to the success and ease of play Kielce had, Karacic has an easy answer - Talant Dujshebaev and family.
"Talant is a maestro, he perfectly tunes in every part of our team. Every player in the team is of a great importance and everyone knows their place. Cohesion and chemistry in the team is a main ingredient, we are like family in Kielce. We are all friends. And that is visible on the court as well."
Kielce, as Karacic says, is perfectly-tuned machine. Having a good transition and high intensity, proving the class of every individual through their tactical game. 
"A high intensity level is played throughout the season and every player keeps up with it. We have our system of 15x15, every 15 minutes a different line-up is in the game. When you look up at the statistics, most of it for a player is for 30 minutes of playing time. Of course, some players have to give an additional pull to the team, like Alex Dujshebaev who is currently the main person on right back," says Karacic, who has scored 42 goals this season.
Paris Saint-Germain are well-known opponents for the Polish side, having played 11 times in the Machineseeker EHF Champions League. Kielce have won four times, most recently in a 2021/22 season group B game. The French side is getting ready for their sixth trip to the LANXESS Arena after many near misses to raise the trophy.
"PSG is one of the best clubs in Europe in last few years with many great players. However, I don't want to think about them too much. Our main focus right now is to prepare as much as we can and think only about our play. We have that same approach from the times when we were outsiders. PSG has their goals and path, of course they want to win but I hope Kielce will be the obstacle they will not overcome this time," adds Karacic.
"Their strong 6-0 defence and fastbreak with Luc Steins are their main weapons. We need to close Steins to stop their fast game. And of course my friend Dainis Kristopans. I really hope he will not be lucky that day," concludes Karacic with a smile.
When the curtain falls on the 2023/24 season, no matter the result in Cologne, the 2018/19 EHF FINAL4 MVP with Vardar says he will be satisfied with the season. But if someone knows how special the weekend in Cologne is and that everything can happen, it is Igor Karacic. His two titles with Vardar remain some of the most magical stories
"You never know what can happen at the EHF FINAL4. There's always that Cologne magic, especially for the underdogs, there can always be surprises. As I had with Vardar. Even though this year there are no underdogs, all four clubs are great teams, equally strong. All four matches will be exciting," says Karacic.