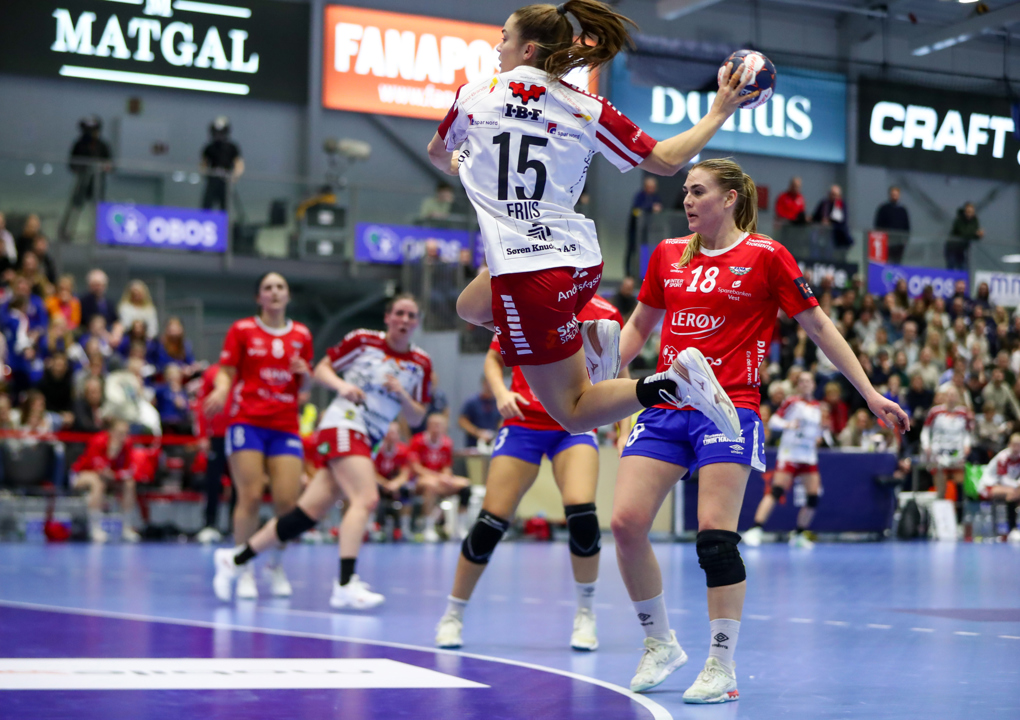 Important clashes await in round 3 
While some teams are still looking for their first win in the group phase of the EHF European League Women, others are trying to keep their top placement in their respective groups. Important matches in all four groups are coming your way in round 3. 
GROUP A
Siófok KC (HUN) vs Molde Elite (NOR) 
Saturday 21 January, 16.00 CET, live on EHFTV 
after a 27:24 win against Dortmund in the second round of the group phase Siófok KC have self-confidence and momentum going into the third match of the group phase

 

Molde have something to show after their match in round two against Besancon where they were beaten by 41:29 at home

in their most recent match in the domestic league, REMA 1000-ligaen, Molde were beaten 27:34 by Romerike Ravens

 
Molde's Mona Obaidli is the tournament's top scorer so far with 22 goals, including 16 in round 1; Siófok's Tamara Mavsar is joint third with 16
Molde coach Tor Odvar Moen took Siófok to the EHF Cup trophy in 2019
I'm expecting a very difficult match against Molde. Luckily our home form is much better than our away form, so I hope we can count on it. We know they can play really fast and strong handball, so we prepare for this. If we want to have some chance to go through, for sure we must win this match.
ES Besancon Feminin (FRA) vs BV Borussia 09 Dortmund (GER) 
Saturday 21 January, 16.00 CET, live on EHFTV 
Dortmund are hoping for their second win of the group phase after beating Molde and losing to Siófok

Besancon are number one in group A with four points before round three starts

Dortmund goalkeeper Yara ten Holte has made 28 saves in two matches (35.4 per cent), more than any other shot-stopper; she goes up against Besancon's Tonje Lerstad, who is the most efficient keeper with 21 saves at 42.9 per cent 

in the domestic league Dortmund drew against EHF European League group phase participant Thüringer 30:30 on the last match day

 

it is Dortmund's second away game in a row in the group phase, while it is the first home game for Besancon since round one
We have a very good momentum in both the French league and the EHF European League. We have been winning games and victories since the beginning of this new year. These victories allow us to have confidence which is very important. Today, our strength is the collective, we can rely on all the girls of the team and each one brings her qualities. We have found our weapon of war.
Besancon has played very well so far. They have great home fans and a great atmosphere in their arena. They play a fast game, have quick wingers, a very good playmaker and an agile defense. We have to play very patient and avoid mistakes. If not, they will punish us.
GROUP B
Motherson Mosonmagyarovari KC (HUN) vs Ikast Handbold (DEN) 
Saturday 21 January, 20.00 CET, live on EHFTV 
group B leaders Ikast clash with second-placed Mosonmagyarovar, who have two points

 

Ikast will be looking to maintain their unbeaten run from two first rounds of the group phase where they beat Nantes and Fana with huge margins of +10 and +11 goals

Mosonmagyarovar right back Barbora Lancz has scored 16 group phase goals, putting her joint third in the standings; 

Ingvild Bakkerud is the top scorer for the Danish club with 13 goals so far

 
Ikast goalkeeper Jessica Ryde has had an outstanding two games, saving 23 goals (41.8 per cent) 

the Hungarian club had a mixed start to the group phase with a good home win against Fana (35:29) and an away defeat to Nantes (26:36)
We are looking forward to playing against Ikast on Saturday, which will certainly be a good experience for us. We know, that the Danish team is among the most powerful in this match series, may I say, they are playing handball on the Champions League level. So we are not thinking about the results of Saturday's match, our main objective is to play an exciting game.
Fana (NOR) vs Neptunes de Nantes (FRA) 
Saturday 21 January, 20.00 CET, live on EHFTV 
Fana are still on the hunt for their first European League win in their debut season

 

the EHF European League Women 2021 champions Nantes started their group phase with a defeat in the first game and a win in round two

 

the top scorer for Nantes after the first two rounds is Swedish star winger Nathalie Hagman who has scored 15 goals

 
there will be Norwegians on both sides of the court; while Fana's squad are all Norwegian, Nantes left back Mari Finstad Bergum moved to France from Norway in 2020

Nantes lost their last match in the French league against Nice 27:29, while Fana beat Romerike Ravens 30:26 in the Norwegian league
New match home in Fana Arena. We feel like we`ve had 45 good minutes in both of the previous games. Now we`re going full steam ahead to get our first European League win
GROUP C
Nykøbing Falster Håndbold (DEN) vs HC Podravka Vegeta (CRO) 
Sunday 22 January, 14.00 CET, live on EHFTV 
the last five matches for the Danish side have produced mixed results, with two wins and three defeats - including both European League games 
Nykøbing have had two tight games in the group phase, losing by one goal to DVSC Schaeffler and by two to Sola, despite leading both matches at the break
Podravka are also still waiting for their first win in the group phase since they lost 35:29 away to Sola and 26:20 to Schaeffler at home 
the two sides met in the Women's EHF Cup group phase in 2018/19, with both winning their away matches - Podravka 28:24, and NFH 28:25
Nykøbing beat Ringkobing 33:28 away in the Danish league this week
Sola HK (NOR) vs DVSC Schaeffler (HUN) 
Sunday 22 January, 18.00 CET, live on EHFTV 
both teams are unbeaten and are looking for their third straight win 
22-year-old backs Kristina Novak (Sola) and Gréta Kácsor (DVSC) have both netted 12 goals so far in the group phase
Sola's Rinka Duijndam has made 25 saves so far in two matches (33.3 per cent), the second-highest number of all goalkeepers in the competition
Sola currently top the group with a narrow advantage on goal difference - +8 compared to +7 for DVSC
At Sundays game it's two undefeated teams meeting in Stavanger Idrettshall, both with four points after two rounds in the group phase. Perhaps a little surprising result given the advance tips when the groups became ready.
Both teams are in the flow zone and in good shape at the moment, so there is no doubt that it will be an exciting game on Sunday this week.
GROUP D
Praktiker-Vác (HUN) vs Paris 92 (FRA)
Sunday 22 January, 16.00 CET, live on EHFTV 
Praktiker had a difficult start to the group phase, losing against Ramnicu 30:40 and to Thüringer 28:34
Vác centre back Csenge Kuczora is the second top scorer in the competition, with 18 goals so far
Paris goalkeeper Léa Serdarevic has made 23 saves so far (37.1 per cent), putting her joint third in the standings
the two sides met in the Cup Winners' Cup quarter-finals in 2013, with Paris winning 50:47 on aggregate; in the European League 2020/21, Paris won 34:33 in Vác
Paris currently sit third in the French league, and lost 19:22 away to EHF Champions League participants Brest Bretagne Handball this week; Vác suffered a 20:30 away defeat in the Hungarian league to fellow European League competitors Mosonmagyarovar on Wednesday
Thüringer HC (GER) vs SCM Ramnicu Valcea (ROU) 
Sunday 22 January, 18.00 CET, live on EHFTV 
it is number one against number two in group D when Thüringer (four points) and Ramnicu (two) meet this Sunday
Valcea left back Iryna Glibko has netted 15 goals in two matches, putting her joint fifth overall
Thüringer's Annika Lott and Sonja Frey are both in the top 10 scorers list, with 14 and 12 goals respectively so far in the group phase
both sides have scored 62 goals so far, but Valcea have conceded 54 goals to Thüringer's 52
neither team have played this week domestically
The Thuringians play a good defence and are very dangerous in their forward game. We will prepare very well this week. We want to get to the optimum in terms of fighting and playing.