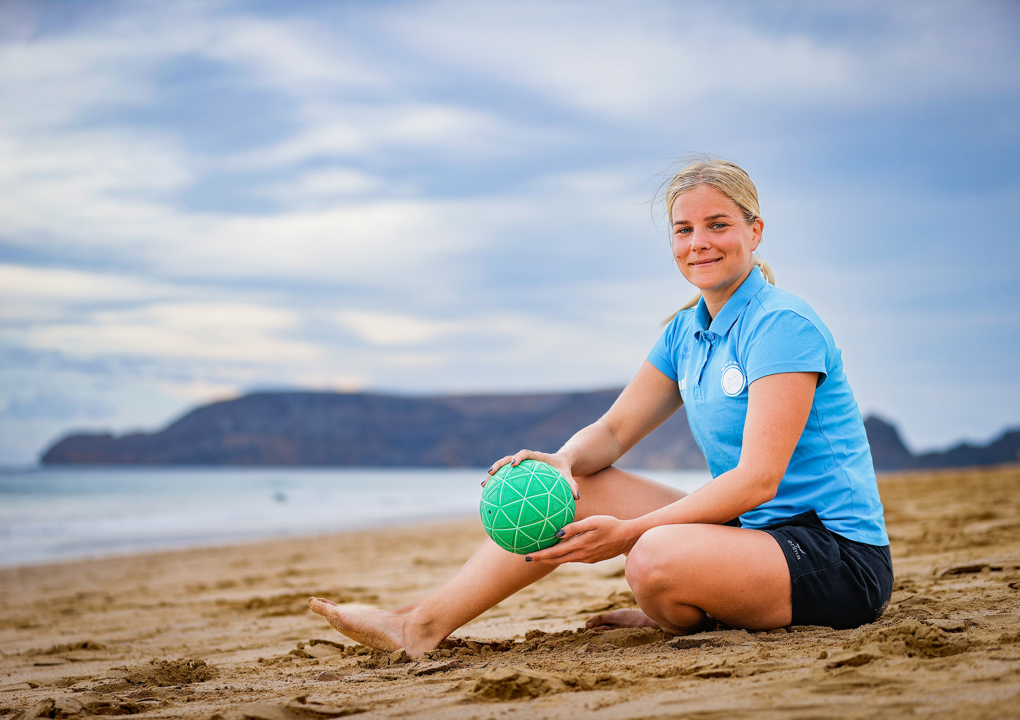 Humans of beach handball: Renáta Csiki 
You will understand it when you get there 
Renáta Csiki's expression usually does not reflect her real feelings on the court; the 28-year-old specialist is an emotional person who struggles after losses and wants to work even more after triumphs.  
As a world championship silver medallist and European champion, it is easy to say that she was born for handball, especially for beach handball with her quick footwork and decision-making ability. However, it was not that simple for her and without hard work, success on the court would have not come.  
The sport for her slowed down with the years and in 2022 with her lead, the OVB Beach Girls won the women's EHF Beach Handball Champions Cup and became the first Hungarian side to triumph in the tournament.  
Csiki is one of the world's best specialists and the numbers do not lie. In the last couple of years, she registered more and more points from event to event while also playing in different positions with success.  
Her first memories with handball were not any different than most of the youth players. She wanted to do something with her energy as a child then the right person arrived. 
"One day in my elementary school, Éva Angyal, who is an Olympic and two-time bronze and one-time silver world championships medallist showed up and approached me to try handball. Right after the very first handball practice, she told me that she sees "my talent and will to achieve something great". As she became my coach I learnt the basics from one of the best in Hungarian handball history." 
As Csiki grew up and developed step-by-step in 2007, she met with her destiny, beach handball and there was no way back. 
"I was playing in Ferencváros in the underage team around that time when somebody showed us beach handball and they were looking for new players and I just fell in love with it because of the circumstances and the technical part of it. I always loved handball, still do, but beach handball is different and that difference lured me in." 

Looks can be deceiving
On the court, you see a focused person sometimes with a grimace on her face and sometimes she is like a robot, working only for the best results possible.  
"It is though could not be further from the truth. I am a very emotional person who loves to win and hates to lose but always works hard to achieve my dreams. I love my team and would do anything for them however during a game my only target is victory and for that, I cannot think about my reactions. I try to keep my emotions in check until the final whistle."  
Some athletes like to be pushed hard, some are the opposite and they need positive feedback to evolve. Hungarians are often the latter.  
"I have strong willpower but important people to me can ruin my soul by never praising me. However, when somebody gives even at least a little bit of recognition I fly like a bird, I get new energies." 
Everything is perfect in beach handball 
Although she still plays indoor handball in the second tier of the Hungarian national championships Csiki made her decision after experiencing the advantages of beach handball personally. 
As a person who loves the sun and being warm, no other sport would be as perfect as beach handball. 
"If I could do it, I would sunbathe 24/7. In beach handball when the sun is up, I know that the stars align for me and my team. Mixing it with sand, I feel free." 
Other circumstances also help her. Counter to indoor handball where size does matter, in beach handball even the smaller athletes can be crucial on both ends. 
"I am among the shortest athletes in indoor handball, however, in beach handball size is not everything. Your footwork, quickness, decision-making ability and skills are more important. This is also a reason why I experienced pretty quick success in beach handball." 
While Csiki was always a scoring machine, it does not give her as much satisfaction as the assists.  
"Although I find the back of the net a lot of times, assists and successful key passes give me goosebumps. I am the same in my life as well. I like to prepare for victory and see my loved ones happy. As the saying goes, sharing is caring." 

A lifeline around beach handball 
Another saying goes "good things take time" and it is very true for her. As a patient person, she understands the importance of waiting while putting as much effort into the tasks as possible.  
"Sometimes the preparation takes months but I enjoy seeing the outcome. If I have to lose weight, I will lose it. If I have to run kilometres, I will run them. If I have to learn a new position, I will learn it. I would do anything for our success." 
She saw the last sixteen years of how beach handball was shaped with new rules and a growing audience. 
"Beach handball has already a long history but there is still a lot ahead of us. I hope that once we will compete at the Olympics in huge arenas in front of a lot of media representatives and sponsors while a huge number of kids will play in beach handball academies." 
Besides playing on and off the court, she also coaches underage teams which gave her new dreams. 
"I started my career in beach handball with great players in the national team and got a lot of very useful tips; now I want to share them with the new generation. I am not done with beach handball, still have plenty of goals in our sport, but I love teaching and showing tricks to the next generation. I can easily communicate with them and motivate them while I manage to stay calm. I would be very happy to be the head coach of the Hungarian national team one day."