EHF Champions League
How superstars Hansen and Sagosen compare in attack
In Wednesday's Match of the Week, hosts Aalborg Håndbold will take on Kolstad Handball. This also means a clash between the backcourt superstars and former teammates Mikkel Hansen and Sander Sagosen. The two are each the clear linchpin of their teams' offences, as they rank amongst the players with the highest offensive responsibility for their team.
Offensive responsibility is defined as each players' share of field shots taken, turnovers produced and seven-metre penalty shots received by their teams in games that the player played. Nedim Remili leads the Machineseeker EHF Champions League in this category with 22.6 per cent. Kolstad's Sagosen ranks fourth amongst all players with at least four games played with 19 per cent, closely followed by Aalborg's Hansen with 18.5 per cent.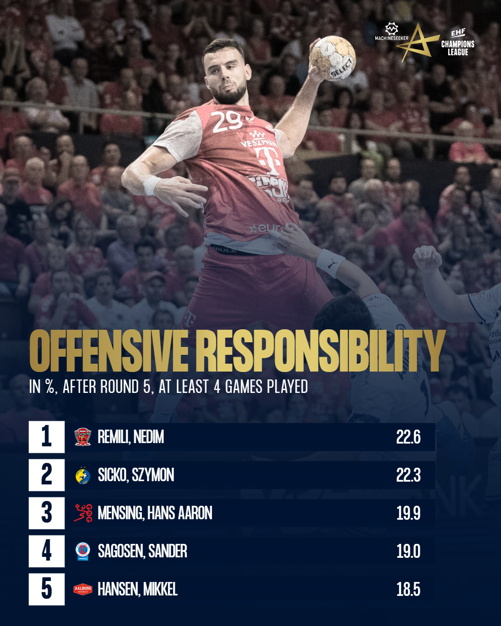 For both of them these are much higher numbers than last season. Sagosen was then in Kiel for 12.9 per cent of the ends of plays responsible, which ranked 27th. It was the second highest number of his own team behind Harald Reinkind (14.6 per cent). Thus, Kiel's offensive was clearly less focused on one person than it is now the case with Kolstad.
For Hansen, last year's numbers look similar to Sagosen's. He was responsible for just 10.6 per cent of his team's ended plays in the 10 games he was on the roster. In his case, of course, a big reason was also that he was not completely fit last season, and he stepped away in February due to stress symptoms.
This season, on the other hand, Mads Hoxer (who himself ranks seventh with 17.8 per cent) and Hansen are the duo with the most responsibility in the EHF Champions League attack with 36.4 per cent.
Sagosen is more efficient, but Aalborg's offence is better
While the offensive load is similar for Sagosen and Hansen, their shooting splits in particular differ significantly.
Both rank amongst the top 15 scorers in the competition with Hansen ranking seventh with 6.2 goals per game, while Sagosen is 15th with five goals per game. But there is a big difference in how these goals come about. While Sagosen is only in third place of the penalty taker hierarchy in his team and just attempted one single seven metre in the five games played, Hansen is the uncontested number one for Aalborg.
The Danish star is not just the player with the fourth most attempts from seven metres (three per game) but amongst all players also the most efficient amongst all players with more than 10 attempts this season. He missed just one of his 14 attempts (93.3 per cent).
In turn, it is Sagosen who scores more from the field. With 4.8 field goals per game the Norwegian is the seventh-best field goal scorer in the competition, while Hansen is in 32nd place with 3.4.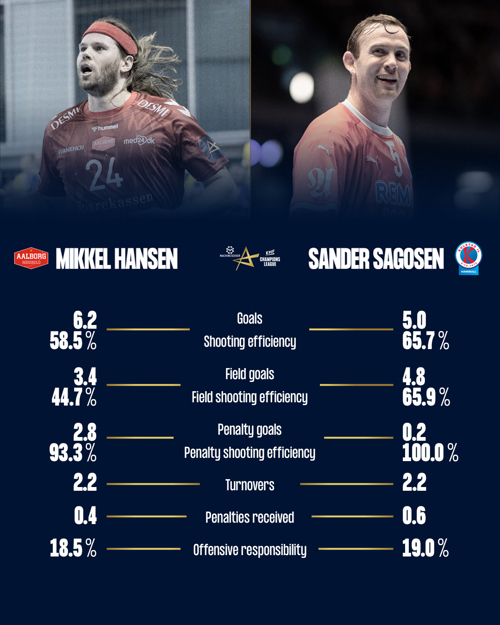 The difference becomes even clearer looking at efficiency, because Hansen takes 0.2 more shots from the field than his Norwegian counterpart. That gives him the fourth-lowest field shooting percentage among all 26 players with at least five attempts from the field per game at 44.7 per cent. Sagosen, on the other hand, has the 12th-best value in the same ranking with 64.8 per cent, which means he is 20 percentage points more efficient than Hansen.
However, the duo's other offensive statistics are rather similar. Both have relatively high turnover numbers with 2.2 (rank 6) which is not unusual for players with such high offensive loads. At penalty shots received per game they are both average with 0.6 (Sagosen) and 0.4 (Hansen).
So overall, Sagosen has the slightly more efficient numbers. Nevertheless, it is Aalborg who have the slightly better offence overall with 30.3 goals per 50 possessions (third place) compared to Kolstad's 29.6 (sixth place).
In this case, the goals were adjusted to 50 possessions, as adjusting goals (conceded) to the same number of possessions makes teams actually comparable since the raw number of goals is not only influenced by efficiency but also by the number of possessions (whether a team and their opponents play rather fast or slow).
Even though Hansen's shooting efficiency from the field is not optimal, Aalborg manage to have the fourth highest field shooting efficiency with 68 per cent, while Kolstad rank ninth (65.2 per cent).
Hansen, as his team's most important backcourt player, nevertheless manages to create free spaces for his teammates and finds them. His shooting percentage can also be a sign that opposing defences simply have extreme focus on him, which in turn seems to benefit his teammates.
Thanks to Hansen's great seven-metre penalty scoring – 94.7 per cent made penalties for Aalborg is the second-best behind the so far perfect GOG – his team even ranks third in the overall shooting percentage with 67.9 per cent.
At 65.2 per cent overall, 63.7 per cent from the field and 80.9 per cent from the seven-metre line, Kolstad is above average in all three categories, but still well behind their opponents on Wednesday. On the other hand, they lose the ball less than the Danes. Only Barça has fewer turnovers than Kolstad's 6.8 per 50 possessions. Here, Aalborg is only slightly better than average with 8.0.
The other side of the field, defence, is not exactly the priority for either of them. But with the heavy load they have on their shoulders in the attack, that is forgivable. Sagosen is at least a reasonably serviceable defensive player, but rests in defence are very beneficial for his offensive output as well.
More from data analyst Julian Rux can be found at Handballytics.de. There you can read his latest articles, in which he analyses all kinds of handball topics from new, data-based perspectives. You can also find him on Instagram, Facebook and Twitter.
Main photo © Eliza Sólya