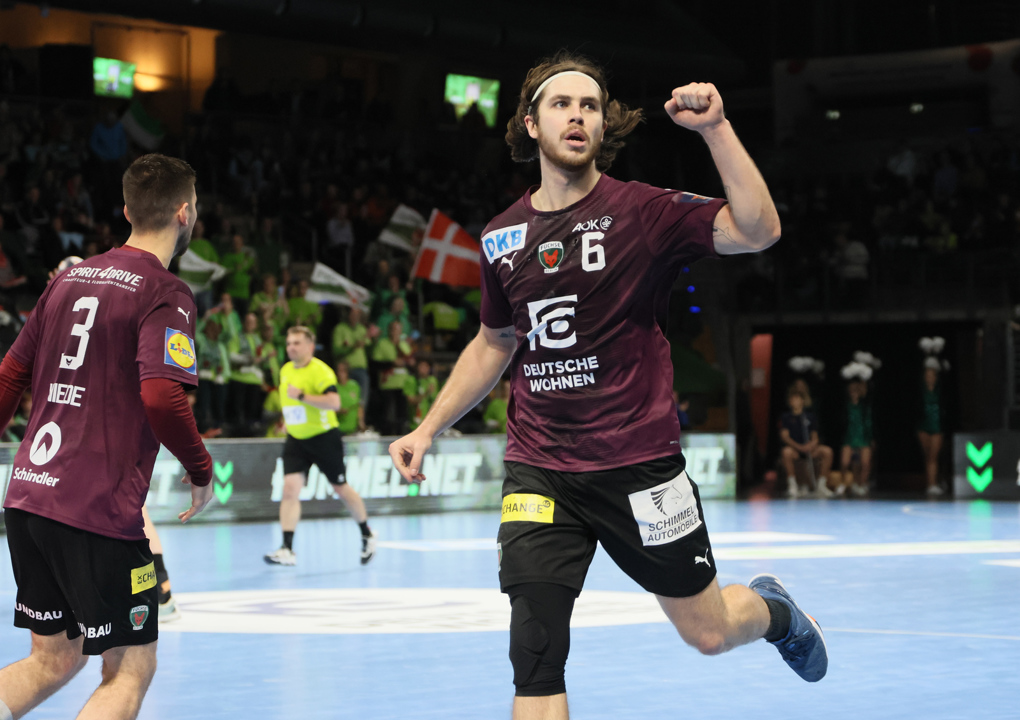 Five talking points after an eventful group phase
There was drama, there were tears shed and improbable comebacks, but also teams that truly delivered excellent performances. We had it all in the group phase of the EHF European League Men 2022/23.
Let's review some of the top moments of the 120 matches in the group phase. Here are five talking points.
German teams combine for three losses in 30 matches
Only a single team stayed unbeaten so far in the second-tier European competition: Füchse Berlin. Jaron Siewert's side swept their opponents to deliver a flawless performance, winning 10 games out of 10, while also boasting the best attack of the competition with 343 goals, and the best goal difference between the 24 participating sides: +77.
Füchse, who won the Men's EHF Cup in 2014 and 2018, are going for another trophy; they have both the experience and the talent needed to deliver on the promise.
Fellow German side SG Flensburg-Handewitt were the only team to lose a single game – away at Ystads IF HF.
Frisch Auf Göppingen were among the teams with two defeats, alongside Montpellier HB and RK Nexe.
No wonder Germany have all their three teams in the group phase advancing to the Last 16. Denmark, Portugal and Spain have two teams each still in the hunt for the big trophy, while Croatia, France, Hungary, Iceland, Sweden, Switzerland and Ukraine are all represented once in the Last 16.

New records and goals galore
7,256 goals have been scored in the 120 games in the group phase for an outstanding average of 60.4 goals per game, just under the average of roughly 62 in the Machineseeker EHF Champions League.
There were some true vintage high-octane matches, with 17 of the 120 played having at least 70 goals scored.
A new record for the most goals in a single match off the EHF European League Men has been set with Valur's 43:39 win over FTC. There was no surprise that Valur had the second-best attack, with 338 goals scored, only five goals behind Füchse.
Ihor Turchenko delivers superb season
While plenty of goals have been scored in the first part of the season in the EHF European League Men, no player has put more on the board than Motor left back Ihor Turchenko. The 22-year-old stalwart had previously scored only five goals in the Machineseeker EHF Champions League before taking it up a notch this season and being truly unstoppable, with 85 goals – 18 more than any other player. In fact, Turchenko has scored 30 per cent of Motor's 280 goals this season.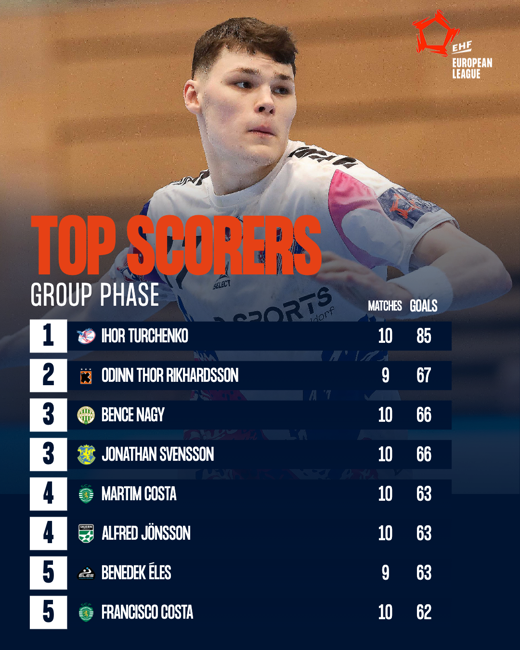 Despite playing only nine from his team's 10 games, Kadetten Schaffhausen right wing Odinn Thor Rikhardsson scored 67 goals. FTC's Bence Nagy and Ystad's Jonathan Svensson, who both played in group B, each netted 66 times.
Last season, the joint top scorers Halil Jaganjac and Petar Djordjic both finished on 109 goals.

PAUC and FTC create dramatic finish to group phase
After 10 rounds and some dramatic games, we bid goodbye to eight sides. But all of them took at least one win in group phase.
The most painful exist came from PAUC Handball: the French side started the group phase with three wins in four games, only for everything to unravel for them as they slumped into a five-game losing streak. Their 39:29 win in the last round against TM Benidorm counted for nothing, as FTC's last-gasp draw against Flensburg, 27:27, saw the Hungarian side progress.
PAUC, who lost six games on the trot in all competitions before the win against Benidorm, went out in the group phase for the second straight season. Head coach Thierry Anti will step down after a domestic league game this weekend but will continue to work with the club in a different role.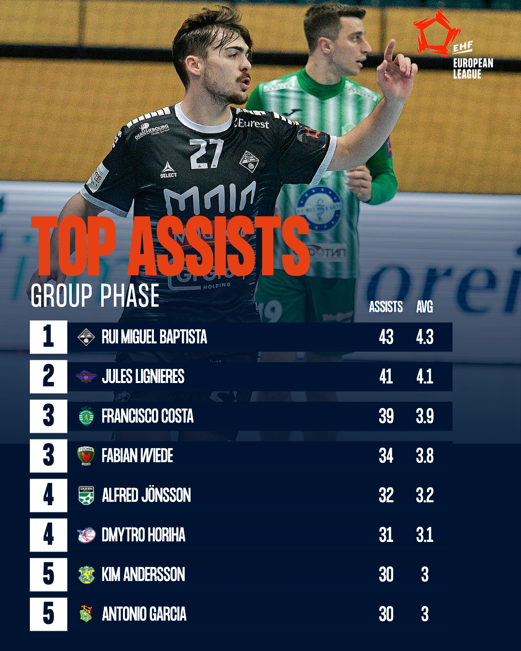 Photo © Jacob Holm/Füchse Berlin, 2022 Foto Laechler