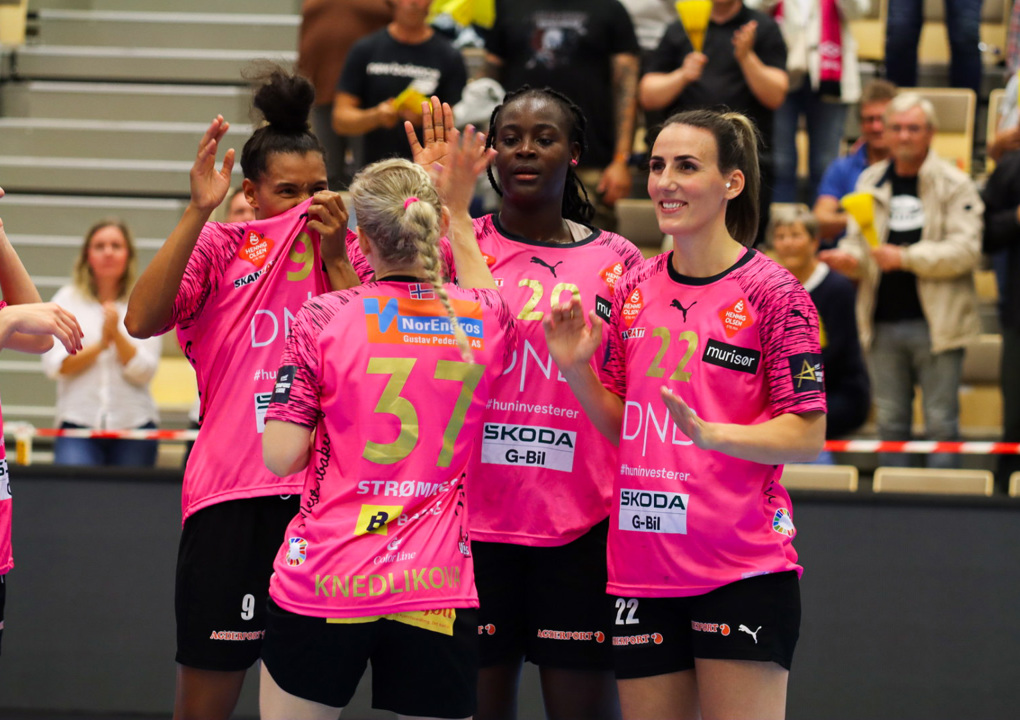 Vipers deal FTC second double-digit loss in a row in historic day
DAY REVIEW: Vipers won the rematch of last season's final against FTC in superb fashion, 37:26, while Buducnost tied their worst-ever loss in the history of the competition, 24:39 against Odense
Reigning champions Vipers Kristiansand opened their account in this season's EHF Champions League Women, taking a 37:26 win in the rematch of last season's final against FTC-Rail Cargo Hungaria, in another show of dominance.
Rapid, Odense and Brest secured their first wins this season, while Györ dominated fellow Hungarian side DVSC Schaeffler, to take a commanding 35:23 win.
FTC have conceded another loss by double digits, after being at the receiving end of a 25:38 drubbing in the first match, against Metz Handball, as the Hungarian side were dominated in the rematch of last season's final by Vipers, 37:26
Czech right wing Jana Knedlikova is currently the top scorer of the season, with 15 goals, followed by FTC's centre back Andrea Lekic (13 goals) and Rapid's left back Orlane Kanor (12 goals)
Györ became the only side from the 10 which played at least two matches this season to clinch back-to-back wins, as right wing Emilie Hovden, who signed for the Hungarian side this summer, scored six goals
after taking a 25:9 lead at the break, Odense secured a 39:24 win over Buducnost, handing the Montenegrin side their largest-ever loss in the history of the EHF Champions League Women, tying the previous record set against two other Danish opponents, 21:36 against Viborg in 1997 and 20:35 against Esbjerg in 2021
with a new coach on the bench, after assistant David Ginesta replaced Kim Rasmussen, Rapid Bucuresti needed a comeback in the second half to open their account in this season against MKS Zaglebie Lubin, with a hard-fought 26:25 win
GROUP A
MOTW: IK Sävehof (SWE) vs Brest Bretagne Handball (FRA) 20:25 (9:15)
Not even Carmen Martin's return in the lineup, after missing the first match against DVSC Schaeffler, helped Sävehof open their account this season, as the Swedish champions conceded their second straight loss, this time in the Match of the Week against Brest Bretagne Handball. Goalkeeper Katharina Filter, who signed for Brest this summer, had an outstanding outing, 15 saves for a 48.3% saving efficiency, delivering crucial saves in pivotal moments, as Brest took an early lead and never looked back, clinching the first win this season, 25:20, in another defence-first match, which seems to be the approach for the French side this season.
🎉 Celebrations are in order for @BBH_Officiel, who win #MOTW after a remarkable performance in Sweden 🔥

🏆POTM: Katharina Filter#ehfcl #clw #DareToRise pic.twitter.com/EJvoRyCoDB

— EHF Champions League (@ehfcl) September 16, 2023
Györi Audi ETO KC (HUN) vs DVSC Schaeffler (HUN) 35:23 (14:10)
Györ extended their winning streak against DVSC to 38 matches, with a clear win, especially thanks to their superior depth, creating a huge gap in the second part of the game, after the first half ended with a four-goal lead for the Hungarian champions, 14:10. The first all-Hungarian game in the group phase since this format was introduced in the 2019/20 season in the EHF Champions League Women saw Györ deliver a big win, dominating in big fashion to take their second win in as many matches and settle in on the first place in the standings.
Odense Håndbold (DEN) vs WHC Buducnost BEMAX (MNE) (25:8)
Odense had never scored 25 goals in the first half of a match in the EHF Champions League Women, while Buducnost had never been down by 17 goals after 30 minutes in the previous 307 matches in the European premium competition. But the Danish side rode a stellar performance from goalkeeper Yana Ten Holte – 10 saves for a 55% saving efficiency – to fuel fast breaks, which created a whopping 17-goal lead at the break. Odense did not score as many goals in the second half, but they did enough to hand Buducnost their largest-ever loss in the history of the competition, XX:XX, in a historic evening for both sides.
GROUP B
Vipers Kristiansand (NOR) vs FTC-Rail Cargo Hungaria (HUN) 37:26 (19:15)
A 10:5 run to end the first was the backbone of Vipers' superb win against FTC-Rail Cargo Hungaria, which answered the questions regarding Vipers' form to start the season, with plenty of changes in the squad, including on the bench, where Tomas Hlavaty replaced Ole Gustav Gjekstad. While Vipers might have slowed the rhythm late in the game, the performance was nothing short of special, as right wing Jana Knedlikova, left back Jamina Roberts and right back Anna Vyakhireva combined for 20 goals. However, FTC will surely scratch their heads after the first two matches, with new coach Martin Albertsen needing to sort out their defensive issues, having conceded 75 goals in the first two rounds, but, more importantly, conceding two losses by 10 goals or more.
Surprise your opponent: 𝑐ℎ𝑒𝑐𝑘 ✅

Anna Vyakhireva for @VipersKrSand 😵#ehfcl #clw #DareToRise pic.twitter.com/Bthshw6b2E

— EHF Champions League (@ehfcl) September 16, 2023
CS Rapid Bucuresti (ROU) vs MKS Zaglebie Lubin (POL) 26:25 (12:15)
Rapid lost four games this season in all competitions and the team's management resorted to a coaching change, as David Ginesta, the former assistant coach, replaced Kim Rasmussen. It did not look like everything was going to pan out for Rapid, especially as they went down by three goals at the break, 12:15, with the attack still lacking the much-needed impetus. But their experience helped them clinch a 26:25 win against the Polish debutants, with a 10:3 run in the middle of the second half, spurred by Orlane Kanor, who finished the match with seven goals, being crucial.