EHF EURO
Summary: France win and devastate Iceland's hopes
After a fortnight of competition, the main round comes to a close on Wednesday with three exciting matches in store in Budapest.










It is never an easy game against France. We had several close matches in the last few years. We played well in the first half, while they played better in the second. As good as we were in the defence in the first period France was equally good in attack during the second. They scored too many easy goals and that destroyed us today.


23:15
Here are the final main round standings.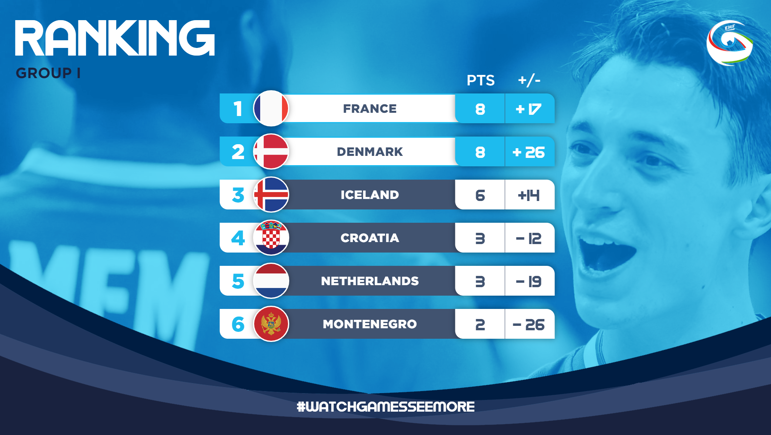 Tomorrow is a rest day for the players, but the EHF EURO live blog never rests - we'll be back as usual in the morning, with analysis of the main round, previews of the semi-finals, and more. 
22:44
Here are our final match reviews of the last main round day. So much drama! Check them out for recaps of the action, the key stats, and our journalists' reactions to the stories of each game. 
22:11
For live reaction to that result, head to our Twitch channel now for the main round wrap-up show. 
22:07 | FULL-TIME
DENMARK 29:30 FRANCE
Denmark lose their first match of the EHF EURO 2022 after France mount a spectacular comeback to take not just the win and the semi-final place, but to finish top of group I. 
The Icelandic fans in the stands look devastated, as their team's chances of a medal are now gone. 
22:00
France are ahead. Dika Mem gives them the lead at 58"19'. 
This must be agony for Icelandic fans, who can see their place in the semi-finals slipping away. Can Denmark somehow score twice in less than 90 seconds, while also preventing France from scoring again?
21:56
Another penalty conceded and France are level, with three and a half minutes left. Unbelievably, they are still in the running. 
21:52
Hugo Descat steps up for his seventh penalty and scores it. France are within two and there's seven minutes left. What have Denmark got? Did they go too hard, too early? They're starting to make mistakes.
21:46
The referees are punishing lack of discipline by both teams. Ludovic Fabregas earned his third suspension and is now off for the rest of the match after fouling Jacob Holm, and Hugo Descat has just scored a penalty to make the score 27:23 in Denmark's favour. 
21:41
It feels like every time France get a sniff at a comeback Denmark are able to respond. Denmark have just lost Rene Antonsen to a suspension, and in the power play Dika Mem scores - he's starting to have a bit of an impact, after not being particularly present in the first half. 
21:35
France had a great patch, closing the gap by two, but now Niklas Landin is stopping everything, the balls thudding off his shoes and getting the Danish fans on their feet. Denmark lead by five again. 
21:28
Niklas Landin has started in goal for Denmark in this half and so far has made one save from five shots. Vincent Gerard has still not been able to stop anything, but is on the court again. 
It's a five-goal game still. Both teams have conceded penalties.
21:21
Denmark's right and centre backs, Niclas Kirkeløkke and Jacob Holm, are the keys for their side so far with six goals apiece. We might have Mikkel Hansen in the stands, but Holm and his lookalike hairstyle are more than making up for the star's absence from the court.
21:09 | HALF-TIME
DENMARK 17:12 FRANCE
Wow. France are really struggling. Vincent Gerard and Wesley Pardin are having a nightmare, with just one save between them from 18 shots - and Kevin Møller is on a save efficiency of 40 per cent, with eight saves from 20. Courtney Gahan sums up that first half.
One big question ahead of this game was how important it was for Denmark to win — they could choose to rest stars and perhaps sacrifice first in the group or go full throttle and knock out France, a side sure to rise to the occasion in the medal round. When we saw they would take the court for this group-deciding game without Mikkel Hansen, Mathias Gidsel and a key defender, Magnus Saugstrup, it seemed they may be favouring the first option. But the reigning world champions are proving just how strong they are here with a comfortable lead at the break. France are staring their elimination in the face here. Can they possibly turn this around?
21:03
Denmark are back to how they started, aggressive and powerful, and have taken a 16:11 lead, although France are doing their level best to stop the attack.
20:56
After missing 11 shots, Vincent Gerard is off and Wesley Pardin is on. Kevin Møller continues to guard the Danish goal, and has saved five shots (36 per cent).
20:54
In the fight for possession there's a lot of bumping and barging going on. France have closed to 9:10 and it's a far more even match, with mistakes starting to creep in on the Danish attack.
20:45
This is better from France. They've found more fluidity in attack and have defended a bit better, but Denmark still lead by two or three goals depending on who has attacked last. 
Vincent Gerard is struggling, but Kevin Møller has had a good start.
20:37
With five and a half minutes played Denmark lead 5:1 and Erick Mathé, still serving as French coach, calls a very early timeout. Yanis Lenne scores soon afterwards, but France are, currently, in a spot of trouble.
20:33
Denmark have the first attack and Niclas Kirkeløkke makes short work of scoring. Denmark then defend well, prevent France from scoring, and score twice again. Nearly three minutes in and the world champions have set out a very strong statement of intent. They might be resting Mathias Gidsel and Mikkel Hansen, but they clearly want to win this.
20:21
A reminder of what can happen now: France win, and they win the group. A draw, and France go through second. Denmark win, and France are in the 5/6 placement match with Norway. 
19:58
One main round match left, and what a tantalising prospect it is.
Nicolaj Jacobsen has chosen to rest his stars Mikkel Hansen and Mathias Gidsel; Jannick Green and Magnus Saugstrup are also not named in the 16 players for today. France have deployed a full-strength squad, leaving out Julien Bos, Nicolas Tournat, Mathieu Grebille and Remi Desbonnet. 
Whether this means that Denmark are happy to let France win, and risk facing them again in Sunday's final, or whether they are confident their team can beat anyone even without Hansen and Gidsel, will be shown in the next 60 minutes. It's true that France have been far from perfect here, but they tend to rise to big occasions and fighting for the EHF EURO semi-final surely qualifies. 
We wouldn't want to be Iceland right now, waiting for this match!
19:50
So it's goodbye to Croatia and the Netherlands, who both finish the main round on three points. 
Croatia may not have managed to match their best EHF EURO performances, but they showed grit as they were hit by Covid and ended up playing with a very different team from that which they wanted to. The tournament showed the potential of players like Ivan Martinovic (37 goals) and Tin Lucin (28), while the old guard remains well-represented. Ivan Cupic has now tied Lars Christiansen in fifth place in the all-time EHF EURO scorer rankings, with 188 career goals.
The Netherlands reached the main round for the first time in their second tournament, and impressed everyone with their speed. Kay Smits was outstanding before his positive Covid test, and would have been in the running for top scorer without it. But as Covid took hold, the rest of the Dutch team stepped up and 17 players are on the scoreboard at the end of the EHF EURO 2022. Meanwhile, called up with no notice, Thijs Van Leeuwen hit the handball headlines with three impressive performances in goal and proved an able replacement for Bart Ravensbergen. Is the future orange?
It's been hugely enjoyable watching both teams play - thank you!
19:30 | FULL-TIME
NETHERLANDS 28:28 CROATIA
Tin Lucin scores a brilliant goal and gives Croatia the lead, but the Netherlands have time, take the ball back to their end, and Luc Steins caps a very good tournament with the equaliser. Probably a fair result, given the way both have performed throughout the EHF EURO 2022.
The crowd get to their feet to salute both teams, who can go home heads high.
Ivan Martinovic is Grundfos Player of the Match.
19:23
75 seconds left, and the Netherlands trail 26:27 and have possession. Edwin Kippers has called his last timeout. Croatia have been better this half but the Dutch do keep scoring their trademark quick goals.
Ivan Martinovic has been brilliant for Croatia, adding seven field goals to five penalties to lead the scoring rankings here.
19:10
Zvonimir Srna fouls Luc Steins and receives his third suspension, so that's his EHF EURO over. But Croatia lead 22:20 after a really solid period in which they have been punishing all the Dutch errors. 
19:05
Croatia seem to be using this match as a chance to try different things. For instance, Ivan Martinovic is taking penalties instead of Ivan Cupic, and some of the players who have been most crucial in the tournament so far are watching from the bench. 
With 15 minutes to go it's all square at 19:19.
18:55
Five minutes into the half and Croatia have equalised, with Ivan Martinovic scoring a penalty after Samir Benghamen was suspended during a period of fierce defence. Such a Croatian comeback was always on the cards. 
18:36 | HALF-TIME
NETHERLANDS 15:13 CROATIA
Better shooting accuracy and another good outing from Thijs Van Leeuwen has given the Netherlands the edge at the break - but Croatia could well mount another second-half comeback, and one suspects this could go all the way.
Less than a week ago, Thijs van Leeuwen was sitting at his day job at home in the Netherlands — and then his phone rang and he was asked to travel to Budapest to join the squad, which he was not even named as part of in the 35-player submission prior to the EURO. Yet after all other goalkeepers for the Netherlands tested positive, van Leeuwen was the next choice, and he delivered a huge game versus Montenegro. Again today he has played an important role with some critical saves and one has to wonder whether he has moved a little up the list of choices in the Dutch goal.
18:24
A couple of fine saves from Thijs Van Leeuwen gives the Netherlands a two-goal lead. Seven Dutch players have scored; a good team performance, although Tom Jansen has netted four.

18:17
A close match so far, just exchanging goals and neither side showing much dominance. Marin Sipic is having a good one though with five goals already, as the Netherlands lead 8:7.

18:02
Unlike against Denmark the other day, when he rested, Luc Steins is in the starting seven today. The Netherlands make a bit of a hash of their first attack and Croatia take an early lead with two goals from Marin Sipic.
17:42
Pre-match facts:
this game will be the first between the two nations at the EHF EURO and they have met just twice in official competitions. In the EHF EURO 2022 qualifiers, Croatia won both games
Croatian Ivan Cupic needs two goals to overtake Lars Christiansen's place in the EHF EURO all-time top scorer ranking
Cupic will also be sixth in the ranking for players having played the most games at the EHF EURO at the end of the main round
17:30
Kay Smits isn't back, but the Netherlands have got Iso Sluijters, Rutger ten Velde, Jeffrey Boomhouwer and Samir Benghamen back for what will definitely be their final main round match. 
17:18
So Montenegro bow out of the tournament, after wowing us in the preliminary round and also taking two points against Croatia in the main round. It's been their first main round appearance since 2008, and they have been an exciting and passionate team to watch (with equally passionate fans). They have scored 195 goals, including 41 by Milos Vujovic and 38 by Branko Vujovic, and Nebojsa Simic was excellent both in his saves and his celebrations. There's definitely more to come from the Lions.
Thank you, Montenegro, it's been a pleasure!
16:59 | FULL-TIME
MONTENEGRO 24:34 ICELAND
Montenegro fought hard at the start of the half, but Iceland were able to counter their attacks and even extend their lead at the end. Milos Vujovic was outstanding for Montenegro with 11 goals, most of them in the second half, and takes the Grundfos Player of the Match award; Ómar Ingi Magnusson also scored 11, including all five of Iceland's penalties.
Iceland will now definitely play at least the 5/6 placement match - and will be hoping for Denmark to beat France in the last match of the day.
16:48
After another outstanding first half, Viktor Hallgrímsson has struggled in the second, and Agust Elí Björgvinsson has taken his place between the posts - instantly making a save. 
16:45
Less than 10 minutes remain, and Iceland lead 27:20. Ómar Ingi Magnusson has netted 10 times (including five penalties) and is now top of the top scorer standings, with 48 goals. 
16:42
In the timeouts, Zoran Roganovic makes his words short and to the point, but Gudmundur Gudmundsson is using every single second. Roganovic has just called his second timeout after Iceland extended their lead to eight again.
16:37
Milos Vujovic chases so fast after the ball he goes right over the hoarding at the end of the court. Montenegro's fighting spirit is showing as they keep battling Iceland, who hold a six-goal lead right now.
16:28
Four goals for Montenegro in the second half, all scored by Milos Vujovic. Iceland are keeping their noses in front and still lead by eight, but Montenegro do have some momentum.

16:22
Montenegro begin the half by earning a penalty, which Milos Vujovic scores, and then he follows up with another goal. Nebojsa Simic is back on.
Iceland stop the Montenegrin run when Elvar Ásgeirsson scores, making the gap eight goals again. 
16:08 | HALF-TIME
MONTENEGRO 8:17 ICELAND
It's going to be tough for a visibly tired Montenegro to come back from this, although they will certainly try. Iceland are dominating in attack and defence - even without Aron Palmarsson. Palmarsson scored twice early on then went off court. It's unclear exactly what happened to him, but Iceland have played without him for the last three matches and with Ómar Ingi Magnusson still in fine form they seem to be managing just fine again.
Iceland have scored almost double Montenegro's goals in the first half, and the stats sheet gives you a part of the explanation, as Viktor Hallgrímsson has been doing wonders again between the posts. But, more than that, it is thanks to their whole defensive performance that Iceland have been on top so far. And that is, even after losing Aron Palmarsson within the first five minutes. It looks like France really will have to beat Denmark to get their ticket to the semis.
16:03
Zoran Roganovic has taken Nebojsa Simic off and put Nikola Matovic on. Simic has had a horrible day, conceding 14 shots; Matovic promptly concedes the first one he faces too. 
15:58
A brief patch of luck for Montenegro help them stop Iceland running away and they close from 4:12 to 6:12 with a 2:0 run. After Radojica Cepic misses a shot, Gudmundur Gudmundsson lets his men pass the ball a couple of times before calling a timeout, but Montenegro manage to regain possession and Milos Vujovic pulls off one of his trademark fastbreaks.

15:49
Ómar Ingi Magnusson scores his second penalty of the match to give Iceland a 9:4 lead. Viktor Hallgrímsson is leading the goalkeepers' battle in this first portion of the game, with six saves from 10 shots.

15:39
Iceland effectively prevented Montenegro from scoring for well over six minutes, and have a 4:1 lead. They are defending well and slowing down the game when Montenegro are in possession - and Hallgrímsson has started brilliantly again.
15:31
Iceland make a good start, defending hard against Montenegro, Viktor Hallgrímsson making an easy save, and Aron Palmarsson showing he is back with the first goal.
15:10
Your random fact of the day - Montenegro and Iceland are the two smallest nations left in the tournament. Iceland has a population of less than 400,000, while Montenegro's is just over 600,000 according to the latest figures. More people live in Budapest!
But the two teams have never faced each other at the EHF EURO. They did play against each other in the EHF EURO 2016 qualifiers, when both won their home game. With 126 goals conceded since the start of the tournament, Montenegro are the third least efficient defence of the EHF EURO 2022 while Iceland have the third best defence (100 goals). Both teams' best scorers - Ómar Ingi Magnusson and Branko Vujovic - have scored 38 goals.
14:42
Montenegro started their warm-up way before Iceland, who are now strolling onto court one-by-one to start stretching and throwing some balls. Both teams seem fairly chilled now, but surely nerves will rise as throw-off approaches.
14:26
Iceland have confirmed the 16 players available for today's match against Montenegro. Although their top goalkeeper Björgvin Pall Gustavsson is unable to play due to the results of his latest PCR test, Aron Palmarsson, Bjarki Mar Elisson and Elvar Jónsson are out of isolation and named to the squad. That's a real boost for Iceland as they play to keep their semi-final hopes intact.

13:30
Last post before lunch and our trip to the arena - can you score a spin-shot like Sigvaldi Bjørn Gudjonsson? Check out his tips, and join our handball skills challenge here.
13:18
Although Hungary got knocked out of the tournament early on, there's still home interest for local fans with Spain through. Both Jorge Maqueda and Rodrigo Corrales play for Telekom Veszprém and they are hoping they'll get plenty of Veszprém fans along to the final weekend to support the Hispanos. 
Buy Men's EHF EURO 2022 tickets!
Get your tickets to see Rodrigo Corrales, Jorge Maqueda and their teammates in the final weekend here
Buy tickets here
12:12
The last main round match is a repeat of the Tokyo 2020 Olympic Games final, and France know if they can repeat that win they are through to the EHF EURO semi-finals. But with Denmark on dangerously good form, it will be a stern test. 
Courtney Gahan and Kevin Domas, each advocating for one of the teams, have looked at their respective strengths before this epic clash.
11:55
Swedish wing Valter Chrintz is only 21 and he's already playing in his second EHF EURO. In 2020 he played 103 minutes; this tournament, despite being a late call-up when Covid started affecting the team, he's notched up 190 minutes of play and scored 13 goals. Those include last night's match-winning penalty against Norway, which is the top goal of yesterday's games.

11:30
Today's big features focus on the two crunch matches in Budapest, which will decide the final weekend tickets.
First up, EHF journalist Courtney Gahan has taken an in-depth look into Iceland's success. She pinpoints the key players and tactical decisions taken by the Icelandic federation and head coach Gudmundur Gudmundsson over the years.
Iceland must win this evening to stay in the running; after that, their fate rests on the outcome of the final match.
11:05
Before we turn our full attention to what's coming up today, a look back at last night's highlights. There's no doubt Rodrigo Corrales was the hero of the Spanish hour, with his double save giving the Hispanos victory and top spot in group II last night. But credit too to Peter Johannesson and Kristian Saeveraas in the Sweden vs Norway match - Saeveraas was exceptional in the first half, and Johannesson's impact in the second cannot be underestimate.

10:40
Here's the morning team news round-up:
Denmark have confirmed all their PCR tests are negative, giving them a full squad to face France tonight.
Iceland have called up left wing Dagur Gautason, who plays for Icelandic club Stjarnan, and IFK Skövde left back Bjarni Ófeigur Valdimarsson. They were en route to Budapest yesterday. The news follows an earlier announcement that, despite being clear for Monday's game, goalkeeper Björgvin Pall Gustavsson again tested positive for Covid-19, along with line player Elliði Viðarsson. A further update is not yet available.
The Dutch Covid cases unfortunately keep coming, with left wing Tommie Falke testing positive. As of yesterday, that meant nine Dutch players, plus head coach Erlingur Richardsson, goalkeeper coach Gerrie Eijlers, and two other staff members are all in isolation.  
Montenegro, France and Croatia have made no announcements relating to their squads in the last couple of days before today's final main round games.
10:00
There is one semi-final place left, and it's going to either Iceland or France. By about 22:00 CET we'll know all four teams still in the running for the EHF EURO 2022 trophy.
But tonight's not all about that coveted semi-final spot. Montenegro and the Netherlands still have a shot at the 5/6 placement match if they win their respective matches. And with Sweden through to the semi-finals, the fifth-placed team will earn automatic qualification to next year's World Championship. So expect each of today's games to be intensely fought, and don't count out further surprises.