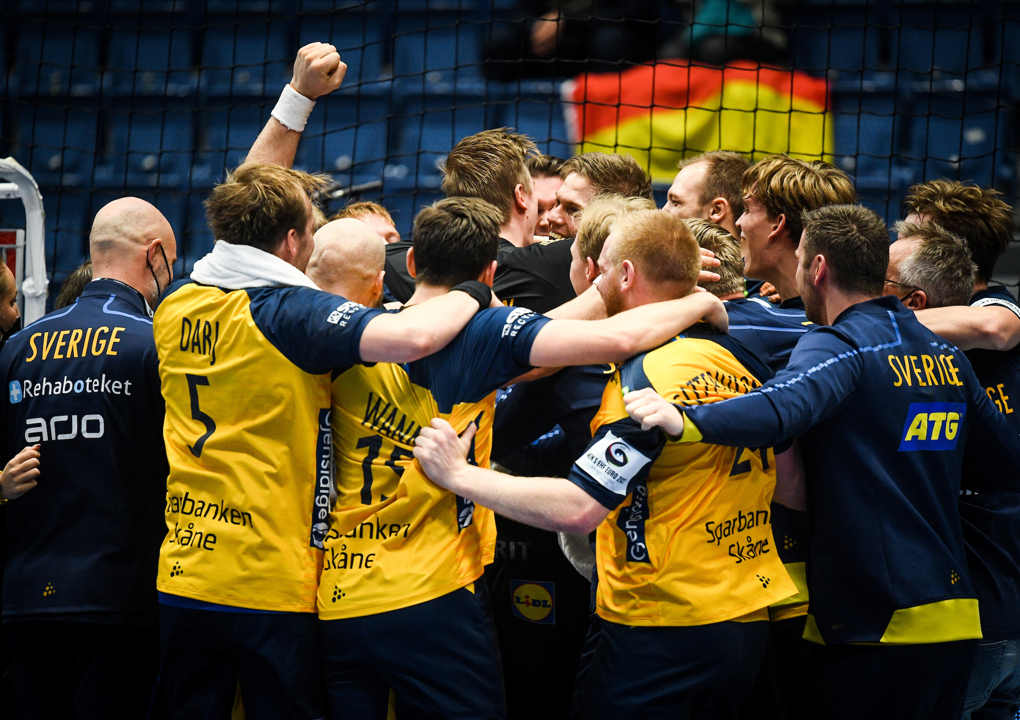 Summary: Sweden and Spain through to semi-finals
Tuesday 25 January will see the two semi-final places from group II decided, with Spain able to decide their fate early and Norway and Sweden fighting it out in the last match in Bratislava.









In the last five minutes we were fighting like animals for each other, we never stopped fighting.
23:17
That's all from us for tonight. There's just one main round day left, and we'll be here from 10:00 CET with everything you need to know about these final matches.
22:53
So here's how main round group II ended. Spain top the rankings as they beat Sweden in the preliminary round, although Sweden have a superior goal difference.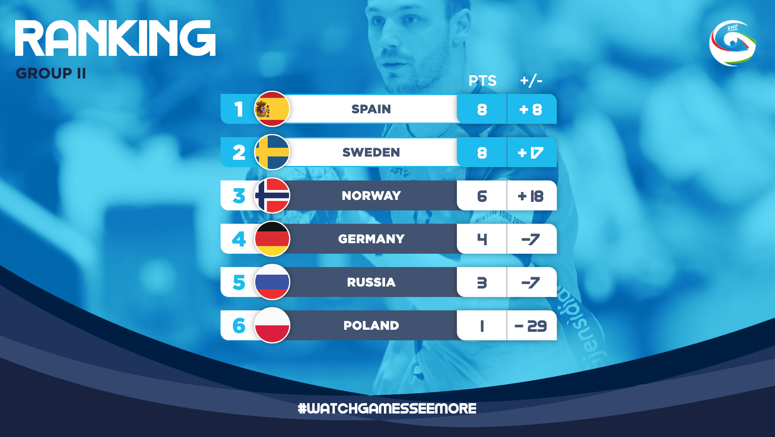 22:45
Three one-goal victories tonight as Bratislava action comes to an end with fireworks. Germany, Russia and Poland head home with their heads high after strong performances throughout the tournament. Spain, Sweden and Norway come to Budapest tomorrow to prepare for Friday's placement match and semi-finals.
As Sweden have qualified for the EHF EURO semi-finals, the 5/6 placement match has real value here. Automatic qualification for the IHF Men's World Championship 2023 will go to the three best-ranked teams at the EHF EURO 2022, excluding reigning world champions Denmark, and co-hosts Sweden. Spain and whichever of Iceland and France qualify for the semi-finals will take two of those spots, with the fifth-placed side taking the third. 
22:21
In case you missed it - or just want to watch the drama again - here are the last seconds of that match. Huge credit to Sweden for never once giving up.

22:12 | FULL-TIME
SWEDEN 24:23 NORWAY
Everyone is crying. Sweden for joy, Norway in agony. Valter Chrintz made a massive impact in the second half, and clearly can't believe what's happened. 
The match ended as Sander Sagosen's last shot went wide. Even before the buzzer, Sweden were celebrating and Norway look devastated. 
22:08
Agony for Norway! Oscar Bergendahl earns a penalty with 15 seconds to go. Torbjoern Bergerud comes on but Valter Chrintz rockets the shot past him - and Sweden have the lead, for the first time in the game. Christian Berge calls a timeout ... can Norway save their semi-final place?
22:02
Another goal from Valter Chrintz, another from Jim Gottfridsson and one from Hampus Wanne, and it's 23:23 to Norway with two and a half minutes to go. Norway can get away with a draw but Sweden have momentum and Norway are starting to make errors.
21:57
Valter Chrintz, who's having a pretty good day, becomes the first Swede to get a penalty past Torbjoern Bergerud. Sweden have six minutes to make up four goals and Norway are answering every one of Sweden's goals with one of their own.
21:52
With 10 minutes to go, Christian O'Sullivan hammers home a rocket and makes it 20:17. But Sweden strike back instantly, courtesy of Valter Chrintz. There have been more rotations by both teams, but Sander Sagosen is ever-present in the centre of Norway's line.
21:42
We have a match! Sweden are closing in on Norway and now is the time for the 2020 bronze medallists to knuckle down and regain their composure. Peter Johannesson's arrival on court seems to have revitalised Sweden.

21:30
Peter Johannesson is now on for Sweden in goal, and made one save on Norway's first attack. As Sweden earn a penalty Torbjoern Bergerud comes on to take it and does, denying Hampus Wanne. Then he heads back to the bench, evidently being saved for the semi-final that looks likely to come.
21:15 | HALF-TIME
SWEDEN 9:14 NORWAY
It's looking ominous for Sweden. Maybe it was because Sweden were missing their top goalkeeper that Christian Berge decided to play his second-choice shot-stopper too - but Kristian Saeveraas is performing brilliantly, while Tobias Thulin is having a tricky time of it. Plus, as Adrian Costeiu assesses below, Sweden are struggling in attack and defence. At the moment, the place in the semi-finals looks like it's going to Norway.
47 per cent versus 70 per cent. That is the difference between the efficiency of the two Scandinavian attacks colliding tonight in Bratislava. And, of course, Norway took full advantage over their superiority, boasting a five-goal lead. How did they do it? Strong defence and some impressive goals from Sander Sagosen, who looks back at his best, scoring three goals and dishing three assists.

On the other hand, Sweden look totally out of sorts, both in attack and in defence. And this is probably the main story of the match: Norway bounced back after their loss against Russia in the preliminary round, while Sweden, despite their three-game winning streak, look to have plateaued. Still 30 minutes to go, though!
21:00
Both teams have started rotating their players, although Sander Sagosen is staying on court in both attack and defence right now. With Hampus Wanne suspended, Sweden are a man down and Kristian Saeveraas adds another save plus an empty net goal. Glenn Solberg calls a timeout with his team trailing 7:10.

20:48
Norway are going to need to be more disciplined in defence - three suspensions in less than 15 minutes, including two overlapping, is not ideal. They do just still hold a narrow lead, as Kristian Saeveraas keeps them in it with a massive 50 per cent save rate.
Here's that first goal from Christian O'Sullivan.

20:42
Both teams looking a touch nervy in these early moments, with a turnover each and not many goals. It took nearly four minutes for the first goal to be scored by Christian O'Sullivan and almost five for Jim Gottfridsson to net for Sweden. Since then, it's going goal for goal, but a little slowly. The prolific Norwegian attack cannot score as freely as they have been doing in earlier matches against the tough Swedish defence.
20:30
Throw off! Although Sweden are missing Andreas Palicka and Felix Claar, they do now have Niclas Ekberg back after he had to isolate. That could definitely help the men in yellow.
20:20
This match pitches the best attack at the EHF EURO 2022, Norway, with one of the best defences. Sweden have the second best average of conceded goals in the tournament, 23.1 per game, just shy of Denmark's 22.8 conceded goals per game output. Norway have scored 199 goals – an average of 33.1 per game, their best-ever in a single tournament. Left wings Sebastian Barthold and Hampus Wanne, both with 38 goals, are the top scorers for Norway and Sweden in the competition.
20:00
One more match to go in Bratislava and what a match it should be! Sweden face their neighbours Norway, with Norwegian coaches in charge of both sides. Sweden must win, but are playing without their first-choice goalkeeper Andreas Palicka after he tested positive for Covid-19. Norway are basically at full-strength, and Sander Sagosen looks like he's been getting some target practice in. They throw off at 20:30 CET.
19:35 | FULL-TIME
GERMANY 30:29 RUSSIA
With 38 seconds to go and the score at 29:29, Alexander Kotov is suspended for a high foul, and Alfred Gislason takes the chance for a last timeout. Patrick Zieker executes the plan and scores, giving Russia possession but only 11 seconds to score something and win the match.
Velimir Petkovic presses the timeout buzzer. But Russia move too slowly to do anything much - they are awarded a direct free throw, which Sergei Mark Kosorotov takes unsuccessfully. Germany end on a high, while Russia suffer yet another close disappointment in this main round. 
19:25
After Russia took the lead in the 51st minute, with six minutes to go Lukas Stutzke equalises. The level game lasts for all of 37 seconds, because Daniil Shishkarev sends a rocket past Johannes Bitter and Russia lead again, 27:26. Yet again, Russia are involved in a tight battle to the end of the match.
19:13
Viktor Kireev has picked up an ankle injury and despite icing it, remains on court. Mind you, he's still making saves.
Johannes Bitter has replaced Daniel Rebmann for Germany.
19:10
"Alles gut," says Alfred Gislason, calling a timeout, before explaining with passion what he wants his team to do. Russia have equalised, so it's time for a few changes and a bit of rest for the likes of Fabian Wiede.

19:06
Again, Germany stretch out their lead only to lose it through a few technical errors and Russia are back to 20:21. It's becoming a little scrappy. Germany have far fewer players at their disposal and endurance may become an issue as these final 20 minutes stretch on.
18:54
Germany have forgotten they need to keep playing and Russia have brought it back to a one-goal game in 90 seconds. 
18:40 | HALF-TIME
GERMANY 16:12 RUSSIA
Germany found a second wind, picked up the pace and stopped Russia scoring for well over seven minutes. They managed to force their opponents into errors and their 4:0 run means they take a decent advantage to the dressing room. Captain Johannes Golla is leading the scoring, with five goals so far.
While they might not be able to feature in the 5/6 placement match on Friday, Germany still came out strong against Russia. After winning the three games in the preliminary round, Russia are looking increasingly likely to finish the main round on a four-game run without a win. It's difficult to pinpoint exactly what went wrong, but it seems that Germany's motivation to end on a high is bigger.
18:30
Russia buckled down, got tough in defence and better in attack, and equalised. Now it's a back-and-forth match, well into the last 10 minutes of the half.

18:18
Velimir Petkovic presses the timeout buzzer just as the ball slips from Russia's hands, which is judged an error on video replay. Russia get a timeout, after both teams have had a good long chat anyway, and Dmitry Zhitnikov scores to bring the growing gap back to three.
18:13
Germany are a depleted side, with only 13 men on court after their latest positive Covid cases. But they're playing fluidly and efficiently, scoring easily in attack and backed up by a good start from Daniel Rebmann in goal. That's given them an 9:6 lead. 
18:02
We're underway, with fast play in the opening minutes. Julian Köster scored 38 seconds into the game, and that's started a flurry of goals. 2:2 after two minutes.
17:36
If they do not beat Russia, and finish fifth in the group, Germany could tie their worst-ever finish at the EHF EURO: 10th, in 2010. A loss would be Germany's fourth in a row in this tournament, setting the worst-ever losing streak for the side in 97 matches played in the European premium competition. However, provided they do not lose against Germany, Russia can seal the best finish at the EHF EURO since 2006, when they finished sixth. So it's all to play for.
17:15
Coming up next, it's a game for honour and pride between Germany and Russia. Neither side can progress to the final weekend, but both want to leave with a win. 
EHF journalist Björn Pazen spoke to Russia's coach Velimir Petkovic about leading his team out against a squad led by an old friend, Alfred Gislason - the man who could also have been in charge of Russia.
17:00 | FULL-TIME
POLAND 27:28 SPAIN
Spain are through to the semi-finals - they are assured of a place in the final weekend with that narrow win. They celebrate, but it wasn't by any means a dominant performance. However, they make history as the second side to reach six consecutive EHF EURO semi-finals, alongside Croatia.
Rodrigo Corrales secured the win with a fabulous double save in the final minute.
16:46
Michal Daszek is playing a key role for Poland, scoring five times and being important generally on the attack. 
Spain somehow keep managing to edge back to a three-goal lead every time Poland close up.

16:36
Spain are clinging to a two or three-goal lead, but have conceded a goal and briefly lost a player as Inaki Pecina is suspended for clinging on too long in defence. The game is far from won.
Gonzalo Perez de Vargas is in goal but so far hasn't saved a single shot. Poland make it a one-goal game again. You get the sense that Spain may just squeak through, but they are far from dominant.
16:24
Poland score first in the second half as Damian Przytula sends a rocket over Rodrigo Corrales' head. However, Spain have started a bit better, holding on to the ball and forcing a penalty which Aleix Gómez nets, giving them a two-goal lead.
16:07 | HALF-TIME
POLAND 13:14 SPAIN
If Spain have a half-time lead it's as much through luck, and their goalkeeper's skill, as anything else. As EHF journalist Adrian Costeiu notes, their attack is still not firing properly, and Poland's persistence is keeping them in the match. We could yet be in for an upset.
In a must-win game for Spain, the reigning champions, one of the most experienced teams at the EHF EURO 2022, broke the number one rule: do not let your opponent come back if you take a big early lead. Spain looked like they were cruising, but their attack was once again their undoing. Six of the 14 goals they scored in the first half were via fast breaks, as their positional play is still lacking both a spark and the efficiency. They will be favoured to win this match and, therefore, to qualify for the semi-finals, but Spain are definitely looking more vulnerable than in the past two tournaments.
15:55
After Poland equalised at 8:8 Jordi Ribera called a timeout, and it has steadied the Spanish ship. They have been better in counterattack, and pulled ahead by two. Joan Cañellas has scored, his first goal.
15:47
A few changes and Poland have found some better rhythm and effectiveness on the attack and strength in defence, helping them narrow the gap to two goals.

15:40
An early timeout for Poland's Patryk Rombel, as his men have had three turnovers and trail 2:6 after less than 10 minutes. 
15:37
Ferran Sole is making the early running for Spain, scoring twice as they take an early 4:2 lead against Poland. Rodrigo Corrales in goal also had a good start.
15:20
A couple of key stats ahead of this match:
Poland have conceded the largest number of goals in the tournament, 180, or an average of 30 conceded goals per game
Spain's biggest issue has been their efficiency in attack, frozen at 58 per cent throughout the tournament. They scored the same number of goals as Poland, 166, in their first six matches
Agustín Casado is Spain's top scorer with 26 goals; Arkadiusz Moryto is Poland's, with 40, putting him second overall. He could well pass Kay Smits as the tournament's top scorer today
15:05
Spain and Poland have confirmed their squads for today. Spain's notably includes Joan Cañellas, back after isolation. 

Meanwhile Poland are indeed missing big shot Szymon Sicko after his positive test, which we reported earlier - potentially a blow to their hopes. However, some of the other players who previously tested positive, then negative, are on the roster.

14:45
In Bratislava, warm-up is underway for the last day of action. Norway, Sweden and Spain will all head to Budapest for the final weekend - either for the semi-finals, or the 5/6 placement match.
Spain and Poland actually met very recently, playing a friendly match in Spain before the EHF EURO threw off. It ended in a 26:25 win for Spain, with Rodrigo Corrales saving the victory. That shows how Poland cannot be underestimated tonight.

13:25
Less than 20 minutes into their game against Montenegro last night, France's goalkeeper Vincent Gerard was given a direct red card for leaving the goal area and making physical contact with Milos Vujovic on a fastbreak. The EHF disciplinary commission this morning decided there was no malicious intent involved, and Gerard faces no further sanction (the same applies to Montenegro's Vasko Sevaljevic, who was disqualified for making contact with Nikola Karabatic's face). 
With Gerard off the court, Wesley Pardin had to step up - and what an amazing job he did. He tops the list of top five saves of Monday night.

12:35
Will Spain become the first team in history to win three consecutive EHF EURO 2022 titles? We'll find out if they still have a chance this evening - by about 17:00 CET we will know if they are through to a sixth straight semi-final, at least. It is a remarkable record.

12:22
Some great goals were scored last night by players from all teams - powerful shots, clever shots and in-flight shots. Take a look at the top five goals.

11:53
Hot off the podcast press, it's the latest edition of the (Un)informed Handball Hour's official EHF EURO 2022 podcast. Recorded last night, this episode reacts to the last couple of main round days, talks to Sebastian Barthold, and makes some more predictions about what could happen today and tomorrow. Unmissable lunchtime listening!

11:25
A round-up of what's going on in the squads - there is only a little bit of Covid-19 news currently.
Sweden announced yesterday that their number-one goalkeeper Andreas Palicka and centre back Felix Claar both tested positive. It's a blow ahead of the crucial match with Norway. Second-choice goalkeeper Tobias Thulin has performed brilliantly and his saving percentage is actually higher than Palicka right now, although he's faced only a quarter of the shots of his older colleague. 
Claar has featured in all six matches for Sweden, playing 193 minutes and scoring 16 goals.
Poland have issued a statement announcing that Mateusz Kornecki, Szymon Sicko, Melwin Beckman, Patryk Walczak and Lukasz Wicha all tested positive after the match with Russia and were isolated. Follow-up tests yesterday were negative for all players, except Beckman. Today, Sicko, Kornecki, Beckman, and new arrival Milosz Walach are all being tested again, with results not yet known.
11:10
We had some superb handball in Budapest last night and three people stood out, winning the Grundfos Players of the Match awards: Croatia's Tin Lucin, Denmark's Mathias Gidsel, and France's Nikola Karabatic. Watch their highlights here!

10:45
It's not always obvious which teams have a chance of progressing to the next round, so here's our handy guide. 
In group I, Iceland need a win against Montenegro and for Denmark to beat France; France, meanwhile, either need a win or draw with Denmark, or for Iceland to lose. Montenegro and the Netherlands are still in the hunt for the placement match if they win their last matches. In that event, head-to-head results would be taken into account.
In group II, Spain need a win or draw against Poland to be sure of progressing. If they lose, they need Norway to beat Sweden. Norway are through if Spain lose, or if Spain win, they must beat or draw with Sweden. Sweden are through if they beat Norway, or if they draw with Norway after Spain lose to Poland. 
Clear as mud?
10:00
Three teams, two tickets. That's how group II is looking tonight. 
Spain arguably have the easier job against Poland, with a draw or win securing them their place for certain. Sweden and Norway will know the outcome of that match long before they take the court, and will either both be safe in the knowledge they will progress, or will know they have to fight for the win to proceed.
It's going to be exciting. Buckle into the blog for the day's ride!