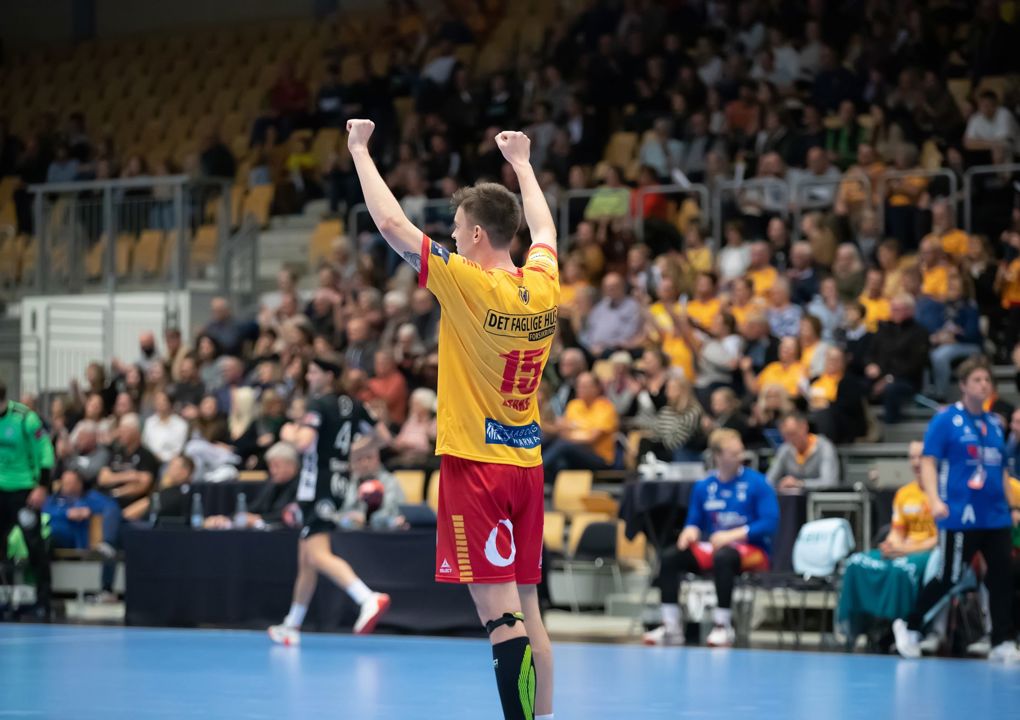 Summary: GOG top group B after draw between Nantes and Benfica
In round 6 of the EHF European League Men 2021/22 group phase on Tuesday, the last full round before the competition takes a 10-week winter break, GOG went top of group B after they beat TBV Lemgo Lippe and the match between HBC Nantes and SL Benfica ended in a draw.
23:55
To conclude the blog for tonight, here are the standings in group A and group D. 
In group A, Wisla Plock have closed the gap on Füchse Berlin – whose planned match for this evening with Pfadi Winterthur was unfortunately postponed – to just two points. Fenix Toulouse will be satisfied that they now have a four-point cushion over the three teams below them in standings. However, the French side have played two games more than Bidasoa Irun and Pfadi Winterthur.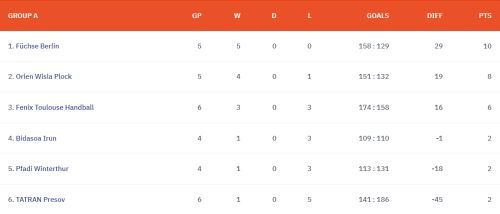 Meanwhile, in group D, Nimes and Pelister occupy the first two places after wins over Tatabanya and Sporting CP, respectively. Kadetten Schaffhausen might be the happiest of the team in the group at the end of this evening. The Swiss side's victory over AEK Athens has put them in fourth place, two points clear of their Greek opponents.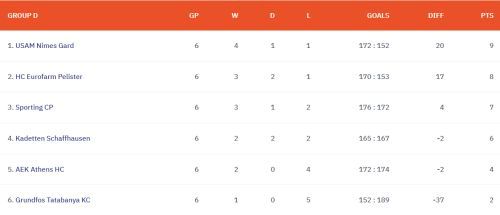 23:35
Check out some of the best pictures from a variety of the matches in our gallery below!

















It was a very difficult game for us. We know that it's hard to win in Nantes against this team. Some of our players were missing, so we decided to play with two pivots. We played good and we are lucky to win this point.
The atmosphere here in this XXL Arena was incredible. We have the best public in Europe and it's a chance for us to play in front of so many supporters.
23:11
Here is a full overview of the results from this evening's round 6 matches.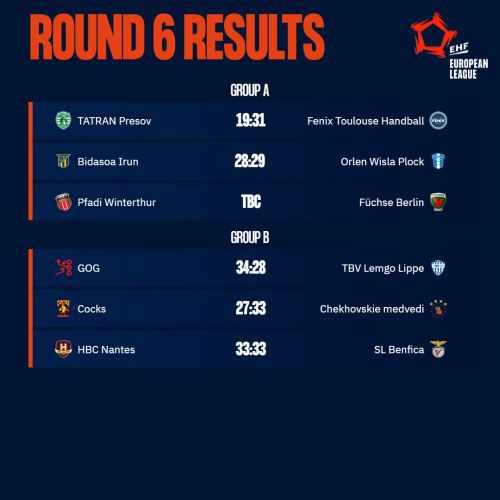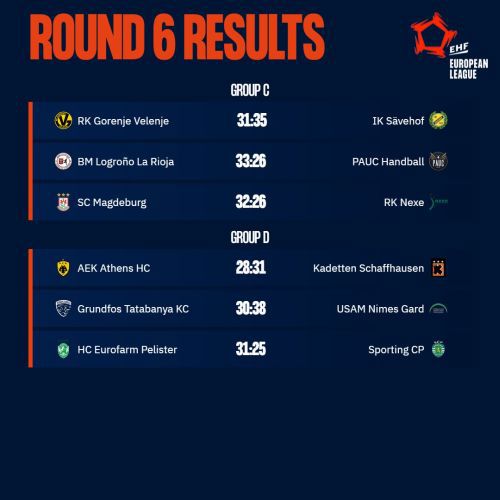 22:48
While we said that, as of this evening, Magdeburg had established themselves as the best side in group C, they still need to prove it in one more match before the winter break. Magdeburg will meet Sävehof in Sweden on 14 December – and the match will decide which side tops group C before action from the EHF European League Men resumes in February.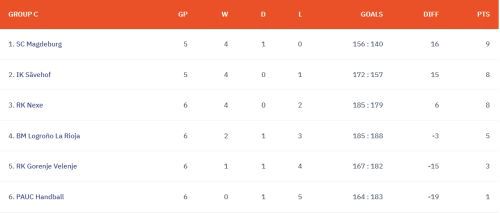 22:42
Benfica certainly looked the happier side after picking up a point against Nantes, but GOG will head into the winter break on top of group B. The Danish side's win earlier in the evening is enough for them to lead the standings on goal difference. 
At the other end of the table, Chekhovskie medvedi got off the mark against Cocks.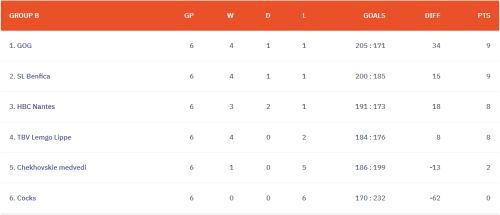 22:32
Other results
Bidasoa Irun vs Orlen Wisla Plock 28:29
Logroño La Rioja vs PAUC Handball 33:26
Eurofarm Pelister vs Sporting CP 31:25
22:29
Kiril Lazarov – he is in a league of his own.
22:27
As of the close of play this evening, there is no question about who is the best team in group C. Magdeburg have coasted to a commanding 32:26 victory over Nexe. The German side are top of group C with nine points from their five matches, while Sävehof are now ahead of Nexe in second place on goal difference.
22:23
A thrilling match but somewhat of a tame ending. Thibaud Briet's shot hit the post with 21 seconds remaining, Nantes regathered the ball and they received a free-throw before the buzzer. The direct free-throw was saved but the referees had already deemed that it was taken incorrectly and so the game ends 33:33.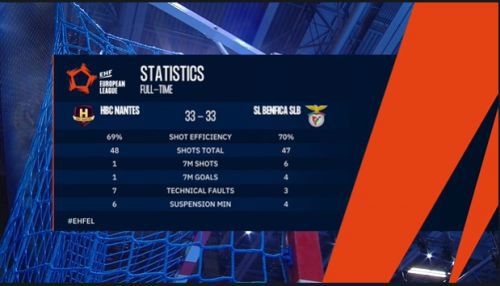 22:15
Rahmel put the ball under Nielsen's lifted leg for his previous goal. On this occasion, he succeeds by going high. The score is now 33:33, there is one minute left and Nantes have called a timeout on what might be their final attack of the game.
22:12
Paulo Moreno equalises for Benfica at 31:31 with under three minutes remaining. Could the points be shared? It is now a distinct possibility!
22:05
Nantes' advantage hit five goals in the 49th minute after Théo Monar stepped up to score his third goal of the game. With less than nine minutes remaining, the French side's lead is back to three goals (30:27).
21:57
Emil Nielsen has made three saves from nine shots for Nantes, but each save has been greeted with a huge roar from the home crowd. 
21:55
While the gripping battle between Nantes and Benfica continues in the headline match in group B, Magdeburg appear to have a firm grip on their group C game against Nexe with less than 15 minutes left. The German side lead 28:22.
21:52
Valero Rivera scores two consecutive goals for Nantes, taking his total to eight for the match, and Benfica respond by calling an immediate timeout. Nantes lead 23:22 after just under 42 minutes played.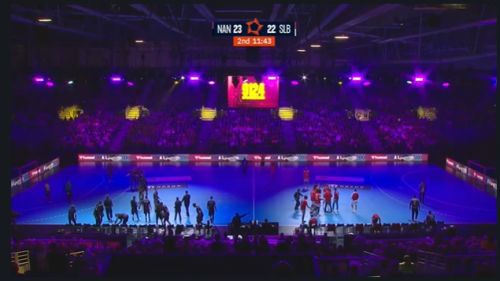 21:46
Emil Nielsen is now in goal for Nantes and the Danish goalkeeper made his first save of the match a few minutes ago. Kiril Lazarov has also stepped on court for Nantes, but Benfica lead 22:20 after 39 minutes.
21:39
The second half is underway in Magdeburg and Nantes. 
Here is Francisco Pereira's intelligent steal and finish that gave Benfica the half-time lead against Nantes! 
21:33
Other half-time scores
Bidasoa Irun vs Orlen Wisla Plock 11:16
Logroño La Rioja vs PAUC Handball 17:13 
Eurofarm Pelister vs Sporting CP 14:13

21:30
Magdeburg's lead at half-time is not quite as big as it looked like it might be after 15 minutes. Fahrudin Melic has led the scoring the Croatian visitors, scoring seven goals in the first half, while Tim Hornke, Philipp Weber and Lukas Mertens have all scored four each for the hosts.
21:27
How quickly things can change in handball! Benfica trailed 6:1 after seven minutes in the first half but they are ahead 17:16 at the break in France. An interception that led to Francisco Pereira's fast break goal in the final minute of the half is why Benfica have the advantage after 30 minutes.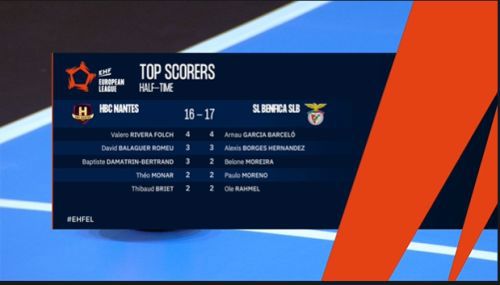 21:18
Ole Rahmel's fast break goal brings Benfica level for the first time in the match (14:14), but Baptiste Damatrin-Bertrand converts from the left wing for Nantes on their next attack. More importantly, Mickael Robin then thwarts Alexis Borges' attempt from the seven-metre line, so Nantes have a slender lead as we enter the final three minutes of the first half. 
21:12
Benfica needed to find their feet quickly after Nantes made a strong start – and the Portuguese side certainly have. Nantes' advantage now stands at just one goal, 13:12, and they have called a timeout.
On the subject of Nantes' strong start, here is David Balaguer using his lob skills earlier in the match. 
21:07
One player who is enjoying proceedings in Germany for Magdeburg is goalkeeper Mike Jensen, who has made six saves from 12 shots so far. His latest save from the wing prompted a big celebration from the Danish goalkeeper.
21:04
Meanwhile, in Germany, Magdeburg have already taken control against Nexe. In a 3:0 run for the German side, a behind-the-back pass from Ómar Ingi Magnusson set up Tim Hornke for his fourth goal of the game, the Icelandic right back then scored a goal of his own before providing the assist for Lukas Mertens' fast break goal (10:3). Magdeburg currently lead 12:6 after 15 minutes played.
20:55
Nantes are playing at a fast tempo, there is a great atmosphere in the Hall XXL, and if Benfica do not find their feet quickly, they will have a mountain to climb. 
20:53
Spanish right wing David Balaguer has made a storming start for Nantes in the opening seven minutes, scoring three times, and his fellow countryman Valero Rivera has just opened his account to give the French side a 6:1 lead.
20:43
Two big matches are now coming up at 20:45 CET. 
Group B: HBC Nantes vs SL Benfica 
Group C: SC Magdeburg vs RK Nexe
Ahead of Magdeburg's match against Nexe, both coaches provided us with their thoughts earlier in the week. 
We are visiting the best team in the world and currently the leading team in the Bundesliga, which speaks volumes about what kind of team it is. Magdeburg is a well-tuned machine that is working flawlessly at the moment. We have an extremely demanding opponent ahead of us, but at the same time, it will be a huge challenge for us.
Things are going very well for us at the moment. We didn't let the draw in Logrono knock us down and we won in the Bundesliga against Lemgo, a strong opponent.









We had more in the bag than they had. I think we controlled the game most of the way. Even though they came close a few times, I have the feeling that we could step up when needed. Overall, a match where we are six goals the better without breaking the scale of good handball play.
20:29
Other results
All of the other matches that began at 18:45 CET are now complete. Toulouse and Nimes recorded big away wins, Chekhovskie medvedi held off Cocks' attempt at a miraculous comeback in the second half, but Sävehof and Kadetten Schaffhausen have recorded arguably the most significant wins.  
TATRAN Presov vs Fenix Toulouse Handball 19:31
Cocks vs Chekhovskie medvedi 27:33
RK Gorenje Velenje vs IK Sävehof 31:35
Grundfos Tatabánya KC vs USAM Nimes Gard 30:38
AEK Athens HC vs Kadetten Schaffhausen 28:31
20:22
As we said earlier, Mathias Gidsel made the type of impact for GOG in the second half that Lemgo feared he would at some point in the match. Here is the Danish right back at his best!
20:19
While some of the statistics from the match look fairly close, GOG have completed a comprehensive 34:28 win over TBW Lemgo Lippe in group B. Nine goals from Emil Wernsdorf Madsen and seven goals from Emil Lærke did the damage in attack.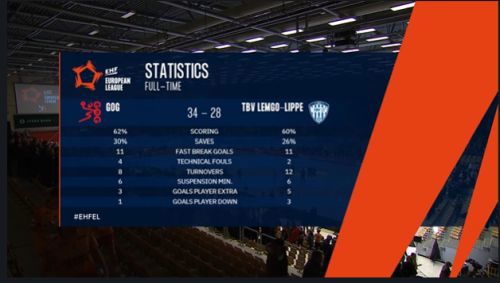 20:12
With GOG holding a five-goal lead, 32:27, inside the final minute, the result is not in any doubt.
However, AEK Athens are currently level with Kadetten Schaffhausen (26:26), and IK Sävehof lead 31:29 against Gorenje Velenje.
20:04
Emil Wernsdorf Madsen steps up and hammers home his eighth goal of the match, this time from the seven-metre line, and GOG lead 26:21 with approximately eight minutes left. Time is running out for Lemgo if they are going to turn this match around.
20:02
Toulouse are powering to another victory over TATRAN Presov – and the French side's stylish play has caught the eye again.
19:58
Check out the number of fast break goals for both teams after 45 and a half minutes! It has been a quick match...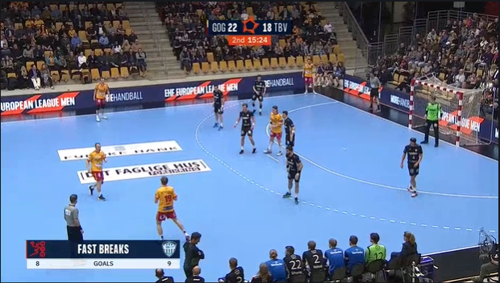 19:55
No sooner than Lemgo appear as though they are back in contention, GOG once again restore a five-goal lead. As Lemgo head coach Florian Kehrmann feared before the match, Mathias Gidsel is making his now mark on the game. 
19:50
Several fast breaks have helped Lemgo reduce GOG's advantage to three goals, 19:16, after 42 minutes. Mathias Gidsel's first goal of the match ended a goal drought that lasted more than five minutes for the Danish side.
19:41
Simon Pytlick has just raced away on the fast break to extend GOG's lead to six goals, 17:11, but he collided with the post and was briefly entangled in the goal netting. The good news is that he appears fine after the incident.
19:35
While AEK Athens trail at half-time against Kadetten Schaffhausen, the Greek side delivered some eye-catching in-flight action early in the first half.
19:32
Emil Lærke and Emil Wernsdorf Madsen led the scoring for GOG in the first half against Lemgo, but Simon Pytlick had the standout moment!
19:28
It is time to check on the other half-time scores from around Europe in round 6 of the EHF European League Men. Notably, in the battle of the two teams searching for their first points in group B, Chekhovskie medvedi have a huge lead against Cocks, while Kadetten Schaffhausen lead by two goals at the break in their group D encounter against AEK Athens.
TATRAN Presov vs Fenix Toulouse Handball 12:16
Cocks vs Chekhovskie medvedi 10:20
RK Gorenje Velenje vs IK Sävehof 15:16
Grundfos Tatabánya KC vs USAM Nimes Gard 17:16
AEK Athens HC vs Kadetten Schaffhausen 15:17
HALF-TIME UPDATE
Emil Wernsdorf Madsen's four goals in the last five minutes of the first half for GOG have changed the complexion of the game. Lemgo would have been happy when they levelled the score at 10:10, but they now have a huge challenge to turn the match around in the second half.
19:18
Elisson's fifth goal of the match for Lemgo – an empty net goal – levelled the score at 10:10, but any joy for the German side has not lasted long. GOG have responded with a 4:0 run that is not yet over. 
19:08
Turnovers in attack are proving costly for Lemgo, who have made five more than GOG, but goalkeeper Finn Zecher has improved his save percentage to 31 per cent. 

19:01
Bjarki Mar Elisson has opened Lemgo's account on the scoreboard. The Icelandic left wing has scored four goals, including three goals from fast breaks, but his effort from the seven-metre line crashed against the crossbar. GOG remain in control of the match with a four-goal lead, 8:4, after 14 minutes.
18:52
With less than five minutes gone, Lemgo have called an early timeout after GOG's sharp start. Two goals apiece from Jerry Tollbring and Emil Lærke have given the Danish side a 4:0 lead. As you might expect from a left back who stands at 203cm, Lærke's two goals were powerful strikes from the back court.
18:45
The match is about to begin in Denmark! Here are the confirmed line-ups from EHFTV.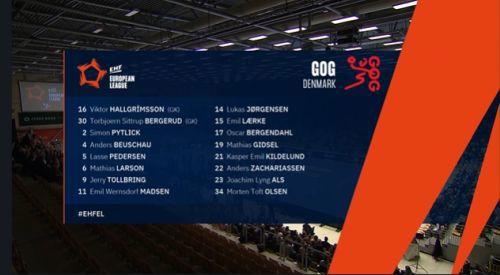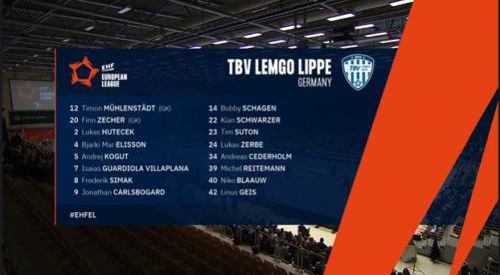 18:33
Coverage has commenced on EHFTV ahead of the group B match between GOG and TBV Lemgo Lippe.
18:20
Fenix Toulouse enjoyed a convincing 34:20 home victory over TATRAN Presov a week ago. Late on in the game, they were certainly able to turn on the style, but will they be able to produce a repeat in Slovakia this evening? Another win over Presov would be valuable for Toulouse in the race to reach the Last 16. 
18:10
Lemgo head coach Florian Kehrmann is fully aware of the quality that GOG possess and the danger that Tokyo 2020 Olympic Games MVP Mathias Gidsel poses to his side this evening.
GOG is a very well-educated team in regard to the Scandinavian style in all parts of their team. With Bergerud and Hallgrímsson, they have first-class goalkeepers. Furthermore, Gidsel is probably one of the world's best players. We are awaiting a very tough away game against a top Danish team.
18:00
With six matches set to throw-off at 18:45 CET, there is no shortage of action coming your way on EHFTV in 45 minutes' time. 
The featured match for us on the live blog from the early games will be GOG vs TBV Lemgo in group B. Both teams have only lost one match each in the group phase this season, and the winners of this match will go top of the group – at least temporarily.   
17:00
One of the standout clashes is the duel between Nantes and Benfica at 20:45 CET. The two teams are among the quartet that has been dominating group B so far. Let's hear from Nantes' Portuguese right wing Pedro Portela in this interview:
16:51
To get an idea of what is coming your way, read our round preview with bullet point-style info on all 11 matches tonight:
16:45
Good afternoon, welcome to the live blog for round 6 of the EHF European League Men 2021/22!
It is the last full round (though there are three rescheduled matches taking place next week!) before the competition heads into its well-deserved winter break until mid-February.
Look what is awaiting you tonight: