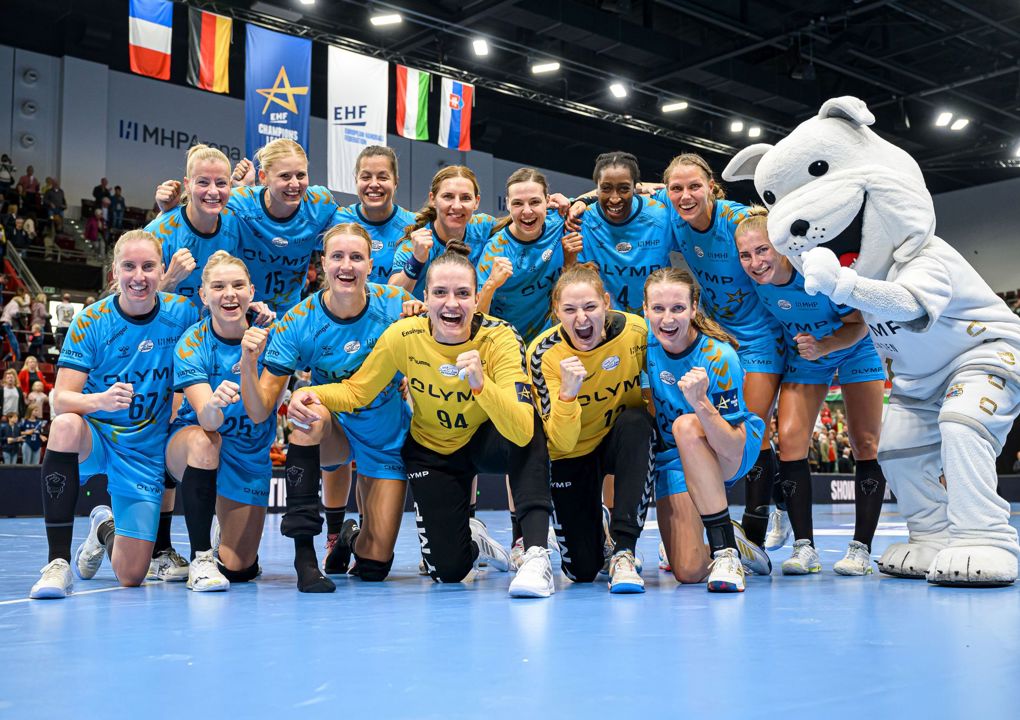 Summary: Bietigheim storm to MOTW victory; CSM beat Brest in France
In round 2 of the EHF Champions League Women 2022/23 group phase, four teams followed up their victories in round 1 to maintain perfect records: SG BBM Bietigheim, Vipers Kristiansand, CSM Bucuresti and Györi Audi ETO KC.
in group B on Saturday, Esbjerg beat Buducnost 28:23 and Storhamar record a historic win against Lokomotiva Zagreb, 37:13
on Sunday, Bietigheim seal a huge 40:20 victory against FTC in MOTW, Vipers defeat Krim 27:21, while Rapid and Metz draw 32:32 in Romania
18:48
We have reached the end of our coverage for round 2 of the EHF Champions League Women 2022/23 group phase.
The competition returns next weekend for eight more thrilling encounters from the group phase.
Until then, you can read the match reviews for Sunday's matches, look at some of the best pictures from today's games and check out the post-match reaction below.




















It was important to stay focused on what we had to do and ignore the circumstances of our trip. I am happy to come back from Brest with a victory. We lost twice against Brest last year and I didn't want that to happen again.
I am satisfied. It is always important to get the two points, and it was an important match for us on our home court. We played against a young team, and it was nice to see Banik Most in this match, but as long as we kept the concentration, we would create enough chances for our offence to benefit.
Nothing was easy during the match, I think they did a very good job at the beginning of both halves. We kept concentrated and we fought, which was the key to being successful. We found some solutions to our problems at half-time.
17:52
After today's results, Györ are the only side in group B with a perfect record. With Metz and Rapid Bucuresti sharing the points in Romania, Györ already have a one-point lead at the top of the group.
17:49
The significance of CSM Bucuresti's victory over Brest Bretagne is that they have joined SG BBM Bietigheim and Vipers Kristiansand on the maximum four points after two games in group A.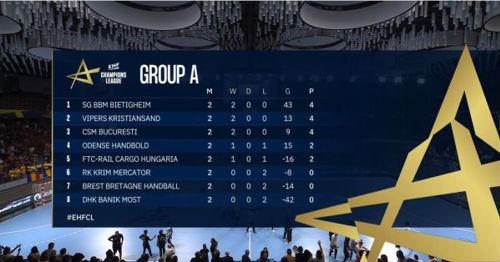 17:44
French players shining for CSM against French opposition was bound to be a theme when the Romanian side took on Brest – and Grace Zaadi Deuna and Siraba Dembele Pavlovic didn't disappoint.
17:42
On a weekend where multiple teams have scored 40 goals or more, Györ added their name to the list with a 19-goal triumph at home against Kastamonu, who have now lost 16 consecutive EHF Champions League games.
17:38
After an excellent team performance in attack, CSM Bucuresti take a seven-goal away win against Brest Bretagne.
In contrast to recent seasons, CSM didn't rely on Cristina Neagu to power them to victory – though the Romanian left back did add a couple of goals towards the end of the match. Marie Skurtveit Davidsen made eight saves from 12 shots faced after replacing Laura Glauser, and Elizabeth Omoregie scored four in the second half to finish with a total of six.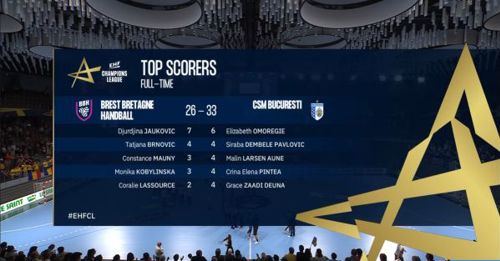 17:30
Odense have earned the first victory in our matches that started at 16:00 CEST, defeating DHK Banik Most 41:22 in Denmark.
Odense now have two points in group A, while Banik Most have lost both of their matches by big margins.
17:20
Odense, who lead 38:20 against Banik Most, provide a perfect example of how to finish an in-flight move, courtesy of Dione Housheer.
17:17
Brest cannot take advantage of CSM being down two players due to suspensions. Firstly, Monika Kobylinska's breakthrough effort is saved by Marie Skurtveit Davidsen, and then Cléopatre Darleux misses the target when CSM's goal is empty.
17:12
Marie Skurtveit Davidsen has replaced Laura Glauser in goal for CSM Bucuresti, who lead 26:22 with less than 13 minutes remaining. 
Glauser made her mark in the match, particularly in the first half, but also with this save at the beginning of the second period.
17:09
One of the highlight moments of the match: Cristina Neagu leaps for an in-flight chance for CSM, but Cléopatre Darleux moves across the goal to deny the Romanian superstar. 
17:04
With six goals in 10 minutes, Brest have upped their rate of scoring at the start of the second half. The only problem for the French side is that CSM are matching their attacking output.
Meanwhile, superb wing play from both teams was on display towards the end of the first half.

16:49
The goal timeline from the first half in France shows how CSM utilised two 4:0 runs to take control of the match.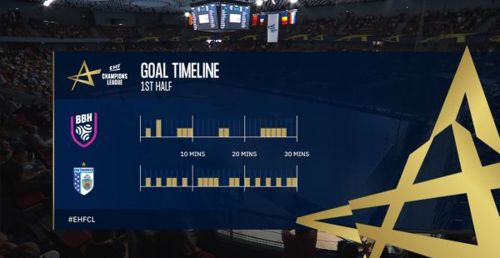 16:47
Györ and Odense have both passed 20 goals as they have taken commanding leads against Kastamonu and Banik Most, respectively.
16:43
CSM hold a four-goal advantage at the break against Brest Bretagne in France, and the Romanian side's French core have played a huge part in the first half.
Centre back Grace Zaadi Deuna has scored four goals, Laura Glauser's save percentage is above 40 per cent and Kalidiatou Niakate and Siraba Dembele Pavlovic have added two goals each.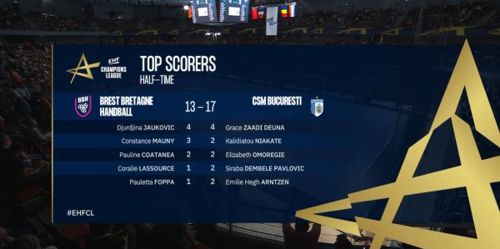 16:36
Györ trailed 12:11 against Kastamonu. However, they have swiftly turned the first around and now lead 22:14 as half-time approaches. Sandra Toft has stopped seven shots from 21 faced.
16:28
Zaadi sets up a fast break chance for Siraba Dembele Pavlovic to convert – and CSM lead by five goals, 13:8, prompting an immediate Brest timeout.
16:26
CSM Bucuresti have the upper hand on the scoreboard at the moment, with a 3:0 run extending their lead to 12:8, but Monika Kobylinska's only shot for Brest has been the most eye-catching moment of the first half.
16:22
With Laura Glauser making five saves for CSM Bucuresti in the first 17 minutes, the Romanian side have a one-goal advantage against Brest, 9:8. This is a match that could go down to the last minute, though.
16:08
After Cristina Neagu's first penalty for CSM struck the bar, Grace Zaadi Deuna puts the Romanian side's second shot from the seven-metre line into the top corner. Zaadi's attempt only just squeezed past Cléopatre Darleux – but they all count!






I am very happy about the game we played today. Everything worked. We had a good defence with Melinda Szikora in the goal. All players were motivated and had fun playing today, but we have a long way to go. Thanks to the spectators, it was great day for Bietigheim.
15:41
FTC left back Emily Bölk mentioned in her post-match interview on EHFTV that the Hungarian side made too many technical errors against Bietigheim.
Although FTC made more technical errors than Bietigheim, the shooting percentages were the most important factor in determining the outcome.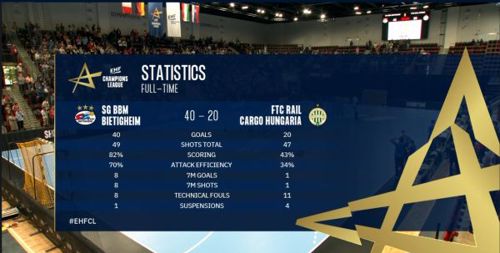 15:36
After beating Krim by six goals, defending champions Vipers Kristiansand join Bietigheim on four points at the top of group A. Markéta Jeřábková added to her eight-goal tally from last weekend with eight more goals this afternoon.
15:33
Despite coming back from 28:23 down to level the score with more than five minutes remaining, CS Rapid Bucuresti could not secure the two points against Metz. Rapid Bucuresti had the ball on the last attack of the match, but Metz forced an error and so the teams split the points.
15:30
Bietigheim complete an incredible 20-goal win against FTC-Rail Cargo Hungaria to remain top of group A. Unsurprisingly, goalkeeper Melinda Szikora receives the Player of the Match award for her 16 saves from 30 shots faced.
15:18
With just over five minutes left, Eliza Buceschi draws Rapid Bucuresti level against Metz.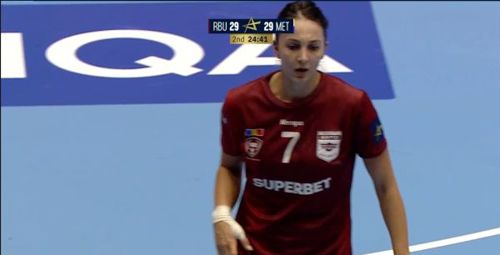 15:07
Metz have opened a five-goal lead against Rapid Bucuresti, 28:23, and Bruna de Paula has already added eight goals to her EHF Champions League total this afternoon.
15:05
With his side trailing 27:13, FTC coach Gabor Elek calls a timeout. This is now about limiting the damage for FTC...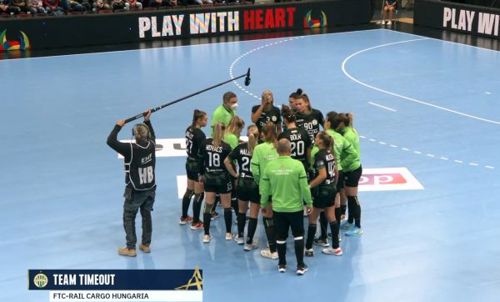 15:02
Karolina Kudlacz-Gloc breaks through FTC's defence to earn Bietigheim another penalty, and Julia Maidhof duly makes it six goals from six attempts from the seven-metre line.
With Kaba Gassama Cissokho scoring her second this afternoon for Bietigheim, their lead now stands at 13.
14:58
Another feature of Bietigheim's play that FTC are struggling to contend with is the German side's fast throw-offs. Even when FTC score, Bietigheim are ready to respond within seconds.
14:52
As the second half of Match of the Week gets under way, here is an example of Bietigheim successfully moving the ball from one side of the court to the other in the first period. 

14:44
Away from the Match of the Week, Metz remain in control against Rapid Bucuresti, while Vipers Kristiansand have a narrow lead against Krim in Slovenia.
Daria Dmitrieva has made a big impact for Krim in the first half, scoring six goals from nine shots.
14:40
In the final action of the first half, Julia Maidhof scores her fifth penalty for Bietigheim from five attempts. While Maidhof leads the scorers, Bietigheim's defence and goalkeeper Melinda Szikora have set the platform for the German side's dominance in the first half.
Katrin Klujber has led FTC's scorers in the opening 30 minutes, but Gabor Elek's side need a huge comeback in the second half.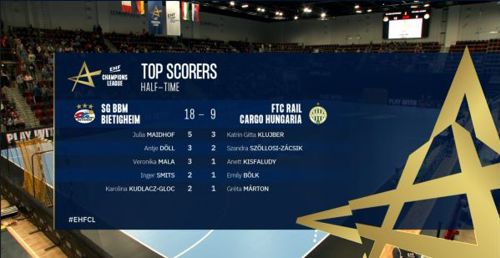 14:30
Metz lead 19:15 against Rapid Bucuresti in Romania. Kristina Jörgensen has scored four of the French side's goals so far – including this goal in the first five minutes from nine metres.
14:26
Here is a diving stop from Melinda Szikora. I think Andrea Lekic had to look twice to believe that her Szikora did stop her shot!
14:24
When FTC do land their shots on goal, Melinda Szikora is rebuffing almost half of their efforts.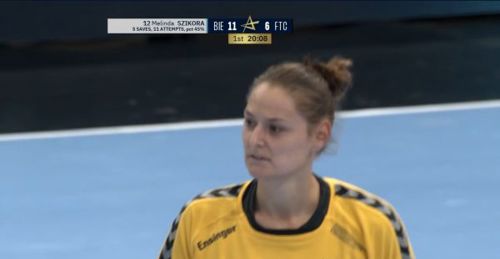 14:21
With 19 minutes played, FTC needed the fire power from the back court that Szandra Szöllosi-Zácsik delivered a couple of minutes ago with her first shot of the game. The problem is that Bietigheim's high and mobile defence is creating problems for FTC's attack and interrupting their flow.
14:14
After a great steal by Veronika Mala, Bietigheim earn a penalty on the following attack. Julia Maidhof steps up to convert and Bietigheim have a three-goal lead, 6:3, after 12 minutes. 
13:56
Here is a look at the group A standings before the Match of the Week begins in Germany.
If Bietigheim secure their second win of the season this afternoon, they will almost certainly remain top of the group.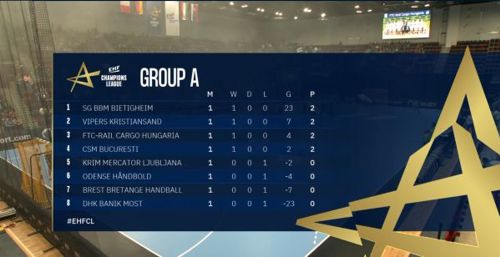 13:47
Links to the individual EHFTV streams for the games that throw-off at 14:00 CEST can be found below.
Watch: SG BBM Bietigheim vs FTC-Rail Cargo Hungaria
Watch: CS Rapid Bucuresti vs Metz Handball
Watch: Krim Mercator Ljubljana vs Vipers Kristiansand
13:28
Also at 14:00 CEST, Krim Mercator Ljubljana, who lost narrowly to CSM Bucuresti in round 1 after leading at half-time, will face defending champions Vipers Kristiansand.
Krim left back Tjaša Stanko is focused on stopping Vipers' counter attacks, as she believes that will help her side in defence.
"We have a new team, so we have to prepare for a new one, but I believe in us and our quality. My teammates and I will have to focus mainly on the defensive game. Norwegian women play fast handball. If we stop their first wave, it will be easier for us," said Stanko.
13:21
Of course, last weekend's win for Bietigheim extended their winning streak in Europe to 13 games. Bietigheim won all 12 of their matches in the EHF European League Women 2021/22 on their way to claiming the title. The German side's last defeat in Europe came against Györi Audi ETO KC (32:28) in March 2021. 
13:10
After Saturday's two matches in group B, this afternoon we have six matches ahead of us. 
Fittingly, the Match of the Week between SG BBM Bietigheim and FTC-Rail Cargo Hungaria features two teams that won in group A in round 1 of the group phase. Bietigheim recorded a huge 23-goal victory over DHK Banik Most, while FTC beat Odense by four goals.
When the two teams last met in a European club competition, FTC won 29:25 in Germany. However, in November 2020, Bietigheim also beat the Hungarian side 35:24.

20:31
Don't forget that we return for coverage of a bumper Sunday in the EHF Champions League Women at 13:00 CEST. The full schedule and throw-off times are listed below.
14:00 CEST
MOTW: SG BBM Bietigheim vs FTC-Rail Cargo Hungaria
Krim Mercator Ljubljana vs Vipers Kristiansand
CS Rapid Bucuresti vs Metz Handball
16:00 CEST
Odense Håndbold vs DHK Banik Most
Györi Audi ETO KC vs Kastamonu Belediyesi GSK
Brest Bretagne Handball vs CSM Bucuresti
20:26
At the end of this evening, Storhamar are top of group B of the EHF Champions League Women. You can view the full standings here.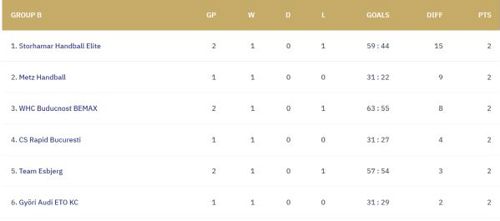 20:18
For more on Esbjerg and Storhamar's wins in group B, you can click on the match reviews below.
20:05
A historic night in the EHF Champions League Women for Storhamar – and Tina Abdula played a huge part in ensuring that the Norwegian side claimed their first win in Europe's premier competition.
19:33
Storhamar earn their first win in the EHF Champions League in style, beating Lokomotiva Zagreb by a stunning 24 goals in group B. 
Goalkeeper Sofie Ege Grønlund, who made 19 saves from 32 shots, received the award as Storhamar's player of the match. Tina Abdula finished as the Norwegian side's top scorer after scoring nine times from 11 attempts.
19:26
Lokomotiva are ending the match on a lengthy spell without a goal.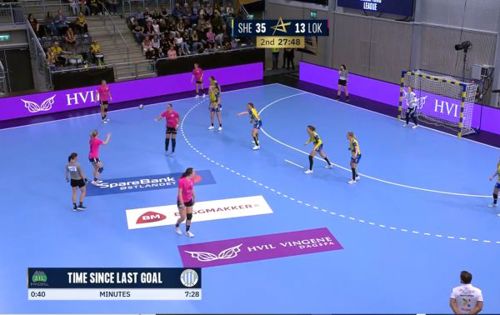 19:12
Storhamar have scored nine fast break goals to Lokomotiva's zero. Creating and scoring counter attacks have played their part in Storhamar dominating proceedings.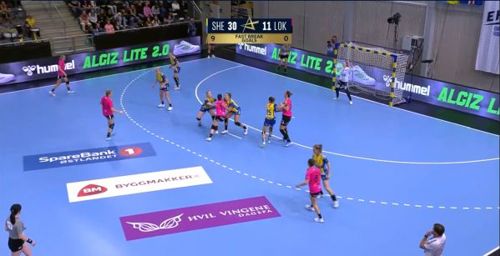 19:09
After 45 minutes, Stela Posavec has scored 40 per cent of Lokomotiva's goals – or four goals if you want to be more precise – but she has found the way through Storhamar's defence in a way that her teammates haven't.
19:04
Storhamar coach Kenneth Gabrielsen calls a timeout while his side are experiencing something of a slowdown in terms of his scoring rate. Their last goal came in the 37th minute and we are now in the 42nd minute.

It was a very tough game. I am very happy that we won our first two points of the season.
18:46
Storhamar have scored as many goals in the first half against Lokomotiva as they did in their round 1 match against Metz.
18:41
After an impressive display in the first half against Lokomotiva Zagreb, Storhamar are on their way to recording their first win in the EHF Champions League.
The Norwegian side have made very few errors in attack and have utilised fast breaks to good effect, while Lokomotiva have found it challenging to find a way past Sofie Ege Grønlund, who has made 10 saves from 17 shots faced.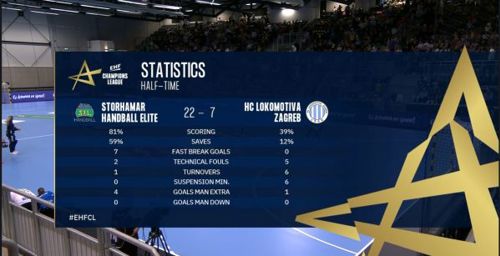 18:33
Anniken Obaidli is one of five Storhamar players with three goals or more in the first half. The Norwegian centre back started her side's 4:0 run in the 6th minute – and they haven't looked back.
18:28
Maja Jakobsen unleashes a powerful shot from nine metres, scores, but takes a blow in the face from Marija Kaludjerovic. Kaludjerovic receives a two-minute suspension, and Storhamar lead 17:6.
18:21
Lokomotiva coach Nenad Sostaric is showing his frustration on the bench after Storhamar's third fast break goal of the match.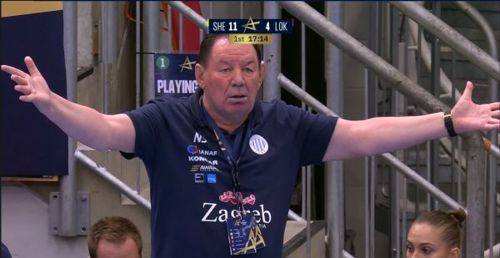 18:13
Storhamar are making the most of home advantage and an enthusiastic crowd in the early stages against Lokomotiva Zagreb.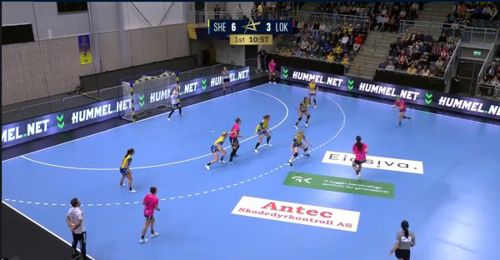 17:41
What do Esbjerg's top five scorers from today's match have in common? They're all Norwegian! It is perhaps unsurprising given the composition of Esbjerg's squad, but having the vast array of Norwegian talent at their disposal this season might be extremely helpful.
17:37
Kristine Breistøl scores Esbjerg's 28th and final goal with a jump shot on a passive play call seconds before the final buzzer. More importantly, Esbjerg have earned two points with a five-goal win against Buducnost.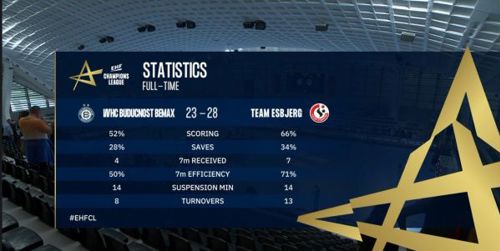 17:25
Although it looks as though Esbjerg will claim the two points, Armelle Attingré's improved performance gave Buducnost a fighting chance in the second half.
17:22
Esbjerg have steadied the ship and lead 25:21 with less than seven minutes remaining. With nine goals from 12 shots, including the Danish side's most recent goal, Henny Reistad leads the scorers.
17:10
Is this match at a turning point? Well, it might be! Mette Tranborg has received her third two-minute suspension, and Buducnost have subsequently equalised.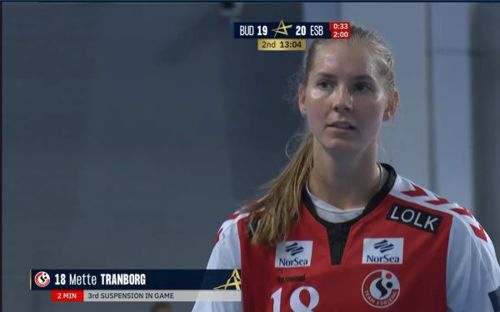 17:06
Buducnost are continuing to play what they see in front of them, especially in attack, and they have reduced Esbjerg's lead to two goals after 41 minutes, 19:17.
17:01
Marit Røsberg Jacobsen, perhaps full of confidence, stepped up to take a penalty for Esbjerg, but Buducnost goalkeeper Armelle Attingré made her second save from a penalty.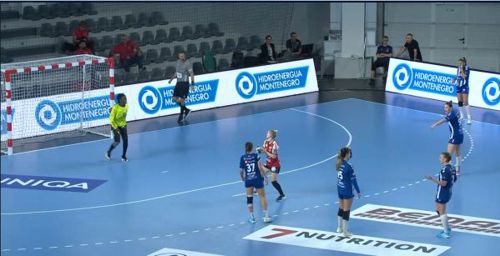 16:57
Right wing Marit Røsberg Jacobsen took all five of her opportunities in front of goal for Esbjerg in the first half.
16:52
Before the second half begins, here are more EHFTV statistics from the first half between Buducnost and Esbjerg. Esbjerg lead all of the key categories, except for turnovers.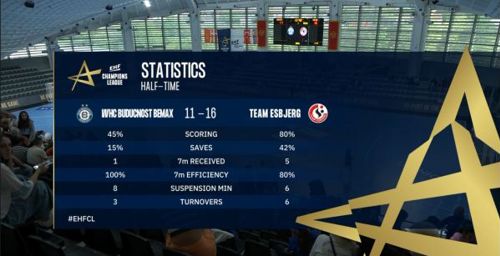 16:43
Team Esbjerg, led on the scoresheet by Henny Reistad and Marit Røsberg Jacobsen, have a five-goal lead after 30 minutes in Montenegro against Buducnost.
Despite the fact that Buducnost's goalkepers have struggled against Esbjerg's shooters, Armelle Attingré's two saves from Nora Mørk in the final minute of the first half ensured that the half-time deficit wasn't worse for the hosts.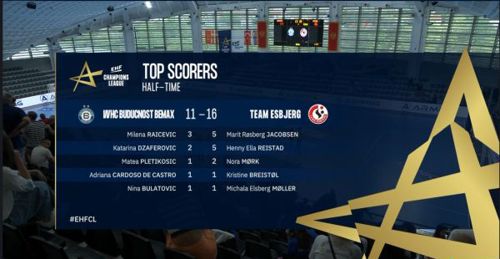 16:30
From the seven-metre line, Nora Mørk opens her account for the afternoon. Esbjerg have the luxury of using Reistad, who has scored two penalties from two attempts, or Mørk as penalty shooters.
16:26
While Esbjerg were four goals ahead as we approached the 19-minute mark, Buducnost responded with two quick goals to reduce the deficit to 10:8. Esbjerg are on the attack now as they seek to restore their four-goal advantage.
Earlier in the half, Adriana Cardoso de Castro displayed her lob skills for the hosts.
16:13
Tellingly, as Buducnost take their first timeout of the game, Esbjerg's scoring efficiency in the opening 12 minutes has been 100 per cent.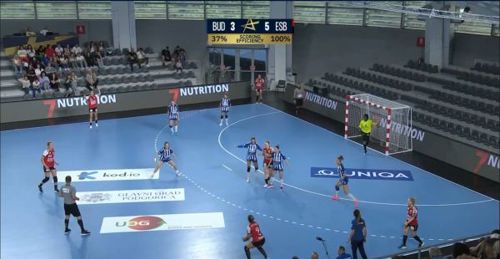 16:10
Henny Reistad breaks through the Buducnost defence after a swift counter attack for Esbjerg to give the Danish side the first two-goal advantage of the game, 4:2.








15:54
Here is a reminder from EHFTV of the group B standings as the throw-off between Buducnost and Esbjerg approaches.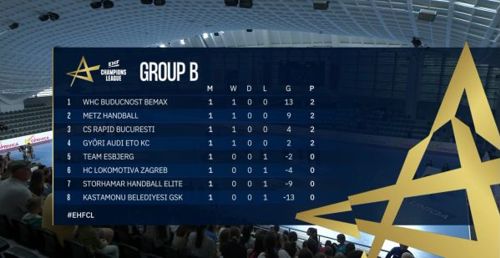 15:41
Individual match links for Saturday's matches on EHFTV can be found below:
Watch: WHC Buducnost BEMAX vs Team Esbjerg 
Watch: Storhamar Handball Elite vs HC Lokomotiva Zagreb
15:25
Last season, when Buducnost and Esbjerg clashed in the EHF Champions League group phase, the Danish side won on both occasions – 35:20 and 36:25.
However, Esbjerg coach Jesper Jensen believes that Buducnost have improved since last season.
"Buducnost have evolved since we last met them in the previous season. Their win against Kastmonu have given them a lot of confidence and faith that they are on track. Their coach, Bojana Popovic, is excellent at driving the team forward," said Jesper Jensen.
15:15
Good afternoon and welcome to the live blog coverage of Saturday's action from round 2 of the EHF Champions League Women group phase.
There are only two matches in group B ahead of us today, but the first match at 16:00 CEST features the group leaders against a club that played at the EHF FINAL Women 2022 back in June. Buducnost are in first place in group B after their emphatic 13-goal win against Kastamonu, while Esbjerg are in fifth position after a narrow loss to Györi Audi ETO KC in a nail-biting game.
When Storhamar face Lokomotiva Zagreb in our second game at 18:00 CEST, both teams will be looking to get off the mark this season. Indeed, both teams are aiming to record their first-ever EHF Champions League victories. Although it is earlier in the season, points in this type of clash may end up deciding who qualifies for the play-offs.
If you haven't done so already, check out the round preview to find out more about this weekend's eight matches.