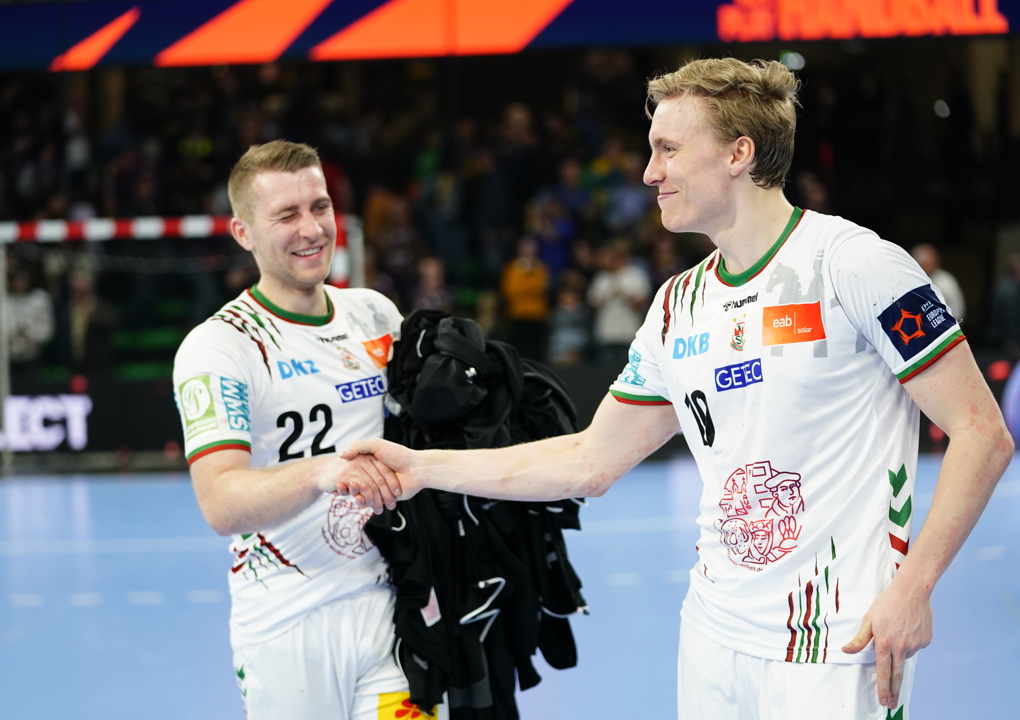 Summary: Magdeburg hold nerve to win in Nantes
EHF European League Men quarter-finals, leg 1
late surge gives Kadetten Schaffhausen some hope as Orlen Wisla Plock win first leg 33:31
SL Benfica turn up the heat to beat RK Gorenje Velenje 36:29
Magdeburg keep their cool to take a 28:25 win at Nantes
RK Nexe rise to the occasion and claim 32:27 victory over GOG
second leg matches take place on Tuesday 3 May
22:59
Below you can check out the match reviews from our reporters around Europe, summing up an exciting and surprising night of European League action.
With two large home victories and two narrow away victories tonight, nothing is certain as we move on to the second leg. But if there is one thing we know about this competition, we know there is a lot more drama to look forward to next Tuesday. Good night.









22:32 | FULL-TIME - RK Nexe 32:27 GOG
Nexe bounce from the bench and celebrate a famous win over GOG. The Danish side have given themselves a tough task at home next week. If Nexe get over the line and reach the EHF Finals, Halil Jaganjac will cement his place as a club legent with his nine goals tonight!
22:26 | FULL-TIME - SL Benfica 36:29 RK Gorenje Velenje
9 goals from Djordjic and 8 from Kukic inspire Benfica to a 36:29 win over Gorenje Velenje and the Portuguese side look to have one foot in the EHF Finals - winning the second half 20:11.
22:22 | FULL-TIME - HBC Nantes 25:28 SC Magdeburg
What a contest, what an atmosphere, what drama - and we do it all again next Tuesday. 
Magdeburg hold their nerve best in the final minutes to give themselves a valuable lead to take home to Germany but nothing is set in stone with 60 minutes left to play.
Mike Jensen's return between the posts proved vital as he made some crucial stops to give his side a bit of breathing space. The fact that both team's top scorers, Valero Rivera and Omar Ingi Magnussen, both ended with an expensive 6/11 says a lot about this contest - it was far from perfect handball but both teams felt like they could express themselves and throw everything at it.
22:11
Mikael Robin is the penalty wizard tonight, keeping out two Magdeburg attempts in a row, but down the other end Mike Jensen makes his second save in a row against Rivera. Magdeburg holding on to their slender lead here with just over three minutes remaining...
22:08
On a night of brilliant goals, could this be the best of them?
Nantes could do with one or two more of these as they trail Magdeburg 23:22 with 7 minutes left on the clock.
22:03
And a quickfire pair of goals from Magnus Saugstrup brings Magdeburg level - 20:20.
These final 11 minutes are going to be incredibly important and it's impossible to know which way it'll go.
21:56
Serbian duo Petar Djordjic and Lazar Kukic are putting on a show as the Lisbon club have turned the tables on Velenje.
Over in Croatia, Halil Jaganjac is doing his level best to prevent any tables being turned as Nexe lead GOG 21:16!
21:52
Nantes come roaring back into this match with a 5:1 run and take a 19:16 lead. The arena is on fire and Magdeburg take a much-needed timeout to calm things down and get a hold of themselves again.
21:41
The intensity has jumped up a notch at the start of the second half. Four minutes played and the only goals so far have been scored by Magdeburg. Rok Ovnicek gets a painful-looking tackle, earning Nantes a penalty, which Balaguer bounces over the bar, allowing the guests to go down the other end and draw level, 13:13.
21:24
Benfica and Velenje are going at it hammer and tongs in Portugal, with the away side leading 18:16 at the break, while Nexe have a slender 15:14 advantage over GOG at the halfway mark.
And check out this sublime goal from Fahrudin Melic, a name you'll remember well if you were a Champions League fan 7 to 10 years ago!
21:21 | HALF-TIME - Nantes 13:11 Magdeburg
The home side keep their noses in front at the break, thanks in no small part to some brilliant goalkeeping by Emil Nielsen but it could have been even better if not for a penalty save by Magdeburg's Jannick Green at the buzzer.
Two really good teams throwing different looks and moves at each other in the first half, all signs point towards an even better second half.
21:11
This first half in France is flying by and it's quite the treat. Magdeburg are finding their way back into the contest and a counter attack goal by Christian O'Sullivan cuts Nantes' lead to just one, 10:9 after 23 minutes.
21:03
While it is difficult to define who is the underdog in Nantes vs Magdeburg, it is a bit clearer in the other two contests. However, the underdogs currently lead both of those games with Velenje leading Benfica 8:6 and Nexe 10:7 up against GOG!
20:58
The game is beginning to open up now, halted momentarily by a nasty fall for David Balaguer, who is thankfully fine.
Both Danish keepers, Emil Nielsen and Mike Jensen, producing some great stops so far but Emil and Nantes are on top, leading 6:3 after 12 minutes.
20:51
It takes almost four minutes for the first goal to go in and it comes from a Valero Rivera penalty. He has since added another from open play and Nantes lead 3:1.
20:45
We're underway in Nantes and one of the big questions tonight is just how well Magdeburg can bounce back from their German Cup final loss to Kiel on Sunday. They have been greeted with a passionate and vocal Nantes crowd and you would expect nothing less.
20:34
After that tasty opening bout, we move onto a trio of games at once, in true European League form!
It's SL Benfica vs RK Gorenje Velenje, HBC Nantes vs SC Magdeburg and RK Nexe vs GOG all coming up at 20:45 CEST and all live on EHFTV.
We're going to keep an eye all all three but the focus will be on Nantes vs Magdeburg, another blockbuster contest between two teams which are among the very best in the world on their day.

20:30
This evening's victory makes it seven straight away wins for Plock in Europe this season, a truly fantastic run of form and one which puts them in the driving seat for the second leg. They remain on course to make it to their second EHF Finals in a row but that lapse in form at the end of the half will leave them thinking "what if?" as they travel home.
20:17 | FULL-TIME - Kadetten Schaffhausen 31:33 Orlen Wisla Plock
They went one better! A 3:0 run in the dying minutes means that Schaffhausen manage to escape with a two-goal loss, despite all of Plock's apparent dominance. That is not a scoreline Plock will be satisfied with and it leaves this tie very much on the line as we go to the second leg next Tuesday. 
Great effort from the hosts!
20:12
Timeout for Schaffhausen and it is a case of damage limitation now. If they can get back within three goals in these final minutes, they will have an outside chance in the second leg away from home. 33:28 to Plock.
20:05
The pace at which Plock come back and score after conceding must be quite disheartening for Kadetten as they have found it increasingly difficult to cut the deficit.
Zoltan Szita has just got himself a red card for three suspensions but it is unlikely to make much of a difference with 7 minutes remaining. Plock lead 32:27.
19:56
With a quarter of the contest left to play, Plock look to have a firm grip on the contest and the difference in squad depth has shown. 28:23 to the visitors, so there is still time for Kadetten but they need everyone to step it up a gear.
19:41
And fly out of the traps is exactly what Plock did. A 3:0 run to start things off and they are looking good. The Polish side's strength in depth is particularly clear in the back court, where they have been able to replace their top two scorers with Dmitry Zhitnikov and Tin Lucin, scary stuff.
19:34
Morawski looked like he was coming into form late in the first half but it has still been a poor goalkeeping game so far. Plock will be wary of just how different the second half can be - just ask Sävehof in the previous round - and will have to fly out of the traps once we get back underway.
19:23 | HALF-TIME: Schaffhausen 18:19 Plock
Well we're used to seeing half-time scorelines like this in the European League but you would imagine that was not the plan for Schaffhausen. Nevertheless, they have managed to stay in this contest, thanks to six goals each from Cañellas and Zehnder.
Niko Mindegia has been in excellent form, both shooting and as a playmaker. Kadetten will need to figure out a way to keep him quiet if they are to shut Plock's attack down in the second half.
19:15
Joan continues to battle away but he needs a bit more support in the Kadetten back court if they are to keep up with Plock's free-scoring first half. 17:14 to the boys in blue and white with just under five minutes remaining in the first half.
19:08
Both teams producing some nice attacking handball at the moment and their defences are struggling to cope. Plenty of penalties are being given away by both teams and it is only when we see Adam Morawski make his first pair of saves that Plock open up the first real lead of the match, making it 14:12 after 19 minutes.
19:00
The goals are beginning to flood in now as both teams are scoring with ease. Samuel Zehnder has continued his prolific scoring run with four early goals but there is still nothing to choose between the teams - 8:8 after 13 minutes.
18:54
The sense of occasion has not been lost on either team as they feel each other out and try to control the tempo. Joan Cañellas doing his best to lead by example for the home side and it's so far so good as we're level - 4:4 after eight minutes.
18:39
Time to get yourselves over to EHFTV, relax and enjoy Kadetten Schaffhausen (SUI) vs Orlen Wisla Plock (POL)

Here are a few things to bear in mind before throw-off
the 2019/20 season was the last time the teams met — in the EHF Champions League group phase, when Plock won both matches
Plock eliminated TBV Lemgo Lippe in the Last 16 after finishing on top of group A. Schaffhausen proceeded to the quarter-finals after eliminating Sävehof thanks to the away goals rule, after finishing third in group D
while Plock were participants in the EHF Finals 2021 in Mannheim, it is the first quarter-final for Kadetten in an EHF competition since 2010, when they finally made it to the final of the old EHF Cup
Samuel Zehnder has netted 91 goals for Kadetten, including their four qualification matches, while Plock's Sergei Mark Kosorotov has 65 strikes in his tally
18:25
We're just 20 minutes away from throw-off in the first of our four matches this evening.
A reminder that this is the first leg, so nothing will be made certain tonight. The four aggregate winners over two legs will progress to the EHF Finals next month.
18:05
Joan Cañellas has been a true leader for Kadetten Schaffhausen since his move to Switzerland last summer and his contribution today will be key in many ways as they head into the opening game tonight as underdogs against Plock
"Thanks to my experience, I shall guide our team, mainly in the European League. The other players do not have this international experience at club or national team level. And I shall shift the whole team. We are the underdogs from now on, but handball history in club competitions has proved that sometimes the underdogs are the winners. Therefore, we need this boost of energy from the stands to compensate for our lack of experience."
16:57
Just like in the Last 16 against Füchse, Nantes start their duel with Magdeburg on home court as the first leg takes place in France tonight at 20:45 CEST. Their Swedish right back Linus Persson told EHF journalist Kevin Domas in this interview that he counts on the home crowd support as Magdeburg "are even better than Berlin" but that Nantes "are not afraid."
That's the spirit!
16:42
The other team alongside Plock that can make it to the EHF Finals for the second time? Magdeburg!
The winners of the inaugural EHF European League season are eager to qualify for the finals tournament again, but are aware of the tough challenge that is coming their way: Nantes eliminated Füchse in the Last 16 and the EHF FINAL4 contenders from last season don't want anything more than getting to the final tournament of the EHF European League this time.
What a clash!
16:31
Plock will be regarded by many as favourites for the clash with Kadetten. The Polish side won both encounters when the teams last met – in the group phase of the EHF Champions League 2019/20.
In the season after the EHF Finals participation, Plock have impressed by winning group A ahead of Füchse Berlin, while they downed another German Bundesliga side in the Last 16: TBV Lemgo Lippe.
Still, the coach Xavier Sabate's team will take nothing for granted when visiting Switzerland...
16:16
Tonight is all about getting a good position for the decisive second leg next week.
The action throws off in Switzerland, where Kadetten host one of the two participants of last year's inaugural EHF Finals that are still in the race this year: Plock. (The other ones, of course, are title holders Magdeburg, but we will get to them a bit later.)
Kadetten know what it means to get a good result in the first leg. In the Last 16 they overcame the favoured side of Sävehof thanks to a six-goal home win in the first leg.
EHF journalist Björn Pazen talked to Joan Cañellas for this interview with the Kadetten ace on the eve of the match against Plock:
16:04
A good starting point, as usual, is our preview with detailed information on all four quarter-final matches tonight:
16:00
Good afternoon and welcome to another live blog for the EHF European League Men! The competition resumes after a three-week break and has now truly arrived at its business end: we are about to witness the first leg of the quarter-finals.
Here is our schedule for tonight: