SUMMARY: All 24 teams for Men's EHF EURO 2024 confirmed
Last stop on the Road to Germany: The Men's EHF EURO 2024 Qualifiers concluded with round 6 on Sunday, seeing all 16 matches being played simultaneously. The last eight open spots for the final tournament have now been confirmed as well, with three debutants – Faroe Islands, Greece, and Georgia – among the 24-team field for the European Championship next January.
sixth and last round of Men's EHF EURO 2024 Qualifiers and Men's EHF EURO Cup 2024
ALL QUALIFIED TEAMS: Germany (hosts), Spain, Sweden, Denmark (top 3 of EHF EURO 2022), Austria, Bosnia Herzegovina, Croatia, Czech Republic, Faroe Islands, France, Georgia, Greece, Hungary, Iceland, Montenegro, Netherlands, North Macedonia, Norway, Poland, Portugal, Romania, Serbia, Slovenia, Switzerland
check final group standings and read how ranking of third-place teams works 
EHF EURO Cup: Germany beat Spain 32:31 in last match; Denmark win trophy; check final EHF EURO Cup standing
match highlights on Home of Handball YouTube channel
Eric Willemsen reported; all photos courtesy of the respective home team 
21:00
Here ends our live blog coverage of the final night of the Men's EHF EURO 2024 Qualifiers. Boarding for the 10-28 January final tournament in Germany has now been completed after the last open tickets were booked on Sunday.

Next step is the draw for the preliminary round, scheduled for Wednesday 10 May 2023 in Düsseldorf. The 24 teams listed in the visual will all be eager to find out who they are going to play at the final tournament.
Thank you for following the qualifiers tonight, and the previous five rounds, with us here on the live blog. Have a good evening and see you all soon!
20:55
We knew 16 teams, we learned the remaining eight this evening. Our picture gallery to close our coverage has one image of them all: Congrats North Macedonia, Romania, Faroe Islands, Netherlands, Greece, Georgia, Bosnia Herzegovina, and Montenegro!








20:47
Just three days ago, after round 5, we still had one-third of the EHF EURO spots (eight from 24) open, now we have the starting grid for Germany 2024 complete and confirmed.
You can read exactly what has happened in each of the eight groups in the match reviews that are currently being posted here on eurohandball.com.
Best to follow this link to the match reviews to check out how the games of your favourite teams have panned out!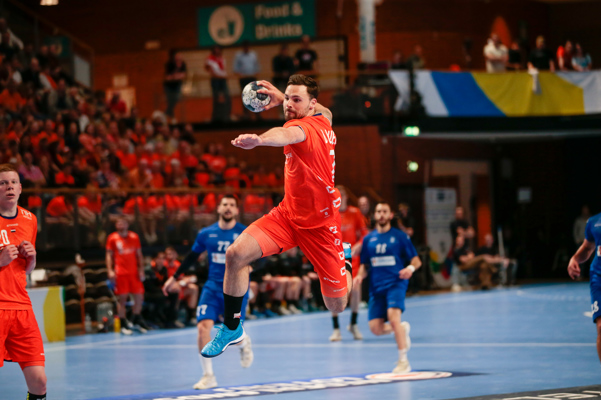 20:27
The tightest group in the qualifiers turned out to be group 4. Ukraine did win against Romania (31:26) but, in the end, came up short.
Both teams joined Faroe Islands (losing 38:33 in Austria) on four points, with the goal difference of the direct duels between this trio becoming the decisive factor, giving Romania in second and Faroe Islands in third place the edge over bottom-ranked Ukraine.
20:16
In the Highlight Match, Netherlands defeat Greece 32:26 to seal the No. 1 spot in group 5; however, their opponents also celebrate, going through to their first ever EHF EURO as one of the best third-ranked teams.
So, what do Bobby Schagen and Savvas Savvas say after the match?
We lost in Greece so we knew this game would decide if we were first-ranked or third-ranked, so it was a big game. We managed it well. We are really a team, the team feeling is really big. Just a big group of friends.
To qualify for the EHF EURO is very important for us because in our country this sport is not very popular. After this achievement, we can make it bigger. Holland were a very good team, but in the end we take the ticket for the European Championship and we are very happy with it. It is an amazing day for us.
20:08
As for Georgia, they earn their first ever berth with a stunning win at Hungary, 31:30, in stunning fashion: on a last-second penalty from Giorgi Tskhovrebadze!
How much more drama do you want?!
20:04
With all 24 participants now confirmed, we can congratulate three teams on their EHF EURO debut next January:
Faroe Islands
Greece
Georgia
They made it through as the third-ranked team from groups 3, 5, and 6, respectively. Welcome!
And not quite debutants, but also great to see Romania back at an EHF EURO final tournament for the first time since 1996.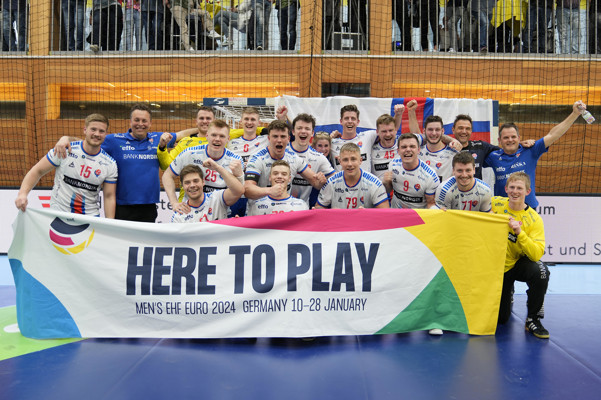 19:52
We took a few minutes to double-check all calculations, but here we go...
Teams qualified for the Men's EHF EURO 2024:
Group 1: first POR, second MKD
Group 2: first NOR, second SRB
Group 3: first ISL, second CZE
Group 4: first AUT, second ROU, third FAR
Group 5: first NED, second CRO, third GRE
Group 6: first HUN, second SUI, third GEO
Group 7: first SLO, second BIH, third MNE
Group 8: first FRA; second POL
They join the directly qualified teams: GER (hosts), SWE, ESP, DEN (EHF EURO 2022 top 3).
19:36
Some more confirmed results for you:
Netherlands beat Greece 32:26 to win group 5; Croatia (beating Belgium, 34:29) finish this group in second
Bosnia Hercegovina beat Montenegro 25:23 and are through as the second-ranked team of group 7, behind Slovenia (who defeated Kosovo 33:25)
19:27
Norway in group 2 and Iceland in group 3, both already qualified, are now confirmed as the winners of their groups, after beating Finland 32:23 and Estonia 30:23, respectively. Congrats!
19:21
In the other direct duels between teams in the race for a top two spot in their group, Türkiye looking good with a 24:21 lead at North Macedonia in group 1; in group 4, Ukraine are leading Romania 27:22 in the closing stages; and in group 7, Bosnia Herzegovina are 23:19 up in Montenegro.

19:17
It is 26:18 – Netherlands are on the brink of their third straight qualification for the EHF EURO. Kay Smits with nine goals the leading scorer, but it certainly is not just him: 
19:02
Netherlands hit the 20-goal mark against Greece: 20:12 after six minutes in the second half. They have enough with a draw to go through, but a victory would see them win group 5.

18:48
And here is the full rundown of half-time scores. A lot of drama coming up in the next 40 minutes or so...
18:42 | HALF-TIME UPDATES
Selected half-time scores:
18:30
Luckily Iceland have already qualified, so we can hopefully enjoy more of this from Viktor Hallgrímsson next January:
18:26
This exciting day of qualifiers started earlier with the EHF EURO Cup closer between Germany and Spain (32:31). Here is this match review from EHF journalist Björn Pazen:
18:22
They have stolen many hearts this qualifiers' campaign, can they now also steal the win they need in Austria? So far, Faroe Islands find themselves 15:8 down against the unbeaten group 4 leaders...
18:19
Among the teams that could earn their first ever EHF EURO berth today are Türkiye. However, they are meanwhile 8:5 down in North Macedonia after 15 minutes.
18:12
In the Highlight Match, Netherlands lead Greece 6:3 after the opening 10 minutes. The winners of this group 5 duel will join Croatia to the EHF EURO. Kay Smits with three goals the leading scorer so far.
18:08
The road to Germany? Or the boulevard of broken dreams?
It is now or never for the teams who have not secured their ticket to the EHF EURO yet but are still in with a chance to do so. Among the hopeful nations are six that have never played at an EHF EURO final tournament before: Türkiye, Finland, Estonia, Faroe Islands, Greece, and Georgia would all be debutants if they make it through.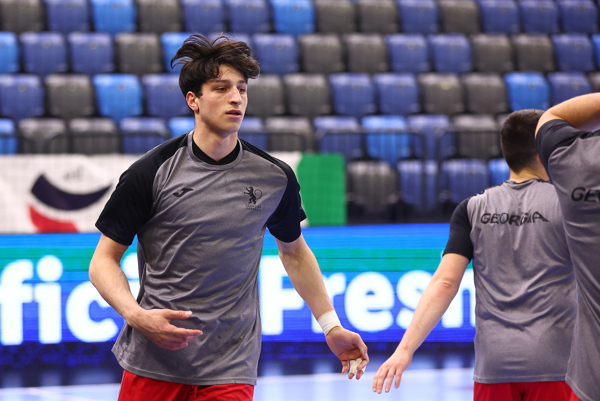 17:55
Let's go... in 5 minutes Super Sunday's continental handball party – also known as the decisive round 6 of the Men's EHF EURO 2024 Qualifiers – throws off.
Fasten your seatbelts, this could become a bumpy but exciting ride!  
17:47
Just 13 minutes now...
For your convenience, here is an overview of all the matches, starting at 18:00 CEST. Read the round preview and the standings of the third-ranked teams for all details of this last round of the Men's EHF EURO 2024 Qualifiers.
bold = team has qualified
italic = team can still qualify
normal = team out of the race
GROUP 1:
North Macedonia vs Türkiye
Portugal vs Luxembourg
GROUP 2:
Serbia vs Slovakia
Norway vs Finland
GROUP 3:
Iceland vs Estonia
Czech Republic vs Israel
GROUP 4:
Ukraine vs Romania
Austria vs Faroe Islands
GROUP 5:
Croatia vs Belgium
Netherlands vs Greece
GROUP 6:
Hungary vs Georgia
Switzerland vs Lithuania
GROUP 7:
Slovenia vs Kosovo
Montenegro vs Bosnia Herzegovina
GROUP 8:
Poland vs Latvia
France vs Italy 
17:35
The clock is ticking... The decisive round in the Men's EHF EURO 2024 Qualifiers starts in 25 minutes. From the 24 tickets to the final tournament in Germany, still eight are yet to be booked.
Who will get them?
If you need a break or prepare some drinks and snacks, please do it now! All the action is coming your way from 18:00 CEST – all live on EHFTV! (Geo-restrictions may apply: if your match doesn't show up in the EHFTV menu, it means it should be available for you via a local broadcaster or streaming service.)
17:27
After losing their five previous duels with Spain, Germany finally record a win again. Here are the court-side reactions from Johannes Golla and Gonzalo Perez de Vargas:
It was a step forward, but also a little bit hard for us that Spain came back into the game. The atmosphere was great; always when we play at home, the German men and women support us and that is very great. They stand behind us and we are already looking forward to the next matches we play at home.
It was like two different games. The first half was for Germany, they played well, but we didn't show up. At half-time we said to ourselves we need to show character, to compete – that's our DNA, that's why we have succeeded in the past.
17:12 | RESULT
Germany have their lead cut back from nine at the break to just one at the end, but the EHF EURO hosts hold off the impressive Spain comeback to finally win their first match of the EHF EURO Cup competition.
Juri Knorr finishes on an outstanding 13-goal tally; Span have four players with five goals each.
This is the exact reverse result from when those teams met earlier in Spain, and Jorge Maqueda's last-second goal at least earn Spain third place in the EHF EURO Cup final standings, while Germany finish fourth.
17:05
Stepping up when his team needs him. This Gonzalo Perez de Vargas:
16:58
What a match in Berlin! Germany lead Spain by just two (27:25) with 10 minutes left, as their substantial 20:11 lead at half-time has almost dried up now.
If this is an omen for what awaits us when the qualifiers start in about an hour...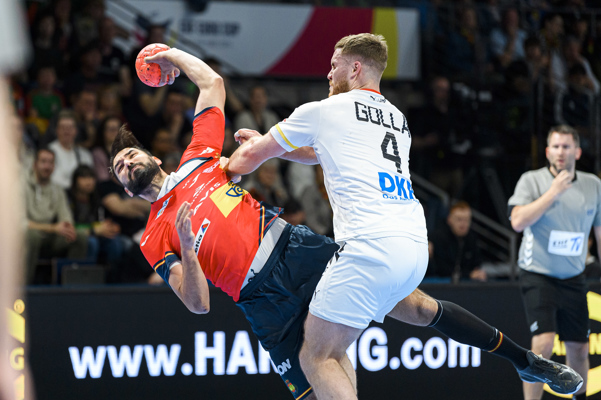 16:44
Team timeout Germany: Alfred Gislason needs to speak to his players after Spain have a 4:0 run to close the gap to just five (23:18), nine minutes into the second half.
It looked all Germany's game at half-time, but Spain are certainly not giving in before the final buzzer.

16:30
While Germany and Spain are starting the second half of their EHF EURO Cup closer, the start of the qualifiers is getting closer and closer...
Just 90 minutes and we throw off all 16 remaining matches across the eight groups. The designated Highlight Match in this round 6 takes place in Netherlands, who host Greece with the winners guaranteed of earning their EHF EURO berth from group 5 alongside already qualified Croatia.
EHF journalist Courtney Gahan dived into the Dutch team's story for this nice feature:
16:18 | HALF-TIME UPDATE
16:15
Make that 10 (= ten!) for Juri Knorr – half of them penalties, and we are still only in the first half... Where is this going to end?!
16:06
Wow, Juri Knorr has gone eight from eight (!) within 23 minutes as Germany lead Spain 16:8. And his assist to Johannes Golla was not too shabby, either:
15:57
In case you were wondering what that "Komm bald wieder, Paul" message on the German warmup shirts, as shown below by Rune Dahmke, was referring to: Paul Drux tore his Achilles tendon in Germany's previous EHF EURO Cup match against Sweden last Thursday and is obviously out for several months.
Also from us: All the best for a quick recovery, gute und rasche Genesung, Paul!

15:49
Early team timeout for Jordi Ribera: Spain are 7:4 down after the opening 10 minutes of this EHF EURO Cup match in Germany. Juri Knorr enjoys an excellent start for the EHF EURO hosts with four from four.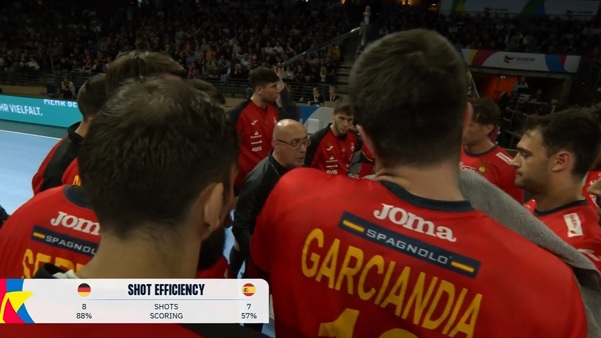 15:34
So, get in the mood with Germany vs Spain now, a rematch of the EHF EURO 2016 final...
It is live on EHFTV right now.
15:30
Before we throw off the qualifiers excitement, we get a terrific 'warmup' match as Germany host Spain in the EHF EURO Cup closer.
Denmark have won this trophy by beating Sweden 37:31 in their direct duel for the No. 1 spot on Saturday, but both Germany and Spain will still be eager to finish on a high note – especially since both have not had satisfying campaigns in this competitions, with zero and one win, respectively.
Interesting to watch out for: This match serves as a test for the so-called coach's challenge, which means each team can challenge one referee's decision during the match which will then be re-evaluated by a video replay of the action in question. Read all about it here:
15:22
Get prepared for this bumper day of qualifiers. First of all, this is a match-by-match preview written by Courtney Gahan.
Also, there is a separate story by Adrian Costeiu on the standings of the third-ranked teams. Apart from the top two of each group, the four best third-place teams will also advance to the finals tournament.
15:15
Good afternoon to this big, big day for so many European handball nations: The sixth and last round of the Men's EHF EURO 2024 Qualifiers takes place, with all 16 matches across the eight groups starting at 18:00 CEST.
We will find the last eight teams to book their trip to the 24-team finals tournament in Germany next January, and those are the 16 matches that are going to decide it all: