Summary: Magdeburg beat Veszprém in MOTW; Kielce book quarter-finals
Round 12 of the Machineseeker EHF Champions League 2022/23 saw crucial results as play-off berths and one quarter-final ticket were decided. Veszprém missed the chance to book their quarter-final place as they were defeated by Magdeburg in the Match of the Week. 
23:19
Round 12 of the Machineseeker EHF Champions League is all wrapped up and that brings us to the end of the live blog coverage of these exciting two days of action. I leave you with this spectacular goal from Magdeburg to cap their MOTW victory. 
We return next week with round 13 — the penultimate round of the 2022/23 group phase. See you then!
23:17
The end of an exciting night in the Machineseeker EHF Champions League — but there's plenty to keep you reliving these games just a little longer. Read about how Szeged reached the play-offs, how Magdeburg kept the direct quarter-final race open and how PSG defeated Dinamo Bucuresti in our match reviews below. 
22:36
What a round it's been! Time to recap what all the results in round 12 mean, as the future for several teams was decided by the matches played today and yesterday.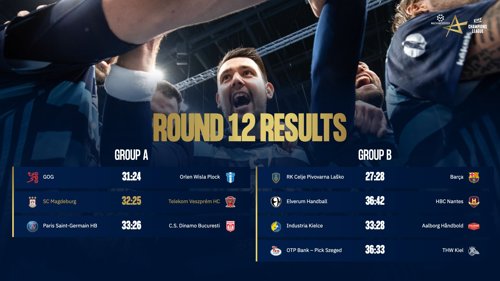 GOG (group A), Nantes and Szeged (both group B) all confirmed their places in the play-offs thanks to their victories in round 12. Kielce secured a place in the quarter-finals as they are sure to finish among the top two in group B, where they currently sit as the clear runners-up behind Barça. 
That leaves only two of the direct quarter-final places remaining, both in group A, where Magdeburg's MOTW win against Veszprém kept the situation open. Had the Hungarian team taken the points, the quarter-final spots would have been booked by Veszprém and PSG — now both powerhouses have to wait for their fates to be decided in the coming rounds. 
Take a look at the group standings here. 
I'm really happy with the result tonight. It was a very difficult game — we had to compose with a lot of players missing. It's always a great battle against Dinamo. But thanks to our fans — they were the best in the arena. It's easier to play at a high level when you have this atmosphere, with supporters like that. It is a very important win because there are not many games left in the group stage, and it's an important win to finish in the two first spots.












This was wow. We are really, really happy about our performance tonight. It was a great and tough game from both teams. The two teams fought for the victory in a really intense match. It's a great night for Magdeburg — it was a great atmosphere. Now we have two more games. We hope to secure the second position.

Our squad proved how balanced we are — that we even can replace top stars such as Magnus Saugstrup or Omar Ingi Magnusson. We did not cause many mistakes. It was not a win because of Kay Smits and Nikola Portner — it was a success of the team. Every player fought for every centimetre as a team.
22:23
Magdeburg back Kay Smits earns the Player of the Match award after scoring nine goals and dishing four assists. The 14 saves from goalkeeper Nikola Portner must also be highlighted as a critical part of the German team's performance.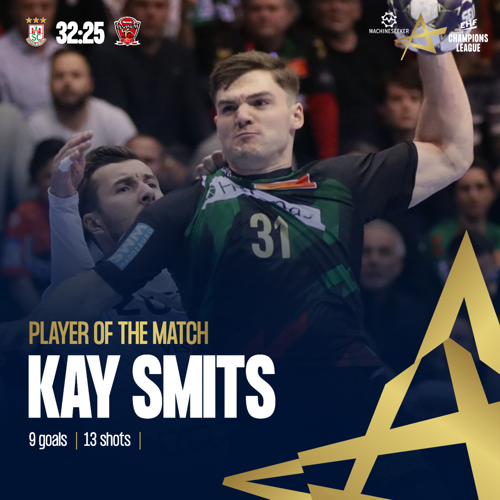 In control almost entirely from start to finish, Magdeburg make the most of their home arena and take an impressive victory over Veszprém.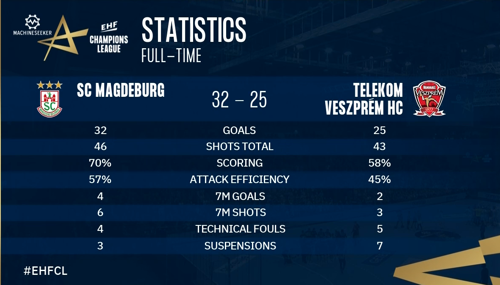 PSG take the win they need to stay on top of the group A table, and now await the result of the Magdeburg vs Veszprém match to learn whether their quarter-final fate is decided tonight. 
22:03
The last 10 minutes of the MOTW begin with Magdeburg looking very much on track for the two points, as they lead 28:22 against Veszprém. 
In goal for the German team, Nikola Portner continues his sublime form, with 12 saves now, while at Veszprém's end of the court Rodrigo Corrales as been replaced by Vladimir Cupara. 
In Paris there are just a few minutes left till the final buzzer, and PSG are eyeing the points with a 31:25 advantage. 
21:56
Two incredible goals from Kay Smits open a four-goal lead for Magdeburg, 24:20, as the clock ticks into the final quarter of the MOTW against Veszprém. Smits now sits on a tally of eight goals and is looking very much a promising prospect for Player of the Match. 
The Hungarian team are by no means out of the contest, but the momentum has seemed to be with Magdeburg almost the whole way through this clash. Remember if the German team take the win here, they keep the race for top of the group completely open. 
21:51
Shot efficiency is hurting Veszprém in the MOTW, as the Hungarian team find themselves three goals behind, 22:19, as the clock hits 42 minutes. Having taken the same number of shots as Magdeburg — 32 — it's the scoring rate that is deciding the difference right now, with Magdeburg netting at a rate of 69 per cent while Veszprém have recroded 59 per cent. 
With 15 minutes to go in Paris, PSG have a comfortable but not entirely safe lead, at 25:20. 
21:39
The last of the round 12 action is live now, with both matches back on court for the second halves. In Magdeburg, early on in the second period, the score stands level at 17:17 and the MOTW points are still very much up for grabs. 
In Paris, PSG are pulling further away, having stretched their half-time lead of three to four goals, at 20:16. 
21:30
Let's recap on the importance of the two matches currently unfolding in Magdeburg and Paris — as the two have big consequences regarding the quarter-final race in group A. 
If Magdeburg defeat Veszprém, then nothing is decided. If Veszprém take the win, then both the Hungarian team and PSG will be directly through to the quarter-finals as the top two teams in the group, as no other side will be able to pass them on the table ranking with only two rounds remaining. 
21:21 HALF-TIME UPDATE: MOTW MAGDEBURG VS VESZPRÉM 16:15
A thrilling opening half in the MOTW comes to an end, with Veszprém scoring the last two goals of the period to decrease the distance to one just in time for the break. 
21:20 HALF-TIME UPDATE: PSG VS DINAMO 17:14
PSG hold a three-goal lead at the break against Dinamo Bucuresti, after taking command in the second 15 minutes of the half. 
21:08
Magdeburg's attack is taking charge now, as the German team hit a 10:6 lead in the 19th minute and Veszprém look for answers. All the momentum is with the home side at this point in the MOTW. 
Over in France, PSG have created a two-goal edge against Dinamo, 12:10. Back Elohim Prandi is leading the French team with four goals, alongside fellow back Dominik Mathe, who debuted for PSG in the Champions League in the previous round.
For Dinamo, Javier Humet has been proving the key in attack, with five goals from five attempts. 
21:01
15 minutes in to the Match of the Week and Magdeburg are holding a two-goal edge, 7:5. No doubt keeper Nikola Portner has been key in that — but how long can the German team hold Veszprém off? 
Veszprém are now finding their way past Portner and his save rate has dropped to 40 per cent. 
In Paris, it's a very tight contest so far, with PSG only just in front, 9:8, against Dinamo Bucuresti. 
20:54
Some movement on the MOTW score board now, with Magdeburg back Kay Smits netting the first two goals of the game before Veszprém's Rasmus Lauge scores his team's first almost seven minutes in. But the most noteworthy news is in goal: Magdeburg goalkeeper Nikola Portner is on fire with three saves off four shots faced as his team now lead 3:1. 
Below, relive how Szeged secured their critical victory over Kiel with another key goalkeeper performance.
20:48
A few minutes played in the Match of the Week Magdeburg vs Veszprém and we are still awaiting the first goal of the game, which is immediately a fiery contest. 
Over in Paris, the French team have snuck ahead early, leading Dinamo Bucuresti 3:1. 
It will be a big match between two teams who will fight for direct qualification to the quarter-finals. We are looking forward to solving the problems that we had against GOG. It will be a tough match with a lot of intensity. There will be a lot of goals because both teams have the same philosophy. The arena of Magdeburg is one of the toughest in the Bundesliga, so it will not be easy.
20:34
What better way to conclude a round than with the Match of the Week? Only minutes until throw-off in Magdeburg, as the German side host Veszprém. And that's not all — PSG take the court against Dinamo at 20:45 CET as well. 
Watch the matches live on EHFTV. 





















Every time, it is an honour to play against Kiel — a sportsmanlike opponent. Sometimes they win, sometimes we win. I think that those who visited the arena enjoyed this game. This is the team that everyone wants to see in Szeged: everyone fought for everyone.
Szeged hold on to take the win and pick up an important two points that keep them securely in sixth place on the group B table — and book their play-off berth.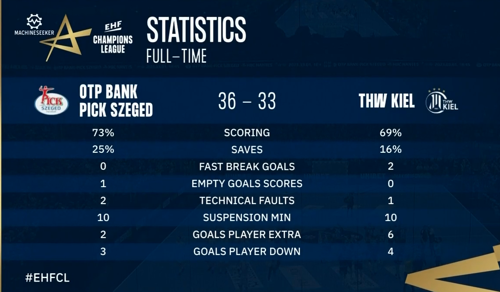 20:11
Five minutes on the clock and the advantage is with Szeged, 32:30. 
Szeged goalkeeper Roland Mikler has played a key role as the home team took the lead, with some great saves in these crucial final minutes. Mikler's save tally now stands at 12 and a huge rate of 40 per cent. 
19:55
We are just inside the last quarter of the match in Szeged and it's still all level, at 25:25. 
If the Hungarian team secure the win, it will be their fifth in history against Kiel. 
Szeged back Imanol Garciandia is leading the individual scoring race alongside Kiel wing Magnus Landin, with five goals scored apiece. Garciandia was part of Spain's bronze-medal winning team at the 2023 World Championship in January, and is now continuing his great form with this club side. 
19:45
We are back underway in Szeged and, five minutes into the second half, Szeged have drawn level at 20:20 as Borut Mackovsek nets a long-range shot into an empty Kiel goal. We have a battle on our hands now!
Below, enjoy a great goal from Mackovsek's compatriot Dean Bombac — what a shot from the Slovenian centre back!
Paris Saint Germain are the leader of group A and have amazing players. It will be very complicated for us, but it is, in any case, a handball match. Our objectives are realistic. It is not easy to win outside, as we saw in Porto.
19:35
While we wait for the match to resume in Szeged, let's take a look at the other game coming up at 20:45 CET: PSG vs CS Dinamo. 
Like Veszprém, PSG can book their place in the quarter-finals with a win in the round 12 encounter. The French team currently lead group A with 18 points. Dinamo sit fifth with 11. 
PSG won the reverse fixture in Romania 36:29. 
19:23 HALF-TIME UPDATE: SZEGED VS KIEL 14:17
Szeged fight back and manage to close the gap to two goals several times, but we go to the break with Kiel holding a three-goal advantage.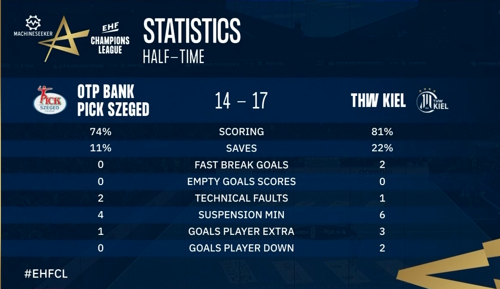 19:07
Kiel start to put in some distance, pulling away to 9:6 with roughly 13 minutes to go in the half, and Szeged coach Juan Carlos Pastor calls his first timeout. 
Although the attacking conversion rate has not been so high from either side, both teams have recorded very high shooting accuracy so far — and this superb shot from Szeged wing Mario Sostaric is evidence of that. 
18:59
Just past the 10-minute mark in the opening game of the day and it's a tight contest so far, with Kiel hitting a 5:4 lead against Szeged as right back Harald Reinkind scores his first of the game. 
With 46 goals in his season tally before this match, Reinkind is Kiel's top scorer in 2022/23. The Norwegian back is closely followed by right wing Niclas Ekberg, with 45 goals up to round 12. 
18:47
Starting whistle in Szeged and the second day of round 12 action is underway. We're off to an exciting start with THW Kiel goalkeeper Niklas Landin already pulling off a great save off a Szeged fast break.
Just a few weeks ago Landin was crowned world champion for the third time in a row, as captain of Denmark. The iconic keeper for the 'Zebras' is in his last season with the German team, after playing for them since 2015. He will return home to Denmark, joining Aalborg, from 2023/24. 
18:41
Later tonight we will be treated to the Match of the Week, which will see two leading teams in group A clash in Germany. Veszprém enter the game second with 16 points while Magdeburg are third with 14. 
For these two teams, it's all about the quarter-final race, as the have reached at least the play-offs already. Now, the goal is to place among the top two teams on the table and earn direct passage to the quarter-finals. 
We can expect thrills aplenty in this game, after the first leg between the teams ended in a draw, 35:35. Magdeburg have not lost at home in the Champions League since round 3 — to the current group A leaders PSG. 
18:35
Throw-off is imminent in Szeged and it's time to join us on EHFTV. You can also follow the match on the live ticker, where you will find all the statistics and a live score. 








18:05
The opening match of the night is not far away now — let's dive into some key facts about Pick Szeged vs THW Kiel. 
In the first EHF Champions League games of 2023, Szeged were defeated by Aalborg while Kiel took their first win against Kielce in 12 years. Kiel were also the victors when they played Szeged in the first leg of this encounter earlier in the season, defeating the Hungarian side 34:29.
The German team have won eight of the 13 previous games against Szeged — but the last game between the two on Hungarian soil, in 2021/22, ended in favour of Szeged. 
It's crunchtime in the season and that means there's plenty on the line — Szeged are only just in position to take a play-off spot ahead of this match.
17:00
Kiel are playing tonight, Nantes yesterday, both hoping for a place in the EHF FINAL4 - if you're a fan of either club, you'll want to sign up for our EHF Champions League newsletter which features exclusive early access to the weekly 'This is Me' series. This week's story comes from the legendary Dominik Klein, who talks about his love for handball and why he's giving back to the sport. Click here to subscribe!
16:45
Veszprém are not underestimating their opponents in MOTW - here's what Momir Ilic had to say about Magdeburg!
16:25
It's a beautiful day in Hungary, where Kiel are gearing up to meet Szeged.
Kiel's hopes of the quarter-finals were dashed by Kielce's victory over Aalborg yesterday, but they still have a chance at third; winning tonight would put them level with Nantes again.
Szeged, after losing to Aalborg last week, are in sixth place - one point behind Aalborg and two ahead of Celje. Victory would put them in a much safer position with regards to reaching the play-offs. 
Overall, Kiel have won eight of the two sides' 13 encounters, including a 34:29 win earlier this season.
16:00
It's day 2 of round 12 of the Machineseeker EHF Champions League with three matches ahead - the scheduled game between Porto and Zagreb is postponed, as Zagreb got caught up in disruption at Frankfurt Airport yesterday and were not able to get to Portugal in good time.
So, we start at 18:45 CET with Szeged vs Kiel, followed at 20:45 CET by Paris Saint-Germain vs Dinamo Bucuresti, and Match of the Week between Magdeburg and Veszprém. 
Magdeburg's coach Bennet Wiegert has fond memories of playing Veszprém in the 2002 EHF Champions League final, and he told EHF journalist Björn Pazen all about it ahead of tonight's game.













Wednesday 15 February
23:00
We finish up as usual with the match reviews, in case you missed anything or just for a handy recap of the action.
Tomorrow's games begin at 18:45 CET with Szeged vs Kiel, followed at 20:45 CET by the MOTW between Magdeburg and Veszprém, and Paris-Saint Germain vs Dinamo.
Unfortunately the game between Porto and Zagreb has been postponed as a consequence of travel difficulties for Zagreb. Keep an eye on eurohandball.com for an update as to when that match will take place.
The blog will be back at 16:00 CET for the build-up - see you then!
22:45
Here's a bit of reaction from the early matches - including from Barça right wing Blaž Janc, who got to play opposite his younger brother Mitja today. Janc Jr, who at 19 is seven years younger than Blaž also plays in the number 18 jersey, and surely has as bright a career as his big brother ahead of him.
The Celje players showed again tonight that they can compete with any team. They played a great game in a fantastic atmosphere. This time we pulled through and ended up winning.
I told the players after the game that I am proud of them. We played great for 59 minutes, we were better, and then we were unlucky. Last Thursday we scored in the last seconds and were lucky, but today the luck turned the other way.
We all know that Aalborg are a good team and coach Madsen does a good job there. The absence of Mikkel Hansen was a a help for us, but during the game they were fighting. Andreas Wolff and the defence by my team made the difference. Thanks to them we had more chances in counterattacks.
We are disappointed with the final result. You can always lose when there is an atmosphere like here in the arena and when playing against such a great team. I am not happy about the style of our game today. We missed too many chances to score a goal.
22:30
We seem to have talked a lot about goalkeepers tonight, so here's a quick poll - of the four best-performing shot-stoppers in action, who stands out most for you?
There's nobody from the Elverum vs Nantes match, as none of the four keepers there had a good day at all, unfortunately.
22:23 | FULL-TIME
GOG wrap up a fairly straightforward win and book their play-off spot. Tobias Thulin gave them an early cushion and Plock were never able to really close up the gap. The result means the Polish club are still on the edge of the play-offs, with one point less than Zagreb.
Thulin was undoubtedly the key to the victory. He made a massive 18 saves from 40 shots (45 per cent) - in total, he's now made 165 saves from 501 shots for an overall save efficiency of 32.9 per cent across 12 matches. Simply incredible stuff.
22:12
A final timeout for Xavi Sabate, who tells his team they have five minutes and must put pressure on in defence. They will play a 5-1 defence for two minutes, and see what they can do. GOG lead 28:23.
22:05
This match is showcasing some impressive play by a quartet of young players - 22-year-olds Emil Madsen and Simon Pytlick, and 23-year-olds Lukas Jørgensen and Tin Lucin. Together, they've scored 23 goals out of the 46 in total so far.
Although, the veterans on court aren't letting the youngsters have all the fun, as shown by Plock's 36-year-old left wing Przemyslaw Krajewski!
21:54
The in-house DJ at Gudme is keeping the fans upbeat with some cheerful music, and the other thing that's keeping them upbeat is GOG's eight-goal lead. They haven't been able to extend it much further, but they are in control. Plock are picking up a lot of two-minute suspensions, which is not helping their case. 
21:43
The second half has started - two goals for Plock, one for GOG, and another Tobias Thulin save, so far.
21:24 | HALF-TIME
Plock are going to need something special to come back against GOG, who are cruising with the cushion of their outstanding goalkeeper. Tobias Thulin ends the half with 11 saves (55 per cent efficiency). Good work in attack helps GOG back up the defence. 
Tin Lucin has made 10 shots, but only five have gone in; Lukas Jørgensen is on five from five.

21:14
Plock are finding a few more ways past Tobias Thulin, but GOG still have a healthy 14:9 lead.
World champion Simon Pytlick is starting to make his presence felt, with three goals so far, although Lukas Jørgensen and Tin Lucin have both scored four times.
Nicolej Krickau calls a timeout.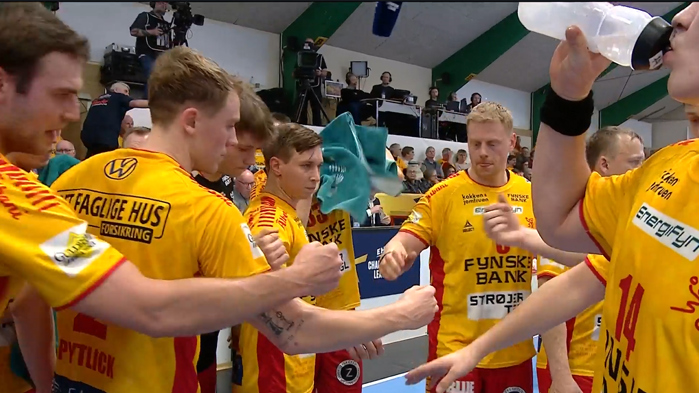 21:03
Plock have not scored for six minutes as Tobias Thulin is saving almost everything - seven saves from nine shots, an incredible 77.8 per cent. Plock's Marcel Jastrzebski should be pleased with three saves from nine (33.3 per cent) but there's nothing his teammates can do against Thulin.
Xavi Sabate calls a timeout at 7:2 to GOG and Plock manage to pull one back.
20:53
A slow start in Gudme: just one goal each in the first five minutes. Tobias Thulin, who is by far the best goalkeeper of the tournament so far in terms of the number of saves, has already stopped three Plock shots. 
20:40
No rest for the dedicated handball fan - we go over to Denmark for GOG's match against Plock. Unlike the rest of their 'home' matches this year, which have actually been played in Odense, GOG are hosting this one in the Phönix Tag Arena in their hometown of Gudme. It's live now on EHFTV.

20:32 | FULL-TIME
After a rather scrappy match, with a combined 12 two-minute suspensions and 12 penalty shots (10 for Celje, including seven scored, and two for Barça) Barça remarkably take a win. They piled pressure on Celje in the last five minutes and two goals by Dika Mem plus a fast break from Aleix Gómez with 14 seconds to go were too much. A couple of fumbled balls and the lead which Celje had held throughout was gone. 
Gal Gaberšek was brilliant and his namesake Gal Marguc was top scorer with eight goals. Mem and Hampus Wanne both scored five for Barça, and Emil Nielsen helped secure the win with four saves from eight shots including a crucial one right at the end of the match.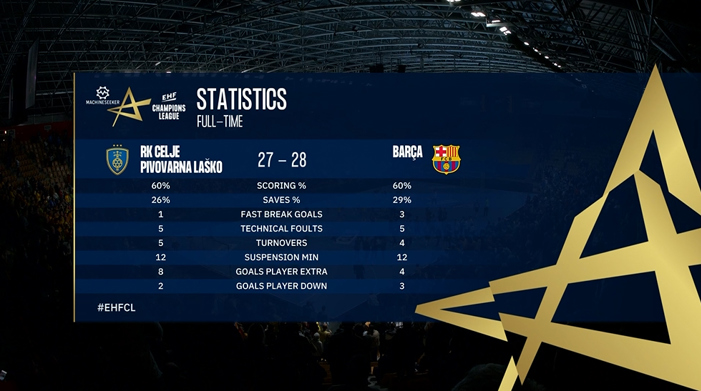 20:20 | FULL-TIME
Despite a nine-goal outing by the impressive centre back Tobias Grøndahl, Elverum concede their 11th defeat of the season and Nantes confirm their place in the play-offs with their seventh win. It's their highest-scoring Champions League win ever, and the match sets a record for both teams when it comes to the combined score of 78 goals. That's largely due to a poor outing by the goalkeepers, who all struggled with the high pace.
20:14 | FULL-TIME
Kielce are in the quarter-finals! Their 10th win of the season gives them 20 points and they cannot now be knocked out of the top two spots in the group.
The Polish side looked strong in the second half, moving out to an early lead against Aalborg and then holding on. Arkadiusz Moryto scored six, with Igor Karacic, Artsem Karalek and Dylan Nahi all adding five goals; Sebastian Barthold also netted six times and Lukas Sandell scored five.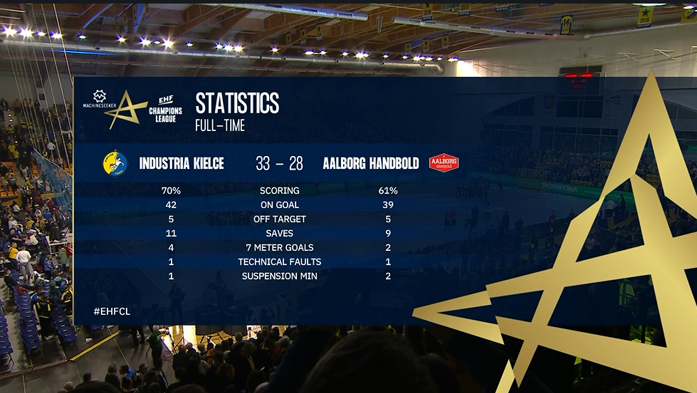 20:10
Nantes' top scorer of the match, Alexandre Cavalcanti, receives a red card for a clumsy foul on Daniel Blomgren which saw Cavalcanti's hand go straight to Blomgren's face. Not that it will make much difference, as Nantes are well clear now.
Celje lead Barça by four goals with just over 10 minutes to play. 
20:00
Despite conceding a string of two-minute suspensions - they've had six overall - Celje are still in the lead. Carlos Ortega looks mildly irritated. A loss would make no difference to Barça's fortunes, as they had a three-point buffer ahead of Kielce before this game, but the record champions are not the sort of team to let a game go easily
Kielce are stretching out against Aalborg (28:22), and Nantes maintain their lead against Elverum (34:31).

19:49
Kielce look like they're enjoying themselves now, while Aalborg are into the first timeout of the second half after conceding 10 goals since the restart and scoring just four. It's 25:19 to Kielce and the quarter-finals are beckoning ...
Celje lead Barça by four goals, while Elverum - after a slow beginning to the second half - have pulled back to 25:27 and are putting pressure on Nantes.
19:37
Off we go again for the second halves.
This sort of thing is why Celje are leading Barça.
19:29 | HALF-TIME
A very even first half in every way is level at the break. Both sides have made mistakes, neither is boasting a particularly high scoring percentage, and the top scorers - Arkadiusz Moryto and Lukas Sandell - have both scored four goals. It all sets up an intriguing second half.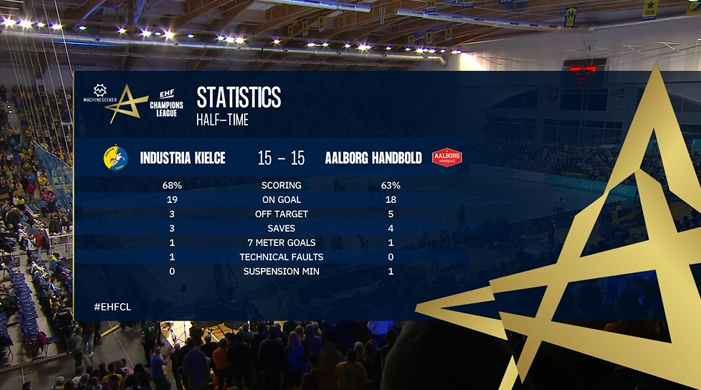 Nantes will surely forgive us for saying they had a terrible start to the game; they trailed by five goals halfway through the half, but somehow got themselves back into it and a string of easy strikes towards the end gives them a three-goal lead into the break. Switching out Viktor Hallgrímsson for Manuel Gaspar was key - the Icelandic goalkeeper made no saves in the first 11 minutes, but Gaspar did at least stop some shots once he came on court.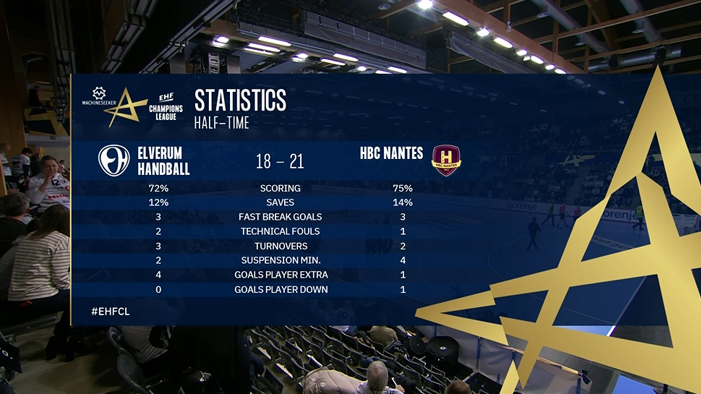 Perhaps the most surprising half-time score is that Celje still lead Barça by three. Two many technical errors and four two-minute suspensions have cost the defending champions and they will need to draw on all their experience to fight back against a very confident host team.
Gal Gaberšek continues to do very well between the posts, but Gonzalo Perez de Vargas has improved as the match has gone on.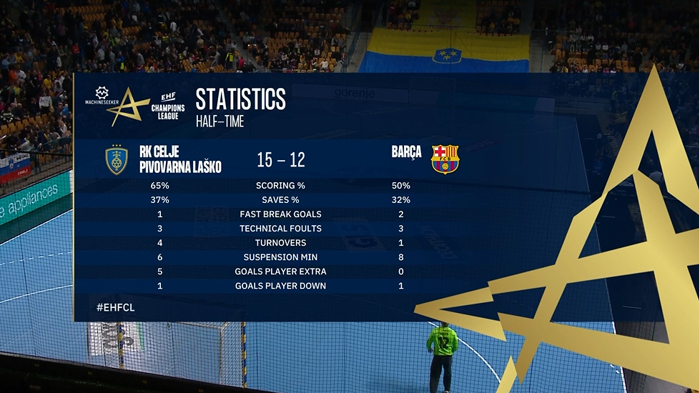 19:14
In a flurry of action, Barça's big guns - the likes of Dika Mem and Aleix Gómez - have stepped up and drawn level, although Celje are hanging in there.
There's a similar story in Elverum, where Nantes have closed up from a four-goal deficit to one with Aymeric Minne and Kauldi Odriozola leading the charge.
Jesper Nielsen has just headed to the benches after his shoulder got in the way of Szymon Sicko shooting, but Aalborg lead Kielce by one.
19:05
Celje have had a great start and a quarter of the way into the game still lead Barça by three goals. Gal Gaberšek is the key - while Gonzalo Perez de Vargas is struggling a little, and also missed an empty net attempt on goal. 
19:00
Kielce are holding a two-goal lead at 8:6 and Stefan Madsen calls a timeout. He's very intense in his efforts to get Aalborg back on track and it works, as they score two quick goals to get back level.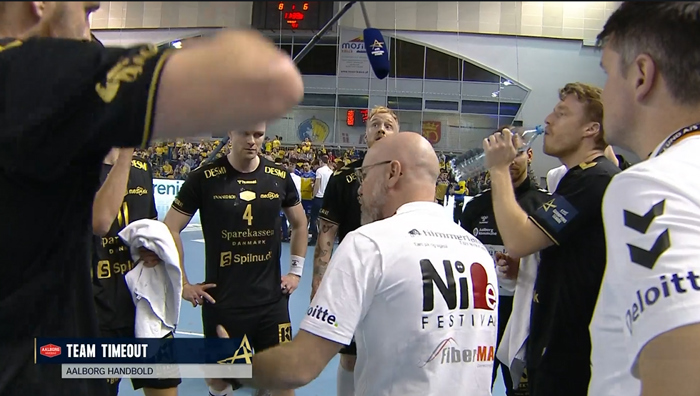 18:50
We're well underway in all three matches. Remarkably, it took Barça three minutes to find the net as Celje's young goalkeeper Gal Gaberšek saved the first two shots by the defending champions. 
Kielce lead Aalborg 4:2, and it's 3:2 to Nantes in Elverum.
18:40
Looks like a good crowd for all three of the early games - coverage has begun on EHFTV.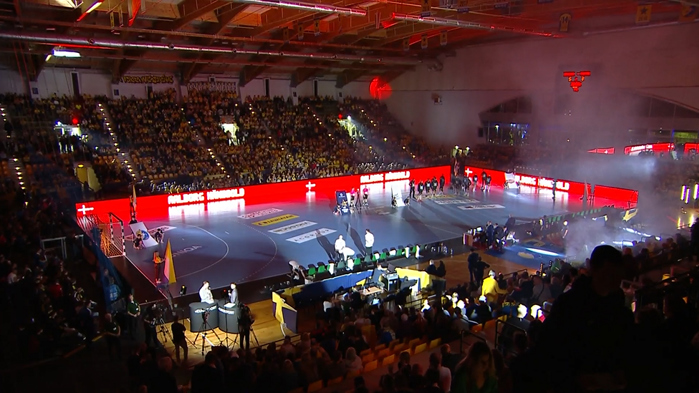 18:25
There's one later game tonight, with GOG hosting Plock in group A. Victory would see the Danish side safely through to the play-offs; Plock are in seventh, but trail Zagreb by just one point. Perhaps crucially, one of the Polish club's only wins this season was against GOG in round 3 (31:27). 
It is GOG left back Nicolai Pedersen's 29th birthday today and you can bet that a win would be a great birthday present. 
18:15
The last of today's three early matches is also in group B, and Kielce welcome Aalborg. As we mentioned earlier, one point from this game or the next two will be enough to see Kielce safely through to the quarter-finals, but they need to bounce back from last week's 27:32 defeat in Kiel. Aalborg, meanwhile, ended their series without victories last week in the MOTW against Szeged, winning 33:27. 
Aalborg have never beaten Kielce in five previous attempts but lost by just two goals in round 3. They are bringing the same squad to Kielce as the group which beat Szeged last week.

18:05
Another of the early matches today sees Elverum take on Nantes in a snowy Norway. Despite the loss to Celje last week, the French side are still in a comfortable place - third in group B, with 12 points. Second in the group is unlikely as Nantes would have to win all three remaining games while Kielce would have to lose all three.
Elverum are out of contention for the next round, so are playing for pure pride.
17:50
Time for a quick preview of tonight's four games, starting in Celje. Celje had an amazing result last week, beating Nantes in the H Arena 32:31 thanks to their star Aleks Vlah. Vlah is the competition's top scorer to date with 77 goals and will surely add more tonight.
But Barça will be tough opponents. They beat Celje 38:30 in Barcelona in round 3 and have not been beaten in their last 20 Champions League matches; this season, Kiel got closest with a 30:30 draw. If Celje can break that run, they would put themselves in a better position to make the play-offs. 
17:00
Kielce are among the teams that could secure their quarter-final spot already in round 12: one point from their last three group matches, starting against Aalborg tonight, will be enough to lock up second place in group B.
They don't get points for it, but the historic visual Kielce have made to celebrate 30 years of EHF Champions League is just amazing! How many players do you recognise?


16:39
While we are going to see plenty of stars taking the courts again today and tomorrow, it is always a joy to look back at the EHF Champions League heroes from the past... like Gudjon Valur Sigurdsson! The Icelandic great features in the latest episode of our This is me series.
"After all, I can only say: thank you handball! You gave me so much. You showed me countries I would have never visited as a tourist, you are the key for so many friendships all over the globe. As a young one, I learnt from the old ones; now it is the opposite. You taught me that you need to fight for every goal, how to cope with setbacks, how to communicate in stress situations, to stand up again."
Read more from 'Goggi' in his This is me story here or by clicking on the visual below:


16:22
The eight matches of round 12 are nicely divided between the two playing days. While we have to wait for MOTW until tomorrow, we will see defending champions Barça as well as 2022 runners-up Kielce in action tonight.
Here is today's schedule of play for 18:45 and 20:45 CET:

16:00
The Machineseeker EHF Champions League 2022/23 reaches an important stage this week, as several teams are primed to seal their fate for the next round.
Paris Saint-Germain, Industria Kielce and Telekom Veszprém HC could all book a quarter-final place in this round, while five sides are hoping to secure play-off places. 
To find out exactly what could happen, read the all-important round preview which will get you totally up to speed.