SUMMARY: Aalborg take MOTW victory; Barça book quarter-finals
After the international break, the Machineseeker EHF Champions League returned with round 11 — and it delivered plenty of big results, including the end of a long drought for Aalborg in the Match of the Week. 
23:23
The Machineseeker EHF Champions League is well and truly back to heat us up after a cold break, and round 11 delivered big time. We saw the ends of both winning streaks and dry spells, powerhouses and home teams toppled, plenty of thrillers to the final whistle — and the first quarter-final ticket booked. 
Barça are already sure of skipping the play-offs as one of the first two teams in their group, as they cannot be passed by third-ranked Nantes after the French team lost to Celje. 
Below, all the results of the round.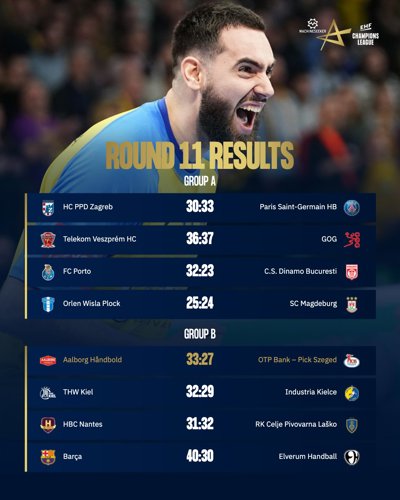 Check out the group standings as this round comes to a close. See you for round 12! 
23:15
It's the end of a night of Machineseeker EHF Champions League and that means time to recap on all the thrills. Read all about the games played tonight in our match reviews below. 
It was a difficult match for both teams and a fantastic spectacle. I am very pleased with how our team performed. This match could have ended in a win for both sides. We played very good defence in the first half and controlled [Gisli Thorgeir] Kristjansson, who is probably one of the best one-on-ones in the world, and all our defence was very good. In the second half we had a lot of problems and missed opportunities, but Marcel Jastrzebski stood up to the challenge, hitting many fantastic balls and helping us on the way to victory. Of course, without defence and teamwork, we couldn't win.






















It's two amazing points. Both teams fought really well. We led most of the game. Maybe with a bit of luck, but we deserve this win.
A perfect way to end the first round of Champions League action in 2023 — with a true thriller to the last seconds! Celje leave Nantes with the points once again, after Aleks Vlah nets the match winner for the Slovenian team. 
Plock hold on and take a vital victory by just one goal to earn their first EHF Champions League points since October and their first victory since September. 
No big surprise with the first final whistle of the last set of games in round 11: After controlling the game from early on, Barça finish with a powerful win and remain undefeated this season. 
22:06
Two matches still on the sharpest of edges, one game with a clear leader: while Barça near the 40-goal mark as they power to the end of their match against Elverum, the close battles in Nantes and Plock are still being decided. 
With seven minutes to go in Plock, the Polish team maintain the lead at 23:21, but Magdeburg are hunting and still have plenty of time to level the game or take the win. At minute 52 in France, it's all level at 30:30. 
Of all the six teams on court now, the standout scorers are from Barça and Nantes, with line player Luis Frade having netted eight for the defending title holders and Aymeric Minne on the same tally for Nantes.
Below, check out a nice goal off a superb assist from Domen Makuc for Frade's fellow Barça line player Ludovic Fabregas to net. 
21:47
As the second halves progress in the last games of round 11, Elverum are holding their deficit against Barça steady but the Spanish side still have a commanding lead at 28:23, while it's tighter in Nantes and Plock. 
Seven minutes into the second period, Plock are fighting hard to maintain their half-time lead (four goals), but Magdeburg have come within two more than once already. In Nantes, the teams are taking turns with one-goal advantages. At the 40-minute mark, it's 24:23 for Celje. Could the Slovenian team be on their way to another win in Nantes' arena? 
21:29 HALF-TIME UPDATE: PLOCK VS MAGDEBURG 14:10
From 10:10 in the 26th minute to a four-goal difference at half-time: Plock also enjoyed a strong end to the opening 30 minutes and now have a confident lead to protect as they aim to end their run of defeats in the top flight. 
21:24 HALF-TIME UPDATE: HBC NANTES VS CELJE 15:17
A superb end to the half sees Celje grab the upper hand in the final minutes before the break to hold a two-goal edge. A key factor for Celje has been the performance of goalkeeper Gal Gabersek, who has saved eight balls and recorded a rate of 34 per cent to win the battle between the posts so far. 
21:21 HALF-TIME UPDATE: BARÇA VS ELVERUM 19:12
A clear lead for Barça as the half-time whistle sounds in the Spanish capital. Considering their dominance in the opening half, the points look all but secured. 
Barça have enjoyed their strength in attack, with the back court and line players combining for the majority of the team's goals in the opening 30 minutes. 
21:07
While Barça are streaking ahead of Elverum, now leading 13:7 as the clock hits 19 minutes, Nantes and Plock are both facing tougher challenges from their visitors. In Poland, Plock are just in front at 8:7, while Nantes are holding a steady advantage (11:9 vs Celje) but have not managed to create a secure gap yet. 
Nantes are hoping to take the win against their Slovenian rivals after defeats in their last two Champions League games before the winter break, against Barça and Kiel. The French team have lost to Celje only once — last season on their own court. But this season, Nantes recorded a commanding victory in the first encounter between these sides, 35:24. 
20:53
No shock starts as the last three matches of the round get underway, with all three games close so far, although Barça and Nantes both start to eye the advantage with two-goal gaps in their favour — 4:2 for Barça versus Elverum and 5:3 for Nantes against Celje. In Poland, Plock have the edge at 4:3. 
Defending title holders Barça have already secured their play-off ticket but are targeting top of the group to ensure passage straight to the quarter-finals — and of course, to continue their unbeaten streak. Elverum have never beaten the Spanish powerhouse before and the Norwegian team are almost out of the race for the play-offs. 
20:38
The pre-match procedures have begun and it's time to join us on EHFTV for the last games of the round. 
Will Barça maintain their winning streak as they host Elverum? Can Nantes take a win over Celje that will secure their play-off spot? Can Plock recover from a run of losses as they take on Magdeburg? Let's find out!
20:29
Eight goals from nine shots and only one scored from the penalty line made Aalborg's Norwegian wing Sebastian Barthold the Player of the Match in the Match of the Week. 
20:23
Still plenty of action to come on the second night of round 11 games in the Machineseeker EHF Champions League, with three matches to end the round starting at 20:45 CET:
Orlen Wisla Plock vs SC Magdeburg
HBC Nantes vs RK Celje
Barça vs Elverum Handball
We are really happy that we could finally beat Kielce again after such a long time — it was our longest drought against a top European team. We did almost everything right in the first half and had 32 shots on goal. In the second half, it was only 16 throws and we only scored nine goals. Kielce fought like hell and stopped us. But in the end, our opponents are a Champions League finalist and one of the best teams on this planet, so they showed that. We have to learn from our mistakes, but we are happy about these two very important points until tomorrow morning.


















It was very important for us to get some points in this group and I was really happy about the way we performed. I think we did a very good job in both defence and attack. We knew it would be a very tough fight with the line players and that we needed to stick together in our defence.
What a match in the end — not often that a huge score line at half-time means a thrilling finish, but that was certainly the case in Germany tonight. THW Kiel keep the points at home and hand Kielce only their second loss of the season. 
Aalborg power to victory in the Match of the Week, collecting their first win in the Champions League since October.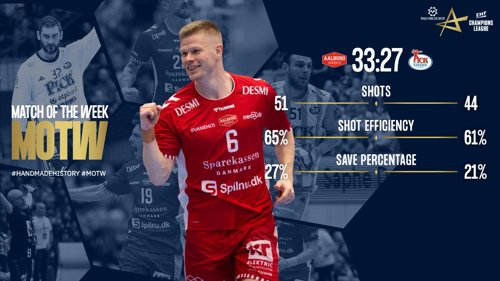 20:09
With minutes to go on both courts, it looks like the points may be all but decided in both encounters — while Aalborg remain comfortably in charge at 32:25, Kiel appear to have held off Kielce's comeback long enough, as they lead 30:27. 
But there is still time for the Polish team to pull off a miracle...In any case, the comeback to a much closer final result has been memorable!
On Kiel's side, goalkeeper Tomas Mrkva has snatched the spotlight with 11 saves so far, including several in these final critical minutes. Check out the one below. 
20:00
10 minutes on the clock in Kiel and it's a fierce tussle, with Kielce still trailing but very much threatening the close the gap completely should Kiel have any lapses. The German team have the advantage at 28:25. 
Szeged are also chasing a comeback as they enter the final stages of the MOTW, but Aalborg are well in control, at 28:22. Sebastian Barthold has been a critical player for the Danish team this half, with six goals in the 20 minutes of this period. 
19:49
10 minutes into the second half and Szeged are seeing the MOTW points inching further away, as Aalborg hit a 22:16 lead. 
In Germany, Kielce are doing better with the comeback task, as they decrease the gap to four, at 24:20. Can they keep this momentum? 
19:38
We are back with the second half of Kiel vs Kielce now underway and the MOTW Aalborg vs Szeged awaiting the whistle. 
Both visiting sides find themselves with big tasks ahead, although the situation for Kielce is far more troubling as they have a nine-goal gap to overcome. For Szeged, four goals seems much more within reach, but they face a hostile crowd as they target a comeback. 

19:25 HALF-TIME UPDATE: KIEL VS KIELCE 22:13
It's an astonishing advantage for THW Kiel at half-time — nine goals in front and Kiel are surely on track to collect the two points at home. If they do so, the German side — who lead the record in this statistic — will extend their undefeated home streak to 20 games. 
19:23 HALF-TIME UPDATE: MOTW AALBORG VS SZEGED 15:11
What a turnaround in the last 10 minutes! From an equal game, we go to the break in the MOTW with Aalborg clear in front.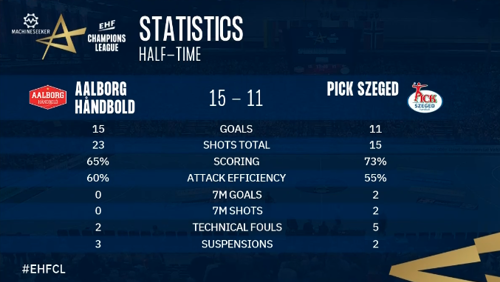 19:19
A few minutes left until the half-time break in the Match of the Week and Aalborg have grabbed the momentum, 13:10. Five minutes with no goals from Szeged was the key, with Aalborg turning a 8:9 deficit into a 12:9 advantage. 
Aalborg's Swedish back Lukas Sandell is having a big impact, with four goals so far — all from the field. Szeged's Sebastian Frimmel leads the scoring race overall, with five, including two penalties. 
19:07
Kielce are scrambling to catch up Kiel after the shock opening. But with 20 minutes played, it's still very much the German team in charge, at 15:10 — this despite a great performance from the Polish side's goalkeeper Andreas Wolff. With seven saves already, Wolff is doing his job to keep the gap from growing. 
In the MOTW the situation remains much more even, with Szeged still leading the charge but a very close score line in favour of the Hungarian team, 8:7. 
18:53
Kiel are showing just how motivated they are to clinch the two points against Kielce, as they streak ahead to a commanding 7:3 lead in just under seven minutes played so far — and the goals just raining in from all over the court. Every position on the field is represented by the six players responsible for the German side's goals so far. 
Over in the MOTW, it's a level start with Szeged with the edge at 3:2. 
18:40
The final minutes before throw-off! It's time to tune in on EHFTV:








18:25
Tonight's action gets underway in 20 minutes and it's not only the MOTW in the spotlight, as a clash of the titans is promised in Germany, where Kiel host Kielce. 
THW hope to grab a critical two points here, as they sit on 10 points in fourth position while Kielce are on 18 in second. Kiel are therefore a little too close to the lower ranked teams in the group for comfort. 
In the record of mutual history between the clubs, Kielce have been the victors eight times in 13 previous matches. 
18:10
The Match of the Week is not far off now! There is plenty on the line in this clash. While Aalborg are desperate to end a winless streak, Szeged could book their spot in the play-offs. The Hungarian team need Nantes to beat Celje later tonight in order to do so, but either way there are two very valuable points at stake in this round's headline match. 
This will be the 10th mutual encounter between these sides, with the past record showing two draws, four wins for Szeged and three victories for Aalborg. Aalborg only have a 50 per cent win rate at home versus Szeged, as two of the four games on Danish soil ended in their favour. 
Both teams are currently leading their domestic league tables. 
Check out the group standings for the Champions League here. 
16:50
The other 18:45 CET game between Kiel and Kielce also promises to be exciting. A win for the visitors would be a big step towards the quarter-finals; the hosts want a positive result after losing the reverse fixture's goalfest 37:40. 
It'll be a welcome back for former Kiel goalkeeper Andreas Wolff, who was All-star Team goalkeeper at the recent World Championship. He comes along with fellow All-star Team member Alex Dujshebaev (right back).
More motivation for Kielce is that the future of their club remains up in the air; it was announced last week they are secure in domestic and international competitions until the rest of this season, but decisions relating to 2023/24 will come later on. They have already lost World Championship All-star centre back Nedim Remili to Veszprém - although their squad for tonight remains strong.
16:30
So, MOTW tonight promises to be an exciting game. Four months ago, Aalborg beat Szeged 41:29 in Hungary in their biggest-ever Champions League win.
Unfortunately it's all been downhill from there - Aalborg have not won a single game since, while Szeged have won four matches and have overtaken tonight's opponents in the standings. 
Although Aalborg are missing Mikkel Hansen (stress), Martin Larsen (knee injury) and Buster Juul (bone bruise), they still have a solid squad to take to the court.
Szeged's line-up can be found on the very useful match statistics page, and it includes birthday boy Bence Bánhidi. The line player turns 28 today. 
16:00
Welcome back for day 2 of round 11 of the Machineseeker EHF Champions League!
Yesterday we had three great matches: GOG became the first team to defeat Veszprém at home in two years; Porto won their first game of the season; and PSG held off Zagreb.
Today's action starts at 18:45 CET with Match of the Week between Aalborg and Szeged, as well as Kiel vs Kielce. Later on, we have Plock vs Magdeburg, Nantes vs Celje and Barça vs Elverum to look forward to.
The big news yesterday was that Mikkel Hansen, Denmark and Aalborg's star left back, is taking time out for stress. It's a brave decision and one which should be applauded - it is so important to take care of mental health. We look forward to seeing Hansen back on court when he's ready.
However, before that announcement, EHF journalist Ida Hummeluhr spoke to Hansen about his World Championship experience, and the other Champions League players who also featured in Poland and Sweden. It's a great piece, and well worth reading while you wait for throw-off!
Wednesday 8 February
23:15
That's all from us tonight - we leave you with thoughts from two of tonight's winning coaches.
The blog will be back tomorrow afternoon ahead of the second day of round 11 action, which includes MOTW between Aalborg and Szeged. See you then!
We made a really good game, the defence and goalkeeper were totally in sync. We made good practices, we're fresh and raw and speed in contra-attacks are back. Everything worked today.
We played an incredible match against Veszprém, we used our chances well, so of course we are very happy with the result. We managed to win in this fantastic arena, we honestly did not expect it, but of course we are very happy that we can play with such game intelligence until the end.
23:03
Here are all the match reviews from today's games - let's hope the rest of round 11 and indeed the group phase proves just as exciting!
22:50
That was a great evening of handball with some impressive performances: GOG channelling the Danish world champion team to defeat Veszprém in the Hungarian team's first home defeat in two years; Porto taking their first win of this season; PSG holding out against a solid Zagreb despite missing some key players. 
But who impressed you most? It might not be a winning team ... vote now!
22:38
Here's that last goal and the celebration by Porto. This one means a lot.

22:24 | FULL-TIME
Porto held Dinamo to just 10 goals in the second half and take their first win of the season. It's a big one too - mathematically, it means they could still clinch a play-off berth if everything else goes their way. The result also means Dinamo's play-off place is not confirmed.
Appropriately, on a good night for Danish handball, Nikolaj Læsø finishes things off on the buzzer with the 32nd goal of the game after Andrii Akimenko's last shot ricochets off the posts. Læsø is also joint top scorer alongside Jack Thurin, both with seven goals; Akimenko and Ante Kuduz both scored six for Dinamo. 
Impressively, both Porto goalkeepers end the day with a save efficiency of over 40 per cent.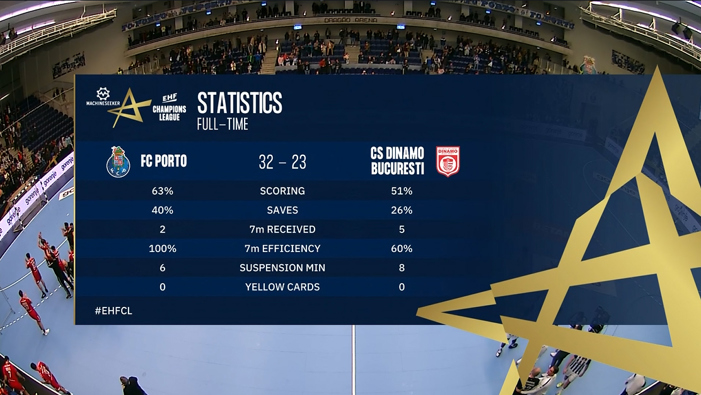 22:14
Xavi Pascual's face sums up Dinamo's day.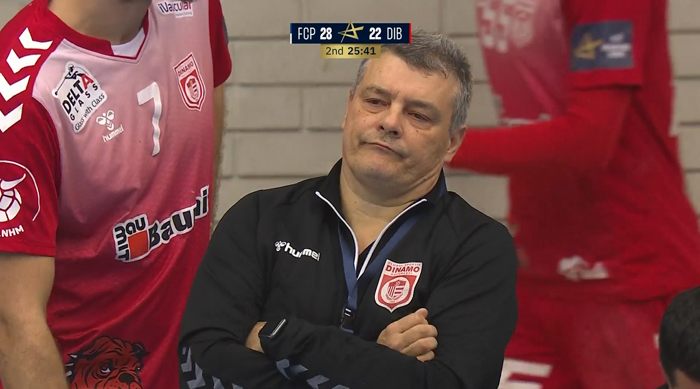 22:11
Dinamo are not at all giving in, but they're making a few more mistakes as they battle to regain ground, and Sebastian Frandsen's posts are not helping - the visitors have seen at least two shots recently bounce off. Porto lead 27:22, and Magnus Andersson calls a timeout. 
Here was a better moment for Dinamo from a little while ago.
22:07
Porto's fans are singing - can they sense a victory on the cards?
Another timeout for Dinamo with the score at 25:21 and eight and a half minutes to play!
22:02
Porto edged out to a three-goal lead, their biggest of the match; Xavi Pascual called a timeout which pulled Dinamo back to two, but right now Porto have a little more momentum and are benefitting from Dinamo's errors.
They have 11 minutes to hang on to their lead and possibly earn their first win this season.
21:54
Porto are hanging on grimly to a one or two-goal lead under pressure from Dinamo. All their players are contributing to what looks like being a close match right to the end.
21:43
Off we go for the second half, and in the opening minutes not much has changed - still a high pace, and Porto still just have a lead.







21:28 | HALF-TIME
The competition's return has definitely brought some close games and this one is no exception. There's little to choose between the two sides in a physical contest. 
Dinamo's Ante Kuduz and Andrii Akimenko are top scorers with four goals each, while Nikola Mitrevski has the goalkeeper edge with 10 saves (45.5 per cent).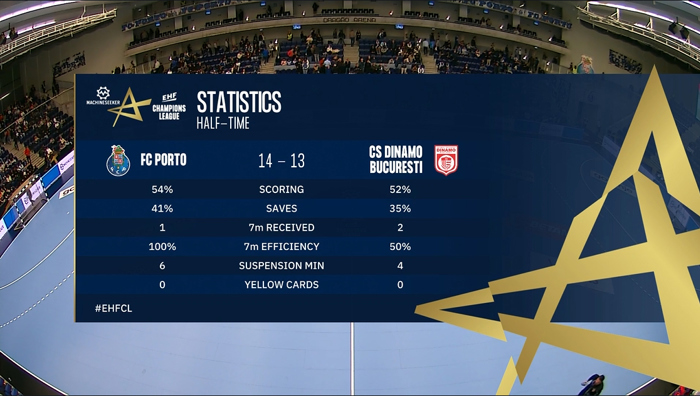 21:18
We're going goal-for-goal at the moment and the pace has picked up after a couple of minutes with no goals at all. There's some really creative shot-making going on, it's great to see.
21:08
See what we said about goalkeepers? Here's a great early save from Saied Heidarirad.
Meanwhile Dinamo edged out a bit of a gap, which Porto are trying to peg back: it's 7:8.
21:00
So far, it's a game for the goalkeepers. Nikola Mitrevski has saved an astonishing seven out of 12 shots, Saied Heidarirad has managed four from eight, and it's 5:5 in what is already a rather physical game with both teams conceding two-minute suspensions. 
20:52
Porto got the first look at the goal, but after losing the ball they gave Dinamo the opportunity to take a lead and it's currently 3:2 to the visitors. Early days ...
20:35
Up next in 10 minutes: FC Porto vs CS Dinamo Bucuresti.
Porto have had a very tough season, losing nine games and drawing one. That means they have to get points tonight, or they are out of the running for the play-offs. A win for Dinamo would secure them a spot in the next round for the first time in their history - they won the reverse fixture 32:27.
Many of Porto's squad played for Portugal at the recent World Championship, and the side did impress there, so perhaps that will boost their confidence coming into this crucial game.
20:25 | FULL-TIME
Full credit to Zagreb - they took the fight to a slightly under-powered PSG in front of a packed arena, and only narrowly came up short.  
Wings Ferran Sole (12 goals) and Timur Dibirov (10) were the driving forces for the two sides.
PSG's win and Veszprém's loss means Paris extend their group A lead to two points over Veszprém, while lower down the table, GOG open up a three-point gap on sixth-placed Zagreb.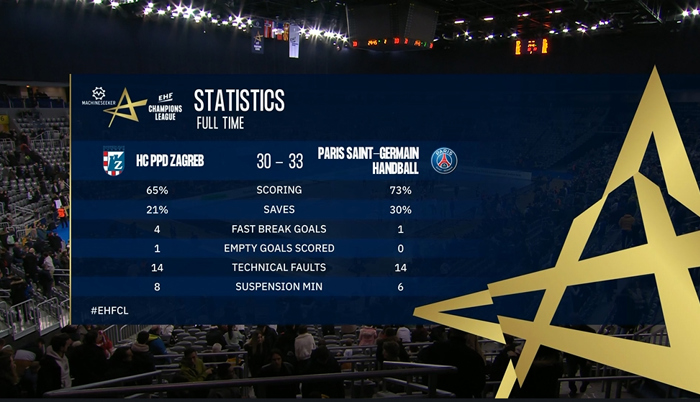 20:20 | FULL-TIME
How we missed you, Champions League! What a match to get us going again. It had tactics, drama, stellar performances, and lots of loud support from the Veszprém fans. 
Inside the last minute Tobias Thulin made another save - his 16th - and Nicolej Krickau took the chance for a final timeout with his team leading 37:36. The following attack went nowhere, and GOG are able to celebrate their second win in a row and gain revenge for the home loss to Veszprém in round 4.
Petar Nenadic, Jerry Tollbring and Emil Madsen all score eight goals.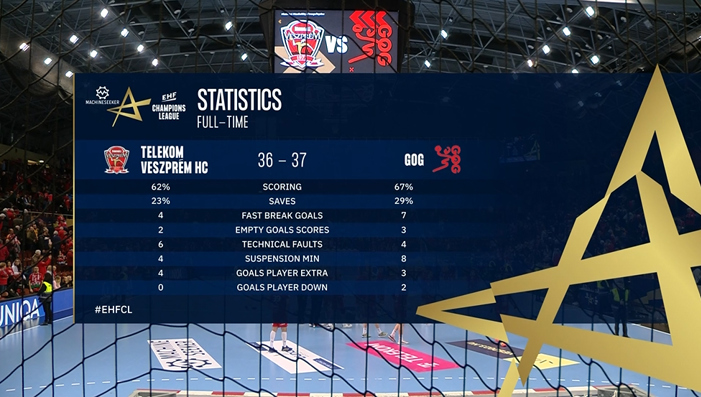 20:14
GOG are playing seven-on-six now. It's 36:36 with less than two minutes on the clock.
PSG have moved out to a 29:27 lead, but there's still five minutes to play.
20:09
Five minutes to go, and Veszprém still trail by two goals despite Vladimir Cupara's very best efforts.
20:06
Blink and you'll miss this assist from Luc Steins (and click here for his Handball Diaries installment, a must-watch!)
20:02
Zagreb are fighting back! Despite a brilliant show from Ferran Sole (seven goals so far), the Croatian side have closed right up to 23:24 and there's still 15 minutes to go. This is despite Andreas Palicka staying strong in goal.
19:59
A few minutes of absolutely frantic play in Veszprém. Momir Ilic's seven-on-six tactic paid off, allowing Petar Nenadic and Yehia Elderaa to score a couple of goals each, but also cost Veszprém some empty-net shots. Under pressure GOG made mistakes too and allowed their hosts to close up to 30:31 and Nicolej Krickau took a timeout, talking about how to get through Veszprém's defenders such as Adrián Sipos.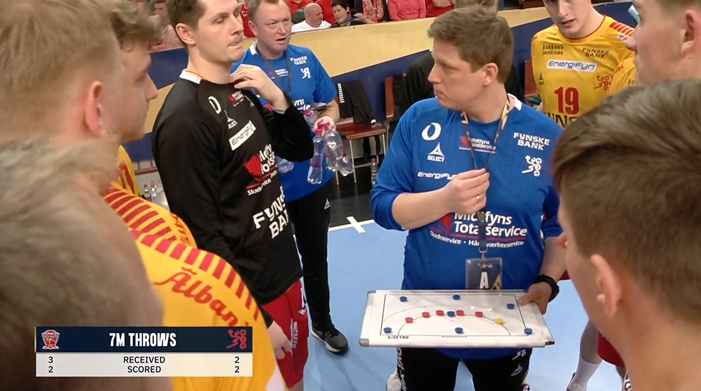 19:50
GOG have shown incredible energy in this second half; a six-goal turnaround means they now lead 28:24. Tobias Thulin is just not letting anything through. It's much like the start to the first half - the key will be whether Veszprém, now moving to play seven-on-six, can do what they did previously and come back.
In Zagreb, PSG still lead by three. 
19:40
Wouldn't you just love to be a fly on the wall of the teams' half-time briefings? Nicolej Krickau clearly gave GOG a good boost, as they've come out, scored two goals and we're back level!









19:32 | HALF-TIME
After a slow start PSG are moving into gear and a 3:0 run in the last three minutes have put them three goals up on Zagreb. But there's lots for the home team to be happy about, not least the superb form of Timur Dibirov who's now on eight goals, and they definitely have not lost yet. PSG have brought a team of only 13 field players - will that smaller bench start to show in the second half?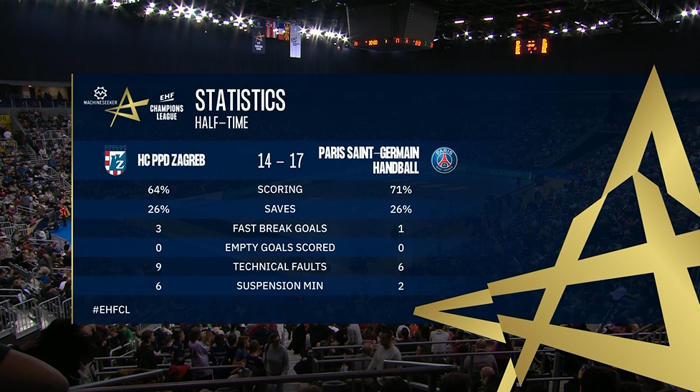 19:28 | HALF-TIME
Veszprém took their first lead with a Mikita Vailupau penalty at 13:12, 20 minutes in, and about four minutes later Andreas Nilsson made it a two-goal lead which the home team still hold at the break thanks to Petar Nenadic. Veszprém's fortunes really shifted when Vladimir Cupara came into the goal - Rodrigo Corrales did not have a good start to the match.
Simon Pytlick is key for GOG, with six goals. 
19:15
Timur Dibirov is having an amazing outing in Zagreb - six goals in 22 minutes, half his team's total, have helped Zagreb to a 12:10 lead which PSG are struggling to eat into. With some help from his mates, of course.
19:09
So far, not a great day for Rodrigo Corrales; the Spaniard has made one save to Tobias Thulin's four. Thulin's efforts include this bit of brilliance.
19:02
Dominik Mathé transferred to PSG from Elverum officially at the start of the season, but a knee injury just under a year ago sidelined him until the New Year. Now he's on court, and scored PSG's first goal - and his first goal for them in the Champions League - in what is still a close match with Zagreb.
18:54
A strong start by the underdogs in both matches, as GOG speed to an early 4:0 lead over Veszprém and force Momir Ilic into a timeout after less than six minutes. 
Zagreb are going toe-to-toe with PSG and the score is 3:3.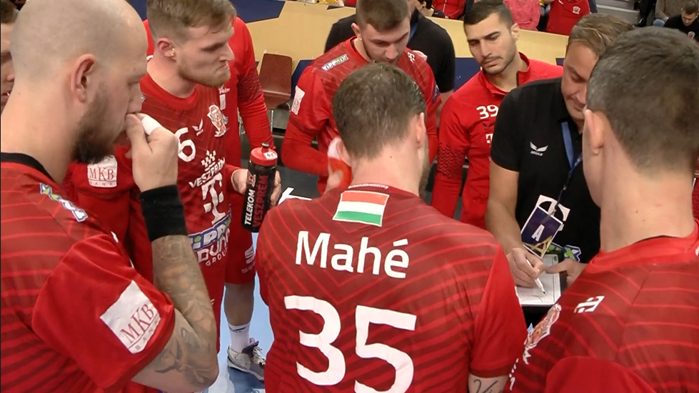 18:50
Who has made an early impact? No surprise, it's two stars on form after Poland/Sweden. Simon Pytlick scored first for GOG, and Andreas Palicka saved Zvonimir Srna's shot for PSG. 
18:45
Before throw-off, there is a minute's silence in memory of the thousands of victims of Monday's tragic earthquakes in Türkiye and Syria.
18:35
The pre-match coverage has begun on EHFTV and there's 10 minutes until throw-off - get ready!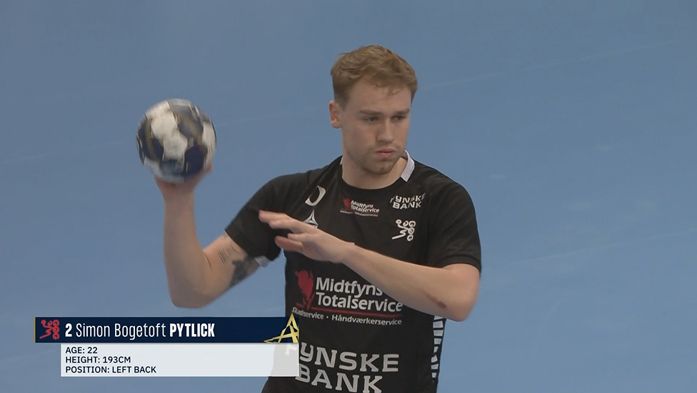 18:25
Some news hot off the press: Nedim Remili is leaving Kielce with immediate effect to join Veszprém, filling the gap left by the injury to right back Yahia Omar.
18:20
Also at 18:45 CET, Zagreb take on Paris Saint-Germain. The visitors won 40:31 in round 4 in France and the last time Paris did not beat Zagreb in the Champions League was in the quarter-finals in 2016. Since then, the French have won five ties.
Before the game, Zagreb coach Slavko Goluza revealed that he has changed up the Zagreb defence, adding "we have to be patient and focused from the beginning, all the way until the end".
Zagreb are a team on the up - after only one win and one draw in the first seven rounds of the group phase, they found some momentum, beating Veszprém, drawing with Dinamo and beating Plock in round 10. So do not rule out another upset on their home court.
18:10
First on the menu tonight are two games in group A - Veszprém vs GOG and Zagreb vs Paris Saint-Germain. 
Turning first to Veszprém vs GOG - the home team are currently second in the group, level with PSG on points (16) but with an inferior goal difference to the French side. In the reverse fixture Veszprém won by a single goal (31:30) after Petar Nenadic scored in the last second. They've had a slightly uneven run of late - drawing with Dinamo before Christmas, beating Plock by 10 goals in round 9, but being shocked by Zagreb the previous week. In fact most of Veszprém's games this season, apart from the Plock match, have ended with fairly small margins either way. 
GOG have also had a string of close matches, some going their way and some the other, so it's a fair guess this one will be close too.
Added spice is provided by the presence on court of Danish world champions Rasmus Lauge (Veszprém), Lukas Jorgensen and Simon Pytlick (GOG). Veszprém can also count on Spanish bronze medallist Rodrigo Corrales and French silver medallist Kentin Mahé. But it will be fascinating to see Lauge and Pytlick, the two top scorers for Denmark in that incredible final a couple of weeks ago, on opposing sides. 
Pytlick, by the way, was one of the guests on the new weekly Twitch show 'The Spin' on Monday, alongside compatriot Kevin Møller, which you can watch here.
17:55
Egypt were the strongest non-European nation at the recent World Championship, but several of their key players ply their club trade in Europe for Champions League sides. One of those is Yehia Elderaa, who joined Veszprém at the start of the season and has become increasingly important for the Hungarian club. EHF journalist caught up with him earlier this week for a great feature interview.
16:45
We all love an episode of "Handball Diaries" and our latest episode focuses on the one and only Luc Steins, who will be back on the Machineseeker EHF Champions League court today with his PSG Handball side as they take on HC PPD Zagreb away from home 18:45 (CET). Watch the latest episode by clicking HERE.
16:15 
Our talented social media team whipped up this lovely graphic right in time for the throw-off of the action. But one player that is featured in the graphic, Mikkel Hansen, will not feature in the MOTW action for round 11. The club announced earlier today that the Danish superstar will be taking some time off due to mental health reasons. A brave step by the Danish star and his club Aalborg; we look forward to seeing Mikkel back on the court soon!

You can read more about it HERE.  
16:00
Well, it's been a while, and we've had a fantastic Men's World Championship to enjoy over the break - but finally, the Machineseeker EHF Champions League is back! Plenty of your favourite World Championship stars will be in action over the course of today and tomorrow, including All-star Team left back and world champion Simon Pytlick. He and his side GOG are in Veszprém today, throwing off at 18:45 CET. 
For a full look at what's ahead, check out the round preview.