EHF FINAL4 Men - a success story
The EHF FINAL4 has made a name for itself as one of the top sporting events in the European sporting world and beyond.
Since the 2009/10 season, the semi-finals and final of the EHF Champions League Men are played over the course of one weekend in Cologne, Germany, in front of thousands of fans in the LANXESS arena and millions of fans in front of their TVs and mobile devices.
The first ever EHF FINAL4 Men champion was the team of THW Kiel. They captured the coveted trophy with a 36-34 win over FC Barcelona on 30 May 2010. Since then, there have been a total of 48 matches with 16 different teams in Cologne. Seven clubs have taken the trophy home at least once.
The EHF FINAL4 Men represents more than just a final tournament. Every year, Cologne transforms itself into a handball city for three days. It is not without reason that the name Cathedral of Handball was established over the years. Fans of all participating teams celebrate and mourn together over victory or defeat and support each other.
Further information about the EHF FINAL4 Men 2022 can be found here.
EHF FINAL4 Champions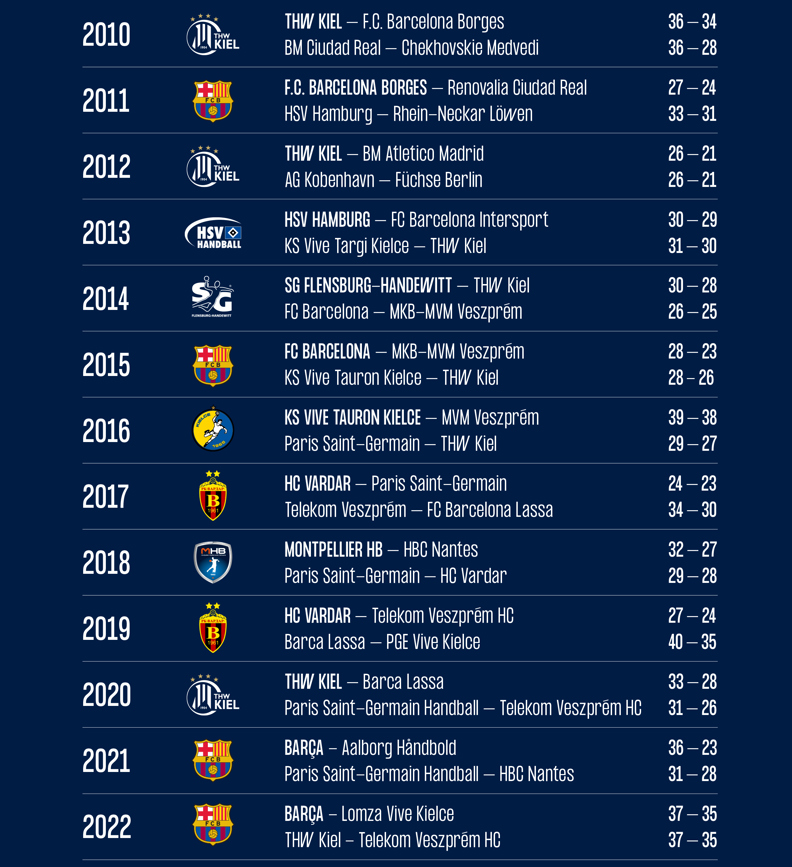 Most Valuable Players
Since 2014, the best player of the tournament is awarded with the MVP award (Most Valuable Player) at the EHF FINAL4 Men.